Explosion 2015
Ottawa Explosion: Day 5 – June 21
Watermarked photos by Stephen McGill Photography
The final day of OXW is always kind of bittersweet. On the one hand, there are usually some great bands scheduled to play in the afternoon and, in this case, it was a gorgeous day out with no clouds in the sky. On the other hand, a lot of us were pretty burnt out from all the drinking, excessive punk rock consumption, and sweltering heat that comes along with no clouds in the sky. But let's be honest, those of us who remained were excited for what Sunday had in store, putting any complaints aside.
The day started off strangely. A few of us were hanging outside at the SAW courtyard when all of a sudden we heard a massive crashing sound. The sound of metal hitting metal at a considerable speed is unmistakable, and it sounded bad. We ran out to check what had happened, and as it turns out a brand new cherry red Ford Mustang had been sideswiped by an SUV. Everyone was OK, but we all felt bad for the Mustang's driver as he had to wait hours before being towed (his wheel well was damaged and he couldn't drive).
Things started a bit late since Chloroform canceled their OXW appearance, and Ottawa's own Baberaham Lincoln kicked off the final day's festivities. The cleverly-named three-piece group played some dissonant noise rock that threw me back a few decades. Armed with Jenna Spencer's Fender Strat, Cory Lefebvre's hollowbody, and Hillary Lawson's drums, the band eased us into the day with atmospheric, over-driven songs that served as a welcome balance to the high number of punk bands we had all heard for the last four days. The tone on Cory's guitar was hypnotic, and the simple layering of the band's instrumentals drew the crowd in and put us all back into the zone. Jenna's soft, and at times eerie vocals contrasted well with the fuzzy tones coming out of the PA. Baberaham Lincoln didn't throw any curve balls at us, but their mesmerizing sound and powerful builds kept the crowd wrapped around their fingers throughout the set.
Next up was Gaycation, a band from Ottawa that I hadn't seen yet but that I was really excited about. They just released a split demo tape with Weed Mom through Bruised Tongue a week or two ago which I highly recommend, and I was lucky enough to get my hands on that hardware right before they played. Gaycation is a queercore power-pop outfit, and all of us who witnessed their set got see how high energy this group really is. Faelan Sadboy took centre stage on vocals, looking more than comfortable on stage with a big smile on his face and producing powerful and emotive vocals. Above him also hung a Hello Kitty piñata, the destiny of which we could only guess was moments away. In the meantime the band played some fun tunes including "NBD" and "No Bros", songs which correlated with the huge hand-made sign behind the drummer LP that said "KILL THE BRO IN YR HEAD" — a motto that many of us surely support. One of the band members thanked her mom for coming out to see the band play, after which Alanna jokingly proclaimed, "My mom didn't come to see me play. She said that she's already seen me before." There were a few points throughout the set that Gaycation had some trouble keeping time with one another, and I'm sure with a little more practice they will make their live set really tight. The band closed their set with the fun, dancy song "Gaycation", and yes, Faelan kicked the shit out of that piñata and candy rained down upon us.
Blue Angel is a group that I always look forward to seeing live. This three-piece grungy noise rock band consists of Caylie of Boyhood on drums, Sam Pippa of Organ Eyes/Pipahauntas on bass, and Lidija Rositis of Bondar on guitar — and all of them sing. Their lyrics are intentionally repetitive yet poignant, as clearly demonstrated in songs like "You/Me". The three of them normally wear outrageous outfits or masks, this time opting for a simple face mask due to the heat during the day. Their heavily distorted guitar and bass take me back to the days of Sonic Youth, music that isn't meant to be consumed comfortably but meant to evoke raw emotion or visceral sentiments. After a few intense songs, drummer Caylie Runciman stopped and joked that she accidentally swallowed one of her long hairs during the last song. Blue Angel ended with the song "Sweaty Belly" that is featured on their three-track EP released in 2014, and made it a memorable one as usual.
In between sets was Drone Zone, a series including drone artists presented by Debaser.  It was definitely an interesting addition to the festival, one that had not been included in previous years. Drone Zone was an informal extension of Weird Canada's National Drone Day, celebrating experimental, ambient, and drone music. I caught some of Everett's set, a group that included Willow, Elsa, Tyrin (of Weed Mom) and Fraser. I had never experienced a drone set before, and I made sure to go in with an open mind ready for anything. What I really enjoy about many artists featured on Weird Canada, and in turn drone music, is the off-the-cuff experimentation that can lead to beautiful abstract pieces of music. I was very impressed with Everett as they played their first performance ever, a relatively quick 15-minute drone set that included ambient noise coming from countless knobs and buttons controlled by Fraser and Tyrin. Willow and Elsa stood closer to the audience, and although it was hard to discern their lyrics at times over the drone, their short performance was authoritative and resounding. I look forward to hearing more from Everett as they produce more pieces in the future.
Bonnie Doon came on shortly after, having just come off an Eastern Canada tour a few weeks ago. A few fans were wearing the DIY tie dye band shirts they had made for the tour, while lead singer and co-bassist Lesley Demon wore a particularly '80s looking business suit. Bonnie Doon dove into their wacky and wild set of noisy surf rock, enchanting us with two layered basses played by Lesley and Gina Vinelli, crunchy guitar parts by Madison Watson, and kept the beat going with Keltie Duncan on drums. Watching old people walk by and looking completely and utterly confused by what was happening was a highlight for me. At one point I heard two people walk to the front gate and ask what was going on in the courtyard. They asked, "Is this part of Fringe Festival? Because that's where we're headed." To their content, Ottawa Explosion was not part of Fringe Festival around the corner, and the sense of relief was obvious. Bonnie Doon played some great songs such as "B Hole", "Pizza Shark", "Moon Tan", and even treated us to a trip down memory lane by covering "Lump" by The Presidents of the United States of America. I was secretly hoping they'd break out into Weird Al's version of "Gump", but that was just me.
My final Explosion set of the festival was Montreal's The Famines, only because I probably would have passed out by the time Catholic Girls came on stage. The two-piece garage punk band played an intense set, with singer/guitarist Raymond Biesinger playing heavy and distorted basslines, and Drew Demers on drums shredding on the kit even though he appeared to be on the brink of heat stroke. I'd seen them open up for Big Dick at their album release party back in February, and I really enjoy their aggressive and raw brand of garage rock. Several times Biesinger went out into the crowd and played right beside us, and at one point turned to Demers and asked, "How are you doing buddy?" Demers replied very frankly by saying, "I'm fucking dying." Everyone laughed, but the band was clearly uncomfortably hot, particularly Demers on drums since he was playing so fast and intensely. He powered through most of the set with no issues that we could hear, and Famines kept the party going almost all the way until the end when they had to stop for their own personal well-being. It was at that point that I fantasized about jumping into a nice fresh pool and decided to call it a day. What a festival.
A huge thanks to Luke, Emmanuel, and all the helpers and volunteers for everything they do. Explosion is getting better every year and it's always what we look forward to most. Until next year folks!
Ottawa Explosion: Day 4 — June 20
All watermarked photos by Stephen McGill Photography
If there was one day that Ottawa Explosion Weekend really kicked into high gear this year, it was Saturday, June 20. The weather cooperated for most of the weekend, minus a pretty heavy rainfall on Friday. But Saturday dawned on us with clear blue skies, a nice breeze, and huge Explosion lineup happening all day and night. What more could you ask for?
I arrived a little late in order to sleep in and catch up on real life obligations, like dishes and tidying up the ol' apartment. Once the battery recharge was complete, I caught most of Earth Girls' set at Club SAW. Earth Girls are a garage/power pop band from Chicago, one of many excellent bands that made the trip to Ottawa from the Windy City. I've always heard of how good the punk community and music scene are in Chicago, and the bands that played OXW really illustrated this fact. One of the most exciting parts of a festival like this is that as a concert-goer, you aren't expected to know all bands or all the songs. Earth Girls were new to me, but I was locked in right away once I heard them start playing. They had straight-forward, fast and fuzzy instrumentation reminiscent of '70s garage and punk bands mixed with the '90s alt-rock influenced clean melodies of singer Liz Panella. I could hear those melodies from the parking lot and they drew me right in.
Once Earth Girls finished up, it was time for Nato Coles & the Blue Diamond Band in the SAW courtyard. Right away he expressed appreciation for being at the festival, one stop on their North American tour all the way from their hometown of Minneapolis – the hometown of greats such as Prince and The Replacements. It's so nice to see a band be so positive and amped to be on tour, the whole crowd could feel Coles' energy and enthusiasm. That energy translated into some excellent punk rock blaring out of the PA, with the crowd moving more and more as the set went on. Although the band has been around since 2010, they played with the same pep in their step as if it were the band's first time on the road. As the sun beat down on the courtyard mid-set, Nato Coles said, "This is way too hot for Canada — so I'm going to cool you down," and launched into another tune.
His music reminded me of Bruce Springsteen's approach to songwriting — deep storytelling, anthemic arrangements, and songs that hit you right in the heart. It's the kind of music that drew me into The Gaslight Anthem back in the day, and it happened all over again with Nato Coles. One of my favourite tracks was "Rudes & Cheats", one that many people in the crowd sang along with. The band ended the set with the first song called "See Some Lights" on their latest album Promises To Deliver.
Another great thing about festivals like Explosion is that you meet some pretty interesting folks. I went out to the sidewalk where a few of my friends were smoking and saw that they were talking to a guy I had never seen around Ottawa before. Well, there's a perfectly good explanation for that. He was from Manchester, England, and had flown all the way to Ottawa just to come to Ottawa Explosion. He explained that he was at the original Gaga Weekend back in '08 and that it was one of the best things he had been to in a long time. Pretty neat to hear someone outside the scene be so stoked to come all the way to Ottawa for this!
Up next in the SAW courtyard was what I consider the highlight of Ottawa Explosion for me. The Underground Railroad to Candyland is a band that hails from L.A., and founded by Todd Congelliere who also happens to be a member of Toys That Kill (another great band that played OXW that I, unfortunately, missed). Congelliere has been around since the late '80s, playing in various projects including F.Y.P. (a previous incarnation of Toys That Kill), and is the founder of Recess Records with whom URTC resides. It all started with me seeing a guy walking down the street in a tiger costume. I figured that it must have been a fan of New Swears who played later on, since those guys always have something up their sleeve. But no, that was not the case. URTC got up on stage, one member wearing the aforementioned tiger costume, another in a shark onesie, and another wearing a superwoman-style Canadian flag as a cape. Did I mention that Congelliere was wearing a sweet Chippendales shirt? The blistering heat outside was cooking us, I don't quite know how they managed to pull off such a great set with all that attire.
URTC is unlike band I've ever heard. Part punk, part jangle pop, part melodic rock — but all party. Their latest release is The People Are Home, from what I could tell, the latest release from the band and tour LP. They played some songs such as "Yer Not the Only One" from that album, but mostly played tracks from their 2014 LP Bird Roughs. Songs like "Square Ball", "No Way! Miss U.S.A.!", and ending perfectly with "Body of the Bird". The band even had three drummers going at times, making their songs really powerful and unforgettable. So many in the crowd were singing along, and even OXW organizer Emmanuel Sayer jumped in and took a break from his duties to raise a fist and let loose with the band. What a perfect segue into the ultimate party punks, New Swears.
New Swears need little introduction here in Ottawa. They are an all-out good time in any situation, but especially when they're given instruments to play and a rambunctious crowd to play for. Scru Bar, Sammy Scorpian, Beej Eh, and Nick NoFun don't hold back when performing, and always have something up their sleeve to make each of their sets unique and memorable. Last time at the Warehouse Party presented by Arboretum Festival, they doused the crowd in silly string (a common occurrence) and made a body bridge for Beej Eh to play on. Sometimes there are no pants. Sometimes there is whipped cream or shaving cream. Sometimes they are dressed up in white plastic bags with blow up toys thrown out into the crowd (OXW 2013 – see here). Needless to say, there is very little that this band won't do  – and that's why we love them.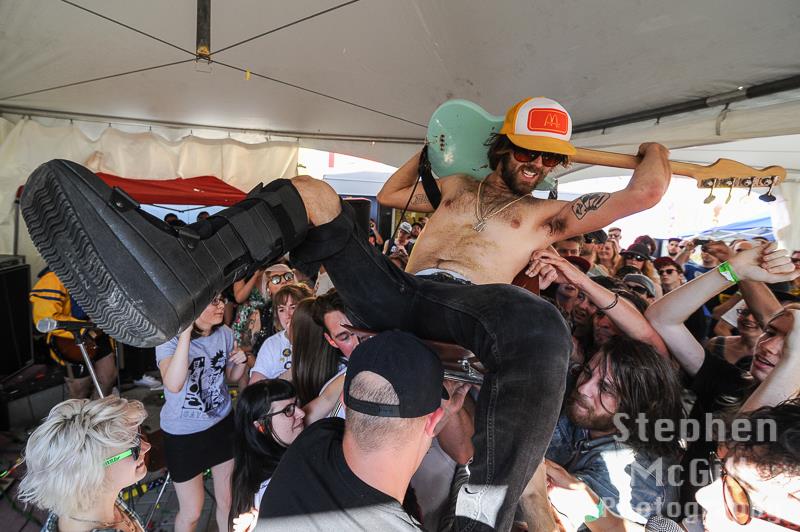 This time around, it included one of their close friends dressed up as a cop on his upper body and as a baby on his lower body. Or, should I say, a guy dressed up as a cop wearing diapers. Because why not? Most of us wouldn't do that if you paid us, however he did it just in the spirit of New Swears fun. That's dedication. New Swears played the usual hits which of course made the crowd go feral. Bodies went flying, crowd surfers dove into the sea of sweaty bodies, and one brave individual even crowd skated (see featured photo up top). Yes, she stayed up on a skateboard while being held up by multiple people in the crowd and stayed there for a couple minutes. Everyone couldn't help but smile and look at each other in awe. Even more incredible was the fact that Sammy Scorpian jumped out into the crowd while sitting on a chair with a broken foot. In all fairness, that brace looks pretty impenetrable, so he didn't seem to worried about his own well-being. Just another New Swears show. The band played some classics such as "Rather Be Dead" and "See You In Hull" off their 2013 LP Funny Isn't Real, as well as some newer tunes such as "No Fun" and "Stay Gold" off of last year's Junkfood Forever, Bedtime Whatever. They also had a "Summer of '69" and Billy Talent interlude, which was random and fun.
Next up was a secret band, and rumours were cycling that the ultimate Ottawa punk supergroup Sedatives (R.I.P.) were going to play a set. This is a band that existed from 2008-2012, with members Ian Manhire (White Wires/Voicemail), Emmanuel Sayer (Crusades), Steve Adamyk (SAB), and Dave Monomania (Crusades/Black Tower). Alas, our hopes were dashed as another band Statues hit the stage, but everyone was really excited about them. Unfortunately I missed out because my brother called from Vancouver. I heard from many people that they had a really solid set. Sorry Statues!
I hung up just in time to catch Big Dick's set out in the SAW courtyard. Big Dick are a two-piece bass and drum band from Ottawa that absolutely shred, bursting eardrums every time they play. Singer and bassist Johnny O was right on point with his vocals, having dusted any imperfections in the performance of their newer songs from their latest LP Disappointment. They were well-rehearsed, and much stronger than the last couple of times I had seen them. Drummer Dave Sec had veins popping out of his forehead and neck, giving everything he had during the set. Their vocal harmonies sounded great and the sound was right on. Some memorable tunes were "Medic" and "Let Down", and they showed any newcomers to the band's live performance exactly why they have garnered such positive attention over the years.
Cincinnati fuzzy punk rockers Vacation were next on the bill, and although I had heard of them before, I wasn't very familiar with their music. They definitely lived up to the hype. The energy that the band exuded was incredible, particularly for a three-piece. My favourite song they played was "Horny Politicians", a fitting title for a government town. Although I'm not entirely convinced that they make the best of friends. But who knows? Vacation's short and punchy songs made their set feel like it went by really fast, but they fit quite a few songs in there. Since Explosion, I've listened to their album Candy Waves a few times and highly recommend it to anyone into fuzzy garage punk – it's a must-have.
I ventured over to the Mugshots courtyard for the first time all day after Vacation, as Halifax post-punk/psych rockers Moon were getting set to play. My friend Briggins of Mixtape Magazine, who was visiting Ottawa from Halifax, said that this was a must-see band and one of his favourites out east at the moment. I couldn't pass that up. Right away, Moon differentiated themselves from all other acts of Explosion. Their ethereal and atmospheric sound was tempered by mathy, somewhat disjointed guitar riffs and bass lines, a combination that worked really well. I came into their show not knowing what to expect or without any idea what they were like. There wasn't a song they played that I didn't love. Even with a few members missing and being replaced by friends, the band was incredibly tight and sounded great. The courtyard stone walls and dark surroundings offered a perfect feel for the music that Moon played. There was also a steady dose of melodic vocals and instrumentals, mixing it up and keeping the crowd guessing. To me, a band that can show how talented they are without staying within the confines of one genre or "sound" is the most exciting to watch and listen to. Moon even covered two completely different songs – "Big Me" by Foo Fighters and the classic "In Between Days" by The Cure. The lead singer also said "We've never played in Ottawa before, but I love prison so this is really great!" I guess not all cities have music venues in former jails. An all-around great band, and one that I hope comes back to Ottawa really soon.
Back to the SAW Courtyard, Steve Adamyk Band got off to a quick start and railed through some of their best tunes, including "Had a Heartattack", "Katacombs" off of 2013's Third, as well as "Careless" and a few others from their latest LP Dialtone. The Steve Adamyk Band had a slightly different lineup on Saturday night, as Max Deharnais of Sonic Avenues joined them on stage, replacing regular bassist Davey Quesnel on stage. The two bands are very close and on the same label (Dirtnap), so it makes sense that they know how to play each other's songs. The band sounded strong as ever, showing the crowd at OXW why they are still veterans of the scene and still one of the best punk bands in the region. Dave Monomania also joined the band on stage for a song, and everyone seemed to be making the most of it and having fun. Finally Davey Quesnel joined his band on stage for "Satellite", and with three guitars going Steve Adamyk Band pumped their full-sounding brand of power pop all over the streets of downtown Ottawa. Their music reels in fans young and old, offering something a little different each record that comes out.
The final band of the night for me was Needles//Pins, a Vancouver garage/punk band that was my most anticipated act of the festival. I wrote a little preview of my top pick for Mixtape Magazine, which you can check out here. I have this band's records basically spinning on the turntable non-stop, but had never seen them live before. The inside of Club SAW was packed to the brim and sweaty as hell, which is what you'd expect on a Saturday night at Explosion. From a technical point of view, the night started off a little rough for the band. The bass tuning was wrong when they went to start the first song, and they figured it out after a could false starts. The crowd cheered them on, and they looked a little frustrated. But they kept spirits light and powered through. One bereaved fan screamed, "I'm missing Teenanger for this!" – a band that was playing down the street at the same time. We all laughed it off as Needles//Pins exploded into their "powertrash" punk rock.
The mood changed from frustrated to high energy back to frustrated really quick as one of the amps started to smoke. The band just couldn't catch a break, but after Steve Adamyk rushed in with another amp, they quickly plugged in and regained the crowd quickly. Bassist/vocalist Tony X said, "You've seen us before, you know what to expect," after all the difficulties, lightening the mood a bit. The band was in full force as they powered through their set, pulling no punches and giving it their all. They played a bunch of songs from their 12:34 and Shamebirds LPs, including "Drop It", "I Don't Mind" and ended with "Shamebirds". Tony X ensured everyone in the room that the organizers of OXW were making one of the best festivals in North America happen every year, and everyone cheered in agreement. To our surprise, they busted out into a cover of The Replacements' song "Beer For Breakfast" as an encore. This made several die hard Replacements fans go even more crazy, including our very own Eric Scharf.
All in all, Day 4 was the funnest and wildest day of OXW and it left no prisoners. Even though many of us were dead tired, hung over, and probably lacking vitamins, so many people stayed out until the early hours of the morning to take in as much as we could.
Ottawa Explosion: Day 3 — June 19
By Anthony Cardozo
Watermarked photos by Stephen McGill Photography
The sun shone down on Club SAW today, and Mother Nature spared us the rain so we could enjoy all the good times that day three had to offer. The first band of the day I caught was The Jeanies from Brooklyn. I heard them play at Avant Garde Bar the previous night, but I never actually laid eyes on them because the place was packed to the rafters. My OXW weight loss program was in full effect as I sweated off about 6.5 pounds at that show, so it was great to see these guys again with a little more breathing room.
This afternoon, they took the stage to some surprising fanfare for a band who'd never played Ottawa before this weekend. These guys looked and sounded like they'd stepped out of a time machine from 1970. With lead singer/guitarist Joey Farber's double-denim and mutton-chops, and the rhythm guitarist bearing an uncanny resemblance to David Bowie, while the bassist rocked a corduroy cap and floral print shirt, it was just nostalgia central. And these aren't stage outfits, this is just how these guys dress. From the blues-inspired guitar work, to razor sharp three-part harmonies, The Jeanies had the crowd bobbing along throughout the set, with the hooting and hollering culminating in their final song, the first track off their album, "I Seen Her Dance". Keep an eye out for these friendly Brooklyn boys, they've got a good thing going. Their self-titled album is on Bandcamp, along with a recent single.
Next up at Mugshots was the band Terrible Liars – an Ottawa four-piece, two of whom I recognized as members of Big Dick and Steve Adamyk Band. As soon as they walked onstage I noticed a tattoo on the singer Brendan Flynn's forearm, a symbol popularized by '90s punk band Jawbreaker as a logo of sorts. Now I dig on some Jawbreaker, so I knew this was going to be cool. With a mid-tempo mix of melodic punk songs, it was a perfectly palatable dose of punk for those among us nursing hangovers. I loved the set, and would definitely check them out next time they play. Guitarist Davey Quesnelle plugged his stand-up comedy set, and ended up giving us a bit of a sample as he sang the praises of Beau's special batch of Ottawa Explosion Session Pale Ale, which is being poured all weekend. The set ended with Davey chucking his guitar into the crowd, narrowly missing National Capital Rock photographer Andrew Carver, so maybe we'll get to see his angle of things.
I hopped over to Vertigo Records for the debut of an enticing new Ottawa band Cheap Whine. The band features Eric of Feral Trash on guitar and vocals, Steve Adamyk on bass, and Jordy from The Creeps and Crusades on the skins. I watched from the sidewalk as I inhaled overpriced slice of 1-for-1 pizza and, after a quick déjà vu from TV Freaks' packed Vertigo show last year, there turned out to be a bit of room so I squeezed on in. The band was ripping through fast, fuzzy punk tunes while the crowd cheered and bobbed along and participating in the ol' OXW weight loss program once again (I keep making this joke, and maybe it was just me, but I sweat like crazy all the time). Cheap Whine has shirts too, and the design a clear nod to power-pop/rock'n'roll icons Cheap Trick. Anyone who follows Steve Adamyk Band has probably seen shots of Steve wearing a sleeveless Cheap Trick shirt, so Eric jeered about cutting the sleeves off your Cheap Whine shirt for your Steve Adamyk Halloween costume. Another funny thing was Jordy's ride cymbal toppling over about 4 or 5 times, and OXW organizer Emmanuel Sayer jumping in to rectify the situation. It happened enough times that Emmanuel eventually just stayed crouched in that corner, watching, waiting.
My next highlight of the day was jumping between the Club SAW and Mugshots courtyards, first waiting outside SAW for the next band to arrive. They'd apparently been held up at the border for a while, and their set time had just passed when their van pulled up outside. They loaded directly out of the van onto the stage to set up. It was Benny the Jet Rodriguez. The California four-piece played an upbeat mix of light grunge and sunny, sensitive pop punk. But the peak of set came when they threw in a surprisingly well-suited Sheryl Crow cover. It was "I Wanna Soak Up the Sun", and I don't think I've ever sung that song as loud as I did. Wicked fun. I snuck over the Mugshots to catch local punk sweethearts Dead Weights, and all I can say is those guys need some haircuts… Jeez louise. I'm kidding though, I love Dead Weights. Great band and great dudes. They played quite a few new songs, which hopefully means a new album at some point this year. Of course, they ended their high-energy set with the fun tune "Barely Breathe", a song that lots of us sang with the band as they finished off.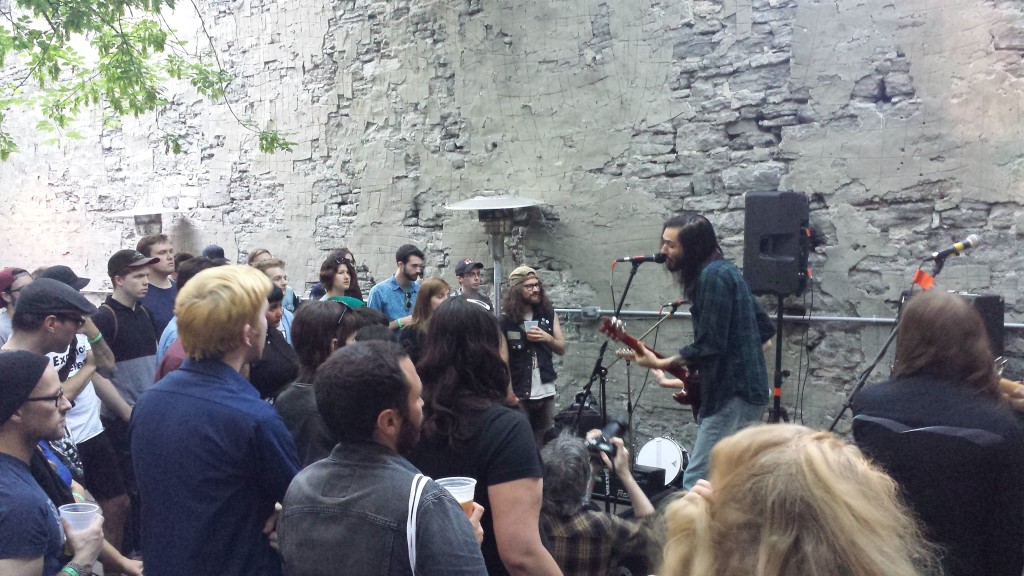 Back to Club SAW courtyard for one of my biggest highlights of the weekend, Sheer Mag. This Philadelphia band is pumping out airtight glam rock, with pumpin' dance beats and irresistible guitar licks. They've been compared to Thin Lizzy and The Runaways and the shoe sure as hell fits. I'd be remiss if I didn't at least gush a little bit about the raw power of frontwoman Christine Halliday. She belted out song after song to a very enthusiastic crowd. Ska Jeff had mentioned they were awesome, and I'm not sure how many others had heard the band before, but Sheer Mag definitely garnered some new fans this weekend.
Another highlight was packing in with what seemed like every person at OXW for when The White Wires took to the stage outside Club SAW. It's funny thinking of White Wires songs as "classics" but everyone was singing along to nearly every song. I'd say as far as Ottawa Explosion goes, that makes them a classic band. One of the main OXW organizers, Luke Martin, plays bass along with Ian Manhire on vox/guitar and Allie Hanlon on drums. Ian is the guy responsible for Gaga Records, Gaga Weekend, and a bunch of wicked stuff that became the pre-OXW Rock'n'Roll Pizza Party. One could sit down with Luke, Ian and Emmanuel and chart out exactly how this all came to be… But that's a whole other piece on its own. Allie now lives in L.A. and is pretty busy with Peach Kelli Pop, but we're very happy that she comes back to Ottawa a couple times per year to play with The White Wires.
Before my big highlight of the night, honourable mentions need to go out to some amazing bands I missed this evening. Hamilton, Ontario's TV Freaks always put on a crazy show, and I was truly bummed to miss this one at the Dom. Much love, TV Freaks, keep it freaky. Aside from that, Germany's Hysterese might not come back for a while, but I ran into a lot of people who were stoked for them so I hope they had a good crowd. And then it was Creep time. I, along with the Showbox guys and many others, love The Creeps. Their 2014 LP Eulogies has been on heavy rotation for me, and now that I actually bought the record it will literally be on rotation rather than just my iTunes. The Misfits-esque morbid pop punk is infectious as it is accessible, and the crowd was deep enough in the Beau's Explosion brew to get a little rowdy. I think the first crowd-surfer went up within the first 2 songs. Not bad. They kicked things off with a handful of tunes off Eulogies, digging back in their catalogue for a few older gems. The crowd-surfing continued throughout the set, and everyone was pretty good about looking out for each other and helping others up with they inevitably fell. I love seeing this.
I love Ottawa. I love Explosion. That's about it for me going to shows this weekend, much to my chagrin. I've been loving the shows the past few nights, but it's time for this volunteer to pay his dues.
Ottawa Explosion: Day 2 — June 18
Day two of Ottawa Explosion got off to a rocky start thanks to the fact that it was raining sideways, but Mother Nature pulled through eventually and ultimately delivered another beautiful night for punk rock.
Getting things started outside despite to downpour was Ottawa's very own Boyhood. Led by Caylie Runciman, Boyhood are experimental and dark, and perfect fit for the gloomy evening. Boyhood played a great set with some pretty sweet beats and cosmic sounds, and this was most apparent during the performance of their new song "Sooner Than You". If that song is sign of the band's direction and evolution, then I am thrilled. The '80s synth undertones, as well as the grimy and funky bass lines by Luke Martin made people forget about the rain and get lost in music. It was also great to hear them play songs off the 2014 release When I'm Hungry, like my favourite "Fresh Meat".
The rain continued to fall as I made my way to Mugshots to see the kids in Weed Mom. The band unfortunately had to deal with some sound problems outside of their control, but they persevered. The band is young, fun and finding its place. The subject of their songs made me laugh as they went from one song about making out with your friends to another song about the pains of having sex with someone with a big dick. As the sound started to improve, Weed Mom played their debut single "Plum Tree", which I really like. To top everything off, guitarist and singer Sasha pulled off drummer Tyrin's shirt and ate sushi off his chest. Oh Weed Mom, I am excited to see you bloom.
It was an emotional show for Ottawa's Nightshades. On one hand it was positive, as it was the band's tape release party for Wendy, their second EP in less than a year. But it was also sad because it marked the last show that bass player Sarah Grant will play with them as she is about to leave to travel the world. The band is in good hands, as Sarah said, "CBC learned about me leaving and have offered Shad to replace me… it will now be Nightshads." In all seriousness, they have another bassist lined up and Nightshades will go on. They played a set filled with music off of both albums. They also had to struggle through some sound issues, we could barely hear the guitar and sometimes could not hear the backup vocals.  Highlights were "Broken Bag", "Teenage Fool", and their new single "Wendy". Sarah – we at Showbox wish you the very best going forward!
With the tears wiped from our eyes it was time to summon daemons, dance with goblins, and draw pentagrams with Black Tower. Ottawa's three-piece got the rain to stop thanks to their pact with the devil. They opened with their latest single the solo-laden and driving "Death March" to set the tone. No moment of the set better summarizes Black Tower than when bassist Scotty said, "This song is called 'The Dark Lord',  it is about the Dark Lord." Lead singer and guitarist, Erin Ewing, has an intense and haunting voice, perfect for their metal-inspired punk rock. She has moments of guttural vocal fills, with the occasional incendiary high-pitch screaming part that ignited the entire courtyard.
Lightening things up was new wave punk band Century Palm from Toronto. It was hot, sweaty, and packed inside Mugshots for their set. Their music is really fun and was a great change of pace from Black Tower and the rest of the heavy bands I was about to see. During their set lead-singer Andrew Payne asked the crowd, "we cool?" The crowd cheered and he smiled. All I could think was, "we are not cool, my sweat is sweating it is so humid in here." The band treated us to a new song off their upcoming album which was pretty cool. But what really made their set was when they pulled a saxophone out of nowhere and I fell in love.
Back outside it was time to take it up a notch with Coliseum. I was sure it was going to be a good show as local artist and all-around great guy Jordan went straight to the front of the stage. When Jordan is up front and dancing, you know you are seeing a great band that it takes it to the next level. It was equally sweet to see the lead-singer and guitarist give him props after the first song and say, "I remember you." The band played a killer set full of awesome songs like "Used Blood" and "Black Magic Punk", as well as songs off their latest album Anxiety Kiss. But their music was not the most important part on this night. The was the comment made by singer/guitarist Ryan Patterson: "It is so great to see so many women involved in front and behind the scenes at this festival, unlike some jock shit like at Rock Fest." He continued, "Gender inequality is not just a punk issue, but a human issue and it is a beautiful things you have here." Well said, sir.
Now inside SAW it was time for Meat Wave from Chicago. They played fast short songs and once again Jordan danced so you knew it would be good. This noisy three-piece was strongly endorsed by Big Dick, as both members Johnny O and Dave Sec sang, cheered, and clapped loudly. Meat Wave's lead-singer and guitarist, Chris Sutter, shared a little information with us: "This is our first time in Canada, home of Rush,  Nomeansno, and hockey… sorry about that last one." Burn. Really glad I saw these guys and discovered another cool band.
Closing out the night was one of my must-see acts, Obliterations, a hardcore band from LA. The band play fast, intense, and in your face. Which is doubly entertaining as the lead-singer's  face reminds me of Weird Al. They opened with "Scapegoat" and blasted straight ahead playing other greats like "Sick Feeling" and "Narcissist". Unfortunately they experienced some pretty serious technical difficulties with the guitar amp and head crapping out. Eventually someone came to the rescue with a new amp and head and we were back in business.  They picked up were they left of, just slamming through the set, capping it off with lead singer Sam James Velde walking through the crowd and standing on the bar. Don't miss these guys.
Ottawa Explosion: Day 1 — June 17
It has finally arrived! Yes, Ottawa Explosion Weekend officially began yesterday, June 17th, at Club SAW and Mugshots.
Sailor Jupiter had the honour of being this year's first band. The three-piece garage group from Ottawa are one of my favourite newer local bands and are always a treat to see perform on stage. They played great tracks off their self-tilted debut like "Jesus Freak" and the droney "Dead to Me". They closed with an unrecorded song that was loud, filled with yelling and most excellent. They just keep getting better every time I see them.
Changing things up was Tough Age, with more of a pop punk and dance rock sound. The band from Vancouver not only played great tunes, but gave out good advice. After struggling with hair in his face, the lead singer and guitarist said, "Don't get cool hair cuts, get safe hair cuts… Great advice my dad once gave me." The band announced the exciting news that a new album is on the way and played us a track off it called "New Orleans Square." Tough Age closed out with their sweet song "Heart of Julie Jones."
Not only was I bouncing from stage to stage between SAW and Mugshots, but it also felt like the genre of music changed up every time which kept things interesting. After listening to west coast pop punk, it was now time for east coast rockers Monomyth from Halifax. These guys took me on a journey through soundscapes with their stoner rock. It felt really appropriate as they named themselves after the narrative pattern for the 12 stages of the hero's journey. These maritimers' music is perfect for meditating or for peaceful sailing on the open waters. Really dug it.
Playing the final set outside of SAW for the evening were the up-tempo and lively Guantanamo Baywatch from Portland, Oregon. They teleported us to a '60s or '70s beach party worthy of bright Hawaiian shirts and people doing the Twist. Their music was so much fun and finally got the crowd moving. You need not look any further than the first track, "Barbacoa" off their latest album Chest Crawl, to understand why people where loving it. The instrumental surf medley makes you want to jump up and dance. They are one of, if not the, tightest surf rock group I have ever seen. A real treat.
It was now time to move inside SAW for the final four acts. Kicking things off were Kappa Chow. If anyone there didn't know the band's name, they learned it quickly as the lead singer often yells out "KAPPA…" and waits for the crowd to say "CHOW!" You know the band from Sackville, New Brunswick, is something a little different right away as the drummer stood up and set up in the crowd-facing the stage. With the singer channelling his inner young Iggy Pop and not being able to either keep his shirt on or stay out of the crowd — he is a natural entertainer. Later on during the set he got up on the monitor and standing nice and tall mooned us all. Never forget that Kappa… CHOW is "Punk as Fuck."
Up next was Nap Eyes from Halifax, NS. If Kappa was Iggy, Nap Eyes was Lou Reed in all the right ways. They play a very interesting psych folk music and performed a number of great tracks including the eerie "Dark Creedence", which sounds like it could have been an outtake from Velvet Underground & Nico. Like the song "Heroine", "Dark Creedence" begins with a happy-sounding chord progression and crescendos near the end with a screechy, uncontrolled sound from the guitar that makes the listener feel slightly uncomfortable.
The band with the greatest name of the night, SOCAN Billionaires, shared their musical riches with us as we closed in on midnight. Led by Mike Dubue, they were essentially Hilotrons without Adam Saikaley. They played a number of upbeat, catchy tunes and ripped through their set. A highlight was when the band slowed things down a bit and got their dub on, playing Hilotrons' "A New Town" from their new album To Trip with Terpsichore. The thing I love about Dubue is how he does not shy away from his Talking Heads influence. Their performance felt like Ottawa's answer to Stop Making Sense but with the punk edge of being in a small dimly lit venue. They powered through technical difficulties with Dubue's keyboard, but with his energy and the band's amazing musicianship it could almost go unnoticed.
Now well past midnight it was time for the Ouija rocking The Yips to peer into what was left of our souls. The Yips were the perfect choice to end the night, maintaining the energy of the room and keeping the late mid-week party going. The local act puts on such a great show and they have amazing on stage chemistry. As per usual, the band did not disappoint the still pretty large crowd of late-night partiers. A few highlights of the set were just how spot on they nailed their track "Repeater" and that they played a new song I had never heard before. Teasing us that late at night felt somewhat unfair… but I liked it. Let's all hope that means another Yips EP is on the way sooner rather than later.
Day one is officially in the books and it was most excellent. Five more days of fun, sun and punk rock left to go!
---
Homebody Review by Anthony Cardozo
So I walked into the Mugshots courtyard just after the Denver, Colorado, three-piece had started their set, and I immediately notice the drummer playing with a maraca in one hand. Ok, that's cool, score one for Homebody. Next song, the two guitarists trade instruments, also cool. Then I notice the instrument that one guy is playing: it looks like a guitar but a bit bigger, and it sounds like a bass. It has 6 strings, but he's plucking them individually, not playing chords. This whacky thing is called a Bass VI, and is just a small-scale 6-string bass guitar. I'd never seen it played in a band, and I'm not sure I fully understand it. So Homebody is rackin' up some points!
These guys are mixing psychedelic vibes with a kind of Mac DeMarco-esque jangly pop, and some occasional weird time signatures. The rotating projections on the tall courtyard walls looked like something you'd see through a microscope, and coupled with the music, made the setting feel like a science experiment, as if we were under the microscope and Homebody was the spaced-out soundtrack to our examination. Weird. And awesome.
The weekend is young, so let's go! OXW Day 2!!!
Festival Preview: Ottawa Explosion Weekend June 17—22
It is June 15 which means there are only 2 days left in the punk rock advent calendar leading up to Ottawa Explosion Weekend.
Ninety bands, six days, seven venues, including outdoor shows and secret shows in record shops—all for under $80. Yes, Ottawa Explosion Weekend is like Christmas in June for punk rock in the capital, and Emmanuel Sayer and Luke Martin are Santa Claus with a giant sack of bands to put under our tree.
This venue-based festival offers you non-stop mix of rock, punk, metal, hardcore and indie at at least three different shows a day in three separate venues and up to seven shows a day on the weekend. Ottawa Explosion Weekend brings together most of the best Ottawa has to offer with some great acts from across North America, and some from as far away as Germany. Another added bonus to this year's OXW is that Beau's is the beer partner.
It is very difficult to pick out the must-see acts, but here is a list of bands not to miss that we've broken down by date. Yes, I know there will be a lot of conflicts and travel bummers in my picks, but hey – I didn't make the schedule!
---
Sailor Jupiter (Club SAW, 7 p.m.) – Three-piece all girl garage band, Sailor Jupiter are part of a new generation of the garage and noise rock bands coming out of Ottawa.
Kappa Chow (Club SAW, 10:45 p.m.) – Sackville, New Brunswick's Kappa Chow are an explosion of bizarre punk rock energy. They have a very unorthodox approach and set up to punk rock and it is great. Don't believe me? Let them tell you how punk they are below.
---
Nightshades (Mugshots, 8:30 p.m.) – Great local three-piece rock and garage rock band from Ottawa. Nightshades play up tempo garage songs with duelling female vocals that compliment each other really well. They have a new EP coming out soon, check out their new song "Wendy."
Cross Dog (House of TARG, 10:45 p.m.) – Cross Dog is a three-piece ball of anger out of Peterborough, ON playing hardcore-inspired punk rock full of societal commentary.
The Jeanies (Avant-Garde, 12:15 a.m.) – Fun bubble gum punk from Brooklyn, NY. The Jeanies will be you want to boogie so don't forget your dancing shoes.
Obliterations (Club SAW, 12:30 a.m.) – LA Hardcore of the very in your face variety. Anyone looking to thrash the night away with high-voltage energy and slamming riffs should not miss Obliterations.
---
The White Wires (Club SAW, 10 p.m.) – One of the shows of the year from OXW 2014 and they are back to do it again. These Ottawa gems rarely play live in town and it's hard to justify missing them.
The Creeps (Club SAW, 12:15 a.m.) Another rarity, they pack the house and they deliver true creepy story-telling with ear-splitting goodness. Another one of Ottawa's finest on the same day.
Durs Coeurs (The Dom, 10:45 p.m.) Ottawa French punk rock with an old-school flare. Kind of reminds me of The Misfits but with French lyrics not about zombies and ghouls.
Petra Glynt (Avant-Garde, 12:15 a.m.) Super strange, experimental and very cool atmospheric solo performer from Toronto. She might not be what first comes to mind when you think punk, but she will amaze and dazzle for sure.
---
New Swears (Club SAW, 5:00 p.m.) Every year New Swears take their spectacle to new heights, usually involving inflatable pool toys, costumes, candy, silly string and more… can you really afford to miss what they might do this year?
The Ballentynes (House of TARG, 10:30 p.m.) Looking for something a little different? Check out these soulful gospel-like garage rockers from Vancouver. If they can't get you dancing, not sure who can.
Needles//Pins (Club SAW, 11:30 p.m.) These guys deliver awesome sets every year. An amazing power-pop gem from the West Coast of Canada.
Teenanger (Avant-Garde, 11:45 p.m.) Modern punk-rock with strong old-school influences out of Toronto.
---
Blue Angel (Club SAW, 2:45 p.m.) This is the ultimate Ottawa "super-group" made up of members from Bondar, Organ Eyes and Boyhood. Need I say more?
The Famines (Club SAW, 4:15 p.m.) Excellent noisy garage rock due from Montreal, QC. Was really blown away by their last Ottawa show at House of TARG.
Freeplay arcade and DJ KJMaxx (House of TARG, 9 p.m.) – Free arcade games (with an OXW bracelet) and sweet sweet punk rock and garage being spun on vinyl.
Tenement (Black Squirrel Books) Lo-fi pop-punk from Appleton, WI playing a book store. Should be a great time.
OSBX Teams Up With Ottawa Explosion on Friday, June 19
Well, the weekend that many of us look forward to all year in town is nearly upon us. It's the unofficial start of summer in Ottawa – Ottawa Explosion Weekend! It is one of the best punk festivals in the country, bringing bands from all across North America and Europe to Ottawa's core for five days of non-stop fun.
There is no shortage of reasons for why we wanted to get on board with OXW and co-present with them. Not only have organizers Emmanuel Sayer and Luke Martin built this thing from the ground up – they do so with the intention of bringing bands to Ottawa and highlighting some of our city's best artists without putting any of the money in their back pocket. Many of us have watched OXW evolve and draw more people, bigger bands, and expand to more venues surrounding the main grounds at SAW Courtyard.
We're very happy to announce that Showbox will be co-presenting the lineup at Mugshots courtyard on Friday night, June 19th. The bill features two of our favourite local punk bands, and buds, Finderskeepers and Dead Weights, as well as Chicago's heavy pop-punk rockers Boilerman.
The format is such that each set is spaced out so that no one will miss out on anything happening around the festival, and can head to Club SAW, Avant Garde, and Dominion Tavern to check out other sets between bands. Here is all the info you need:
---
MUGSHOTS (courtyard)
Friday, June 19
Doors at 7:00 PM ($8 or free w/ OXW bracelet/AA)
—
Ottawa Showbox & Ottawa Explosion present…
—
DEAD WEIGHTS (Ottawa, ON) 7:30
FINDERSKEEPERS (Ottawa, ON) 8:30
BOILERMAN (Chicago, IL) 9:30
AFTER PARTY/ DJs (19+)  11:00
—
For more information of OXW, ticket/bracelet sales, festival lineup, and other shows happening that night, visit the OXW website.
—
Ottawa Explosion Weekend Day 2: Stand GT, Tropical Dripps, ZEX, Tweens and more
Ottawa Explosion Weekend, day two–saw many great bands rock Club SAW once again.
Tropical Dripps got us started with their surf rock and beach party atmosphere. There were beach balls, Jean-Sebastien crowdsurfing on an inflatable beach mattress, a bunch of people dancing while wearing tropical shirts, and great tunes. Oh yeah, there was also the first "nudity" of the festival (not the last of the day) thanks to shirtless bass player Kurt.
Ketamines were up next with their old school punk rock vibe.  They reminded me of the kind of stuff you would have heard New York in the 80's, it was great. Kind of a New York Dolls feel, but with the bonus of someone on keys. The lead singer was a great showman, which is always a plus.
Looking rather exhausted but without any signs of fatigue Pretty Pretty from Ohio came on. They were a super fun pop punk act with dual vocals. The crowd was loving it and dancing up a storm. What was really cool is that the drummer Jerry is not normally in the band but was filling in and did a kick ass job. Songs "Talking to the Walls" and "Family Matters" really stuck out for me.
Jerry returned to the stage to play with Tweens, who blew me away. They had me hooked from the very first song. I just loved their energy and really enjoyed their new song "Serotonin." Tweens also had us all laughing as they introduced one of their sad songs by saying "get out your rain coats, here come the tears."
The most surreal moment of the night was getting to see The Stand GT.  Never thought I would ever get to see them play as there last show was 13 years ago in 2001. They were excellent and you could have sworn they never took a break. They looked like they were having so much fun getting back on stage which is great to see from a band whose first release was in the late 80's.
It was now time to move inside to get ZEX-ed. One of Ottawa's newest acts ZEX were most excellent. This was my first time seeing the band and I was quite excited. I missed the beginning but walked in to see the lead singer in a white leather bondage gear which did not cover very much (not something you see every day, well maybe some of you do.) I really dig the band's sound, energy and stage presence. And I could not help but yell the lyrics to their great tune "Savage City" at the top of my lungs.
The last band of the evening for me was Vacation, as I had to head out and go see some friends.  This was the third band Jerry drummed for in the night and he once again killed it. As I have mentioned in several other posts, it always blows my mind to watch a drummer also be lead vocals. I don't know what is in the water in Ohio but the state certainly produces awesome punk rock between Pretty Pretty, Tweens and Vacation.
Well day two is in the books which means the actual weekend portion is about to begin! I am so ridiculously stocked for Friday, Saturday and Sunday. Let's keep the Explosion rolling.