Happy Birthday to the One and Only House of TARG
We couldn't let this weekend pass without saying a few words about House of TARG. It's been one full year since TARG opened its doors to a huge crowd of excited new patrons — a motley crew of individuals that came together on that first day and were the first to join the legion of TARGians that frequent the Hall of Wizards.
I guess we'll start off by saying that House of TARG is definitely one of the crucial hubs in Ottawa's music scene. Owners Paul 'Yogi' Granger, Mark McHale, and Kevin Birger have taken a wild idea and made it into a reality. Combining a music venue, pinball/arcade, and perogies sounds like a pretty loopy concept in this day in age. To the average concertgoer, modern gamer, or food connoisseur, one might think that it would be difficult to attract people in town to a dark basement in a reasonably quiet part of town in Old Ottawa South. The sound of punk rock, grease simmering, and dings from the pinball machines — who would want that?
Well, a shitload of people it turns out. The owners have successfully created an atmosphere that bleeds nostalgia, bringing together anyone from toddlers to grey-haired rockers that cut their chops in seedy basement venues. But not only that, they have made TARG a place for all of us to feel at home. No matter where you're from, what your background is, what you look like — all are made to feel welcome inside the walls of TARG. Their perogies are a damn good treat, too.
Without rambling for too long, it should be said that House of TARG really does embody the DIY ethic that thrives in Ottawa. Being musicians and having been deeply involved in the scene for so long, the owners know what it means to think up a crazy idea — whether it's a band, a business, or festival — and just make it happen. Every time I hear of a new band forming or a young kid picking up a guitar for the first time, I think of how this kind of DIY attitude defines the character of so many great people, places, and things in Ottawa. TARG is a space that is a product of this kind of attitude, and that's what keeps it going strong.
The community supports TARG, and they in turn support the community. They take chances on new bands, they appreciate hard work and always show their love for others in Ottawa supporting the scene in their own way. They encourage a safe, family-friendly atmosphere while simultaneously maintaining a unique sense of 'cool.' There aren't many places where you'll find a seven-year-old and 37-year-old (one of which probably wearing a leather jacket) playing games beside each other and having equal fun doing so.
So, we raise our glass to you, TARG. To Yogi, Ska Jeff, Josh 'Remi Royale' Grace, and the entire crew — thank you for pushing boundaries, being fearless, and allowing your patrons the opportunity to find their inner child again. To many years of button-mashing and pinball wizardry ahead.
Your friends,
Matías, Eric & Joe
Ottawa Showbox
---
Ottawa Music Guide: Top Ottawa Venues For Live Music
Here's a revised and updated version of the writeup I did for WHEREOttawa when I was an intern there in late 2012. Now that 2015 is upon us, here's what you need to know about the best music venues in Ottawa.
By Matías Muñoz
---
This Ottawa music venue in the city's Centretown neighbourhood is home to artists of all kinds, showcasing hip hop groups one night and indie rockers the next. There's plenty of room for dancing, but also lots of comfy seating for those who enjoy catching up with friends. See what's on this week by clicking here.
• Babylon Nightclub, 317 Bank St., 613-594-0003, babylonclub.ca
Nestled in the beautiful town of Wakefield, Quebec, just a 25-minute drive from Ottawa, this historic music venue is a must-visit. Some of Canada's best musicians have graced The Blacksheep's stage, making it a prime stop for many notable bands passing through Quebec and Eastern Ontario. It has become legend in Canada's music folklore history. See what's on this week by clicking here.
• The Black Sheep Inn, 753 Riverside Dr., 819-459-3228,theblacksheepinn.com
Located directly above Mavericks (see below), this music venue is known for profiling local bands, making it a great place to take some local culture. With a capacity of around 150, it is a small space filled with energy. It is not uncommon to see bands come off the stage and play songs amongst the crowd. See what's on this week by clicking here.
• Café Dekcuf, 221 Rideau St., 613-244-5000, cafedekcuf.com
House of Targ is one of the newest and most exciting additions to the Ottawa music scene. This place isn't only a music venue – it is also offers a selection of delicious handmade pierogies cooked in front of your eyes, an entire wall full of your favourite pinball games, and nostalgic arcade games such as Area 51, NBA Jam, Pac Man, and Mortal Kombat. This place exploded out of the city's underground music crevasses to become one of the most talked about spots in town. They also offer up a monthly zine/newsletter and weekly freeplay for all pinball and arcade games on Sunday nights, with DJ KJ MAXX spinning vinyl while you get your game on.
• House Of Targ, 1077 Bank St, (613) 730-5748, houseoftarg.com
This venue is a staple in Ottawa's music scene, providing a good mix of smaller, local acts and more well-known ones. Located just down the street from the Rideau Centre, it is accessible and provides a little more space for patrons than other places around the city. See what's on this week by clicking here.
• Mavericks Bar, 221 Rideau St., 613-562-3941, mavericksbar.com
The lounge-style ambiance here makes for a more mature, relaxed vibe. Dim lighting and smooth live music make this Ottawa venue an ideal hangout for adults of all ages. Mercury Lounge is the middle of the ByWard Market, close to other fine restaurants and nightlife spots. See what's on this week by clicking here.
• Mercury Lounge, 56 ByWard Market Square., 613-789-5324,mercurylounge.com
This beautiful, multi-purpose performing arts centre sits along the Rideau Canal in Ottawa's downtown core. With several stages of varying size, this arts venue is capable of holding larger crowds with rowed seating in Southam Hall, or more intimate concerts at the Theatre, Studio or Fourth Stage.
• National Arts Centre, 53 Elgin St., 613-947-7000, nac-cna.ca
This quiet gourmet sandwich bar on Gladstone is bursting with all kinds of events. There is an aura of creativity that resonates from this place—and is showcased by the variety of acts that perform, from poets to live bands. This Ottawa venue uses its spaces to its full potential. See what's on this week by clicking here.
• Pressed, 750 Gladstone Ave., 613-680-9294, pressed-ottawa.com
This quaint little café at the edge of Ottawa's Chinatown is the definition of independent. Some of the best indie bands from Ottawa and around the country love the comfy living room-style atmosphere, which almost feels like a house show at times. There is a sense of warmth to this venue like no other in Ottawa. See what's on this week by clicking here.
• Raw Sugar Café, 692 Somerset St. W., 613-216-2850, rawsugarcafe.com
Known to throw some wild events, Ritual is the natural home for electronic, hip hop and DJ sets. With big sound and a long bar, this venue is a favourite amongst experienced partygoers. It is also conveniently located adjacent to the Rideau Centre in downtown Ottawa. See what's on this week by clicking here.
• Ritual Nightclub, 137 Besserer St., 613-680-7661, Facebook page
Le Troquet
Located in downtown Hull, just across the Ottawa River, Le Troquet has proven itself to be a cultural hub since 1997. With a lively crowd of regulars and a particularly strong folk scene surrounding the venue. More and more, Le Troquet is emerging as a spot where both sides of the river can unite and enjoy a comfortable atmosphere with character.
• Le Troquet, 41 Rue Laval (Hull, QC), (819) 205-9060, letroquet.ca
Located in the heart of the Ottawa's ByWard Market, Zaphod Beeblebrox—simply known as Zaphod's to locals—is a prime stop for touring musicians and is probably the most well-known in Ottawa. The Rolling Stones shot their 2005 video for "Streets of Love" here! See what's on this week by clicking here.
• Zaphod Beeblebrox, 27 York St., (613) 652-1010, zaphods.ca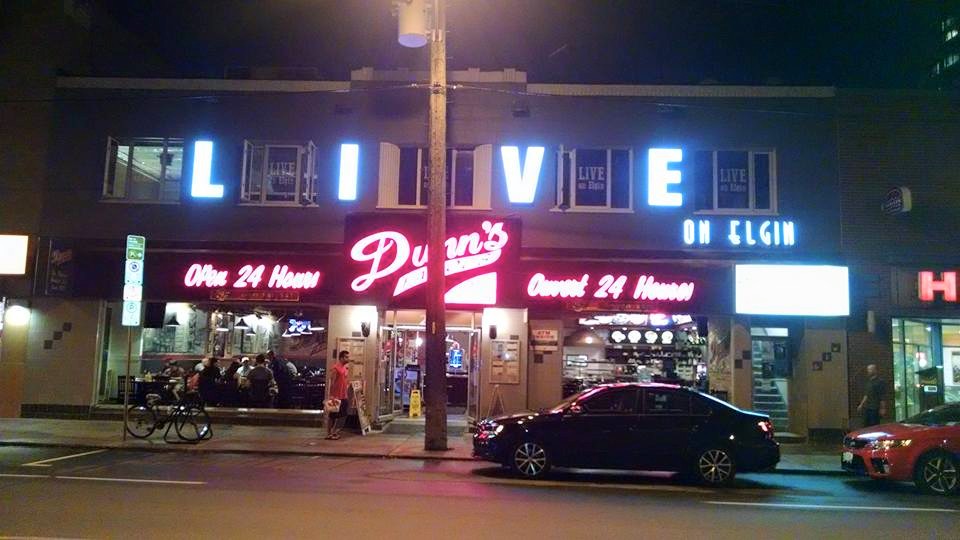 This brand new music venue couldn't be in a better place. Located on Elgin St., one of Ottawa's busiest core streets, LIVE! on Elgin has already begun to turn heads by booking great bands from all backgrounds and genres. From loud rock shows to quiet sit down serenades, find what you're looking for here.
• LIVE! on Elgin, 2-220 Elgin St, (613) 695-5483
The Dearly Beloved Yips @ House of Targ
It was night of ghosts and missing people on Wednesday night at House of Targ as The Yips played and the Dearly Beloved were nowhere to be found.
There was some confusion, as Dearly Beloved from Montreal were booked to play House of Targ but are currently in Germany during their European tour. Not sure what happened there, but we had The Yips and that was just fine with me.
There are few bands in town I have seen and written about as much as the beloved local Ouija rockers. I feel like I have watched The Yips grow up in front of my eyes, much to the joy of my ears. They had me from the first time I ever saw them live and have never failed to impress.
On this night the focus was new material, playing almost exclusively songs from their latest release Air Loom. This was great as I have not seen them much since the release and was glad to hear some tracks I was less familiar with. Songs that stood out were "Repeater," thanks in large part to the crazy tempo and overall sound transition in the middle song leaving you thinking the band has been momentarily possessed by the spirits they summoned, and their closing track "Sadie," which begins with a ghastly, driving and powerful intro that gets me every time.
There may have been some confusion on this night, but one thing was certain, I am glad I saw my beloved Yips. Listen below and fall under their spell as I have.
Interview: House of Targ co-founder Paul "Yogi" Granger
James Rockso (Ottawa Showbox/Morning Metal) interviews Paul 'Yogi' Granger, co-founder of Ottawa's sickest new arcade/venue House of Targ.
What are your favourite current and past Ottawa bands?
I love a lot of local bands – past favourites like Grave Concern, Furnaceface, Black Boot Trio, Feed and Brandon Walsh – seeing these bands when I was younger made me want to play in a band. Currently, the city is full of rising/dedicated talent in so many different genres – bands like Mothers Children, Asile, Monobrow, The Yips, Bearshark, New Swears, WW4 – the list goes on and on. We are very fortunate to have such a diverse/killer music scene in Ottawa!!
What band was the most fun to be a part of?
I've played in some fun bands – UKRAINIA! was always great, lots of traveling/touring adventures. Jake Lovetart or Chucklehead were the most wild shows – lots of props, themes, fire and smoke. Lately I'm playing with Klovenhoofs and Blackbread which fulfill my need for the "heavy".
What is the one thing you miss from essentially having a house venue to now running a regulated venue?
The old place was kinda like the Wild West – I was never concerned about permits/licenses etc. that has changed but we strive to keep as much of our philosophy the same at the new place – community, respect and fun for everyone no matter who you are. I'm super excited that TARG now has a family friendly atmosphere that younger game/music fans can enjoy – this was impossible at the old space.
If you could get any arcade game to Targ, what would it be?

There are so many games I'd like to get my hands on!! Star Wars, Spy Hunter, Joust – we have started a wish list and hope to keep bringing in new titles as often as possible!
With Targ filling a big hole that existed for punk/metal kids in Ottawa, what else do you think this city needs?
I think there are a lot of awesome people working hard in our community. People like Antique Skate Shop building skate parks, small indie music festivals popping up, promoters working to support indie artists – zines like Small Talk Stinks. It would be great to have a weekly or monthly Ottawa publication curated by people who really care about what's happening in our city and could communicate it to the public. Ottawa is not a sleepy boring town, there's tons of events constantly being organized by motivated individuals – it's important to support these ideas – they tend to grow into something we can all be proud of.
Where did the name "House of Targ" come from?
TARG is the first game I was given. It is a difficult fast-paced maze game – kinda like PAC MAN on speed. We fell in love with it and began collecting more and more machines, it started our obsession. The name came naturally after that.
What made you want to open a live venue in the first place?
I've been working with bands all my life. Recording/producing records, providing jam space, booking/promoting shows, playing in bands. I've been lucky enough to work in some great clubs like Zaphods, Babylon, and Barrymores. I guess it was just a natural transition to open a place where I could combine some of the things I love most in life. Music, games and food. I'm blessed to have two great partners in Mark McHale and Kevin Birger who share the same passions and loves.
Ottawa has been without a decent punk/metal venue for a long time – what bands are you really wanting to play a show at House of Targ?
We'd love to have Rush come play a set at TARG. That'll be tough but we don't give up easy 🙂 I'm working on new bands/shows constantly – you'll have to check our schedule to see what we are getting up to!!!
With House of Targ becoming an incredibly popular venue for musicians, how would bands wanting to perform become apart of Targ?
The best way to be a part of something is to immerse yourself in it. Come by, hang out, play a game with others, meet the musicians in your scene – set up bills/shows, get active in promoting your friends bands just as you would your own. TARG exists to promote/foster musical talent of any genre – be cool, don't sweat the small stuff and never give up.
If House of Targ had an official statement, a goal – what would it be?
Our main goal is to have Rush perform on our stage. Our secondary goal is to acquire a submarine and serve our delicious pirogies in international waters.
What is House of Targ's most popular arcade game?
Our most popular game is probably Ice Cold Beer. It's a very challenging machine. You gotta try it to understand it – warning – it is highly addictive!

What else is going to happen at House of Targ in the coming months? 
In the coming months we will be serving up more great bands, killer games and delicious pirogies. We are having way too much fun. Thanks Ottawa!
1077 Bank Street, Ottawa, Ontario
Thursday – Sunday – 5:00pm to 2:00am
James Rockso – Host of CKCU 93.1 FM's "Morning Metal" & Producer/Engineer at "Pebble Studios"
Morning Metal 2014.
https://www.facebook.com/pages/Morning-Metal/286205571505773
Interested in a review or an interview, or know someone that is? Send me a message from the link above!
Sonic Avenues and The Creeps @ House of Targ Thursday Apr. 24
Can you overdose on rock, punk, pinball and perogies? I hope not because I plan on doing it all summer while living at my new favourite venue House of Targ.
With a wall full of pinball and another with old school arcades like Pac-Man, Galaga, NBA jam, Tetris and more, six kinds of perogies, fair beer prices and a stage, you can understand why I love the place. For the curious, the first game I played was the Last Action Hero pinball game…AHHNOLD!
Setting the tone for the night was Steve Adamyk DJing the real way, with wax. He played some great bangers, including "Orgasm Addict" by The Buzzcocks.
Ottawa's The Creeps played their first show of 2014, and it was excellent. The ghoulish pop punk band played to a pretty packed house. They played some sweet new tracks off what they said will be a new record coming out this year (so exciting!). They also rocked some of my favourites, including "Our Time" and the creepy "All the Way Home." It was a great set, and an excellent first band to see at House of Targ.
Closing out the night was Sonic Avenues from Montreal. They played great music, which I will get to in a second. But they also did something I loved…they chirped and gave shit to the obnoxious fan who was too drunk and moshing too hard.  We all know that guy, there is one at every show. But it is great to see the band put him in his place. It happened when he threw himself towards the band knocking people down, the mic stand and the band's beer.  One guitarist said in a super sarcastic voice: "Sick mosh dude, we are now going to play an old song and maybe the mosh will get sicker and get us new beers." I loved it! As for their music, Sonic Avenues really kicked it. My favourite track from their set was hands down "Lost and Found," but I also really liked the very garage feel to their track "Automatic."
And I will lead you with Sonic Avenues's words of wisdom, because I could not say it better myself. "Fucking House of Targ, this the best place ever."