Thirsty Thursdays: Peppermint Porter Collab by Beau's & Big Rig
By Daniel Bordage
Beer: Peppermint Porter by Beau's and Big Rig Brewery
Style: Porter
ABV: 5.4%
Pairing: Yuletide mix

About the Beer:  I had this beer on tap at Big Rig Brewery. I love that this peppermint porter isn't overdoing it with the peppermint. I've had plenty of other peppermint-flavoured beer where I was better off sucking on a Christmas cane. I would say there are more chocolate notes with a little minty finish. I had two beers to make sure… Yup! Delicious!!   You can find it at Beau's brewery, or get it delivered by the BYOB program, Brew Donkey, and of course at Big Rig on tap.
The commercial description goes as follows:
Beau's All Natural & Big Rig Brewery's collaboration Peppermint Porter is a holiday treat! This is a dark ale with rich chocolate malt undertones that are echoed with the addition of cocoa nibs, and complemented with clean, cool peppermint in the finish. Matthew O'Hara of Beau's and Lon Ladell of Big Rig designed the recipe together and brewed it up at Beau's.
The Music:
I could have spent three weeks on this playlist and not even touched the surface of all the Christmas songs out there. At first, I hated this time of year for music. But a bit of research, you will find amazing songs out there. With the help of my pals here at Ottawa Showbox, I was able to incorporate some great local music too. Here are some of my favorites, but even reviewing my list, I found a ton more. AHHHH!!
Julian Casablancas – "I Wish It Was Christmas Today"
I can't help but think of the SNL version of this song. Suffawing suckatach this is synthfull!… Wait what what??? Found this!!!
Vaglab – "Do You Believe in Santa Claus?"
I do believe in this bass line. But yes, Santa is real. Everyone knows that! #OttBand
Milkmaid – "Rudolph the Red Nosed Reindeer"
Probably the most non-traditional version of Rudolph the Red Nosed Reindeer song ever.  #OttBand
James Brown – "Soulful Christmas"
Do this song with headphones please. Drums on the left, horns on the right, sweet bass line right down the middle.
If anybody knows about snow in Canada and making a gig for the holidays, it's the Sadies. This might not be a Christmas song. But it should be!!! At around 1:40 of this song, start surfing the snowy waves.
Nick Cave and the Bad Seeds – "Fifteen feet of pure white snow"
Here's another non-Christmas song that needs to be here. Nick Cave… wow…
Nothing but fuzzy guitars and singing about kissing Mrs. Klaus. Perfect! #OttBand
Low has always been able to harmonize with the best of them. On "Silent Night," they run a clinic on harmony.
Now the Acorn can rival Low in harmonies and also suffer Ottawa winters. Find this song on the great Ho! Ho! Ho! Canada #6 compilation found here.
Another one on the same collaboration is worth a good listen… "All I Want For Christmas is A Hoverboard."
The Divide w/ Adrienne Curran – "Winter Wonderland"
A great collaboration just like our featured beer. I was never able to remember the words of this song. But it doesn't stop me from pretending I do in the car. #OttBand
I grew up with a grandfather and uncle always changing Christmas songs and making them dirty. XXXMas has made a bunch of originals that keep up with the tradition. Check them out at House of TARG tonight (Dec. 23rd) for the XXXMAS 5th anniversary/album release show + Antique Christmas Party and #1Squarefoot THANK YOU. Showboxers will be there. #OttBand
Happy Fangs – "All I Want for Christmas is Halloween"
Halloween is my second Christmas after Beau's Oktoberfest. Coming in third place… real Christmas.
The Lee Chapels – "Anarchy Xmas"
Some people hate the Holidays. The Lee Chapels rip through it nicely. #OttBand
The Vandals – "Oi! To The World"
The Vandals did an entire Xmas album that you should all check out. Classic!
The Kinks – "Father Christmas"
My House of TARG pic of the week. This song has to play there. I must be in attendance.
Promiscuous Protestah – "Christmas In The Suburbs"
The breakdown of this song makes it. Listen for it at 1:22… and the sleigh bells at 1:32. Greatness! #OttBand
Icicles and Snowballs? I know I want to throw some at my frienemies. Especially after I tried Costco on Dec 21st.
Jimi Hendrix  – "Little Drummer Boy/Silent Night/Auld Lang Syne"
Merry Christmas EVERYBODY!!!!
Honourable mentions
Too many to pick but I leave you with this… Explosions in the sky – "Snow and Lights"
Contact me on twitter @danielbordage or at dropthatspills@gmail.com for suggestions, comments or just to say hi.
Thirsty Thursdays: Halloween Edition with Dominion City Galloping Hessian Pumpkin Brown Ale
By Daniel Bordage
Beer: Dominion City Galloping Hessian Pumpkin Brown Ale
Style: Brown Ale
ABV: 5%
Pairing: A "Halloween" beer with music that either has a spooky feel , words in the title, or band name that conjures up Halloween themes.
About the Beer: This beer is made in Ottawa, Ontario, by Dominion City and the commercial description goes as follows:
"Named for the headless horseman who would crawl from his grave and strike fear into the hearts of the townspeople of Sleepy Hollow, this beer pours a dark reddish brown and features rich nutty flavours balanced against notes of dried fruit, roasted local pumpkin and baking spice. DCBC Terroir Series L 02"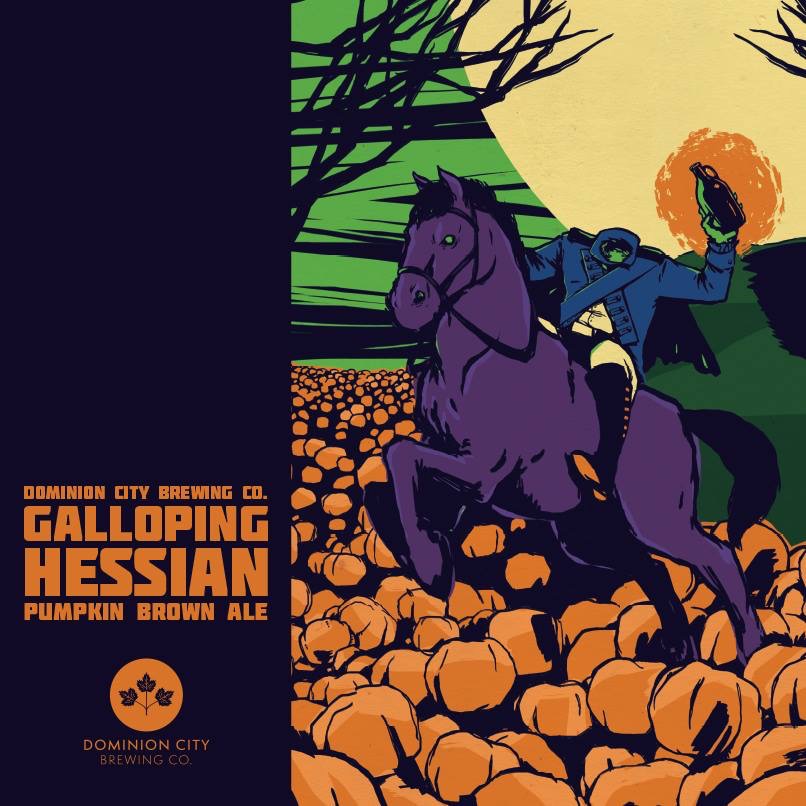 I tried it for the first time at the Hintontoberfest. I met Josh and I could tell he was very proud of his Pumpkin Brown Ale. I must say I don't blame him. It was my favourite of the day. It also turned out to be my favourite pumpkin beer of this season. It's inspired my Halloween playlist this year and the logo won me over with its Scooby-Dooesque design. I love it!
The Music: We had a contest this week via Twitter for someone to send me an Ottawa band that has a song or music that would pair well with a Halloween beer. We had a few great submissions and it gave me insight on a few Ottawa bands I didn't know existed. After hours of listening, the winner is Geoff Cass who suggested Bearshark's "Devil's Knockin'". He wins a free craft beer delivery from Brew Donkey! I thank all that participated in our first contest.
I find making Halloween playlists to be my favourite to do. I open up my music library and search for ghost, haunted, or any other common words associated with Halloween. It becomes apparent that many songwriters have ghosts in their past or are haunted by something. I could do a full jazz, indie, or hip hop playlists alone. And in Metal, well, the list would never end. So I decided to do a mix of it all. Taking you on a musical haunting as if my head was cut off like our headless horseman… The full playlist can be found here.
Nouvelle Vague – Bela Lugosi's Dead
Halloween is my second Christmas after Beau's Oktoberfest and just before real Christmas. Bela Lugosi is my Santa… Here's the original Bauhaus version of this song here.
Radiohead – We Suck Young Blood, A Wolf at the Door, I Will, or Bodysnatchers
Take your pick out of those four. Radiohead seems to be a perfect band for Halloween. I went with "A Wolf at the Door." "I Will" almost made it as it's so haunting and beautiful.
This is a great band from Ottawa with one of my favourite tracks on this list.
Sufjan Stevens – They Are Night Zombies
The backing vocals sound like the famous shower scene in Psycho.
Witches brew beer in those cauldrons, right? At that point of the brewing process, is it called a monster mash?
It's a great song for a beer and music pairing. Bottles… Bones… come on. It writes itself.
The Growlers – Graveyards Full
Growlers… Graveyards… come on… It writes itself (part 2).
Ottawa's own The Creeps. Everything they do would do well on any Halloween playlist.
Off their Metal Moon LP.
Royal Bangs – My Car is Haunted
If you've seen the movie Christine, then you know what I'm talking about.
This song should be on all Halloween playlists…
Danger Doom (Danger Mouse & MF Doom) – The Mask
MF Doom is famous for always wearing a metal face mask. He lives Halloween and collaborates with Ghostface Killah in this song. How could it not make the list?
Gravediggaz – Nowhere To Run, Nowhere To Hide
The entire 6 Feet Under record from the Gravediggaz would make this list.
If Dracula had a band, this would be the first single. It sounds like he's singing in a castle and the creepy butler is playing keys next to him.
The Horrors… enough said…
Happy Halloween and keep drinking great beer!
Honorable mentions
Contact me on Twitter @danielbordage or at dropthatspills@gmail.com for suggestions, comments or just to say hi.