bronson centre
Gallery: Pennywise, Strung Out, & Modern Terror at The Bronson Centre
Friday night was full of punk rock nostalgia, as Pennywise, Strung Out, &Modern Terror swung through Ottawa on their tour. The show was presented by Spectrasonic, and people showed up in droves to sing songs of punk's past at the top of their lungs. Our photographer Aidan Thatcher was there to catch all the action, have a look at his gallery below.
Gallery
Review + Gallery: Dashboard Confessional rocks The Bronson Centre
The Bronson Centre was packed Wednesday night as fans eagerly awaited the headliner, Dashboard Confessional, to hit the stage. Arriving early to get a good spot, a crowd was treated to not one, but two awesome openers for the night. Gabrielle Shonk was first on the bill. The Quebec City native provided a chill start to the evening, and will be playing her hometown tomorrow as the tour makes it's way east.
The Elwins brought with them their usual high energy set as they played fan favourites. A fun personal connection to the Elwins that always brings a smile to my face is that they were the first show I ever photographed, and it took place at House of TARG. Their high energy set got the crowd prepped and ready for the highly anticipated Dashboard Confessional.
When Dashboard Confessional took the stage, they kicked things off with a slower song turned sing-a-long. It was clear by the crowds energy that the whole night would be filled with sing-a-longs even as the songs picked up the pace. The high energy, audience participation and taking requests all made the night more special as the band played through crowd favourites.
When asked, the crowd was made up of a pretty even mix of those seeing the band for the first time and those who are veterans to DBC shows. This mix had no effect on how loudly they were able to sing, each time putting a smile on the band's faces. Originally from Florida, the band spiked in popularity in the early 2000's as they released their indie/emo albums including full albums and EPs. In February of this year, the band released a new album Crooked Shadows with Dine Alone Records.
Gallery
Scattered Clouds, Boyhood & Timber Timbre at the Bronson Centre
On Thursday night, crowds escaped the damp, rainy Ottawa streets and piled into a dimly lit Bronson Centre to witness an evening of ambient, atmospheric music. Headliner Timber Timbre visited Ottawa for the fourth time in 6 years along with support from Ottawa's own Boyhood Scattered Clouds.
Scattered Clouds took to the stage first, rising out of an ascending red fog. Performing as a 2-piece band with Jamie Kronick on drums and Philippe Charbonneau on guitar, keyboard, and vocals, this band was the most surprising act of the night. In terms of style, Scattered Clouds describe themselves as "dark, experimental, and post apocalyptic." These characteristics could not be more fitting. Beginning their set with a heavy presence of baritone guitar and an emphasis on drums driving the synths, the band achieved a sound that could easily be equated to a modern day embodiment of a Joy Division b-side album, with an "Ian Curtis- esque" vocal tone. The second half of the set however, transitioned into an emphasis on synth and a precision in instrumentation. Creating an atmospheric 80's dance vibe, the band achieved a type of lo-kfi sound that left the audience in a state of euphoria. Waking from this set with the harsh Bronson Centre lighting was like waking out of a heavy, romantic dream.
When the lights dimmed again, our good pals Boyhood took to the stage. Clad in flared pants and turtlenecks, Boyhood did not fail to deliver their staple moody, noisy sound. As always Caylie Runciman delivered raw and airy vocals that harmonized beautifully with her band, and provided an emotional and unpolished set completed with songs that morphed and melted into one another. Giving us a taste of what is to be expected from the upcoming album Bad Mantras, which will be the bands first album since 2012, the set featured the bands catchy "Drivin'" and "He Don't." Beginning with keyboard, Caylie swapped over to guitar midway through the set where she went to town in an emotional and raw guitar solo. It's easy to get lost in a Boyhood set, and this was no exception.
Last but not least, Timber Timbre finished the night in almost total darkness, with only subtle lighting sweeping the stage. A glass of liquor sat idled on an amp to the right, Taylor Kirk began playing what seemed like it would be the entirety of his most recent work, Sincerely Future Pollution. However four songs in, the set took a detour towards an intermingling of a huge sample of his work, ranging from his self titled back in 2009 to his most recent. Detouring the set with Hot Dreams, the band's instrumentation, and deep, sultry vocals, the song was delivered with a raw, sensual and emotional demeanour.
This specific Timber Timbre performance was unlike many others. His previous shows in Ottawa, which included a performance in Ottawa's first Baptist Church in 2011, a set at Folk Fest in 2012, where he performed alone with a kick drum, and even his set at Jazz Fest in 2015, stuck pretty tightly to the delivery of the songs on the album. However, this set tended to use the style in the albums as backdrops for experimentation and improvisation with melody and pace during the performance, providing unequivocal authenticity. Most notable in this performance was the "Curtains?!" jam session that lengthened the song by about two extra minutes with intense instrumentation. The night ended with a 3-part encore beginning with "Grand Canyon," that delivered an expressive and theatrical but emotive and raw finale.
This show captured a unique energy that seems to have been strengthened by the uniqueness of all the bands but also the ways in which they played off of one another. They each brought an atmospheric sound and seamless instrumentation, as well as a hard punch in the heartstrings with their raw vocals, lyrical movements, and honest and authentic delivery. The perfect ambiance to fit the creepy environment that is the Bronson Centre on a rainy evening, this show was not one to miss.
Japandroids & Cloud Nothings at Bronson Centre
Japandroids made their triumphant return to Ottawa this past Sunday after nearly a decade away. They brought with them Cloud Nothings, a gritty garage rock band from Cleveland, Ohio, who made their Ottawa debut at the Bronson Centre.
I fell into Cloud Nothings as they were dropping their third album, Attack on Memory, back in 2012 and never looked back. Their 2014 followup Here and Nowhere Else and their 2015 split with WAVVES called No Life For Me were equally impactful—each had their own character and feel that I thoroughly enjoyed. This is one band I had somehow missed at all the festivals and shows I'd been to over the years, and their perceived avoidance of Ottawa was truly a bummer.
But that all changed Sunday night, as this stacked bill had no problems packing the Bronson Centre's main floor. Cloud Nothing have seemed to always tow a line of self-defeatism, the "down-and-out" rockers on Attack on Memory finally pulled through and found a semblance of purpose on the gritty followup Here and Nowhere Else. So when Life Without Sound emerged earlier this year, it was exciting, yet I was skeptical and unsure of what to expect. However, when the needled dropped for the first time, it was like a breath of fresh air. The band's new songs translated incredibly well live, and band members fed off each others stage energy. The album itself comes off as more refined, more direct, and less chaotic than their previous efforts. Songs like "Up to the Surface" and "Enter Entirely" are more restrained than much of their catalogue, and the John Goodmanson's production gives Life Without Sound a more cohesive and refined feel.
On the stage, Cloud Nothings were tight as hell and nailed every moment of their performance. With this kind of music, it's easy to get lost in the fuzzy riffs and percussive thunderclaps, but the band strung their set together with ease and precision. Dylan Baldi let loose on a number of occasions and didn't hesitate to crank up the rasp and scream into his mic. One feature of the set that stood out was drummer Jayson Gerycz's total domination of the kit. On multiple occasions, he took the spotlight and commanded the drum set with reckless abandon. His tirades were a welcome fixture in their performance, particularly at the end, as he seemed to lock eyes with the all audience members at the same time while pounding our senses with his kick. If Ottawa didn't know Cloud Nothings before, they sure do now.
Next up was Vancouver's Japandroids, pleasing the audience with their much anticipated return to the capital. Lean vocalist and guitarist Brian King noted the long absence, and shared a funny story with the crowd about their last Ottawa gig. The duo formed in 2006 and slugged it out in the Vancouver scene for years, often taking a DIY approach to music and putting together their own shows and do short tours in the area. They put out a couple of EPs in 2007 and 2008, but started to turn heads with their debut LP Post-Nothing. With irresistible jams like "Heart Sweats," "Young Hearts Spark Fire," and "Wet Hair," this is about the time that I fell in love with the band.
Their second LP Celebration Rock was released in 2012, and was almost universally acclaimed by major music publications. It is also pretty much my favourite album of all time, but I digress. Japandroids dug deep into their catalogue and played songs spanning their 3 LPs and gave fans old and new everything they wanted. The tone was set right away as they opened with the title track of their latest record Near to the Wild Heart of Life, an all-out rock and roll anthem that immediately unleashed the energy of the crowd. The crowd indulged in the vocal refrains ("oh oh oh's") which has become such a staple in Japandroids tracks, and a truly unifying force. Given the current state of things in the world, picture hundreds of young folks yelling the chorus:
"And it got me all fired up / To go far away / And make some ears ring from the sound of my singing, baby"
The group played older tracks such as "Heart Sweats" and "Young Hearts Spark Fire," as well as many off of Celebration Rock like "The Nights of Wine and Roses," "Fire's Highway, and my personal favourite "Younger Us" (which I would like to be played loudly at my funeral, but I digress).
Japandroids delivered a full dose of raw and unhinged emotion in every song they play. David Prowse's drumming was as great as ever, but his vocals were noticeably improved since the first time I saw the band back in 2013. His back up presence boosted the overall impact of each song, and it was clear that the two of them had each song down to near perfection. King kept the audience engaged at all times, and didn't let up throughout the set even though the heat and lack of ventilation in the Bronson Centre was getting noticeably worse as they played.
Even new songs with a different instrumental approach such as "Arc of Bar" and "North East South West" were performed immaculately, and if anyone in the crowd was not on the board with the new record, they were hidden by bodies flying and silenced by the screams of many.
King took a quick pause to share an anecdote about their last time in Ottawa:
"It was at Ottawa Bluesfest in 2009, I think. And it was pissing rain. We were having the best time, but the stage crew was rushing to cover all of our gear with tarps to get the hell out of there. They just wanted us to stop so they could go see Kiss play on the other stage."
All in all, the group did what they do best—giving the audience the best possible performance. Coming off a raucous night in Montreal (which my friends and I also attended), the Ottawa show was just as impactful—if not more so, only because anticipation had been building for almost a decade. They closed out with one of their biggest songs, the triumphant anthem "The House That Heaven Built." With fists pumping in the air, shirts soaked with sweat, and vocal cords bursting at the seams, we all sang our god damn hearts out and yelled like hell to the heavens.
My only advice is this: if you haven't listened to or seen Japandroids before, do it. They are what rock and roll infused with punk rock look like in 2017, and their music will pick you back up on your feet when the world knocks you down.
Check out Spectrasonic's upcoming shows here. 
Gallery
Photos by Els Durnford
New Pornographers and Born Ruffians showcase expansive catalogues at Bronson Centre
Some things never change. Walking down Bronson Avenue among the early fall aromas of Pizza Pizza dough and gasoline, I felt unstuck in time. It felt like a scene from a movie about my life circa 2007: a young man makes his way to a New Pornographers show at the Bronson Centre. Oh, and Born Ruffians are playing.
Okay, so maybe some things change. Ten years makes an impact, and the city, the music scene, and everyone involved have changed quite a bit. In theory, the New Pornographers have roughly same lineup they did when "Use It" was pretty much everywhere, but Dan Bejar and Neko Case were notably absent Thursday night. Dan is busy with Destroyer and Neko is occupied with her solo career. Todd Fancey and Kathryn Calder were their backups, and while they were fantastic replacements, there is something slightly off about the band when two of its most prominent members are absent.
Yet Carl Newman's presence was enough to make all absences irrelevant. Two decades in a touring band will hone one's talents, and Newman has become one with the stage. He clearly knows the material, and he still brings a tonne of energy to older songs, of which the lengthy set list contained many.
The band played a tight, breathless set comprising most of their well known songs, with the exception of any sung by Bejar (some things cannot be replaced). Their triumphant closer was The Bleeding Heart Show off 2005's Twin Cinema, a masterpiece of Canadian indie rock that starts slow and builds to a soaringly high energy finale. Doubtless, they know their audience, and the room went absolutely crazy for it. That is, they went crazy for the parts they could make out over the refractive wall of sound issuing from the stage.
Because, here's the thing: the Bronson Centre is nice and all, but the acoustics are pretty awful. It's a square room with nothing on the ceiling and bare, reflective walls. The sound bounces around in there like Flubber, and with a band like The New Pornographers that can really be a problem. There were seven people on stage, with violins, keyboards, guitars and drums all clattering together. Now try adding vocals to that mud, and you'll see why a melodically-focused band might be better off in a different venue.
However, since Bronson Centre is about the only venue in the city with the right size for the band, we may be stuck with it.
Luckily for Born Ruffians, they had only three members on stage. The band was a good fit as an opener because, besides having risen to fame at roughly the same time, their music is written in service of its vocals. Both Carl Newman and Luke Lalonde put on excellent performances, even if their vocals were largely indiscernible. Born Ruffians even debuted a couple of new songs from their upcoming record, which seemed like a step in a distinctly more dancy-punk direction.
While both of these bands have been around for some time, the fans were going just as crazy for their new stuff as their old stuff. The future is as bright as the past for them.
Review: Coeur de Pirate, Amanda Lowe perform enchanting sets at the Bronson Centre

Photos and words by Maitland Shaheen/Ottawa Showbox
On Friday evening, Spectrasonic presented Montreal-born Béatrice Martin, known as Coeur de Pirate, for one of the first shows of her spring tour. The sold-out show filled the Bronson Centre to the rim, reportedly bringing over 800 people. Concertgoers ranged in age from 10 to 65, which proved not only the wide demographic of Coeur de Pirate's fans, but of the Ottawa music scene as a whole.
Local singer-songwriter Amanda Lowe, originally from PEI, started the evening with an acoustic set. Lowe charmed the crowd with her warm personality, sharing anecdotes that inspired her emotive, handwritten songs. She sang in both English in French, and, much like her successor, brought joy into her performance of heartbreak songs.
After a well-received performance by Lowe, who boasted a unique, soprano voice, Beatrice Martin took the stage.
The concert's theme was simple but glamorous. Martin wore a long, sheer black dress with her band in matching all-back ensembles. When a single spotlight wasn't on Martin, images of flowers (reminiscent of her latest album, Roses) and geometric, abstract art were projected across the concert hall. The effect was a dreamy vibe that captured her haunting songs perfectly.
Martin danced throughout the set, accompanying her slower tracks with graceful movements. At one point, the band left the stage while she performed a short, choreographed modern dance.
Once Martin returned to the piano, she performed a solo piano rendition of "Francis," a popular track from her debut album, before surprising the audience with a cover. Martin played a stylized version of Drake's "Hold On, We're Going Home." "It's a club song," Martin explained, "but because I'm singing it, it's going to be sad." The result was not only an admirable twist on the song, but proof that Martin is a remarkably talented pianist who can alter any genre of music to suit her style.
The final performances of the night included "Comme Des Enfants," Martin's debut song that made her such an iconic Francophone artist. She invited the audience to sing and move along, bringing the large crowd together with ease. She then ended the set with a popular track from her latest album, "Carry On," closing the night with an upbeat tone. Even if she admits to being a writer of sad songs, she managed to bring joyful elements to a stellar performance.
Contest: Win Tickets to Shad, May 2 @ Bronson Centre
*NOTE* – This contest is now closed. 
Shad, dope rapper & new host of CBC Radio 1's q, is performing with Zoo Legacy, Story Tellers & Jesse Dangerously on May 2 at the Bronson Centre as part of Ontario Scene. Two (2, 두, II) tickets are up for grabs by entering Ottawa Showbox's contest!
Shad's 2013 album Flying Colours is not his latest, he released a collaborative EP with DJ T.Lo last December and two cryptic tracks known as "The Legend of Cy Borg Pts 1 & 2" as part of a Polaris Prize project released in September. The collab between the Polaris short-listed Shad & Holy Fuck known as Holy Shad are still keeping us in suspense about a limited 500 seven-inch run of the collusion. Hopefully we'll find out more soon…
In the meantime, we are treated to daily exploration of culture as Shad takes on the host duties of q, all the while still creating and playing music. We'll listen to Shad's progressive, tongue-in-cheek, intelligent lyrics in person next Saturday and hope you can too. Shad cares about a lot of things, food, music & culture among them, but first and foremost it has to be language. Anyone who says otherwise might never have appreciated good hip hop in the first place, but we're willing to let that slide.
Your education starts here.
How to Enter
Email music@ottawashowbox.com or tweet at us (@ottawashowbox) the name of Shad's first album to be shortlisted for the Polaris Music Prize.
(Clue: he's been shortlisted thrice. Not a clue. Just a tidbit.)
What you could win
One pair of tickets to Saturday May 2nd's show of Shad playing with Zoo Legacy, Story Tellers, and Jesse Dangerously at the Bronson Centre this Saturday.
Contest ends Thursday, April 30.
Ottawa Music Guide: Top Ottawa Venues For Live Music
Here's a revised and updated version of the writeup I did for WHEREOttawa when I was an intern there in late 2012. Now that 2015 is upon us, here's what you need to know about the best music venues in Ottawa.
By Matías Muñoz
---
This Ottawa music venue in the city's Centretown neighbourhood is home to artists of all kinds, showcasing hip hop groups one night and indie rockers the next. There's plenty of room for dancing, but also lots of comfy seating for those who enjoy catching up with friends. See what's on this week by clicking here.
• Babylon Nightclub, 317 Bank St., 613-594-0003, babylonclub.ca
Nestled in the beautiful town of Wakefield, Quebec, just a 25-minute drive from Ottawa, this historic music venue is a must-visit. Some of Canada's best musicians have graced The Blacksheep's stage, making it a prime stop for many notable bands passing through Quebec and Eastern Ontario. It has become legend in Canada's music folklore history. See what's on this week by clicking here.
• The Black Sheep Inn, 753 Riverside Dr., 819-459-3228,theblacksheepinn.com
Located directly above Mavericks (see below), this music venue is known for profiling local bands, making it a great place to take some local culture. With a capacity of around 150, it is a small space filled with energy. It is not uncommon to see bands come off the stage and play songs amongst the crowd. See what's on this week by clicking here.
• Café Dekcuf, 221 Rideau St., 613-244-5000, cafedekcuf.com
House of Targ is one of the newest and most exciting additions to the Ottawa music scene. This place isn't only a music venue – it is also offers a selection of delicious handmade pierogies cooked in front of your eyes, an entire wall full of your favourite pinball games, and nostalgic arcade games such as Area 51, NBA Jam, Pac Man, and Mortal Kombat. This place exploded out of the city's underground music crevasses to become one of the most talked about spots in town. They also offer up a monthly zine/newsletter and weekly freeplay for all pinball and arcade games on Sunday nights, with DJ KJ MAXX spinning vinyl while you get your game on.
• House Of Targ, 1077 Bank St, (613) 730-5748, houseoftarg.com
This venue is a staple in Ottawa's music scene, providing a good mix of smaller, local acts and more well-known ones. Located just down the street from the Rideau Centre, it is accessible and provides a little more space for patrons than other places around the city. See what's on this week by clicking here.
• Mavericks Bar, 221 Rideau St., 613-562-3941, mavericksbar.com
The lounge-style ambiance here makes for a more mature, relaxed vibe. Dim lighting and smooth live music make this Ottawa venue an ideal hangout for adults of all ages. Mercury Lounge is the middle of the ByWard Market, close to other fine restaurants and nightlife spots. See what's on this week by clicking here.
• Mercury Lounge, 56 ByWard Market Square., 613-789-5324,mercurylounge.com
This beautiful, multi-purpose performing arts centre sits along the Rideau Canal in Ottawa's downtown core. With several stages of varying size, this arts venue is capable of holding larger crowds with rowed seating in Southam Hall, or more intimate concerts at the Theatre, Studio or Fourth Stage.
• National Arts Centre, 53 Elgin St., 613-947-7000, nac-cna.ca
This quiet gourmet sandwich bar on Gladstone is bursting with all kinds of events. There is an aura of creativity that resonates from this place—and is showcased by the variety of acts that perform, from poets to live bands. This Ottawa venue uses its spaces to its full potential. See what's on this week by clicking here.
• Pressed, 750 Gladstone Ave., 613-680-9294, pressed-ottawa.com
This quaint little café at the edge of Ottawa's Chinatown is the definition of independent. Some of the best indie bands from Ottawa and around the country love the comfy living room-style atmosphere, which almost feels like a house show at times. There is a sense of warmth to this venue like no other in Ottawa. See what's on this week by clicking here.
• Raw Sugar Café, 692 Somerset St. W., 613-216-2850, rawsugarcafe.com
Known to throw some wild events, Ritual is the natural home for electronic, hip hop and DJ sets. With big sound and a long bar, this venue is a favourite amongst experienced partygoers. It is also conveniently located adjacent to the Rideau Centre in downtown Ottawa. See what's on this week by clicking here.
• Ritual Nightclub, 137 Besserer St., 613-680-7661, Facebook page
Le Troquet
Located in downtown Hull, just across the Ottawa River, Le Troquet has proven itself to be a cultural hub since 1997. With a lively crowd of regulars and a particularly strong folk scene surrounding the venue. More and more, Le Troquet is emerging as a spot where both sides of the river can unite and enjoy a comfortable atmosphere with character.
• Le Troquet, 41 Rue Laval (Hull, QC), (819) 205-9060, letroquet.ca
Located in the heart of the Ottawa's ByWard Market, Zaphod Beeblebrox—simply known as Zaphod's to locals—is a prime stop for touring musicians and is probably the most well-known in Ottawa. The Rolling Stones shot their 2005 video for "Streets of Love" here! See what's on this week by clicking here.
• Zaphod Beeblebrox, 27 York St., (613) 652-1010, zaphods.ca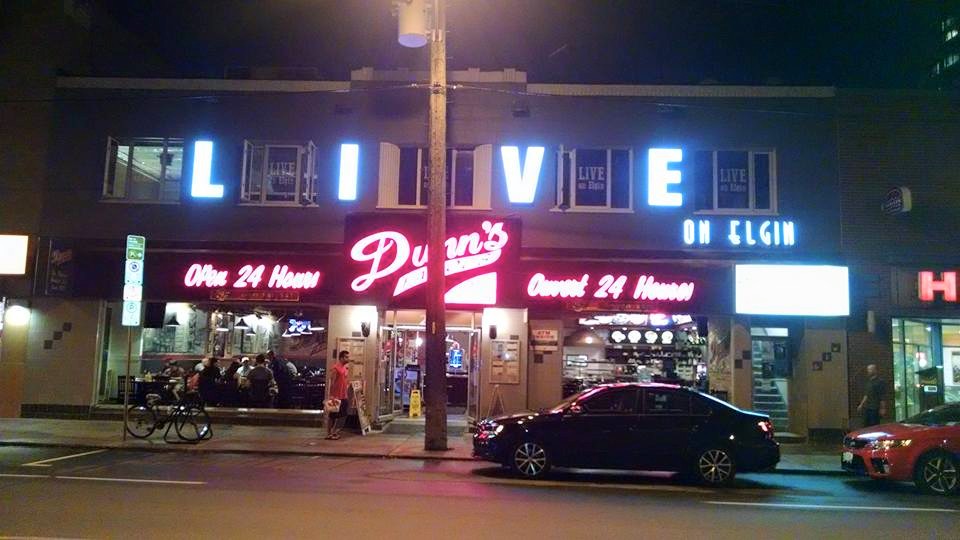 This brand new music venue couldn't be in a better place. Located on Elgin St., one of Ottawa's busiest core streets, LIVE! on Elgin has already begun to turn heads by booking great bands from all backgrounds and genres. From loud rock shows to quiet sit down serenades, find what you're looking for here.
• LIVE! on Elgin, 2-220 Elgin St, (613) 695-5483
Ottawa Rock Camp for Girls – 2014 Showcase
This past weekend marked the 2014 edition of the Ottawa Rock Camp for Girls, and we were lucky enough to make it out to the main event on Sunday night. ORC4G is a non-profit organization that brings in girls aged 13 to 17 to learn instruments (bass, guitar, drums, or keyboard), practice with experienced teachers, form a band, and learn a song with fellow campers at Capital Rehearsal Studios (aka Gabba Hey!). After the workshops, lessons, and practice sessions, the final showcase event is where all the bands play their songs in front of a live audience. The camp, run by female volunteers/mentors, hopes to promote confidence and give these young ladies the tools they need to realize their potential through music.
It's so great to see this kind of event garner support year after year, and continue to achieve their goals through active participation of both volunteers and students alike. For us in the music community, I think it goes without saying that learning these skills at a young age and becoming involved in a music community is one of the most fundamental aspects of building a strong scene. Without excited, young people picking up instruments and starting up bands in their garages, the music community weakens and eventually fizzles out. ORC4G is a door to a whole new world for these girls, and perhaps that first step to having them recognize that they can rock out on an instrument (or many!), meet other talented people, form a band, and who knows… maybe one day release an album! It's all possible, and we all know because we were teens once – sometimes we just need that extra push.
Before I get started on reviewing each band, I have to say how impressed I was as a first-time attendee to the showcase. These girls were genuinely stoked to be there, and they kicked some ass on stage. I mean, come on. They have one weekend together to learn, practice, and play a song before the showcase. That is hardcore, and I was genuinely proud to see these young ladies get on stage and own it. And also a big shoutout to the volunteers for being the perfect role models, I could see how dedicated and proud they were to be involved with this organization. Check out some great shots by Bruce Gordon on his photoblog called wildscotsman! Without further ado, here is a rundown of the night's performances.
---
Band #1: Screaming Muppet
Song: "Rebel Girl" by Bikini Kill
Band Members: Bronwyn, Brynn, Camille, Ella
Thoughts: As the first band up, it must have been a little nerve-racking. But Screaming Muppet got on stage with confidence and absolutely blew us away. What better way to begin by singing "Rebel Girl," as Kathleen Hanna is one of the best out there. The band captured the spirit of the song and the songwriter, and set the tone for what was an exciting night of music. The band was clearly well-rehearsed and knew their stuff, and one could really see how much fun they were having on stage. This band had such good chemistry, I got the feeling right away that they had been playing together for a few years.
High-fives: For nailing the group vocals on the chorus!
In the future, I could see this band opening for: The Kills
---
Band #2: Moist Ice
Song: "Should I Stay or Should I Go" by The Clash
Band Members: Enid, Ally, Joy, Kasey
Thoughts: As the band was setting up, they decided to break some of the awkward silence by telling a few jokes. "What's Michelle Obama's favourite vegetable?" asked the drummer. "BARAKOLI!" We were all laughing with Moist Ice, which, as organizer Laurie pointed out, happens to be what we commonly know as "water". This is a tough song, and the girls kept up and played this classic that we all know and love. Who doesn't love The Clash? They are definitely one of my all-time favourite bands, and it made me so happy to hear them start playing those chords. Their harmonies were right on, and the rawness that The Clash were known for was emanating from the stage. Pure punk rock.
High-fives: For playing a difficult song and sticking with it, and for a performance that would have made the late Joe Strummer proud. And having the most clever band name.
In the future, I could see this band opening for: Rancid
---
Band #3: Lumpy House
Song: "Stompa" by Serena Ryder
Band Members: Vanessa, Willa, Jessica, Kassi, Natasha
Thoughts: Although I'm not too familiar with Serena Ryder's music, I think we can all agree that this song is super catchy and funky. She's also one of the most prominent and talented female musicians out there right now. The challenge for Lumpy House was to keep all the pieces of this song together, and try to hold onto that energy that Serena is known for. Well, they did that and more. Everyone was blown away by how well this band played together, playing in unison and nailing almost every note. The singing and instruments worked together to really create a live music atmosphere.
High-fives: For getting everyone out of their chairs, onto their feet, and clapping along. Hell, they almost got a mosh pit of moms, dads, grandmas and grandpas going!
In the future, I could see this band opening for: The Black Keys
---
Band #4: Last Death
Song: "I Want Candy" by Bow Wow Wow
Band Members: Victoria, Halle, Marin, Vero
Thoughts: It was so fitting that the band with the darkest, most emo band name got stuck with the most light-hearted pop song ever written (the band is not to be confused with early 2000s child rapper Lil' Bow Wow). Irony aside, I can honestly say that I liked Last Death's version better than the original (I've always considered the original a complete rip-off of Bo Diddley.) The band was a powerhouse, with incredible vocals, near-perfect drumming, and with the bass and guitar making us all want to go pick up our surf boards and drive to the beach. There were even a couple solos in there! It was nice to have an 80s New Wave band included in the mix (and Bo Diddley too!) – it's really important that the younger generations learn a wide range of genres and bands. There's no better way to learn about music and eventually find out what your favourite band or genres is. There was clearly a lot of talent in this band, and the energy was exploding from the stage.
High-fives: While all band members deserve multiple high-fives, the drummer did an exceptional job at playing the difficult "Bo Diddley" rhythm so well and helping me enjoy this song more than I ever have.
In the future, I could see this band opening for: The White Stripes (if they ever get back together)
---
Band #5: Sassy Droplets
Song: "Hit Me With Your Best Shot" by Pat Benatar
Band Members: Madison, Megan, Bailey, Rah-Rah (Saira), Renee
Thoughts: This song is a classic. Pat Benatar is on the level of Joan Jett as far as "most badass" female musicians go. Anyone who thinks women can't rock as hard as men should have seen the Sassy Droplets take this song to another level. The lead singer's vocals were very strong, as she hit all the right notes and added some Benatar-esque flare. They had the attitude, the talent, and the confidence all in one. They really worked well on stage, and I was really impressed with how all the band members kept the song together – both vocally and instrumentally. Their stage presence was memorable, and they owned it.
High-fives: Again, the whole band deserves high-fives! But a few extra ones for singing and playing drums AT THE SAME TIME, and for a wicked guitar solo in there.
In the future, I could see this band opening for: Joan Jett (or The Runaways)
---
Band #6: Sparkly Waffles
Song: "Smells Like Teen Spirit" by Nirvana
Band Members: Madi, Evelyn, Leah, Frances
Thoughts: The final act of the night delivered a real treat to all of us who have some recollection of the 1990s. They played "Smells Like Teen Spirit" by Nirvana, which became a worldwide phenomenon (much to the displeasure of Cobain) and virtually became an anthem for a generation of disaffected youth… myself included. I was so happy to hear one of my favourite bands being played by a new generation of musicians. The drummer had the song nailed down, and was a mini Dave Grohl up there. The band captured the darkness and apathy of a former generation while on stage, and it actually reminded me of the music video with all the youngsters up there going crazy and getting into it. Mind you, missing were the anarchist cheerleaders, a thick haze, and an eventual riot. What's even cooler is that one of the girls is named Frances, the same as Cobain's daughter Frances Bean. A possible sign? Only time will tell…
High-fives: For really letting loose and making us feel like we were actually in a Nirvana music video… plus the guitarist nailed the solo!
In the future, I could see this band opening for: Death From Above 1979
---
Here's some great pictures from this year's camp!