cello
Joe Morris, Craig Pedersen & Mark Molnar @ Black Squirrel Books, Feb. 26
Black Squirrel Books will be hosting a night of improvisational music this Thursday featuring a trinity of powers that will come together for the first time ever.
Minister of Ambient Replenishment at Black Bough Records and experimental cellist Mark Molnar from the Outaouais will join Montreal's trumpet pundit Craig Pedersen and music revolutionary Joe Morris from Connecticut on their second day of a five-day tour through Ontario to Montreal. Trumpet player and cellist have collaborated before but never with free musician Joe Morris, a guitarist for more than 40 years, who is known in the jazz and improv community as an incredibly powerful and imaginative virtuoso.
Molnar urged me to talk to Morris about the show and his thoughts on music in general. In a 20-minute conversation I had with him on Sunday, I found that much of what I'd read about Joe Morris was not exaggerated.
"Most of what I do is completely improvised. That might sound like it's a lack of preparation or that it's easier but it takes an enormous effort to liberate myself from composition," he said. "Those of us who play free music have to make up a framework of rules as we go. By building up a large amount of technique we can put on a performance that requires a lot skill and knowledge, a lot of imagination and daring."
Despite his long career as a professional musician, Morris actively abandons all pre-determined ideas of what to expect from his musical associates. The issue is to just get together and make interesting music. "I don't know Mark," he said, "I just know he's an incredible musician." Molnar equally considers Morris to be a tremendous talent and a productive collaborator.
Morris is also a teacher in the jazz and improvisation department at the New England Conservatory of Music in Boston. In a nutshell, he teaches his students how to decipher what is happening between instruments to make it sound like music. He feels the conversation around improvisation is more about philosophy and less about music these days. What he has tried as a teacher is illuminate the essential properties that everyone employs when they improvise, to help young artists develop their skills, understanding and creativity.
"I think it's good when people are open-minded about music. We should just expand our understanding of it. There isn't any right way to do it, only each artists' way to accomplish the goals they have. Free music might sound very chaotic, or very dense, or noisy, and it might sound lush and beautiful, because that's what happens."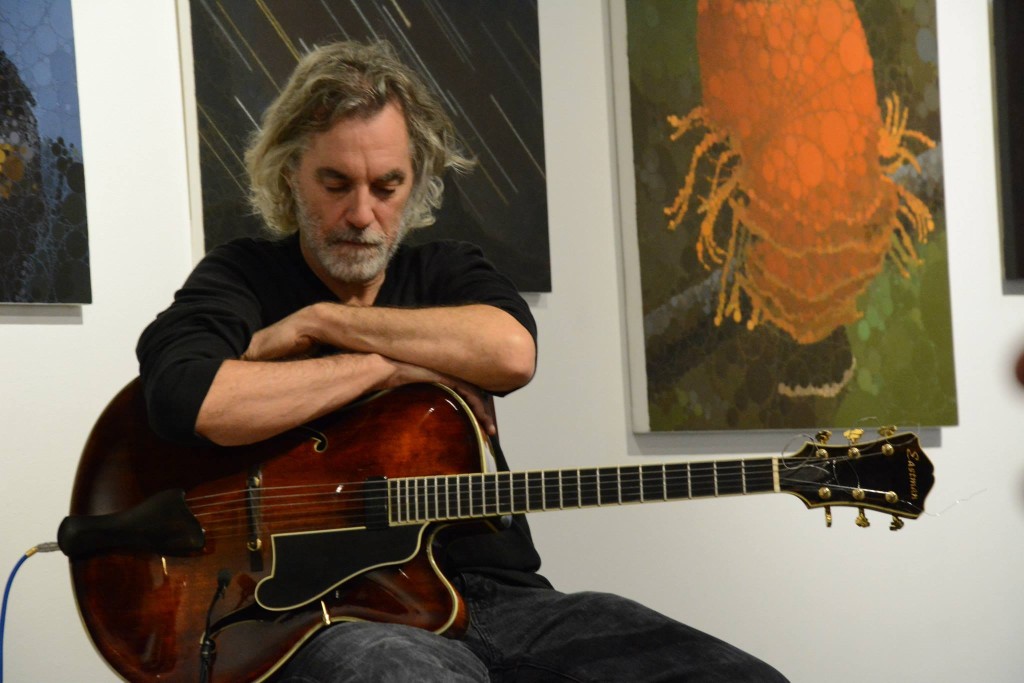 Craig Pedersen is the co-founder of the Improvising Musicians of Ottawa/Outaouais association (IMOO), and Morris met him at the 2013 Ottawa Jazz Festival. They stayed in touch, with Pedersen sending him his new music as he recorded it. According to Morris, Pedersen's technique is up there with the absolute best trumpetists today and he was honoured to be asked to play with him and Molnar. Pedersen recently published a book on extended trumpet technique called Trumpet Sound Effects with Berklee Press in November 2014. He will be giving a lecture based on the book in Montreal at the Festival of New Trumpet Music Canada on March 15.
Morris has also written a book on his craft. Perpetual Frontier: The Properties of Free Music was written to help improvisational musicians learn to create their methodologies. Four seminal methodologies in improvisational music known as Unit Structures, Harmolodics, Tri-Axium Theory, and European Free Improvisation are all exemplified in this book. It's also an insight for music fans who wish to know more about the history and use of improvisational music.
The show starts at 7:30 p.m. on Thursday, and will feature another improvising trio opening: David Broscoe, Ian Birse & Laura Kavanaugh. All musicians from the region, they are part of the IMOO and all actively playing their brand of experimental off-the-cuff. To Morris, there could nothing better than young artists pushing themselves.
"That someone like me is invited to play," he said, "to be able to encourage them to play, or to hire them to play, or to organize something that they can play on… It means I'm perpetuating the whole thing, that I'm keeping it going. It means that they see that we're working off of the same premise, off of the same necessity. That deserves respect."
New Video: "Shattered Dreams" by Raphael Weinroth-Browne
In any industry there are always a small group of individuals who reach for more than others. Raphael Weinroth-Browne is one such individual from the music industry. He's a composer, multi-instrumentalist and master cellist with several groups and his own solo efforts. This September he was appointed this year's and next's Artistic Director of the Ottawa New Music Creators. A longer list of his collaborations than I'll make here is available on their blog.
It's been a good year for Raphael — he's travelled to Prague with his partner Heather Sita Black to play as The Visit at Nouvelle Prague, he is one integral third of Musk Ox who just released their Woodfall album this year, and he's also releasing his own metal-inspired chamber music that he's composed.
Hence "Shattered Dreams," which came out in March of this year, has been made a video. A talented Ylan Chu on piano accompanies Raphael down sweeping soundscapes of four cellos and two pianos. The video overlaps several versions of Raphael and Ylan as they play the composition by Weinroth-Browne. The cinematography is deliberate and dream-like, worth the watch. If you like the track you can buy it from Raphael's bandcamp.
New Video: "Offering" from The Visit
The Visit is Heather Sita Black, a vocalist unchained, and Raphael Weinroth-Browne, a powerful cellist. Together they form a self-described defiance of genre, so terms like chamber or polystylistic don't really fit the bill. The closest long-winded definition might be experimental/avant-garde classical. The Ottawa duo have released two recordings so far and will be making their way to the Czech Republic in November for Nouvelle Prague, a international showcasing event of art from around the world. They've decided to share what they've been working on up to this point with their first video.
Nation's capital music blog Something Always interviewed The Visit in March, in which they spoke hopefully of getting to Europe this year and to put out an album by 2015. We are glad to see that it appears that things are going the way they planned.
This expertly shot video in St. Alban's Church was filmed in February by LOG Creative Bureau. An 11-minute foray into the untapped human voice and the complexity of a cello. The first two minutes are Raphael giving his entire body to his instrument, with his breathing as powerful as a musk ox in rut, and then to the vocalization of Heather's attempt to explore how far her voice can take her into a song. She has perfect pitch and a seemingly intimate knowledge of her partner's capabilities, but her body movements betray what's really going on here — she is not making use of her voice, her voice is making use of her. The music possesses.
I'd rather not say too much about it, for fear of cheapening it. It's beautiful and emotional. Have I already said too much? Res ipsa loquitor — the thing speaks for itself.
The 20th Anniversary of Chamberfest Cannot be Contained by Four Walls
After 20 years of orchestral & classical concerts put on every July by the Ottawa Chamber Music Society, it's this anniversary event that will be the Ottawa Chamberfest's most ambitious line-up to date. While asking around about which locals acts to see, I was informed the international talent simply can't be ignored at this year's festival, which runs from July 24 to August 7. It might not be common knowledge that the Ottawa International Chamber Music Festival is the largest festival of its kind in the world, but it is! Over 15 days without pause, most days will go from 10 a.m. to curfew, and span seven venues for almost 100 performances. Small ensemble music has never been so big!
We'd love to preview all performances but we can only offer you Showbox's Top Picks for the 20th Ottawa Chamberfest :
Don Byron is an amazing clarinetist with a legendary creativity for finding what is said to be "a sound above genre." This New York musician and producer will play clarinet and saxophone alongside Divine Brown, R&B singer and JUNO Award winner from 2009. We also have it on good authority that the powerful Gryphon Trio (well-ingrained in the making of this Festival) will showcase their music on Aug. 6, absolutely essential viewing! And if you're looking for something that you've never seen before, we highly suggest Luminico on Aug. 3.
There's a group of gypsy punks called the Lemon Bucket Orkestra, who will transform the ByWard Market into the eighth venue of the festival on Aug. 2 with a parade of music & busking. There will be tributes of Shakespeare's 450th birthday on Aug. 6, a commemoration of the 100th anniversary of the start of the First World War on July 28, and a sonic & visual remix of the music and images sent into space on two golden records in 1977 on the Voyageur spacecraft on Aug. 1.
Jacob Siskind was an eminent music critic who gave much to the Canadian and global classical communities. In his honour, the Siskind Snapshots will take place on every day but the first and last of the fest to offer 45-minute glimpses into the lives of new and well-known artists. These include life & art partners Michel Strauss & Maria Belooussova, the next generation of classical music with Cameron Crozman, Sheila Jaffé & Peter Longworth, the National Youth Orchestra of Canada, and many more! There will also be four Festival Galas over the course of the whole Chamberfest with the self-conducted young orchestra A Far Cry, the American soprano, Toronto-based Sondra Radvanovsky, Montreal-born, veteran pianist Janina Fialkowska, and Handel's Il trionfo del tempo with light lyric soprano Amanda Forsythe, countertenor Reginald L. Mobley, tenor Colin Balzer, and mezzo-soprano Krisztina Sazbó.
Not a gala, but definitely the event of the whole festival — Chamberfest @20 will be a variety of all music that has played over the last 20 years at the Chamberfest. There will be approximately 13 different ensemble playing a wide range of styles and hosted by Eric Friesen, it will be at Dominion-Chalmers United Church at 7 p.m. on Wednesday July 30. We also have to mention incredible accordion player Manu Comté with his tango Nuevo ensemble Soledad will be performing at Dominion-Chalmers United Church on July 26, their first performance in the nation's capital! And finally, from Aug. 6 to 7, Ensemble Caprice of Montréal will celebrate their 25th year as an ensemble by paying homage to the great German composer Johann Sebastian Bach during The Bach Summit. Sixteen works over four concerts, as well as the Brandenburg Concertos in just two days!
All tickets and passes are available through the Chamberfest's online box office, at their physical address at 4 Florence Street, Suite 201 in Centretown, or at the following outlets: Ottawa Festivals, Compact Music downtown and in The Glebe, and the Cartier Place Suite Hotel.
Agalloch, Jex Thoth & Musk Ox @ Maverick's
Agalloch, a progressive black metal band from Portland, OR, roused the attendees of Maverick's into a mosh pit during their first show in the nation's capital. "I didn't know anyone had heard of us in Ottawa," said singer songwriter John Haughm. "It's good to see." He said this despite the fact his eyes were closed most of the time, even when wailing through some of the most skull-crushing riffs & thunderous drums. The lighting & dry ice matched their elemental influences well, reminding us that the best place to hear Agalloch is from a mountaintop.
On their The Serpent & the Sphere tour, the fourtet have birthed their fourth LP release as a beast with many backs. Definitely keeping to their prog-metal and neofolk, they also have heavy instrumental tracks and as close to rock as these guys can get. The intro to their show is an interlude on the new album, written & composed by Halifax-native but Ottawa's own Nathanaël Larochette. The rolling thunder and the lingering smell of incense created a good ambience, and the veteran metal band is no stranger to atmospheric sound: wavering guitar, matter-of-fact drums and the perfect amount of archaic verses can go a long way. This 19-year-old band is still pushing itself to create serious sounscapes, and with their latest album they've succeeded.
Jex Thoth was my first experience with doom/stoner metal. They're a quintet from Madison, WI who burned candles and incense throughout their set. The pungent aroma and the caped figure of Jessica Thoth at the helm brought a psychedelic atmosphere to the evening. They played pulsing songs like "To Bury" & "Son of Yule," with the help of a synth set on "organ" and the vocalist's voice wailing with power. Often I couldn't tell if it was the synth or her voice, and her pitch was perfect. Many new fans made, because most had Jex Thoth vinyls under their arms once they stopped playing. There's beauty in these tracks that could easily be rituals of the live wire music embodying a human host.
Local prog chamber folk group Musk Ox were stoked to be opening for Larochette's favourite band in Ottawa that night. They played two of the longer pieces from their new album Woodfall, with Raphael Weinroth-Browne making faces as he plugged his cello with authority and Evan Runge of Larochette's band Night Watch laid out the violin. I've never seen a cellist headbang before. Nine years ago, the leader of this group never thought he would be opening for his favourite band after he quit Carleton Univeristy to become a musician. "Whatever you want to do, just fucking do it," he urged us before the end of his set. In his case, following your heart gets you to exactly where you want to be, and there's something to be said for that.
New Music: The Beating Hooves of the Musk Ox Fall Upon Us
Within the first five minutes of this album (maybe within the first two), I was taken away by the primal beast that is Musk Ox. It bears down on us all from far away, from a long time coming, and it will leaves its mark on us. The album Woodfall has finally been released two days ago to critical acclaim in most metal, neofolk & progressive chamber circles after a seven year wait from the debut self-titled album. The leader and classical guitarist Nathanaël Larochette birthed his first album with the help of Dean Watson at The Gallery Studio and a serious arsenal of classical & contemporary instruments. This guy puts the mental in multi-instrumentalist. The band has swelled and thinned over the years, but Larochette has remained the constant nurturer to his brainchild. Recently, he's been invited to arrange songs for Agalloch, with whom Musk Ox will be playing on July 3 at Maverick's.
The current members with Larochette are Raphael Weinroth-Browne on cello and Evan Runge on violin. Their synergy has allowed the sound to become more than the sum of the parts, which they've shared throughout North America & Europe. This beast has a progressive classical hand attached to a dark folk arm attached to a body that grew strong on metal and post-rock. It's eerily good at making you want to write ferociously, if you're into that sort of thing.
As I said, the beginning of the album grips you tightly. A Celtic expedition about to begin, more than likely into the pits of hell, and we are carried into the adventure throughout "Part 2 – Windswept." The moving violin and chamber-like guitar transport us on the wind and into distant lands. My favourite track, "Part 3 – Arcanum," was a friggin' album on its own (and not just because it's clocked at 17 minutes and 35 seconds). This hour-long exposition of raw talent was celebrated at the Mercury Lounge on June 6, 2014 to a lucky audience. Without having seen the show, I can tell you right now that I'll be at Maverick's for July 3. It seems to me that an album that can legitimately be described as an epic is something you should definitely see live. I will plan to be out of my wits with excitement and out of my head on the musk.