fucked up
Thirsty Thursday: Mommy Kissing Santa Claus by Broadhead Brewing Company
Beer: Mommy Kissing Santa Claus by Broadhead Brewing Company
Style: Stout – Other
ABV: 5.5%
Pairing: A "Holiday" Playlist
About the Beer: Candy cane lovers rejoice! It might not pair well with a steak but it's not supposed to. I had it with chocolate and it paired well. They currently have it at the brewery and I suggest you add it to your beer advent calendar.
It is however a challenging beer for the novice. My playlist for MKSC reflects that. You won't find these songs in your everyday holiday playlist just like you won't find this beer in your typical beer fridge.
The Music:
Jim Bryson "Mary New Year's Eve"
Starting off with this sweet song by #Ottband Jim Bryson. A reflection on how much we consume this time of year.
Tom Waits "Christmas Card to a Hooker in Minneapolis"
I like how his Christmas story is so much different than mine…
Julie Doiron "Heavy Snow"
My formative years were spent in the same region as Julie Doiron in New Brunswick. She knows about heavy snow.
Clarence Carter "Back Door Santa"
Yeah santa, please come through my back door. It's a lot easier!
James Brown "Hey America"
Hey!!!!!! If you want your dose of James Brown HEYS!, look no further.
Dana Dane "Dana Dane Is Coming to Town"
Hip hop has come a long way since Dada Dane came to town.
De La Soul – "Millie Pulled a Pistol on Santa" or The Roots "Millie Pulled A Pistol On Santa"
Take your pick! Same song, different vibes…
Beck – "Little Drum Machine Boy"
When Beck wrote good songs… Not saying this one is…
Fucked Up "David Christmas"
He's and angry elf…
El Vez "Feliz Navidad"
Also known as the Mexican Elvis, El Vez performs a spirited version of Feliz Navidad.
Moar Treeverb "PS Xmas Dood"
My Fav on this list… #OttBand
The Ramones "Merry Christmas (I Don't Want to Fight Tonight)"
How many of us dread the family business of the holidays?
Pointed Sticks "Power Pop Santa"
Power pop kids the same as a hipster?
The Visit "Offering"
I want to leave you with a gift. An "offering" if your will. This #OttBand is one to watch for. The Offering is not like anything I have heard before. Enjoy and happy Holidays!
Contact me on twitter @danielbordage or at dropthatspills@gmail.com for suggestions, comments or just to say hi.
10 Highlights of the 2015 Beau's Oktoberfest
For the 7th year, Beau's Oktoberfest has come and gone. Once again, it was an amazing weekend of delicious beer, tasty food, great bands, fun activities, and good friends up in Vankleek Hill, Ontario.
Eric and Matías run through the 10 most memorable moments (in no particular order).
1) Taking Part in Traditional Oktoberfest Festivities
E: Yes, believe it or not, there are things to do at Oktoberfest other than drink. Last year I tried my luck at the keg toss for distance and did pretty horribly in the rain, hitting my leg with the keg and bruising it pretty badly. This year I set out to try something new – the sausage eating contest. It was scheduled for 2 p.m. on the Saturday, so I figured that worst case it would be a free lunch. Sitting beside a previous champion I could feel the pressure mounting. The goal is to eat as many 1/4 pound sausages as you can in 10 minutes. The only catch is that no contestant can fall three sausages behind first place, or thou shalt be eliminated. I had a great pace through my first five sausages, eating one a minute and competing, but then as I slowed the others stayed steady. I was eliminated upon completion of my 7th sausage as someone started their 11th. I managed to finish about 5th place out of 12 or 14 competitors, and I am OK with that.
2)Watching the Team Contests
E: One of my annual highlights is watching the team competition. People get all dressed up and compete in co-ed challenges of keg toss for height, distance and accuracy. Every year the teams look like they are having an amazing time laughing and high-fiving all the way through. Next year Ottawa Showbox will be looking to enter team of our writers and local musicians to give it a whirl.
3) Skatetoberfest
E: The addition of skateboarders and a bunch of punk rockers to Oktoberfest may have been one of the best decisions made by organizers. This year they took it up a notch moving setting up a real stage for the bands and placing the half-pipe in a picturesque location perfect for sunset photos. The skaters blow me away every year as they drink beers and defy gravity, flying all over the place on the half-pipe. This year I was also around to catch the keg jumping. This is where a skater propels his body as fast as he can on his skateboard towards a row of kegs (seven of them when I arrived) and then hurls his body over those kegs, leaving his board behind and hoping to land on a board setup for him on the other side. Yeah it is wild. Antique Skate Shop also essentially built a diving board they called "The Brown Recluse" which allowed skaters to drop into the half-pipe from several feet higher than the tip of the pipe (as seen in the photo above). The highest successful drop I saw was from an extra 7 feet in the air I believe. Wild!
4) New "Punk Rock" Stage Set-up
M: The Black Forest stage area was a major addition and improvement to the festival grounds and live music experience. In previous years the secondary music area was located on the far opposite corner to the main stage, where the midway was set up this year. While that was all well and good, there was no actual stage and people watching the bands were relegated to tight quarters and pretty terrible sight lines. This year the establishment of the Black Forest stage alleviated those issues, creating an open and separate area for people to hang out and enjoy music that wasn't at the main stage. Some intense performances by locals Mother's Children, NECK, HELLbros! and Crvsades (guitarist Emmanuel Sayer cut his hand and unknowingly wiped his own blood everywhere) and The Flatliners from the GTA, who played their brand of punk rock to a loving crowd that sang along the whole time. From skaters tearing up the half-pipe, guilty pleasure dance jams, to ear drum destruction – the Black Forest area was a prime hang location.
Ace Of Spades from David Kawai on Vimeo.
5) The Magic of the Ace of Spades
E: This year House of Targ set up a little games booth near the Black Forest stage. For $1 you could compete against their number 1 wizard in a multitude of games ranging from spin the wheel, rock paper wizard, dice, and war. As Hellbros played on stage I challenged the bearded wizard to war, even though I am a pacifist and also am smart enough to know a wizard could destroy me in a real war. I shuffled the cards and dealt us each a card face down. I was then encouraged to place my card against a speaker on the table so the wizard to do some magic to it. After several weird magical sound effects we flipped our cards. He flipped a measly 6 while I flipped the all-powerful Ace of Spades. As I flipped the card, HELLbros! launched into a cover of Motörhead's "Ace of Spades." Needless to say we were all blown away. It was magical.
6) The Eternally Delicious Cask House
E: The normal beer tents are great and every year Beau's make some incredible beers that I love. But the highlight is always the Cask House or Craft House, however you decide to call it. As in years past, the Cask House killed it again. There were over 70 amazing beers for festival-goers to sample this time around. This year's set up was really cool. Instead of having a wall of casks and no lines, so a free for all, this year it was a trailer with taps on both sides and winding lines on each side. In my opinion, it was organized much better and patrons seemed to agree. Some of this year's highlights from the cask area were Cigar City Brewing's Hunahpu's 2015 (imperial stout), Left Field Brewery's Grandstand (American pale wheat ale), Ommegang Brewery's Hennepin Farmhouse Saison (farmhouse ale) and Bellwoods Brewery's Bring Out Your Dead (Cognac barrel aged imperial stout). One of the cooler/strange beers was the Peanut Butter Milk Stout by Belching Beaver Brewery. It was like drinking liquid peanut butter with a smooth stout finish. Quite delicious, but glad it was only a 9 oz. sample.
7) Ceremonial Keg Tapping
E: The ceremonial tapping of the keg on the main stage is always fun to see. Not everyday I hear the German national anthem and Canadian anthem sang, hear polka music and get handed free beer. On top of all that this year the good folks at Beau's brought out four candidates for the area to join them on stage. And as Steve Beauchesne of Beau's said, "There is one thing all parties can agree on…BEER." It was a nice tough though, just another opportunity to invite people to vote and get informed.
8) Camping is the Best
E: Camp. Just do it! No need to find a designated driver. No need to sit on a crowded school bus. No need to fight with big crowds to get it. Sure it is a little cooler at this time a year but plan ahead because camping is one of my favourite parts of the festival. It means your night doesn't end early like everyone elses. You can hangout with a bunch of like-minded people, enjoy a campfire, just really take it all in. And this year they had breakfast burritos for us to pruchase the next morning. Camping is the safest, least stressful, and most enjoyable way to ensure you really take it all in.
9) Fucked Up Stole the Show
M: Whether you're a fan of punk or not, if you haven't seen Toronto's Fucked Up play live then you're simply missing out. For over a decade Damian Abraham and the band have used a mix of deranged and wild stage antics and fun and loud punk rock to take things to another level. They haven't slowed down much at all over the years, and this year's Beau's Oktoberfest main stage performance was no exception. The band played some of their best songs including "Black Albino Bones" and "The Other Show," dipping into their repertoire to blow the audience away. Damian didn't hesitate to get the crowd involved, jumping off the stage and singing a good portion of the set all the way into the audience. We all got a chance to give him a hug and sing into the mic, and he didn't miss a beat. Although the cold wind was blowing and the rest of the band was bundled up, Damian showed very little regard for self-preservation as he took off his shirt and belted out his vocals. The mosh pit was like a whirlpool and the overall energy of the festival got kicked up a notch after Fucked Up took the stage.
10) Smooth Operators and Amazing Volunbeers
E & M: After seven years running, the festival just seems to improve every time around. From the big additions, like punk rock area and skateboarders a few years ago, to more behind the scene things like a media tent to charge your devices, Beau's is going in the right direction. Yes, this is in large part of their great team of organizers, but year after year I am amazed by how engaged and enthusiastic all their volunteers are. It probably doesn't hurt to call them volunbeers either. Bravo to the entire Beau's family and their amazing group of volunteers, can't wait to see what you'll have in store for us next year. Here's an obligatory picture of Eric in a banana suit.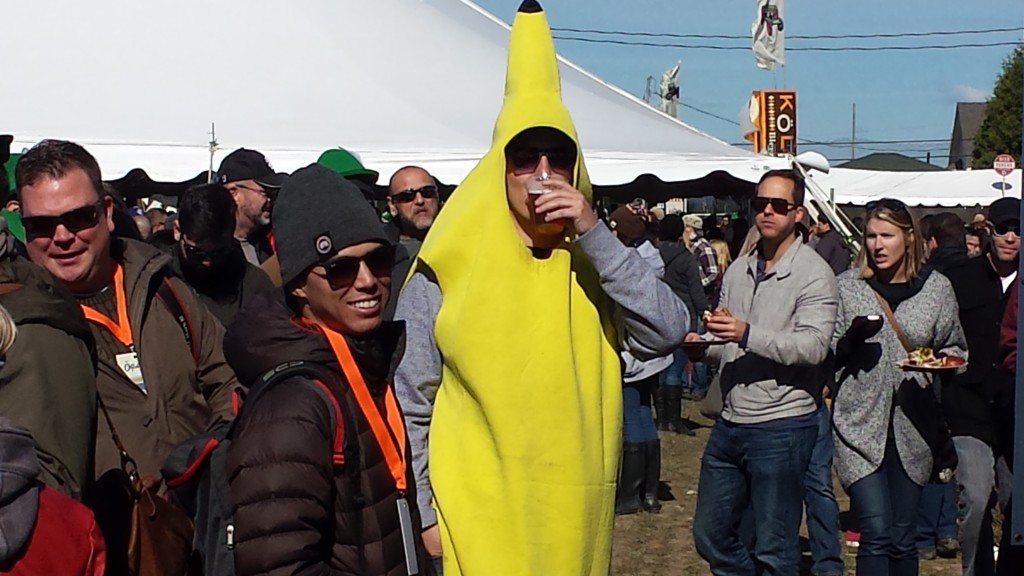 Thirsty Thursday: Beau's Oktoberfest Mix Pack Mix Tape
Beer: Beau's Mix Pack by Beau's Brewery
Pairing: Beau's Oktoberfest playlist
About the Beer:  For the people that know me, Beau's Oktoberfest is my Christmas. I would be thrown into a depression if I could not attend in any given year. The people I've met there, including our very own Eric Scharf, Brad Campeau (before he was Brew Donkey), the amazing people at Beau's, and countless others have been a mainstay in my life. Like the craft beer scene, I've seen Beau's Oktoberfest grow over the last few years from a few beer enthusiasts to an onslaught of new beer lovers. The indie guy in me wants it to stay small, but seeing the growth of an industry that I love makes it even more exceptional.
Beau's Oktoberfest is now a bona fide music festival as well. I know a few who don't even like beer but go for the music. This year's lineup is no exception. I'm pairing the new Beau's mix pack with bands scheduled to play Oktoberfest on October 2nd and 3rd.
Please visit Beaus.ca for ticket information. DO NOT WAIT!! as tickets are almost sold out!
Commercial description:
Haters Gonna Hate is an extra-strong interpretation of Beau's flagship ale Lug Tread. Haters is a tribute to the very first batch of Lug Tread, which was accidentally super-concentrated… with tasty results. Nine years later, Beau's recreated this happy accident with Haters Gonna Hate. Unfiltered and orange-hued, this beer has tropical aromas (think mango or papaya), and a mild "cattiness" contributed by the addition of Nelson-Sauvin hops. A clean malt presence allows for balance of moderate-to-high hop bitterness.
Weiss O'Lantern is a pumpkin-wheat beer, spiced with ginger, cinnamon and orange peel. Orange-hued with a tall creamy head, this fall classic allows flavours of pumpkin flesh, citrus and spice to shine through a full wheat body. There are hints of banana and clove, topped off with a satisfying graham-cracker finish. Each batch of Weiss O'Lantern is made with more than 350 pounds of certified organic pumpkin purée.
…and Boom Gose the Dynamite is a hazy, flavourful wheat beer that is based on a recently revived German beer style called a gose. Brewed with an addition of sea salt and organic coriander seeds, expect citrusy aromas followed by a pleasant saltiness and a hint of subtle acidity in each sip. The name "gose" comes from a river that flows through the town of Goslar, in Lower Saxony. The saltiness, which typifies the style, is attributable to the mineral-rich water supply in the region.
Boghopper is an experimental hybrid: a dark and hazy wheat beer, with an amped up hop presence and locally harvested organic bog myrtle for added complexity. Fruit and licorice aromas meld with juicy hops, and an earthy spiciness jumps in mid-palate. Boghopper's mouthfeel is initially delicate and fruity, followed by assertive waves of herbal tannins. The hop flavour is dominant, and the finish is dry and woodsy.
The Music: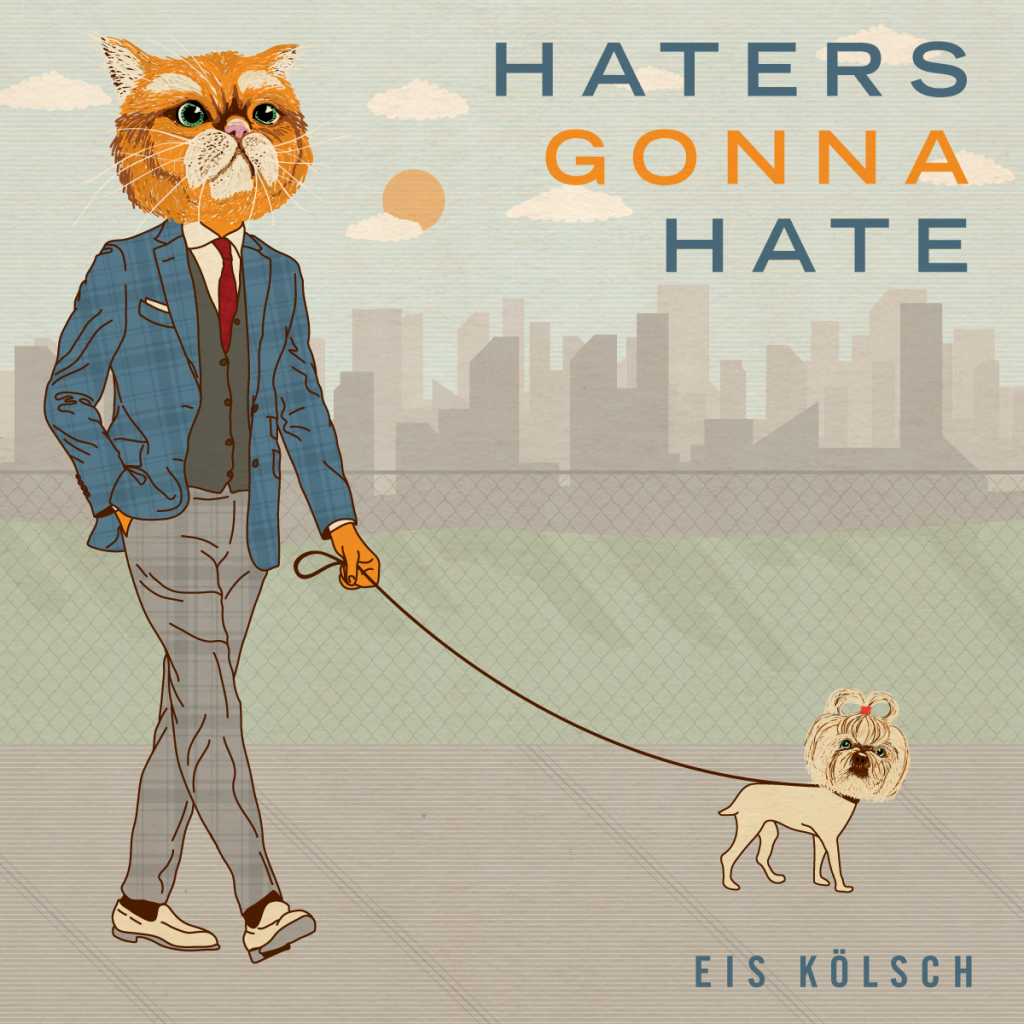 Beer: Haters Gonna Hate and the love/hate playlist
The Beaches "Strangelove"
Playing Saturday at 5:25 p.m. on the Main Stage.
Yukon Blonde "Make U Mine"
Headlining Friday at 10 p.m. on the Main Stage.
The Elwins "It Ain't Over 'Til It's Over"
Plaing Friday at 6:25 p.m. on the Main Stage.
The Dears "Here's to the death of all romance"
Playing Friday at 8:55 p.m. on the Main Stage.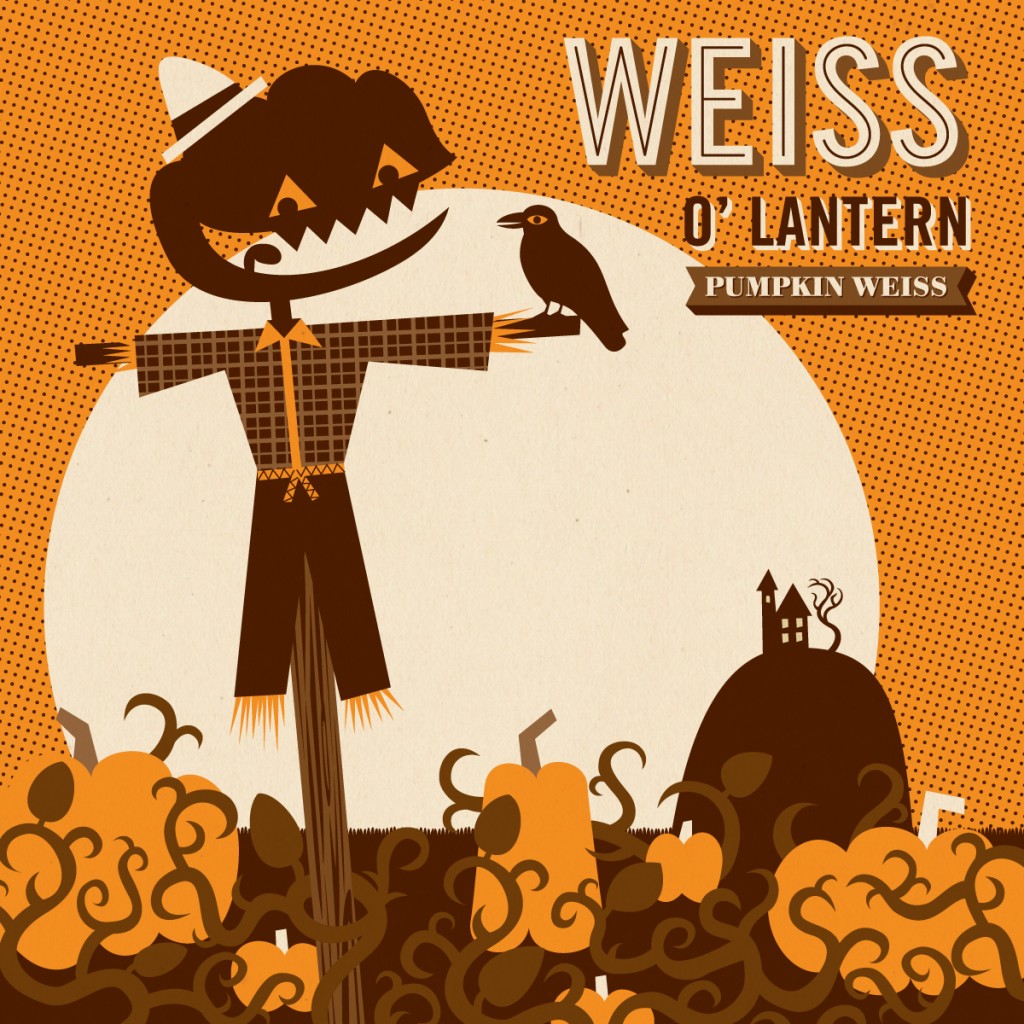 Beer: Weiss O'Lantern and the Halloween playlist
The Flatliners "Fangs"
Headlining Saturday at 7:30 p.m. on the Skate Stage
Hellbros "Rock & Roll Acid Zombies" and/or "Dead City Rockers"
Playing Friday at 5:30 p.m. on the Skate Stage
CRVSADES "The Incantations"
Playing Saturday at 6 p.m. on the Skate Stage
The Pack A.D. "Wolves and Werewolves"
Playing Friday at 7:50 p.m. on the Main Stage.
Beer: …and Boom Gose the Dynamite and the explosive playlist
Fucked Up "Echo Boomer"
Playing Saturday at 6:30 p.m. on the Main Stage.
Dig It Up "Too Fun"
Playing Friday at 7 p.m. on the Skate Stage
Powernap "Beautiful Day"
Headlining the Skate Stage on Friday at 8 p.m.
Barrasso "Coup de Dés"
Playing Saturday at 4:30 p.m.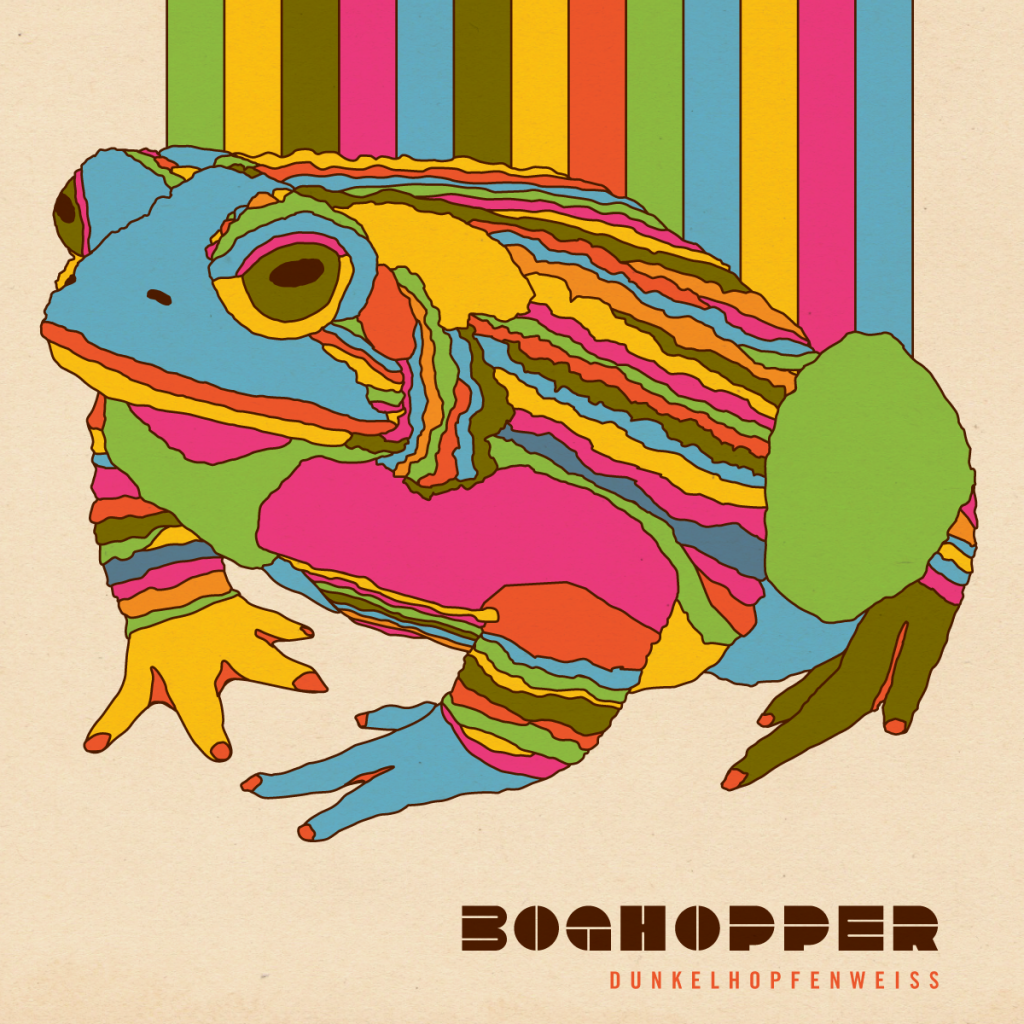 Beer: Boghopper and the froggy playlist
ALVVAYS "Dives"
Headlining Friday at 8 p.m. on the Main Stage.
Yukon Blond "Water"
Headlining Friday at 10 p.m. on the Main Stage.
Mother's Children "Out Of The Dark"
Playing Saturday at 4:45 p.m. on the Skate Stage.
The Pack A.D. "The Water"
Playing Friday at 7:50 p.m. on the Main Stage.
Honorable mentions
The Nasties "Time to Loose"
Playing Saturday at 5:15 p.m. on the Black Forest (Skate Stage)
The Almighty Trigger Happy "Blood Red And Forever Happy"
Playing Saturday at 6:45 p.m. on the Black Forest (Skate Stage)
Walter Ostanek "Beer Barrel Polka"
Playing Friday and Saturday during the day.
Don't forget to enter to win a Beau's & Dine Alone Records prize pack including free vinyl, digital downloads, apparel, and more! Enter here. 
Have a great Oktoberfest everyone! Be good to each other and have a designated driver!
Contact me on twitter @danielbordage or at dropthatspills@gmail.com for suggestions, comments or just to say hi.
Contest: Win Tickets to Fucked Up, May 9 @ Ritual
*Note – This contest is now closed. 
---
If you've ever had the chance to catch Toronto's Fucked Up live in concert, you've been witness to something that stands on its own in Canadian music. There's nothing like it. Melding lead singer Damian Abraham's explosive, and often unintelligible, vocals with a roller coaster of instrumental layers, melodies, and arrangements, Fucked Up has set itself apart from other bands and garnered international praise for reinterpreting what it means to be in a hardcore punk band.
Having been around for the better part of a decade, Fucked Up took its music to a different level with 2008's Chemistry of Common Life, ultimately winning the 2009 Polaris Music Prize for their effort. Their 2011 album David Comes to Life, a 78-minute rock opera for the ages, cemented them as one of Canada's most important bands and a game-changer. Not only was David Comes to Life a sonically and conceptually brilliant work, but it was a de facto "fuck you" to those who said punk bands have limited intellectual capacity and musicianship – not to mention, when's the last time you heard a 78-minute long album by a punk band-turned-rock band?
Their latest album, 2014's Glass Boys, is a logical continuation of Chemistry and David, and even includes some notable collaborations including those with Tragically Hip's Gord Downie, Alexisonfire's George Pettit, Dinosaur Jr.'s J. Mascis, and Kurt Vile.
Damian's raspy and forceful vocals aren't for everyone, and some that can get on board with Fucked Up's songwriting have a hard time digesting his style of singing. However, it grows on you. Seeing a band live can completely change one's perspective of that band, and I would say this is especially true for Fucked Up. Damian is a playful, talkative, and all around teddy-bear of a guy. You might not think so when he is on stage sweating profusely without a shirt on, but he and the band suck audiences in and spit them back out as fans by the end of the show.
So now is your chance! We're giving away a pair of tickets to see Fucked Up at Ritual Nightclub this coming weekend. The band is headlining a show that features one hell of a bill including Dead Tired, DOOMSQUAD, and Ottawa's own Nightshades this Saturday, May 9, as a part of the Ontario Scene Festival.
How to Enter
Send the answer to us via email at music@ottawashowbox.com or tweet at us at @ottawashowbox with the hashtag #OntarioScene. It's that easy! Riddle us this: which Much Music show was Fucked Up's lead singer Damian Abraham formerly the host of?
Clue: Using a putter in the bunker won't do you any good.
What you could win
One pair of tickets to Saturday May 9th's show of Fucked Up playing with Dead Tired, Doomsquad, and Nightshades at Ritual as part of Ontario Scene. The draw will take place on Thursday, May 8, at noon. We'll announce the winner over social media (and contact directly) shortly after noon. Good luck!
Heavy Montreal 2014: 10 Thoughts
Heavy Montreal, formerly known as Heavy MTL, descended on Parc Jean-Drapeau this past weekend. Headliners such as Metallica, Slayer, Lamb of God and Anthrax attracted hundreds of thousands of metal fans to the island over two days. I am not a huge metal fan, even less the old school stuff, but when the lineup was announced my girlfriend as well as a colleague were really excited so I said "why not?" With all that in mind, here are some of the highlights and thoughts of the weekend in no particular order.
1) Punk rock bands brought it. Pennywise, The Vandals, Bad Religion and Dropkick Murphys represented punk rock with pride at the metal festival. Pennywise played "Blitzkrieg Bop" and "Bro Hymn," The Vandals played a tribute to Canada, "Hockey Hair," and congratulated us for making the right choice "watching The Vandals over Anthrax," and Bad Religion rocked a great set full of awesome tracks such as "American Jesus," "Punk Rock Song," "Sorrow," and "Generator." But the punk rock show stealers were the Dropkick Murphys. The boys from Boston looked out to over 50,000 people in Montreal and said they looked good enough to be Bruins fans and then the guitarist's son walked out with a Montreal Canadians Bear on a stick slamming it and then decapitating it. Sports are serious business.
2) Fucked Up played the show of the festival. When other bands were focusing on having a million stacks, elaborate stage, big production, intense video screens and such, Fucked Up were playing on a side stage and out did everyone… period.  When I walked up five minutes before the start of their set there were only about 20 people there and it might have only grown to a couple hundred, but all those there were in for quite a treat. After opening with their most metal-ish track "Year of the Dragon," lead singer Damian grew tired of being on stage and away from his people. He spent the entire set running around shirtless in the crowd singing and never once missing a beat. He often passed the mic to fans that rushed around him to sing, I being one of them. At one point he picked up a guy with a luchador mask and spun him on his shoulders in the middle of the pit. He hugged everyone who crossed his path, rolled around in the mud, posed for selfies with people, passed me the mic a few times, played on people's phone who were texting during the set, and moshed. When the set finished, Damian stayed in the crowd and gave hugs, posed for more pictures and chatted with anyone who had something to say.  He was super genuine and so happy we came out to see them play (it was a no-brainer; they were against Lamb of God). If the fans are really the most important part of these festivals and concerts, as so many bands said countless times, no one backed that up more than Fucked Up.  I will remember this set for as long as I live.
3) No matter how hard I try I just can't get into Metallica. First and foremost I will applaud them on their "Metallica By Request" concept which is great for the fans as they get to vote to build the set list, and the band puts on an entertaining show. And there was a kind of "cool" (or sad) moment when they hit the stage as the glow from everyone's cell phones trying to capture the moment reminded me of their album art covered in white crosses…kind of eerie. I counted well over 20 monitors set up on their two level stage set up which they roamed through the nearly three-hour set. Overall though their show is just too grandiose and overblown for me, the hundred thousand fans there loved it,  as I went through the motions (my two buddies had VIP tickets and my girlfriend was sick all weekend, so I flew solo for this set). Their music never won me over, the fact that they let bands playing before them use their walkway over the crowd and the fact that they stuck around after their show passing all extra picks, drumsticks and set lists to fans scored big.
4) Wrestling and metal melds super well together and was super entertaining. There was four stages at the festival, but five venues listed in the schedule.  That fifth one was a wrestling ring tucked away by the side stages, which hosted HEAVY MANIA. This was a single elimination wrestling tournament and in the shade. There were some great acrobatic wrestlers flipping and spinning all over the place, some really cool moves I had never seen before, great interaction with the crowd (even invited a kid into the ring to slap one of the wrestlers), and a four factions duelling it out for world supremacy. Check out Pierre Bourgault's website for some excellent photos.
5) Hardcore can complement metal really well. Just ask the people lucky enough to have arrived early on Sunday to see Bat Sabbath kick ass. Bat Sabbath is the side project of all the members of the Cancer Bats where they play Black Sabbath covers. Lead singer Liam came on stage dressed in black head to toe and sporting a cape. He never stood still and rocked out like a mad man all set as they nailed awesome renditions of many people's favourite Sabbath songs. And for the Cancer Bats fans in attendance, they threw in "Lucifer's Rocking Chair" to cap it all off. Great way to start the day.
6) Heavy Montreal does all the little things very well, except for food and drink prices. The set up for the grounds is great, the free water refill stations excellent, the misting areas were refreshing, the wristband was comfortable, and so many other things were done well. But paying $6.75 for a beer (Canadian or Coors) and $7.75 for a 6" ham sub from Subway or $12 for a poutine was kind of crazy. I go to enough festivals to know that they are never cheap, but this was robbery. The only "fairly" priced item were bottles of water at $2.50.
7) Seeing Baby Metal live was quite strange. Picture a combination of Slipknot and Sailor Moon… Have you registered that? The band from Japan is formed of four musicians who can really shred and rock out with painted faces, while the vocals are handled by three teenage Japanese girls who sing in Japanese and do choreography. It was actually rather entertaining and the music was not bad. Funniest part of the set was when they encouraged the crowd to sing along with them, people simply cheered.
8) It was pretty darn sharp seeing The Offspring play they hit album Smash from start to finish. The album is pumped full of energy and anger, and is by far their best work. The band still looked to really enjoy playing it all these years later. On the contrary, I am pretty happy I walked away after a few songs of seeing Twisted Sister play their 30-year-old album Stay Hungry from start to finish. I mean the lead singer is in wicked shape, but spent like five minutes complaining about their time slot, amount of set time, and bitched at the promoters. We made it from checking out side stage acts in time to hear "I Wanna Rock" and that was good enough.
9) Body Count, Ice T's band, is really bad. I might get shot for that now. Their entire set can be summed up by "We are Body muthafucking Count from South Central Los Angeles" repeated a lot, they hate cops, they make white people feel bad for being white, and Ice T gives really bad advice to teenagers. He encouraged one teenage girl to reply to bullying by saying "Talk Shit, Get Shot." Sigh…
10) I will never be angry or destructive enough to really fully grasp Hatebreed's music, but damn that energy. The band is a sonic knockout punch. They did also have the one-liner of the festival. "Everyone standing still during this next song is a Kanye West fan!" I laughed pretty hard as they blasted into another double pedal onslaught.
Canadian Music Week 2013 – This is what happened
As the festivities continue here in Toronto, the week seems to be going by pretty fast since there's always something to do. The whole week started a bit rough, on Wednesday evening my train to Toronto from Ottawa was delayed a grand total of 4 hours because of a freight train derailment along the way. But Thursday proved to be much better, the Marriott Hotel at the Eaton Centre was bustling with bands, industry folk, and media all over the place. It was really exciting to be a part of that. That afternoon I met with PledgeMusic founder and CEO Benji Rogers to speak about the company's Canadian launch this week at CMW. It was a pleasure to speak with him, as we exchanged our (opposing) views on our respective hockey allegiances and discussed many aspects of the Pledge Music platform. That interview will be posted in the next few days.
Later that eve, I decided to catch some of the Audio Blood showcase at Dakota Tavern. The first band was Cai.ro, a band I had seen recently and spoken with in Ottawa. Seeing and hearing them play to their home crowd was a really good experience, and the sound was (surprisingly) really good. The acclaim they're getting for their work is well deserved; lead singer Nate Daniel's vocals are powerful and enthralling, and the band's backing harmonies and instrumentals are so well put together. Following that performance, I ended up at a small venue/cafe called May on Dundas St. West to check out my pals from Ottawa in Roberta Bondar. As always, their energy and stage presence made that place almost manic, as bassist Gary Franks told the crowd to draw in closer to the stage. Although the sound was not as clear as previous shows I've seen of theirs, it was exciting to see them play their Toronto album release to a small crowd of zealous fans wanting more. As the night was winding down, I headed back over to Dakota Tavern to see Ottawa's indie favourites Amos the Transparent. I was a bit surprised at how many people stayed out, considering the next day was a work day. But, as always, Jonathan Chandler led the way in what was a strong set.
Friday I got the chance to explore some of Queen St. West and the venues around there. I began by heading over to Tequila Bookworm, a small but comfortable atmosphere for music. Pledgemusic was holding a coffeehouse that featured a few artists and delicious coffee. The charming space really set the tone for the afternoon, as a few of us dealt with the lack of seating by sitting our asses down on the floor. I caught the performances at the end of the afternoon, the first of which was Dominique Fricot. Accompanied by a violin and stand-up bass, his performance was very impressive. He included a few stories of his past, bands he was in, and how it all led him to be where he is now as a solo musician recording under his own name. His songs were very refined, and he has some serious skills on guitar. You can tell he's a seasoned songwriter. The act that could possibly go down as my favourite all weekend was a NY-based group called Lucius. Fronted by two beautiful ladies with incredible vocal talent, the band's performance actually induced emotional responses from the crowd. Yes, the girl beside me had a few tears. I was absolutely blown away, the band's raw and animated performance in the cafe really captivated all of us. In particular, the song "Don't Just Sit There" left us all speechless as the song builds. I recommend this band to all.
That night we headed to The Garrison for drinks and some ear damage from A Place to Bury Strangers. I had been meaning to listen to this band more, since I didn't really grow up on them like a lot of their loyal fanbase has. I caught a good part of their set, and their instrumental tirades and on-stage madness. It was strangely refreshing to get to see a band with so much energy play the shit out of their instruments, destroy their strings, play with strobe lights (there should have been an epilepsy warning), and send us home with our eardrums bleeding.
Saturday was tons of fun too, starting with a loft party thrown by Audio Blood for Pledge Music. Lots of peeps were there, including Rollie Pemberton (Cadence Weapon), and others in the industry. I finally got to see Acres of Lions play an intimate, yet exciting set that got everyone at the event pretty pumped. After a few drinks, we headed to The Great Hall on Queen W. for Fucked Up's Long Winter Series finale, a night that I'll definitely remember. The Sadies were supposed to headline the bill Saturday night, but word on the street is that they ditched because they originally thought Fucked Up was playing. When they found out they weren't, they dropped out. So it goes. The highlight of that night was Cold Specks playing a beautiful set in the side room of The Great Hall, where she played to a reasonably small group of us. Her voice drowned out everything around us, and proved to be one of the most powerful set of the week for me. The Besnard Lakes took forever to get on stage, and ended up playing a disappointing set. At that point we decided to head home and call it a week, but one can only imagine what the Long Winter night would have been like if Fucked Up had been there. All in all, terrific week!
Here are some photos, I hope no one is offended by how terrible the photography is.