New Video: "Ghosts and Flowers" by Expanda Fuzz
Photo by Petr Maur
Ottawa's lo-fi garage rockers Expanda Fuzz just released a new video just in time for Halloween, for their aptly named song "Ghosts and Flowers" off of their brand new LP Cotton Candy Jet Engine.
I mean I think we can all agree that nothing says Halloween like ghosts, flowers, blurred vision, and acetaminophen… or maybe they are waking up from a night of a little too much boos. Sorry I couldn't help it.
The video is shot in a way that truly matches the band's lo-fi vibes. From the shots of the sunflowers in the garden to the mannequin in the medic tent surrounded by old school medical supplies, this video really captures the fuzzy ambiance and slow driving flow of the song.
For anyone who has ever seen the band perform or seen their previous videos, note that this is one of the first time you ever get a chance to see Niki Nine Doors without her infamous 60's mod chic white sunglasses.
Check out the video below and go listen to the rest of the most excellent  Cotton Candy Jet Engine  and grab yourself of copy of limited edition cotton candy pink vinyl.
Halloween Recording Challenge by Centretown Records
Centretown Records has done it again! The wonderful people who brought you the 2013 Christmas challenge now present Ottawa's musical contribution to Halloween.
This year's Halloween recording challenge delivers 14 songs from local, near-local and formerly local Ottawa musicians. There are a lot of really great contributions ranging from originals and covers, but three stand out, like a blood donor at Dracula's Halloween bash. Delicious. An original, a remake of a classic and lastly a cover.
The original, and maybe my favourite song of the entire compilation, "The Monster and The Bride" by Devil and the Anti-Chris. If you can't guess this is Devin and Chris Cook, a married couple, singing lovely romantic Halloween song about finding love in the graveyard. The duo did a great job lyrically, "We were buried, now we're married, true love found in the cemetery, love like this will never die, I'll be your monster, I'll be your bride." Never have sweeter things been said at Halloween.
The remake or reinvention is The Corghans' "Halloween Bop." It's a wonderful new spin on The Ramones' super catchy and anthemic "Blitzkrieg Bop." Once again the lyrics is really what makes this song stand out. "Hey ho it's Halloween, hey ho it's Halloween, they're carving up a pumpkin, putting on their face paint, kids are losing their mind, Halloween Bop." Listening to the song makes me want to see a bunch of kids in their costumes pogoing their hearts out.
Now for the cover that really grabbed my attention. Der Faden took at stab at The Misfits' "Skulls." It is much slower, softer and features echoey female vocals. I doubt you will ever hear "collect the heads of little girls and put them on my wall, hack the heads off little girls and put them on my wall" sound so cute and so eerie all at once.
Honourable mention to Left-For-Dead Walker's chilling tale of all the ways to kill her ex in "Nightmare Ex" and Nightshades' "Nightshade Nightmare" for being so creepy and poised to haunt my dreams.
The Centretown Recording Alliance, is a group of musicians from Centretown Ottawa (current or past) who take part in regular recording projects as a means of challenging each other's creativity and encouraging musical growth. The Alliance includes members from many established Ottawa bands.
Thirsty Thursdays: Halloween Edition with Dominion City Galloping Hessian Pumpkin Brown Ale
By Daniel Bordage
Beer: Dominion City Galloping Hessian Pumpkin Brown Ale
Style: Brown Ale
ABV: 5%
Pairing: A "Halloween" beer with music that either has a spooky feel , words in the title, or band name that conjures up Halloween themes.
About the Beer: This beer is made in Ottawa, Ontario, by Dominion City and the commercial description goes as follows:
"Named for the headless horseman who would crawl from his grave and strike fear into the hearts of the townspeople of Sleepy Hollow, this beer pours a dark reddish brown and features rich nutty flavours balanced against notes of dried fruit, roasted local pumpkin and baking spice. DCBC Terroir Series L 02"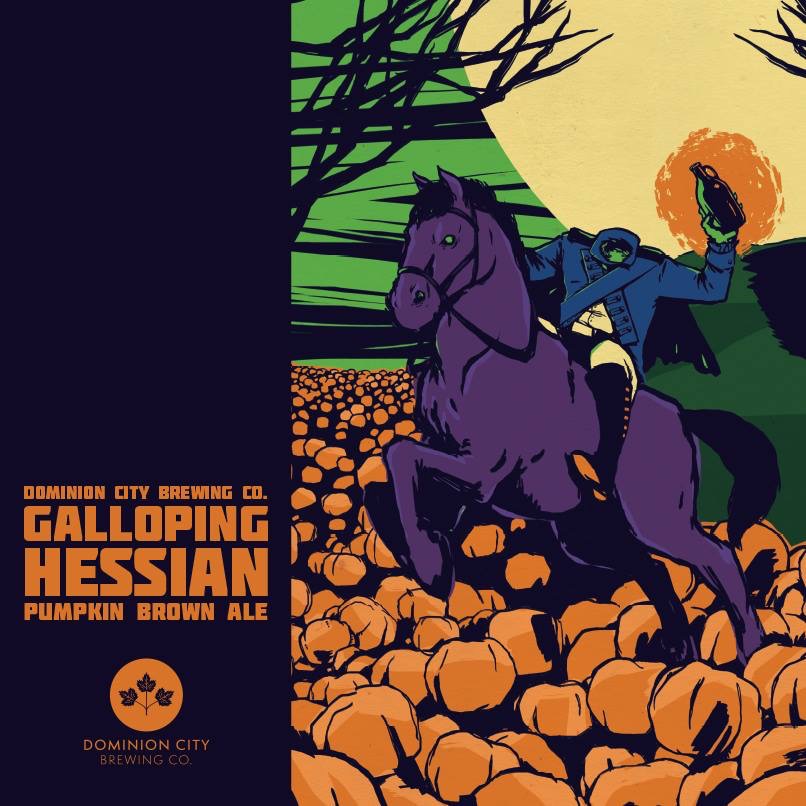 I tried it for the first time at the Hintontoberfest. I met Josh and I could tell he was very proud of his Pumpkin Brown Ale. I must say I don't blame him. It was my favourite of the day. It also turned out to be my favourite pumpkin beer of this season. It's inspired my Halloween playlist this year and the logo won me over with its Scooby-Dooesque design. I love it!
The Music: We had a contest this week via Twitter for someone to send me an Ottawa band that has a song or music that would pair well with a Halloween beer. We had a few great submissions and it gave me insight on a few Ottawa bands I didn't know existed. After hours of listening, the winner is Geoff Cass who suggested Bearshark's "Devil's Knockin'". He wins a free craft beer delivery from Brew Donkey! I thank all that participated in our first contest.
I find making Halloween playlists to be my favourite to do. I open up my music library and search for ghost, haunted, or any other common words associated with Halloween. It becomes apparent that many songwriters have ghosts in their past or are haunted by something. I could do a full jazz, indie, or hip hop playlists alone. And in Metal, well, the list would never end. So I decided to do a mix of it all. Taking you on a musical haunting as if my head was cut off like our headless horseman… The full playlist can be found here.
Nouvelle Vague – Bela Lugosi's Dead
Halloween is my second Christmas after Beau's Oktoberfest and just before real Christmas. Bela Lugosi is my Santa… Here's the original Bauhaus version of this song here.
Radiohead – We Suck Young Blood, A Wolf at the Door, I Will, or Bodysnatchers
Take your pick out of those four. Radiohead seems to be a perfect band for Halloween. I went with "A Wolf at the Door." "I Will" almost made it as it's so haunting and beautiful.
This is a great band from Ottawa with one of my favourite tracks on this list.
Sufjan Stevens – They Are Night Zombies
The backing vocals sound like the famous shower scene in Psycho.
Witches brew beer in those cauldrons, right? At that point of the brewing process, is it called a monster mash?
It's a great song for a beer and music pairing. Bottles… Bones… come on. It writes itself.
The Growlers – Graveyards Full
Growlers… Graveyards… come on… It writes itself (part 2).
Ottawa's own The Creeps. Everything they do would do well on any Halloween playlist.
Off their Metal Moon LP.
Royal Bangs – My Car is Haunted
If you've seen the movie Christine, then you know what I'm talking about.
This song should be on all Halloween playlists…
Danger Doom (Danger Mouse & MF Doom) – The Mask
MF Doom is famous for always wearing a metal face mask. He lives Halloween and collaborates with Ghostface Killah in this song. How could it not make the list?
Gravediggaz – Nowhere To Run, Nowhere To Hide
The entire 6 Feet Under record from the Gravediggaz would make this list.
If Dracula had a band, this would be the first single. It sounds like he's singing in a castle and the creepy butler is playing keys next to him.
The Horrors… enough said…
Happy Halloween and keep drinking great beer!
Honorable mentions
Contact me on Twitter @danielbordage or at dropthatspills@gmail.com for suggestions, comments or just to say hi.
The Dearly Beloved Yips @ House of Targ
It was night of ghosts and missing people on Wednesday night at House of Targ as The Yips played and the Dearly Beloved were nowhere to be found.
There was some confusion, as Dearly Beloved from Montreal were booked to play House of Targ but are currently in Germany during their European tour. Not sure what happened there, but we had The Yips and that was just fine with me.
There are few bands in town I have seen and written about as much as the beloved local Ouija rockers. I feel like I have watched The Yips grow up in front of my eyes, much to the joy of my ears. They had me from the first time I ever saw them live and have never failed to impress.
On this night the focus was new material, playing almost exclusively songs from their latest release Air Loom. This was great as I have not seen them much since the release and was glad to hear some tracks I was less familiar with. Songs that stood out were "Repeater," thanks in large part to the crazy tempo and overall sound transition in the middle song leaving you thinking the band has been momentarily possessed by the spirits they summoned, and their closing track "Sadie," which begins with a ghastly, driving and powerful intro that gets me every time.
There may have been some confusion on this night, but one thing was certain, I am glad I saw my beloved Yips. Listen below and fall under their spell as I have.