Mugshots 2.0: The re-emergence of an Ottawa staple
Those who have lived in Ottawa for any amount of time might have heard of the haunted tours around downtown. One particularly eerie spot is 75 Nicholas Street, a large stone building with bars in the windows and a set of courtyards that is arguably the most haunted place in the capital. Built in 1862, the Carleton County Gaol (jail) was attached to the courthouse to imprison murderers and miscreants. It was built to be part of a "new and reformed" prison system at that time, focusing on various aspects of crime including rehabilitation, punishment, and, at a time where capital punishment was widely approved, execution by hanging. You can read more about the history of the jail here.
The confinement methods were crude and conditions fairly appalling. The gallows where several murderers were publicly hung is still visible in the inner courtyard for those lounging beneath. The final execution on the grounds was carried out in 1946 and it officially closed in 1972. The old Ottawa jail is an important part of the city's cultural heritage and stands today as something a little more accommodating.
Shortly after it closed, Hostelling International (HI) purchased the building and converted the dark, old inside into a one-of-a-kind hostel. While most of the jail cells were converted into comfier hostel rooms, the top floor "Death Row" area was largely restored to its original condition and remains a popular (and creepy) tourist attraction.
Mugshots entered the picture in 2009. The bar was at first reserved for those staying at the hostel. It remained a relatively unknown spot while it wasn't accessible by locals. The current manager of Mugshots, Kyle Woods, had this to say:
"There was a period of time that the bar was open and closed a lot because not that many people would come downstairs to the bar. We tried to make it more interesting by having events, and that's when the first crucial bar manager Richard Evans came on board. He was the guy who opened it up to the public and started booking DJs and dance parties.
"It started gaining some momentum after that, and after he left Steph Smith took his spot. Although Richard got things started at Mugshots, she was responsible for getting the bar off the ground and to where it is today. It really got a reputation of being a 'hidden gem.'"
As they introduced live music, DJ nights, one of the best open mic nights in the city and delicious local craft beers, Mugshots became known as a place with character. There was no other spot in town that offered the atmosphere, programming, and backstory that Mugshots did.
In 2011 Mugshots also opened up the bar in the outdoor courtyard area as a summer hangout destination. If you have never been to the outdoor courtyard, let's just say that it isn't your average bar patio. With the gallows inconspicuously located in the shadows above, the brick-walled courtyard caught the attention of many demographics – students, live music fans, craft beer connoisseurs, travellers – this inclusive space became known as the place to be on a warm summer night in Ottawa.
"The space combines the urban landscape of a downtown venue with natural components including a cedar wood deck and stage, a rustic cabin bar, wooden patio furniture, a beautiful tree canopy, and an extensive network of vines running up and down the stone walls, making the space feel like an outdoor oasis (with a slightly morose background) comfortably nestled in the middle of the city's downtown core." – HI website
DJ nights such as Ceremony, Double Barrel, WOLFPARTY, and Hotstylez, became regular occurrences almost every weekend. Mugshots was at the point where it was making a significant amount of money for their owners HI, and bringing in plenty of people to party until the wee hours of the morning.
Mugshots also became a destination for some of Ottawa's best up and coming local festivals to host their events. Ottawa Explosion, which takes place around the corner at the SAW courtyard, has utilized the bar and courtyard for several years running as locations to hold some of their best shows. Arboretum Festival also held its inaugural festival in the hostel parking lot just outside the Mugshots courtyard and indoor bar. All this to say that there is something special about the building, its facade, and historical roots.
No venue comes without its problems, however. Late 2014 proved to be a challenge for Mugshots as Steph Smith, the manager at the time, decided to move on from her position and pursue other things. Even more, the bar was getting constant bylaw complaints and negative feedback from hostellers about the late night noise – particularly the DJ nights. Since the HI owns the bar and has an interest in providing those staying at the hostel with the best experience possible, change was inevitably on the horizon.
"Coincidentally, Steph left around the same time that we had to stop holding the late night parties," says Kyle. "Those parties were so much fun for those that came and would make the bar and promoters a nice bit of money, but it wasn't sustainable. It was starting to tarnish the reputation of the hostel as a whole because those staying there would complain about the noise happening until 2 a.m."
In the interim period after Steph Smith left her role as manager, long-time Mugshots employee (and drummer of Roberta Bondar) Tyler Goodman took over bookings. He made the crucial decision to limit the noise level and only have events run until 11 p.m., the time when bylaw in Ottawa enforces its noise curfew of any noise exceeding 50 decibels.
Given these challenges in late 2014, 2015 provided the Mugshots staff with an opportunity to chart a new path and reimagine their bar as a venue.
"That's when I threw my hat in the ring," explains Kyle, who is also a long-time employee of Mugshots. "I kind of picked up where Tyler had left off, and it looked like his formula was really working. I decided that maybe we can just book shows, live acts that can just go until 11 p.m. I still think we can have DJs now and then, but much more on the tame side of things. But predominantly, I'd like Mugshots to be a great venue in town. I like shows, shows are fun."
Kyle is the former drummer of acclaimed local singer-songwriter Kalle Mattson, amongst others, and therefore has a pretty good understanding of what it takes to make a live concert a good one.
"I've played at a lot of places, and I have a pretty good understanding of what it takes to accommodate a big band or a small band, and what to expect. We just want bands to have a good experience, and everyone to come have a fun time, enjoy great local craft beer, and see some great local and out-of-town bands. We even offer bands a place to crash the night of their show, in the hostel. I just want this place to feel like home."
On top of offering bands a comfy, albeit snug, place to lay their heads, Kyle also offers those staying at the hostel free entry into all events happening at Mugshots. This gives them an incentive to really get immersed in some of the things that enrich the local culture, and meet some new people from town and all over the world. The bar still stays open until 2 a.m. on weekends, but after 11 the music or DJ plays at a reasonable level so those who want to dance can dance, those who want to chat can chat, and those who want to get a good night's sleep can do that too. Not to mention that they have some delicious veggie chilli available most of the time, so no one goes hungry.
Mugshots is already exploding with new events and re-emerging as a prime destination in Ottawa. Showbox now hosts a monthly concert series every third Friday, which we can testify to being increasingly busy and exciting nights. It's a very simple formula – great music with a great venue will encourage people to come out and have a great time. With over 20 events happening in February alone, there is no doubt that Mugshots has once again taken its place as the go-to spot in town.
Here is a list of the regular events taking place at Mugshots. On top of these regular series, one-off events get booked all the time so be sure to stay in the loop by following Mugshots on Facebook.
Monthly Events At Mugshots
First Friday: Vinyl Frontier – a bring your own vinyl (BYOV) event
First Saturday: Debaser presents a monthly pay-what-you-can series called Fryquency that features some of the best experimental and emerging artists.
Third Thursday: Bumpin' Binary brings live soul, funk, R&B, Blues, & Gospel featuring Don Cummings on the Hammond Organ and Mike Essoudry on drums.
Third Friday: The 'Ottawa Showbox presents' concert series, featuring some of Ottawa's best musicians and occasional out-of-towners.
Third Saturday: Adam Saikaley hosts a free live jazz night where he plays 60/70s jazz, funk, soul, afro-cuban and bossa with a quartet.
Weekly Events
Wednesdays: Open Mic at Mugshots – Jeff Watkins hosts the best open mic series in Ottawa, showcasing some of the city's best in this intimate atmosphere.
Sundays: Movie Night at Mugshots – Caylie Runciman (Boyhood) hosts a movie night where you can treat yourself to a few drinks, snacks, and a cult classic flick.
Ottawa Music Guide: Top Ottawa Venues For Live Music
Here's a revised and updated version of the writeup I did for WHEREOttawa when I was an intern there in late 2012. Now that 2015 is upon us, here's what you need to know about the best music venues in Ottawa.
By Matías Muñoz
---
This Ottawa music venue in the city's Centretown neighbourhood is home to artists of all kinds, showcasing hip hop groups one night and indie rockers the next. There's plenty of room for dancing, but also lots of comfy seating for those who enjoy catching up with friends. See what's on this week by clicking here.
• Babylon Nightclub, 317 Bank St., 613-594-0003, babylonclub.ca
Nestled in the beautiful town of Wakefield, Quebec, just a 25-minute drive from Ottawa, this historic music venue is a must-visit. Some of Canada's best musicians have graced The Blacksheep's stage, making it a prime stop for many notable bands passing through Quebec and Eastern Ontario. It has become legend in Canada's music folklore history. See what's on this week by clicking here.
• The Black Sheep Inn, 753 Riverside Dr., 819-459-3228,theblacksheepinn.com
Located directly above Mavericks (see below), this music venue is known for profiling local bands, making it a great place to take some local culture. With a capacity of around 150, it is a small space filled with energy. It is not uncommon to see bands come off the stage and play songs amongst the crowd. See what's on this week by clicking here.
• Café Dekcuf, 221 Rideau St., 613-244-5000, cafedekcuf.com
House of Targ is one of the newest and most exciting additions to the Ottawa music scene. This place isn't only a music venue – it is also offers a selection of delicious handmade pierogies cooked in front of your eyes, an entire wall full of your favourite pinball games, and nostalgic arcade games such as Area 51, NBA Jam, Pac Man, and Mortal Kombat. This place exploded out of the city's underground music crevasses to become one of the most talked about spots in town. They also offer up a monthly zine/newsletter and weekly freeplay for all pinball and arcade games on Sunday nights, with DJ KJ MAXX spinning vinyl while you get your game on.
• House Of Targ, 1077 Bank St, (613) 730-5748, houseoftarg.com
This venue is a staple in Ottawa's music scene, providing a good mix of smaller, local acts and more well-known ones. Located just down the street from the Rideau Centre, it is accessible and provides a little more space for patrons than other places around the city. See what's on this week by clicking here.
• Mavericks Bar, 221 Rideau St., 613-562-3941, mavericksbar.com
The lounge-style ambiance here makes for a more mature, relaxed vibe. Dim lighting and smooth live music make this Ottawa venue an ideal hangout for adults of all ages. Mercury Lounge is the middle of the ByWard Market, close to other fine restaurants and nightlife spots. See what's on this week by clicking here.
• Mercury Lounge, 56 ByWard Market Square., 613-789-5324,mercurylounge.com
This beautiful, multi-purpose performing arts centre sits along the Rideau Canal in Ottawa's downtown core. With several stages of varying size, this arts venue is capable of holding larger crowds with rowed seating in Southam Hall, or more intimate concerts at the Theatre, Studio or Fourth Stage.
• National Arts Centre, 53 Elgin St., 613-947-7000, nac-cna.ca
This quiet gourmet sandwich bar on Gladstone is bursting with all kinds of events. There is an aura of creativity that resonates from this place—and is showcased by the variety of acts that perform, from poets to live bands. This Ottawa venue uses its spaces to its full potential. See what's on this week by clicking here.
• Pressed, 750 Gladstone Ave., 613-680-9294, pressed-ottawa.com
This quaint little café at the edge of Ottawa's Chinatown is the definition of independent. Some of the best indie bands from Ottawa and around the country love the comfy living room-style atmosphere, which almost feels like a house show at times. There is a sense of warmth to this venue like no other in Ottawa. See what's on this week by clicking here.
• Raw Sugar Café, 692 Somerset St. W., 613-216-2850, rawsugarcafe.com
Known to throw some wild events, Ritual is the natural home for electronic, hip hop and DJ sets. With big sound and a long bar, this venue is a favourite amongst experienced partygoers. It is also conveniently located adjacent to the Rideau Centre in downtown Ottawa. See what's on this week by clicking here.
• Ritual Nightclub, 137 Besserer St., 613-680-7661, Facebook page
Le Troquet
Located in downtown Hull, just across the Ottawa River, Le Troquet has proven itself to be a cultural hub since 1997. With a lively crowd of regulars and a particularly strong folk scene surrounding the venue. More and more, Le Troquet is emerging as a spot where both sides of the river can unite and enjoy a comfortable atmosphere with character.
• Le Troquet, 41 Rue Laval (Hull, QC), (819) 205-9060, letroquet.ca
Located in the heart of the Ottawa's ByWard Market, Zaphod Beeblebrox—simply known as Zaphod's to locals—is a prime stop for touring musicians and is probably the most well-known in Ottawa. The Rolling Stones shot their 2005 video for "Streets of Love" here! See what's on this week by clicking here.
• Zaphod Beeblebrox, 27 York St., (613) 652-1010, zaphods.ca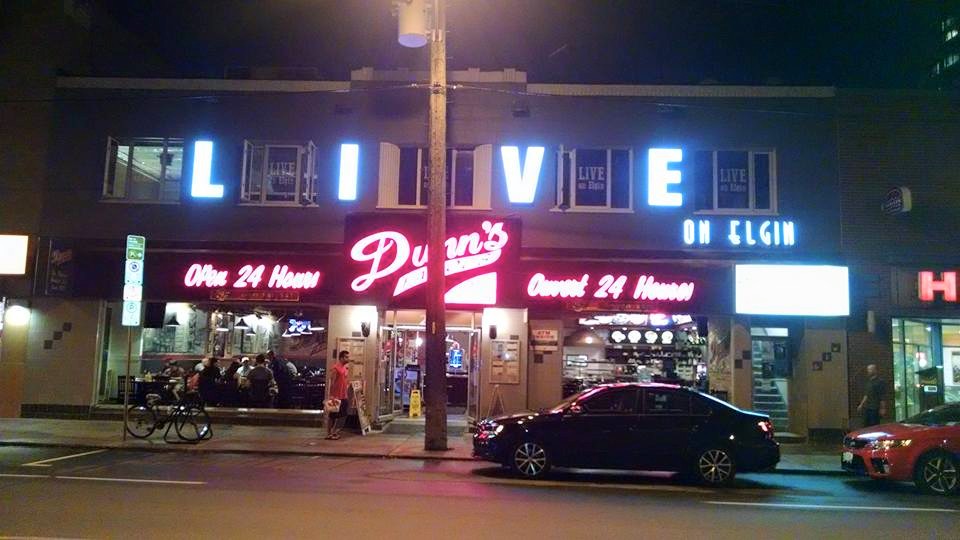 This brand new music venue couldn't be in a better place. Located on Elgin St., one of Ottawa's busiest core streets, LIVE! on Elgin has already begun to turn heads by booking great bands from all backgrounds and genres. From loud rock shows to quiet sit down serenades, find what you're looking for here.
• LIVE! on Elgin, 2-220 Elgin St, (613) 695-5483