jon hynes
Five Years – Ottawa 2012​-​2017 Compilation
Back in May, we celebrated our five-year anniversary with a couple of shows at The Record Centre. That was a whole lot of fun, but we're not quite done yet. Because why stop there?
Over the past five years we've had the opportunity to meet countless musicians in Ottawa, go to hundreds of shows, and really dig deep into the music landscape here. These artists continue to impress us, inspire us, and keep us doing what we do. It's been our mission and raison d'être to support these musicians through coverage of new album releases, interviews, live reviews, and much more.
We've put together a compilation called Five Years – Ottawa 2012​-​2017 which contains music that has impacted us since Showbox started in 2012. This span of five years, in our mind, was a crucial period in the Ottawa music scene. More DIY musicians than ever before came out of the woodwork and made albums, and many were released independently without labels. Some music was underground, some wasn't.
Different types of music pervaded throughout this period, demonstrating Ottawa's potential hub in the Canadian landscape. Our hope is that this compilation will act as a snapshot of a strong and robust local music scene in Ottawa between 2012-2017, and allow folks to have a view into the music that came out during this period. It goes between garage, punk, hip hop, folk, and
While we could have double or tripled the size of this compilation with all the incredible artists out there, we kept it modest and capped it at 51. So while this list is encompassing, it's certainly not meant to be comprehensive by any stretch. Please enjoy a free stream and download of the Five Years – Ottawa 2012​-​2017 compilation below.
A huge thank you to all the artists who contribute their music to this compilation, and to Pascale Arpin for designing such a good album cover. Enjoy!
The compilation is PWYC, and any proceeds will be donated to Girls+ Rock Ottawa in memory of Jean Sebastien Belleau. A special fund in his name has been established for the maintenance, repair and preservation of their growing instrument library, made in the spirit of honouring JS' much deserved legacy as a passionate supporter of the Ottawa music scene.
 Compilation Stream
Ottawa's best do it again with ICBIN: Talking Heads
Featured image by Ming Wu/Photogmusic
On Saturday night, Arboretum Festival presented their 6th edition of I Can't Believe It's Not… featuring the musical stylings of New Wave legends Talking Heads. The group consisted of over a dozen musicians – many of whom are Ottawa staples – including members of The Acorn, The Wooden Stars, Bonnie Doon, Heavy Medicine Band, Yellow Jacket Avenger, FEVERS, and many more. After some shows at The Manx, House Of Targ and Babylon, the last 3 editions of ICBIN have been housed inside St. Alban's Church, so it seems to have found a permanent home. The show was sold out, with some people frantically requesting tickets online, and others disappointingly turned away at the door. It was a widely anticipated night, and the crowd – a mix of baby boomers, 30-somethings, and a new generation of fans – would not be disappointed.
First up was Fiver, the solo act of Toronto artist Simone Schmidt. Her music conjured up images from Graham Parson's mystic country twang to the Grateful Dead's storytelling folk sensibility, all filtered through her bare reverb-laden electric guitar and idiosyncratic voice. While I was familiar with her name, her music was unfamiliar, which is why I was surprised when I vividly recognized her voice. It did not take me long to realize that she was the singer for psychedelic country band The Highest Order. For the release of their most recent album, Still Holding, they reached out to one radio show per major Canadian city to debut it live on the air, and they were kind enough to choose my show (What's The Frequency on CKCU) for their Ottawa release.
There was a clear anticipatory stirring in the room as people filed into the gorgeous church nave, but this excitement was met with vitriol from the subtle singer-songwriter. Near the end of her set, she remarked "I have one more tune for you, and I want you to talk right through it." After the boisterous audience readily complied, she sourly remarked "I was being sarcastic." Her music was certainly good, but it was not the reason people were attending the show, and the frequent display of bad spiritedness toward the audience between most of the songs was off-putting. This was perhaps an unfortunate pairing on the lineup, but in any case, the atmosphere was revived by the house music, a mix of funk and synth-pop.
The second act, Montreal band The Luyas, began their performance by stating "We're not from Toronto, whatever that means. Enjoy this rock show, I insist!" This implicit response to Fiver's calls for silence was met with applause, and the band proceeded to deliver a marvellous set of diverse and entertaining songs. The band clearly comes from a background of indie rock, synth-pop, and shoegaze, but the cool night-time vibes were distinctively their own. Each track was unique, as the members occasionally switched to a lap steel, French horn, synthesizers, and a bizarre guitar reminiscent of a chapman stick. The sprawling sonic palette, rapid-fire changing of time signatures and locked grooves kept the crowd moving, and their graceful precision was an impressive display of musicianship. I didn't think it was possible, but the band even got the crowd dancing to a French Horn solo in 5/4, and it felt so right. All in all, a fantastic set to prepare the crowd for the night's main attraction.
At last, the group made their way to the stage. Rather than beginning with a single performer playing alongside a drum machine (as Talking Heads had done in Stop Making Sense), the band immediately brought the house down with a brilliant rendition of 'Burning Down The House'. This decision was indicative of the philosophy of the night, as nobody was ever centred out as the main performer. Instead, the massive band focused on the group dynamics and songs themselves, backing up the slew of guest performers over the course of the night. Over a half-dozen singers took on the role of David Byrne – a large suit to fill, but the performers delivered with the proper level of talent and eccentricity.
Rather than performing an album in its entirety, the song selection was culled from across the Talking Heads discography, covering from '77 to Speaking In Tongues, as their famous concert film Stop Making Sense had done. The band pulled off a stunning reproduction of Talking Heads' distinctive Afrobeat/art punk fusion, without sacrificing the rambunctious energy that made the original versions what they were. Beyond the flawless performances, the instrumental tones of the studio versions of the songs were also painstakingly reproduced- no synthesizer tone out of place, no percussion lacking.
One would expect the high church ceilings to have compromised the sound quality, but there was no distracting echo and the mix, as always, was brilliant. The lighting from below was reminiscent of much of Stop Making Sense, but with an added sense of otherworldliness given by the strings of coloured fluorescent lights illuminating the stage. Some highlights included the immaculate performance of Found A Job featuring Bonnie Doon's Lesley Marshall as a broad-shouldered David Byrne, the transcendent finale of Once In A Lifetime, and the shadows of countless dancing figures cast upon the church walls during the performance of Born Under Punches. "Nailed it," indeed.
For all the brilliance of the night, I was slightly disappointed by the focus on songs from Speaking In Tongues, with 5 of the 13 tracks culled from that album. It would have been nice to hear some earlier classics or songs Talking Heads made after their beloved concert film, but everyone was bound to have some unfulfilled requests. I was also disappointed by the lack of encore songs- the ICBIN performances all seem to lack them, which ought to be ameliorated. The performers seem to be caught off-guard each time, and ask the audience what they'd like to hear played again. The band was met with a cacophony of requests, so the band arbitrarily chose to play the two opening tracks and Psycho Killer again – great songs, but it would have been far more apt to re-emerge on stage with some tracks prepared. Take Me To The River, perhaps?
Nevertheless, the night was a ton of fun, and any disappointment I had came from my wanting to hear even more from this star-studded cast of brilliant musicians. All in all, I can't wait to hear what I Can't Believe It's Not… has coming up next!
I Can't Believe It's Not: Fleetwood Mac's Rumours
The I Can't Believe It's Not team really out did themselves with their rendition of Fleetwood Mac's classic Rumours. It was a treat to see them perform the album from start to finish within the beautiful acoustics of St. Albans Church in Ottawa.
The night began with the screening of the iconic 1984 film Stop Making Sense. One of the best live concert movies of all time, featuring Talking Heads. I have seen it well over ten times and still can never get enough of the opening song, with David Byrne all alone on stage with a tape deck and his acoustic guitar performing "Psycho Killer." Check it out for yourself here.
Following the screening one lucky fan one a free copy of the 30th anniversary reissue of Rumours, courtesy of our good friends at Vertigo Records (the Record Centre provided a free copy for the second show the following night). It was a honour for Showbox to be involved, drawing and handing out the record and then introducing the band.
The stage was now set for the soldout crowd to take a trip back to 1977 and rock out with Caylie Runciman (Boyhood), Rolf Klausener (The Acorn), Martin Charbonneau (Fevers), Mike Dubue (Hilotrons), Pascal Delaquis (Hilotrons) and Jon Hynes  doing their best impersonation of Lindsey Buckingham, Stevie Nicks, Christine McVie, John McVie and Mick Fleetwood. The crowd was full of people from all walks of life – from the fresh-faced 19-year-olds who grew up listening to Rumours thanks to their rocking parents, to an older crowd (some of them rocking vintage Fleetwood Mac tour t-shirts), and everyone in between.
The wonderful thing about Rumours is that it every song allowed for a different member to shine. For example John Hynes kicked things off leading "Second Hand News," while Caylie really showed her vocal chops go far beyond what we have heard from her in Boyhood when she delivered on "Dreams." Rolf then took lead on  "Never Going Back" and teleported us all to a different time. Mike passionately blew everyone away when he sang  "Songbird," showing why many people think he has one of the most special voices in town. And then there was when they performed "Chain"….WOW! All together they really impressed. Not to be outdone, Martin and Pascale, on the bass  and drums respectively showed that they drive that song when they really kick in.
When the last chords of "Gold Dust Woman" rang through the church everyone began to wonder what the band would do for an encore. It was clear the crowd wanted more as they erupted clapping and cheering loudly. The band asked the crowd to pick a song and they would play it again as they were not well-versed in other Fleetwood tracks at the time. "The Chain" won in overwhelming fashion and they played it even better the second time. What an amazing night. I hope this is just another link on the chain of the never ending I Can't Believe It's Not series.
Contest: Win tickets to ICBIN – Fleetwood Mac: Rumours Dec. 3
*Note* This contest in now closed
We couldn't be more stoked to be co-presenting the next instalment of the I Can't Believe It's Not series with Arboretum Festival on December 3rd. This time around, they have chosen to perform the seminal 1977 Fleetwood Mac classic Rumours, and what better way to do this album justice by getting together some of Ottawa's best?
The familiar lineup includes Caylie Runciman of Boyhood, Rolf Klausener of The Acorn, Martin Charbonneau of Fevers, Mike Dubue and Pascal Delaquis of Hilotrons and Jon Hynes. The last show in the ICBIN series was covering Black Sabbath's Paranoid, so this one is a total departure from that. Previous shows in the series also included The Strokes – Is This It and Nirvana's Nevermind, and it seems to keep getting better and better. There will also be a pre-show screening of the Talking Heads documentary Stop Making Sense, which is an essential one to see for any music lover. Don't miss your chance to hop on board and see this incredible album played live at the beautiful St. Alban's Church.
We're giving away a pair of tickets, so now's your chance to score some free passes!
How to enter
Tweet at @OttawaShowbox and @ArboretumFest with the hashtag #ICBIN the title of the Fleetwood Mac song you'd be most likely to belt out at karaoke. If you don't have Twitter, just email your answer to music [at] ottawashowbox.com and you'll be entered into the contest. Only one entry per person.
Winner will be announced over Twitter at noon on Wednesday, Nov. 25. We will contact the winner via whichever medium they entered the contest.
Good luck, and see you there!
Show Details
Thursday December, 3 / St. Alban's Church
$10 adv. / $15 at the door
All Ages/19+ / Licenced / Fully Accessible
questions/concerns, please contact info@arboretumfestival.com
Tickets on sale now at: Ticketweb, and in Ottawa at:
The Record Centre (1099 Wellington St W, 613.878-5740)
Vertigo Records (193 Rideau St, 613.241-1011)
Compact Music Inc. (206 Bank St. 613.688-2693 / 785 1/2 Bank St, 613.233-8922)
Ottawa Showbox's Favourite Local Releases of 2014
Again, 2014 was quite the year for music in Ottawa. We realize that it's next to impossible to say which album was better than the others, but we do have a list of the albums that seem to come up on our playlists more often. These are not the "winners" of the year but they are dear to our ears and we'd like to tip our hats to those that made them happen. Check out these sweet full-lengths and EPs, support these locals if you can, and enjoy the weather by putting these tunes in your pocket. Vive le six un trois!
---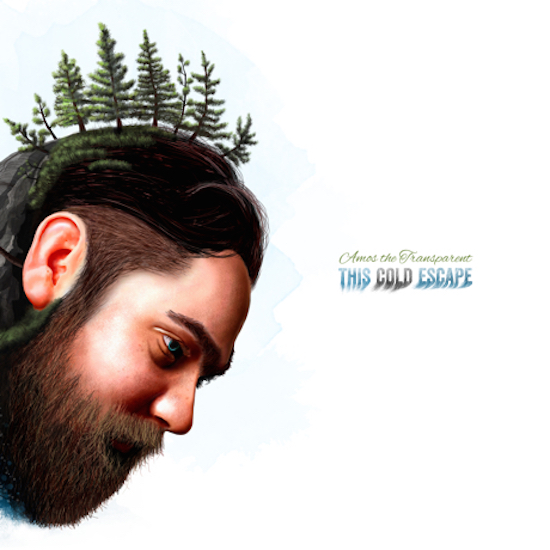 Jon Hynes' "Watchful Creatures" Album Release
Photo: Glenn Nuotio
The intimate ambiance of Pressed on Friday, July 25th couldn't be more welcoming to the evening's concert, celebrating the release of Newfoundland-native Jon Hynes' debut album, Watchful Creatures. A lone flickering strobe light, candles in the windows, and the warm glow of many familiar faces in reunion made for a sentimental night for Hynes and his Ottawa fans.
Opening the night was Jonathan Pearce of indie-folk band Winchester Warm, in a solo performance of the band's newly released album, Belle Attente. Pearce seems to embrace the nostalgia that colours his voice, confessing to carry "the sound of faded cheer". Balmy confessions would be peppered with the occasional variation in tempo, keeping the audience aware of Pearce's nuanced intersection of genre and scene.
Pearce's vocals carried a distinctive tone that was easy to associate with happy gatherings, but shaded with an anticipation for remembering before nostalgia has been given a fair chance to set in. Filled with longing, hope, and cherished memory, Pearce radiated with his heartfelt performance. As he progressed through the Belle Attente set, new arrivals joined the audience and drew closer to the stage, charmed by the genuine friendship of a community that could unite over a fellow artist's completed work.
In a snappy transition from Pearce's introspective set, Callum Runciman and Jimi Vanwassenhoven performed a spirited set as one half of Ottawa's Grime Kings. Runciman and Vanwassenhoven channeled the infectious energy of garage rather than the cosmos promised by an introduction of the band as space pop. The band's latest abum, Honeymooning, reveals the full extent of Grime Kings as a versatile group with a tendency towards noir neo-psych, comfortably fitting in with the likes of Tame Impala or Temples. And while the instrumental accompaniment of the Kings' second half was missing, there was no lack of aggressively layered percussion and cleverly disguised, sensual rhythms of funk to indicate that the Grime Kings are without a doubt a local band to pay close attention to.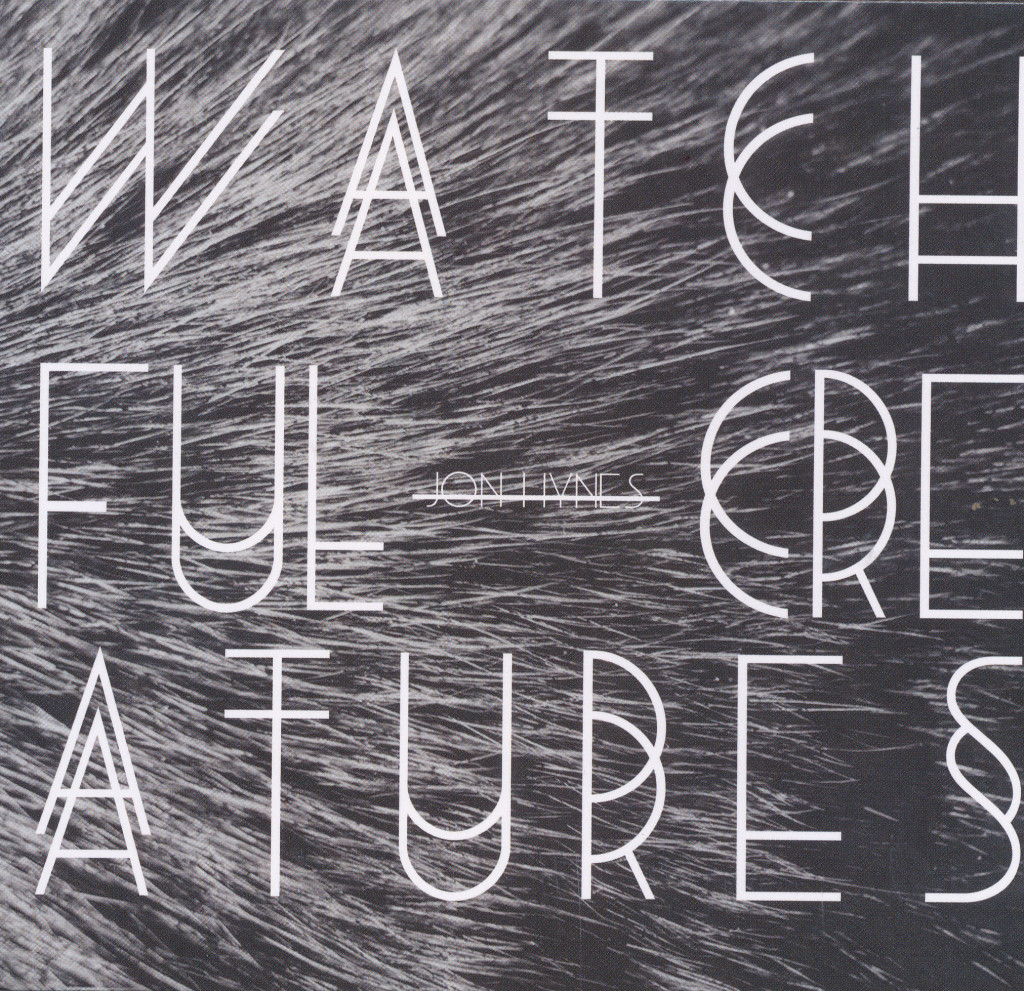 In the focal conclusion to the night, multi-instrumentalist Jon Hynes (Evening Hymns, The Hidden Cameras) took the stage in the accompaniment of some of Ottawa's most familiar musicians: Pat Johnson and Rolf Klausener of The Acorn and Silkken Laumann, Sarah Bradley of Fevers, and David Banoub of Yuma County. There was an undeniable note of celebration in the riling anthems passionately delivered by Hynes, as the collective performed the entirety of Watchful Creatures.
A new addition to Ottawa, Hynes endeared himself to the crowd with simple, honest lyrics. "Paid to act like a trickster while being a traitor," sang Hynes in "Sea Diver", restless between punk disillusionment and soulful confession. Throwing in a tribute to Ottawa's most excellent reputation for heckling, Hynes was well matched with the harmonies of Klausener and Bradley. Keyboardist Bradley herself was captivating with her attentive, clearly emotional performance.
A communal attempt at singing along to "Opinion Piece" succumbed to the soothing tone of Hynes' mounting melodies. The sparse percussion of "One More, Californa" built back the energy of an entranced audience. Called back to the stage for one last song, Hynes performed an ambient and airy solo that united two dancers between the stage and audience.
While he has been attributed with a "shimmering" quality to his sound, approached most closely in the brief prelude of "Forever, Kathleen," John Hynes remains within the moody grasp of indie rock. Hynes fused elements of both Pearce and Grime Kings for a balanced and promising conclusion to his album release party.The visible passion for performance, the sheer physicality of delivering song after song, and the diversity of each artist's individual projects united everyone on stage and in the audience in celebration of Hynes' achievement.
Weekend Music Roundup: July 24 – 27
Looking for live music in Ottawa this weekend? Ottawa Showbox has you covered with the Weekend Music Roundup.
For full event listings, click here.
—————————————————
Thursday July 24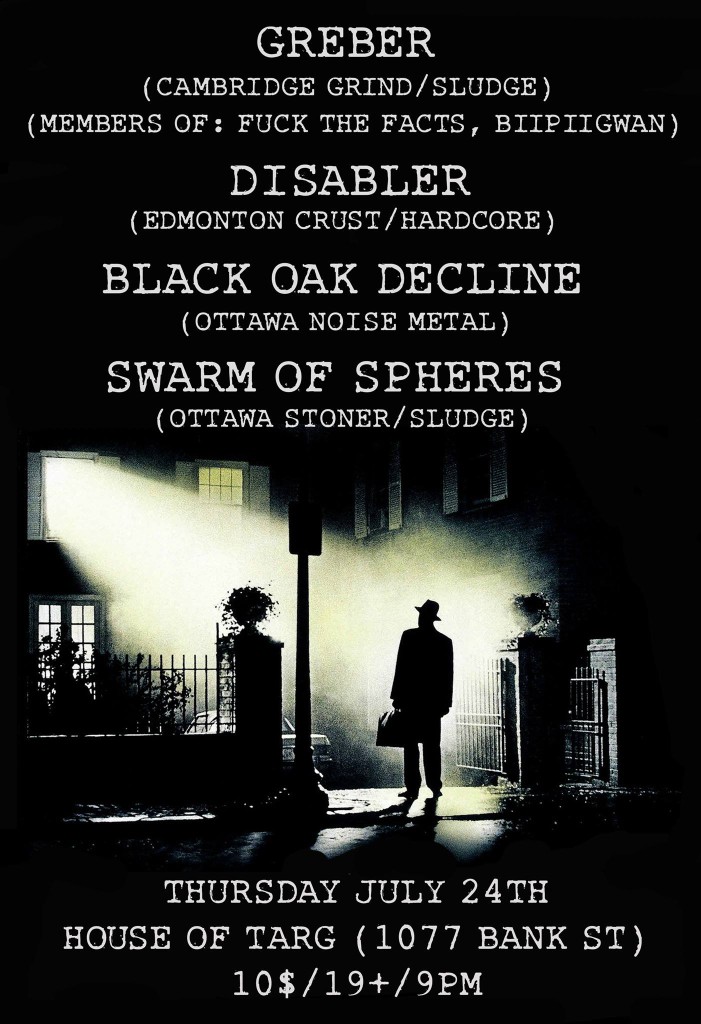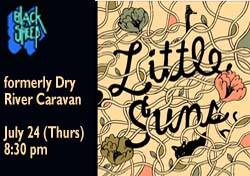 Friday July 25









Saturday July 26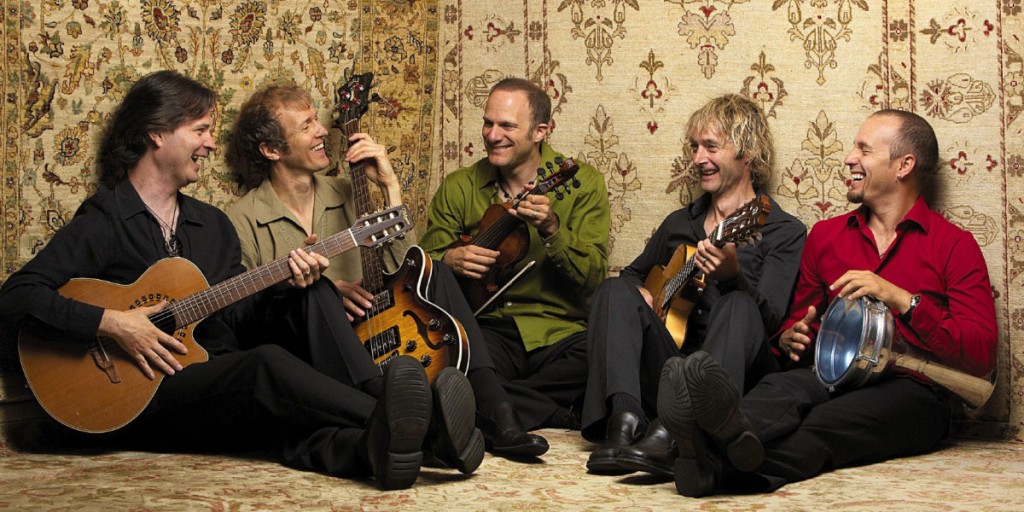 Sunday July 27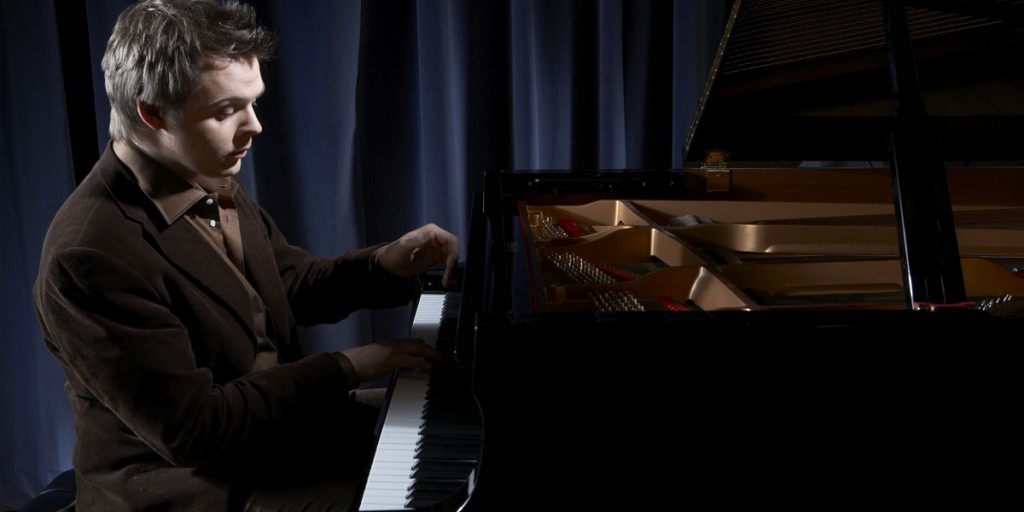 I Can't Believe it's Not: Nirvana's Nevermind @ Babylon, Jan. 30
This past Thursday, January 30, marked the second performance of the bimonthly I Can't Believe It's Not series. If you aren't familiar with this series, it's probably because it's brand new, a concept that has taken Ottawa by storm over the past few months. To recap, the first installation of the ICBIN series took place on November 25th at The Manx, as a bunch of our best local musicians played The Strokes' seminal debut album Is This It.
The organizers describe the concept as "Ottawa's finest (or moderately mediocre) take one album and cover it with care from top to bottom with a slew of local singers taking turns at the mic". It was a sweaty, cramped romp as we all gathered together in what must have been the busiest night of The Manx's existence. In my previous post about that show, I gave a pretty detailed account of the night and also got some words from co-curator Rolf Klausener about the ICBIN series.
Sometimes good ideas are really good – I Can't Believe It's Not :: The Strokes – Is This It @ The Manx
Creative people are really interesting for a number reasons. Yes, most of them are a little crazy, but that's beside the point. They often spearhead new ideas and challenge us to use our imagination in different ways. Ottawa certainly has no shortage of these people (both crazy and/or imaginative), and they continuously bring about new ways of experiencing art. Whether it is visual, auditory, experiential, or something else completely, the ways in which we consume art on a local level is changing, with events that are seeming to growing in breadth and frequency throughout the year.