jonathan becker
Gallery: Jonathan Becker & The North Fields, Claude Munson and John Aaron Cockburn
Ottawa;s very own Jonathan Becker & The North Fields recently played the album release show for their new album Sober Dawn at Babylon Nightclub in Ottawa. They were supported by other local favourites Claude Munson and John Aaron Cockburn. It was a wonderful night of music and an awesome way to celebrate such an excellent album. You can read our full write up of the album and have a listen here.
Our photographer Aidan Thatcher was there to catch the action, check out his photos below.
New Music: "Sober Dawn" by Jonathan Becker & The North Fields
Ottawa's Jonathan Becker & The North Fields recently released their debut full-length album Sober Dawn. The album builds on the success of the band's previous EPs as well as their excellent live show which has graced many bars and pubs across Canada—and a few big festivals such as Ottawa's Bluesfest and Cityfolk.

The twelve-song release is soaked in roots and folk with country flares and a certain punk-rock ethos surely amassed by the various influences of the many members, some of which currently play or have played in several bands around town. With that in mind it isn't hard to understand why Jonathan Becker & The North Fields are for fans of Lucero, Drive-By Truckers, Waterboys, Replacements and Leatherface.
Fans of the band will hear a familiar sounds right from the first song "Tiger Lilies" from the band's 2015 EP Cigarettes, Strings, and Other Breakables. The track was previously my favourite song by the band and they somehow found a way to make it even better. The combination of Becker's gritty voice perfectly meshed with Laura Sinclair's delicate keys and Luke Pearson's guitar had already wowed me. Then version on Sober Dawn sounds crisper and all the instruments and vocals complement each other just that much more this time around.
Another song that may be familiar to some is the lead single "New Blood," which the band has been performing live for some time now. It is great to finally hear the song in recorded form. The very catchy chorus makes it perfect for sing-alongs, arms wrapped around your friends at the show or by yourself at home thinking of what to do next. I'm also a sucker for songs with local shoutouts, so the opening line about  local tattoo artist Jesse Germs opening Otherside Tattoo parlour immediately puts a smile on my face.
Becker's impactful songwriting and gruff vocal style is unavoidable in the best possible way. I love it when a band has a calling card or some great consistent feature that makes you go "That is 100% a Jonathan Becker & The North Field song" for all the right reasons. The songs on the album, while rocking and intricately assembled, are very accessible and ones so many of us can relate to. From love to cold sobering mornings of lost love, to the interwoven good and the bad side of alcohol consumption, you can't help but feel like Sober Dawn is the best sounding house show you have ever attended with a friend needing to open up and share some introspection.
It is also important to highlight the musical progress of this band and not just their frontman. The instrumentation has gotten tighter and fuller over the years, while still feeling very true to their beginnings. I also love the additions of Marlena Pellegrino on violin and Pascal Desgagne on pedal steel guitar really help elevate certain songs to that next level.
Catch Jonathan Becker & The North Fields live at their "Sober Dawn" album release show July 27 at Babylon supported by Claude Munson playing with a duo, as well as Little Suns frontman John Aaron Cockburn. Details can be found here. In the meantime, listen to the album below and learn all the words so we can sing along together.
New Video: "Stuck in My Head" by Dead Weights
Ottawa's very own punk rockers, Dead Weights, recently released a video for their song "Stuck in My Head" off their sophomore album Mountain Arresting, which they released earlier this summer.
Lyric videos have been immensely popular since the launch of YouTube. Often they are made by fans and simply feature the lyrics scrolling across the screen almost like karaoke, some going a little further to contain images along with the words. Dead Weights just took it to a new level with their video for "Stuck in My Head." The video does feature the lyrics that are written on a black board in what looks like a classroom.
What makes it truly special is that the band invited several talented local artists and friends with very different style to draw two or three at a time on the blackboard really elevating the lyrics. The artists are: Jordan Seal, Kendall Valerio, Vance McBride, Cory Levesque, Yafa Jarrar, Pascale Arpin, Kieran McKinnon, and Liam Sheehan. Band members also jump in from time to time. To ensure they can fit all of this within the time constraints of their song, they speed up the video which makes the drawing unfold like magic before our eyes… drawing with chalk in hyper-speed!
The video peaks while the band sings the refrain "Try and keep an open heart" over and over at the end and you have eight people drawing at the same time creating one big beautiful mural with a great message.
Check out the video fro "Stuck in My Head" below, and if you like what you see and hear, buy and/or stream the entire album below and check them out live this Friday, September 29th at LIVE on Elgin for their album release party and October 17th when they open for The Nils and Steve Adamyk Band at House of Targ.
New Music: Dead Weights – Mountain Arresting
Ottawa pop-punk group Dead Weights have just released their second full-length album, Mountain Arresting. It's been a few years since we've heard new material from these guys, and we've been waiting impatiently ever since hearing a few of the tracks live earlier this year.
Mountain Arresting is a big step forward for Dead Weights, and clearly the product of a lot of work. The band strikes a balance of heavier guitar and bass parts with melodic flourishes, all woven together with rough and grumbling vocals of Jonathan Becker and Steve McCrimmon. Their signature sound comes through loud and clear on this record, as they tightened up their instrumentation even more and obviously had some chemistry in the studio. It doesn't hurt that Dead Weights have been playing together for years, with lots of shows under their belts in recent memory.
Fans of bands like Latterman, Off With Their Heads, and Direct Hit! will feel right at home with this record, although it's appeal is vast. Those who enjoy no-bullshit punk rock with some grit will fall into Mountain Arresting with ease. Their goal isn't to play faster, louder, and harder than everyone else—their style and approach is intentional, and it grasps the listener tightly without losing meaning or using studio tricks as a facade of perfection. What you see is what you get with Dead Weights, and anyone who has seen them live can attest to this.
It was nice of them to put lyrics up on their site, because sometimes it's hard to hear the words since it sounds like Becker just smoked three packs of cigarettes before the recording session. But hey, I wouldn't have it any other way. The higher register howling of McCrimmon on tracks like "House is Not a Home" offers an appealing contrast to Becker's whiskey-soaked rumbles. And the cherry on top? Hooks of gold, yearning for crowd vocals. You might catch yourself blasting these tracks and screaming some of the irresistible group vocal parts, only to realize that you are the only one in the room.
A stand-out aspect of the Mountain Arresting are the well-crafted lyrics, words about the everyday lives we live, social injustices, and growing up and getting by in a world that's not always fair. Earnest words in these difficult times we live in is a breath of fresh air, offering perspective about the harsh conditions around us. But there's a sense of hope in the songs, a sense that we're all in this together and that all is not lost. Things are fucked up, but we can help each other and pick each other up. A little empathy and compassion go a long way, and while many of the songs discuss life's difficulties and injustices, there is an overarching sense of humanity on this album.
It is obvious that a lot of effort was not only put into writing each song, but also composing a full album with no filler to speak of. The album itself is short and punchy, and although I was left wanting more, I still felt completely satisfied when I finished listening. Dead Weights have a lot to offer, and Mountain Arresting is a tremendous achievement.
Find 'Mountain Arresting' on Spotify, Apple Music, and bandcamp (stream below). Be sure to catch Dead Weights live on October 17th at House of Targ along with Montreal legends The NILS and Steve Adamyk Band. Follow event link here for more details. 
Album stream
New Music: The Way You've Aged by Jonathan Becker
Photo credit: Blair Smith
Jonathan Becker (Dead Weights/The North Fields) just released a new solo EP The Way You've Aged.
The EP is more North Fields and less Dead Weights – but 100% Jon Becker. Four songs straight from the heart by a man with a raspy voice and his acoustic guitar recording in a back room with a Crown Royal bag as a microphone shield. If you are sick of the heat and want the return of sounds of fall and winter than you are in luck with this one. If that fall and winter aren't what you are looking for, The Way You've Aged also transports you to a dimly lit bar where smoking is still allowed and Becker is sitting on a chair on a small riser playing to the regulars.
The title track sets the tone for the EP with lines like these: The difference is where we become untied and the things we use to help us stand upright / We'll still smoke cigarettes in the park on Dundas West / We'll lay in the dead grass and I'll close my eyes, picture you painting looking your best, as November purrs in the soft light /  I love the way you've aged."
The next three songs follow the themes of relationships, bad habits and growing older, which makes them very relatable.
The album was engineered by Dead Weights bandmate Steve Robillard at Capital Rehearsal Studios and mastered by Dean Watson at Gallery Recording Studio, both in Ottawa.
Turn the lights down low, crack a beer and a smoke (if you're into that kind of thing) and sink your teeth into The Way You've Aged (streaming at Exclaim) on a late night where you feel like deeply connecting with a total stranger. You can also catch him playing Thursday Sept. 22 with Fire Next Time and Jordan & Watts at Bar Robo, info here.
CityFolk Day 4: Of Monsters of Men, Evening Hymns, Will Butler and Marvest shows
Saturday, Day 4 of CityFolk was wild and jam-packed with shows all over. Of the numerous acts playing around the area, I caught Of Monsters of Men, Evening Hymns and Will Butler at CityFolk and Lost to the River, Steamers, Jon Becker and the North Fields, and Jack Pine and the Fire thanks to Marvest.
After a very busy Friday, I was back at it Saturday and ready to go. The day started off with Will Butler, member of Arcade Fire and brother of Win Butler. His solo project is quite different from Arcade Fire, but every once in a while you can hear a little Win in his voice. The electro-pop sounds were very welcomed on a nice sunny afternoon. Opening with possibly my favourite track "You Must be Kidding," the fun dancy electro moments with female backing vocals sometimes teleported me to watching Handsome Furs live. It was a very entertaining set by a group I hadn't given enough time to yet. I will fix that.
I had to cut the Will Butler set short because Evening Hymns were beginning at the Raven Law stage. Riding high off the release of their brand new album Quiet Energies just one day prior, Evening Hymns played an absolutely beautiful set. Evening Hymns is the creative adventure of Jonas Bonnetta, and featured talented local musicians John Hynes and Pat Johnson.
They opened with the first song on the new album, "If I Were a Portal" which included a sweet bongo solo by Hynes. Bonnetta wanted to let Ottawa know just how special we are to him. "This is our CD release of sorts," he said. "We came here before Toronto just so you know," he added with smirk. The band played more songs off the new album as Bonnetta told stories about the album and specific songs throughout the set. The song that really struck a chord was "Rescue Team." Bonnetta introduced the song saying that they were about to slow things down, and with such a beautiful and moving song he can slow it down anytime.
As the sun gave way to clouds that kept getting darker and Evening Hymns finishing up, I made my way to The Sheepdogs. Well, for a little bit. I tried to get into it and understand what the huge crowd toughing out the rain were into, but alas I could not. I decided instead to go check out locals Lost to the River instead. Sitting down with friends, sipping on local craft beers and watching the band for the first time since taking on their new sound and new name (formerly Miss Polygamy) was quite nice.
The five piece is led by a charismatic Sean Tansey on guitar and vocals. The band featured some great musicianship with excellent banjo, violin and pedal steel guitar which is always a treat. This was also an album release of sort as the band launched it self-titled six song EP. Great to hear live versions of "Bloody Mouth" and "Eternal Space Trip."
It was now time for one of the biggest headliners of the festival, Iceland's best known export since Bjork, Of Monsters of Men. The band was very excited to be playing Ottawa for the first time since forming in 2010. Lead singer and guitarist, Nanna Bryndís Hilmarsdóttir, made sure we knew. "We are so happy to be in Ottawa and we are not going to let a few drops of rain take us down." They wasted no time playing big hits like "Mountain Sounds," "King And Lionheart" and "Crystals" in the first half of the set much to the joy of the thousands in attendance. Don't worry, "Little Talks" made an appearance later. The band played a great set  and made everyone it ever rained.
It was now time for me to leave CityFolk and go immerse myself in Marvest. First stop – The Unrefined Olive. Yes, that's right, an olive oil and balsamic tasting bar where one of our local favourites Steamers was playing. The band was dressed to the nines as many of the six-piece had been to Jon Creeden's wedding earlier that day. Something about them all decked out and the fact that we were surrounded by fancy olive oils and vinaigrettes really added to the moment. Steamers were on point as always opening with "Years," and getting the crowd really into it with "Head North" and "Stay Here to Bleed."
Just as quickly as my time with the Steamers began, it ended as I headed over to Original Burger Joint for Jonathan Becker & The North Fields and Jack Pine & The Fire. We were packed in pretty tight for some great folk, delicious burgers, and crisp local craft beers to end the night. Jonathan Beck & the North Fields also very well dressed, and were very well received by a crowd of people mostly hearing them for the first time. You can't talk about Becker and not comment on the awesome rasp to his singing voice. He has surrounded that voice and guitar playing with other very good musicians. It was a great set as per usual.
Finishing off the night was Jack Pine & the Fire. The band was playing as a three-piece on this night, featuring acoustic guitar, electric guitar and a double base. They kicked things off with one of my favourite tracks of their's "Lost in New Orleans." A great track to set the tone for their performance. The folk and alt-country band were all smiles and thanked the crowd. "This is great, one of the best crowds in a long time." They also had great news that a new album, the first since 2011, is being released September 25th at St. Albans Church.
Ottawa Explosion: Day 3 — June 19
By Anthony Cardozo
Watermarked photos by Stephen McGill Photography
The sun shone down on Club SAW today, and Mother Nature spared us the rain so we could enjoy all the good times that day three had to offer. The first band of the day I caught was The Jeanies from Brooklyn. I heard them play at Avant Garde Bar the previous night, but I never actually laid eyes on them because the place was packed to the rafters. My OXW weight loss program was in full effect as I sweated off about 6.5 pounds at that show, so it was great to see these guys again with a little more breathing room.
This afternoon, they took the stage to some surprising fanfare for a band who'd never played Ottawa before this weekend. These guys looked and sounded like they'd stepped out of a time machine from 1970. With lead singer/guitarist Joey Farber's double-denim and mutton-chops, and the rhythm guitarist bearing an uncanny resemblance to David Bowie, while the bassist rocked a corduroy cap and floral print shirt, it was just nostalgia central. And these aren't stage outfits, this is just how these guys dress. From the blues-inspired guitar work, to razor sharp three-part harmonies, The Jeanies had the crowd bobbing along throughout the set, with the hooting and hollering culminating in their final song, the first track off their album, "I Seen Her Dance". Keep an eye out for these friendly Brooklyn boys, they've got a good thing going. Their self-titled album is on Bandcamp, along with a recent single.
Next up at Mugshots was the band Terrible Liars – an Ottawa four-piece, two of whom I recognized as members of Big Dick and Steve Adamyk Band. As soon as they walked onstage I noticed a tattoo on the singer Brendan Flynn's forearm, a symbol popularized by '90s punk band Jawbreaker as a logo of sorts. Now I dig on some Jawbreaker, so I knew this was going to be cool. With a mid-tempo mix of melodic punk songs, it was a perfectly palatable dose of punk for those among us nursing hangovers. I loved the set, and would definitely check them out next time they play. Guitarist Davey Quesnelle plugged his stand-up comedy set, and ended up giving us a bit of a sample as he sang the praises of Beau's special batch of Ottawa Explosion Session Pale Ale, which is being poured all weekend. The set ended with Davey chucking his guitar into the crowd, narrowly missing National Capital Rock photographer Andrew Carver, so maybe we'll get to see his angle of things.
I hopped over to Vertigo Records for the debut of an enticing new Ottawa band Cheap Whine. The band features Eric of Feral Trash on guitar and vocals, Steve Adamyk on bass, and Jordy from The Creeps and Crusades on the skins. I watched from the sidewalk as I inhaled overpriced slice of 1-for-1 pizza and, after a quick déjà vu from TV Freaks' packed Vertigo show last year, there turned out to be a bit of room so I squeezed on in. The band was ripping through fast, fuzzy punk tunes while the crowd cheered and bobbed along and participating in the ol' OXW weight loss program once again (I keep making this joke, and maybe it was just me, but I sweat like crazy all the time). Cheap Whine has shirts too, and the design a clear nod to power-pop/rock'n'roll icons Cheap Trick. Anyone who follows Steve Adamyk Band has probably seen shots of Steve wearing a sleeveless Cheap Trick shirt, so Eric jeered about cutting the sleeves off your Cheap Whine shirt for your Steve Adamyk Halloween costume. Another funny thing was Jordy's ride cymbal toppling over about 4 or 5 times, and OXW organizer Emmanuel Sayer jumping in to rectify the situation. It happened enough times that Emmanuel eventually just stayed crouched in that corner, watching, waiting.
My next highlight of the day was jumping between the Club SAW and Mugshots courtyards, first waiting outside SAW for the next band to arrive. They'd apparently been held up at the border for a while, and their set time had just passed when their van pulled up outside. They loaded directly out of the van onto the stage to set up. It was Benny the Jet Rodriguez. The California four-piece played an upbeat mix of light grunge and sunny, sensitive pop punk. But the peak of set came when they threw in a surprisingly well-suited Sheryl Crow cover. It was "I Wanna Soak Up the Sun", and I don't think I've ever sung that song as loud as I did. Wicked fun. I snuck over the Mugshots to catch local punk sweethearts Dead Weights, and all I can say is those guys need some haircuts… Jeez louise. I'm kidding though, I love Dead Weights. Great band and great dudes. They played quite a few new songs, which hopefully means a new album at some point this year. Of course, they ended their high-energy set with the fun tune "Barely Breathe", a song that lots of us sang with the band as they finished off.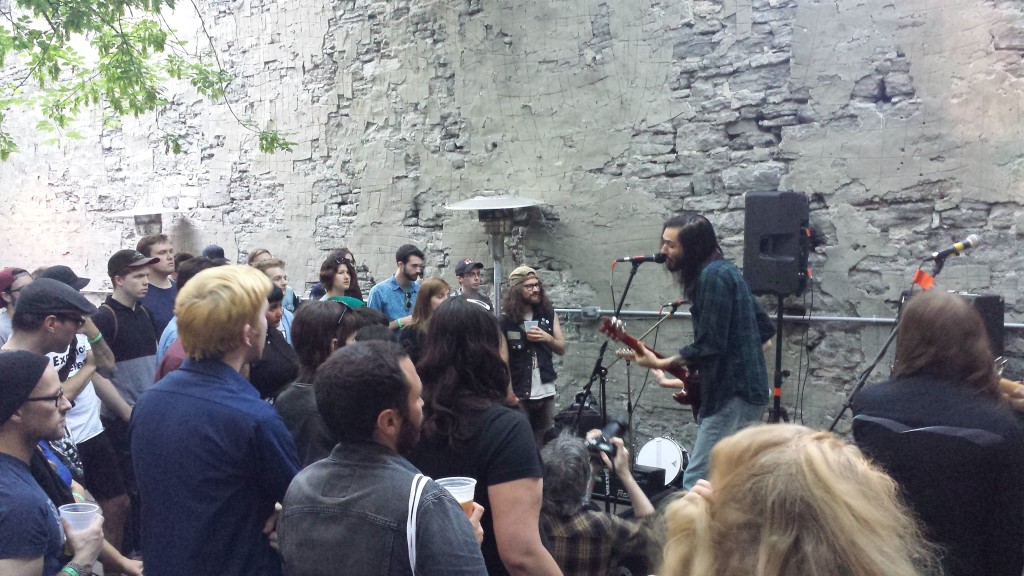 Back to Club SAW courtyard for one of my biggest highlights of the weekend, Sheer Mag. This Philadelphia band is pumping out airtight glam rock, with pumpin' dance beats and irresistible guitar licks. They've been compared to Thin Lizzy and The Runaways and the shoe sure as hell fits. I'd be remiss if I didn't at least gush a little bit about the raw power of frontwoman Christine Halliday. She belted out song after song to a very enthusiastic crowd. Ska Jeff had mentioned they were awesome, and I'm not sure how many others had heard the band before, but Sheer Mag definitely garnered some new fans this weekend.
Another highlight was packing in with what seemed like every person at OXW for when The White Wires took to the stage outside Club SAW. It's funny thinking of White Wires songs as "classics" but everyone was singing along to nearly every song. I'd say as far as Ottawa Explosion goes, that makes them a classic band. One of the main OXW organizers, Luke Martin, plays bass along with Ian Manhire on vox/guitar and Allie Hanlon on drums. Ian is the guy responsible for Gaga Records, Gaga Weekend, and a bunch of wicked stuff that became the pre-OXW Rock'n'Roll Pizza Party. One could sit down with Luke, Ian and Emmanuel and chart out exactly how this all came to be… But that's a whole other piece on its own. Allie now lives in L.A. and is pretty busy with Peach Kelli Pop, but we're very happy that she comes back to Ottawa a couple times per year to play with The White Wires.
Before my big highlight of the night, honourable mentions need to go out to some amazing bands I missed this evening. Hamilton, Ontario's TV Freaks always put on a crazy show, and I was truly bummed to miss this one at the Dom. Much love, TV Freaks, keep it freaky. Aside from that, Germany's Hysterese might not come back for a while, but I ran into a lot of people who were stoked for them so I hope they had a good crowd. And then it was Creep time. I, along with the Showbox guys and many others, love The Creeps. Their 2014 LP Eulogies has been on heavy rotation for me, and now that I actually bought the record it will literally be on rotation rather than just my iTunes. The Misfits-esque morbid pop punk is infectious as it is accessible, and the crowd was deep enough in the Beau's Explosion brew to get a little rowdy. I think the first crowd-surfer went up within the first 2 songs. Not bad. They kicked things off with a handful of tunes off Eulogies, digging back in their catalogue for a few older gems. The crowd-surfing continued throughout the set, and everyone was pretty good about looking out for each other and helping others up with they inevitably fell. I love seeing this.
I love Ottawa. I love Explosion. That's about it for me going to shows this weekend, much to my chagrin. I've been loving the shows the past few nights, but it's time for this volunteer to pay his dues.
Weekend Music Roundup: Nov. 27 – 30
Looking for live music in Ottawa this weekend? Ottawa Showbox has you covered with the Weekend Music Roundup.
—————————————————
Thursday Nov. 27
July Talk w/ Eamon McGrath @ The Observatory, Algonquin College (sold out)



Friday Nov. 28
Record Store Day! w/ Organ Eyes @ The Record Centre

Jenn Grant @ the NAC


Snowday As We Travel Album Release Tour w/ Loopsy Daisy, Modern Dinosaurs & Ankle MiX @ Mugshots
Tokyo Police Club, Said the Whale, The Pack AD @ Ritual
Saturday Nov. 29
Lagwagon, Swingin' Utters, This Legend @ Ritual 
Cuff the Duke, Jonathan Becker and the North Fields @ Mavericks



MOstaches at the Movies
Benefit for Crazy Ben w/ Slim & Popular, Acid Overdose, Sketchy Poutine, Shithead



Sunday Nov. 30
Competitive IFPA Tournament @ House of TARGRemi Royale @ The Manx

Weekend Music Roundup: March 21-23
For full event listings, click here.
---
Friday, March 21