Live on Elgin
The Great Hunt for The Arkells Pop-Up Secret Show hosted by CBCq
All photos by Els Durnford
Standing in the Westin picking up Juno Awards media passes, my phone buzzed. A screenshot from a friend of a tweet saying there was a pop-up Arkells show at a *secret* location, hosted by CBCq and Tom Power. What the hell is that, you ask? Pop-up show? Secret location? Challenge accepted. So, The Great Hunt for The Arkells Pop-Up Secret Show hosted by CBCq began.
---
As we left the hotel we made a plan. It was 1:30pm, the show was at 4pm. Start the clock.
1:32PM – We narrowed down possible venues for such an event in Ottawa. The tweet said that the first 50 people who emailed CBCq would get access to the show. We knew it would be small.
1:37PM – We hauled ass to the car, snow flying down everywhere, and decided first stop would be at the source. Off to CBC we went. Once we parked and found our way around the the entrance that actually let us in (harder than you'd think, there's like five doors to that place). The security guards were quick to stop us, we showed them the tweet and I'm pretty sure they thought we were off our rockers. Thankfully, one gentleman didn't think we were completely loony and offered to help us out by introducing us to the CBC host he was waiting to meet. Amazingly enough, the host he was waiting for also happened to be the moderator from the morning's panel discussion on Ottawa As A Music City. Though he also had no idea what we were talking about he was nice enough to wish us luck as we left on The Great Hunt for The Arkells Pop-Up Secret Show hosted by CBCq
2:05PM –  Next we tried to think logically. CBCq hosted an event at the Bronson Centre the day before. Perhaps they were holding all their gear there for the broadcast. So once again, off we went.  We got inside only to have the person behind the desk look at us like we have eight heads. This was becoming a theme. We thought this was a logical choice, but failed to consider the size of the Bronson Centre, and how it could fit many more than 50 people.
2:30PM – Though we didn't admit defeat, we decided that CBC probably knew a thing or two about keeping secrets. We carried on with our day.
3PM – Out for lunch where I ended up with a full pint of beer in my lap and ate perogies that would later nearly kill me (that's a story for another time).
3:45PM – *Phone buzz.* What's the line up outside LIVE on Elgin? We once again hauled ass to the car.
4:05PM – Late for the 4PM start time, we parked, j-walked and carefully knocked on the door of the venue. Security opens the door and quickly starts questioning. We got a quick no, and a door close.
4:07PM – Some parts of this story need to remain a mystery, right?
4:10PM – WE GOT IN! The Great Hunt for The Arkells Pop-Up Secret Show hosted by CBCq was a success!!! We quickly stripped off coats, rigged up cameras with lens, and flew like the wind towards the stage. Arkells were going full tilt, we started shooting. Max flew everywhere through the crowd. He was dancing, throwing his mic stand around, finally just took the glasses straight off my face. Insanity. Private School, Drakes Dad, Happy Birthday, Jackson Five.
4:50PM – Post show CBC Host Tom Power striked up a conversation with us. We hesitantly told him details of The Great Hunt for The Arkells Pop-Up Secret Show hosted by CBCq, unsure of the response we would receive. He got a laugh, seemed impressed, all was fine, the end.
4:55PM – Still losing our shit, we went on with our day. The rest of The Juno Awards awaited us, little did we know there was much more in store for the weekend. Check out the full photo gallery for more of what I got up to throughout Juno Weekend.
---
Join us next time as I tell the story about how I puke outside Petrocan before meeting another CBC radio host.
Video Premiere: "Champagne" by Alex Silas and the Subterraneans
"Champagne for my real friends, real pain for my sham friends," is how Alex Silas kicks off his latest single "Champagne" from his upcoming album Tunnels.
It is always good news when Alex Silas & the Subterraneans release new music because you know you are in for heartfelt and honest lyrics laid over live instruments. There is something very special about rap and hip-hop with a live band (no disrespect to DJs or anything). Silas, the hip-hop hippy, is clearly building on the growth from his debut album, Roots, and if "Champagne" is a sign of things to come, he is really honing his craft.
Ottawa Showbox is delighted to debut the video for "Champagne." The video was recorded at Live on Elgin and opens with Silas & the Subterraneans on stage while the instruments join his raps one at a time. "Champagne" looks like one of the more fun videos to be a part of as the crowd joins in popping bubbly and spraying it all over the place and each other during the chorus: "I swear to God if Jesus walks I will Kanye West pop bubbly / Hey so we don't even like champagne / but we drink it anyway." There are also some pretty cool cuts from Silas rapping to people dancing in the crowd and back.
Check out the video below and keep your eyes peeled for more from Alex Silas & the Subterraneans as they slowly roll out pieces of Tunnels over the coming year.
Jonathan Becker & The North Fields tour kickoff w/ Elsa
Jonathan Becker and the North Fields kicked off their cross-Canada tour at Live on Elgin with some help from Elsa.
I was running around between a couple of shows on Friday and missed out the very talented Sarah Bradley and Bitterly Healed. However, I did make it in time to be impressed by Elsa. This was the first time I saw them perform, having only previously listened to some track on bandcamp. The set was beautiful and moving, and I can not say enough about the wonderful sound of the soft guitar picking. The song that really captured me was "Denton, TX," the song is just very real and honest while broaching the subject of longing for a friend and a romance that will never be. Do yourself a favour and go see Elsa perform live, they're making waves in the music scene for good reason. Seeing the songs performed live and with a band gave was even more punchy than listening to the recorded versions, and they are certainly worth the time to go check out.
Friday night marked the first show of a 14 stop tour for Jonathan Becker and the North Fields that will take them as far west as Vancouver, BC. The crowd at Live on Elgin! were ready and excited to help send them off and make the night one to remember. The venue itself even created a special shot of liquor in honour of the event – Gin Becker – which of course I had to try. Opening their set with "Been Gone" off of their latest EP Cigarettes, Strings, and Other Breakables, the band showed us that they will make Ottawa proud as they cross the country playing their gritty alt-country songs led by Becker's rasp and supported by the North Fields musical stylings.
The band played a great new song, "New Blood," which I had never heard before. Becker introduced it as such: "this songs is about meeting new people on your life and to keep going forward." The one that always gets me is "Tiger Lillies" off of Cigarettes, Strings, and Other Breakables. The combination of Becker's voice perfectly timed with Laura Sinclair's delicate keys and Luke's guitar quickly made it my personal favourite. As the night turned to morning, Jonathan Becker and the North Fields capped off their set with "Southern Child," one of their most rocking tunes and a great way to finish the night and kick off an adventure out West.
---
Tour Dates
FRI APR 15 OTTAWA ON @ LIVE ON ELGIN
w/ Elsa + very special guests
SAT APR 16 SUDBURY ON @ THE TOWNEHOUSE
w/ Sunday, Jazz Paradis

MON APR 18 FORT FRANCES ON @ From the Grind Up
w/ Cory Levesque
TUE APR 19 WINNIPEG MB @ THE WINDSOR
w/ Paisley, Tannis Kelm
WED APR 20 MEDICINE HAT AB @ CAPTAIN'S CABIN
w/ Old Towns, Southbound Graverobbers
THU APR 21 CALGARY AB @ SHIP & ANCHOR
w/ Bitterweed Draw, River Jacks, Old Towns
FRI APR 22 KAMLOOPS BC @ KAMLOOPS INN
w/ Soundcity Hooligans, Old Towns
SAT APR 23 VANCOUVER BC @ LANALOU'S
w/ Jesse Lebourdais, No Mothers
SUN APR 24 KELOWNA BC @ MILK CRATE RECORDS (6 PM)
SUN APR 24 KELOWNA BC @ HOUSE SHOW (8 PM)
w/ Old Towns
MON APR 25 HINTON AB @ THE OLD GRIND*
w/ Old Towns
TUE APR 26 EDMONTON AB @ THE BUCKINGHAM
w/ Swear By The Moon, Old Towns
WED APR 27 SASKATOON SK @ THE CAPITOL
THU APR 28 TBA
FRI APR 29 THUNDER BAY ON @ THE APOLLO
w/ Nick Sherman
SAT APR 30 SAULT STE MARIE ON @ LOP LOPS
Malak to Debut Her Circus on January 16
Malak is set to release her debut EP Circus Saturday night January 16 at LIVE! on Elgin.
Malak may not be a household name to most readers, but she has one of the most powerful and beautiful voices in town. She is quickly establishing herself as a versatile musician in the Ottawa scene, having already performed in various high profile events. Her sound crosses and melds genres, from jazz to classical to pop and more. For a taste of it you can stream the EP at the end of the article and you can get more information on the show here.
We sat down with Malak for a quick interview ahead of the EP release show to talk about her story and her music.
You are not originally from Ottawa, do you mind elaborating a little bit on the journey that brought you to the nation's capital?
I lived in Cairo, Egypt until I was 16, and began voice lessons at age 7. For 9 years I studied with some of the country's most renowned classical, jazz and pop vocal trainers. I won multiple national and international awards in the Middle East as well as Europe (Italy, Germany, Greece). I moved to Ottawa in 2011 in order to further my music education in Carleton University's music program, as well as my career. Canada is bursting at the seams with opportunities, especially for artists. I am fortunate to be living somewhere where art can be freely expressed in all its forms and where the community truly supports its local artists and takes pride in them.
How has this background shaped your art?
Having lived in a country that experienced a lot of turmoil, especially in the revolution which began in 2011, I always took an interest in people; how they react to situations and deal with issues in their lives, and how everyone has a unique way of expressing their love towards one another. This interest in people's individual stories inspires most of my songs. I love taking someone's story and writing and composing as if from their perspective. It's like writing a little autobiography for someone else.
You have named your debut EP "Circus," and this is clearly a theme in your art. What is it about circuses that inspire you?
When I think of a circus, I don't imagine the happy circus that one would take their family to. The circus that I refer to in my song and art in general is a colourful but dangerous place. It is a metaphor for the dark place that exists in all our minds. Everyone has their demons, and my imagined circus is the place that houses all of them, camouflaged in bright clown costumes and performing hypnotic acrobatics to be attractive. Circus is about someone who fights these inner demons but loses, and gives in to their temptations.
Can you speak to the process of making Circus? How long has it been in the works, where was it recorded, who have you collaborated with?
Circus has been around a year in the making, and it was recorded at the Gallery Recording Studio.
The beginning of the process was very experimental, deciding which of my songs should go on the album and testing out different methods for expressing each one. I was very fortunate to have Dean Watson producing this album. With every new song he and I would sit for hours orchestrating it and finding a unique sound that would effectively express it. And the result was a colourful collection of quality composed and recorded songs. I am grateful to have worked with someone with his level of skill and I am looking forward to recording my next full length album with Dean at the Gallery Recording Studio, which is already in progress.
It was also a delight and an honour to have many of Ottawa's local talent included in the EP. "Sam Wants a Bang" was arranged by Ed Lister, who also played keys with Michel Delage on drums and JP Lapensee on bass. Raphael Weinroth-Browne of The Visit composed and performed cello for Circus – for which Mike Giamberardino of Tribe Royal recorded drums – and Mannequin. Talented pianist and songwriter, Dan Robidoux is present in all five songs on the EP. He will be appearing at the EP Release on Saturday, January 16th, as well as Justine Walker who recorded drums for Greed and will be playing drums for the show. The violin in Owe You is played by Robin Evans.
What should people expect when they attend a Malak show?
A powerful and entertaining performance. I enjoy expressing a wide array of personas during in my shows. Because my songs are about people's stories, I enjoy telling them as if they are coming from the people themselves, which allows for a playful variety of tone and mood all through the show. I perform for my audience and from the heart, and you can guarantee there is never a dull moment in a Malak show.
What makes Saturday night's show extra special?
If you attend this Saturday's EP Release at Live! On Elgin, you will be contributing to charity. All merch sale profits from the show will be going to the Canadian National Institute for the Blind in collaboration with Inner Wheel Club of Ottawa, so not only will you get lots of awesome music, but you'll also be supporting a good cause. On that note I would like to briefly mention the importance of supporting your local artist. When you go to any arts event including shows, galleries, plays, etc. not only is it an enriching experience, but you are also keeping art in your community alive. Without the audience to share the art with, artists would not exist.
Ladies First! RockSteady Bookings' 4th anniversary
The second annual Ladies First! will take place at LIVE on Elgin Saturday night January 9th.
Ladies First! also marks the 4th anniversary of RockSteady Booking. RockSteady Bookings was founded by Andrea Desjardins in December 15th, 2011, and is a company that is fuelled by a passion for music. RockSteady works with local musicians booking shows and other various events, but the ultimate goal is to expose fans and followers to the local scene of talented, hard-working musicians Ottawa and surrounding areas has to offer.
Ladies First! will feature some talented local acts such as Riishi Von Rex, Coccinella, and Amanda Lowe. Rounding out the line up is Maya Killtron from Toronto and Ghostly Hounds from Montreal. Taking the event to the next level, RockSteady Booking has partnered up with Harmony House Women's Shelter in Ottawa to help raise awareness regarding the services and options available to women who are hoping to escape abuse and violence.
In honour of the occasion, we had a quick chat with Andrea Desjardins.
---
Where did the idea for Ladies First! come from?
Ladies First came to be in 2014 when I was thinking of a fun way to celebrate RockSteady Booking's (RSB) third anniversary. I wanted to have an event that was different than any other event I had up until then. I thought about the reasons I had gotten into booking promoting music in the first place, and the main reason was to be a driving force for the growth of Ottawa music. I then thought about what makes RSB different from other booking groups in the city, and one of the main obvious differences is that I am a female.
I don't think about that often, if it all, because to me it does not matter what gender or age you are. If you are doing something that is going to benefit Ottawa music then that's all that matters. But it made me think of how cool it would be to have a show that celebrates females in the Ottawa music scene, and what better way to celebrate the anniversary of a company run by a female. Thus, the idea of "Ladies First" was born.
What makes this year special compared to last year?
The 2014 edition was branded as RSB Turns 3 and I used the hashtag #LadiesFirst when promoting it. Once I saw how well the event did and how positive the reaction was from both performers and patrons alike, I knew it had to be an annual thing. Last year, the focus was more so on RSB's anniversary and celebrating that, whereas this year, the emphasis is on the women of music. The other aspect of this year's edition that differentiates it from last year is that this year, the event is partnered up with Harmony House Women's Shelter. They are a second stage women's shelter that provides safe, affordable transitional housing for women and children who are survivors of violence. While this event is not a full-blown fundraiser in the sense that all the proceeds will be going to the shelter, a portion of the proceeds as well as any donations made at the event will be going to them. A representative from the organization will also be on site and have a booth set up to give more information to those interested.
Why did you select Harmony House Women's Shelter?
When I decided I wanted to partner up with a women's organization of some kind for this event, my first thought was to go to Google and see what kind of resources we have in Ottawa for women in need. I especially wanted an organization who focused on helping women who have dealt with abuse and/or violence in some way because I think it's an important issue that everyone could use more information about.
There have been so many stories and events surrounding violence against women, such as the subject of missing and murdered Indigenous women. While doing something like this is just a small drop in a vast pond, I feel it's important to do my part and help bring violence and abuse against women to the forefront. One of the first search results that caught my eye was Harmony House. The fact that they are the only second stage shelter in Ottawa appealed to me because it means they probably have their work cut out for them trying to support and help all the women and children who are transitioning out of an abusive home. I think they deserve a lot of credit and this is just a small way that I can hopefully help bring more attention and awareness to their organization.
What should people expect when attending the event?
In short, girl power. The lineup consists of five extremely talented acts; Coccinella are a 3 piece all female blues pop band, Ghostly Hounds are a folk group out of Montreal fronted by the talented Francesca Daoust, Amanda Lowe is a prominent acoustic solo artist from Ottawa and she will also be the host for the evening, Riishi Von Rex frontwoman Riishi Von Rex will be performing solo, and Toronto based electro/hip hop/pop solo artist Maya Killtron will be hitting the stage. LIVE on Elgin is a great, intimate venue and is the perfect place to host an event like this, so expect great service from their bar staff and lots of room to dance. They also have seating which is great to have available for those who like to enjoy music while sitting comfortable, I know I do.
---
Donations to Harmony House can be made at the event so make sure you bring some cash and help support a great cause!
Ladies First! goes Saturday January 9 at 8 pm at LIVE on Elgin! and is a 19+ event. Tickets are available online for $5 plus service charges here or $10 at the door. You can find more information on their Facebook event.
MusikOttawa 2015 a Huge Success at Live on Elgin
Live on Elgin was the setting for the finals of the second annual MusikOttawa competition on Sunday November 15.
MusikOttawa is a competition hosted by the Carleton University Music Department that showcases students of the singer-songwriter studies. The seven finalists each took turns performing three-song sets, or approximately 15 minutes, to a sold out crowd of proud parents, excited friends, and supportive musicians. I was honoured that Ottawa Showbox was to be a member of the panelist to select this year's winner.
The finalists, Alex Harea, Dylan Phillips, Sarah Bradley, Kelsey Hayes, MacKenzie Di Millo, Jillian Kerr and Ty Hall, covered quite the gamut musically. There were solo acts (Phillips and Kerr) as well as full bands ranging from three-pieces to five musicians crowding the stage. They were equally diverse in style and genre, from classical guitar picking to country story telling to songs infused with jazz, ska, pop and reggae elements and more. There was something for everyone in attendance.
It was quite the challenge to pick a winner, and luckily for me, I wasn't the only one who struggled. Many of the judges had a trouble picking a clear-cut winner. When all was said and done there were two winners for the first time. Jillian Kerr and Kelsey Hayes shared the honours and each received $400 and a full day working with Dean Watson at Gallery Recording Studio (that Dean is such a generous man). Kerr won us all over with her small town valley charm, wonderful voice and story telling lyrical content. Kerr's song "Downtown" was one of my favourite songs of the day. Hayes wowed the crowd with her incredibly powerful voice, catchy music and very relatable yet clever lyrics. "Thursday Night" has all the elements to be heard all over the radio airwaves.
Events like OttawaMusik are amazing. You get to discover the amazing current and up and coming talent that fills this city. The other five finalist, Alex Harea (The Harea Band), Dylan Philips, Sarah Bradley (Fevers), MacKenzie Di Millo (Monday I Retire) and Ty Hall, should all hold their heads high. Each one of them received a first place vote from at least one panelist and they all played very well. I would like to give a huge shout out to Harrison Singer who played bass for three of the seven acts – that is very impressive.
Below are some of my favourite songs from the evening, that I could find. Have a listen and discover some of the great talent in Ottawa.
Interview: The Noisy Locomotive discuss their first new album as a duo
Local folk duo The Noisy Locomotive release their new album, All Nature Soon Will Settle Down To Rest, this week on October 22.
Their first as a duo, the album was recorded in one straight live off the floor session to quarter-inch tape at The Monolith in Kitchener, ON with their good friends in the Ever-Lovin' Jug Band. The 12-track album is split between originals and unique takes on old tunes. Ben Nesrallah, one half of The Noisy Locomotive, says "This combination of songs is highly representative of who we are as artists, and integral to the continuation of the folk tradition."
We asked Nesrallah a few questions to get some insight into how All Nature Soon Will Settle Down To Rest came to be.
What is new about this album compared to past releases?
What you will hear on the album is as authentic of a live sound as we feel we could capture. The majority of the album is comprised of our first takes. No compression, no normalization, and no additional treatment on the tracks—just pure analog warmth. As a result, all of the subtleties of our live performance – the vocal and instrumental blend, and dynamic exchange – still ring true when you listen to the album. It's as if you're right there in the room with us.
How long has this new album been in the works?
We recorded the album on September 6th, and made the first batch of copies a little over a month later. We think of our albums as a documentation of a brief and present moment in time, representative of where the two of us are as musicians, and in our personal lives. Because this is ever-changing, we feel it's important to not allow the process too much time. Also, we've still maintained our DIY approach to the creation of the physical albums. Every copy is unique, with hand-stamped artwork, and we hope those who buy the album can feel how much love was put into it.
What are your thoughts on the album now that it is complete and about to be shared with the world?
We're really proud of this album, more so than anything we've released to date. The honest, genuine nature of the recording is something we hope will resonate with those who listen to it.
As we mentioned before though, the whole process is fleeting and something we don't try to hold on to for long. We're constantly writing and bringing in the old songs that we love—the ones that happen to be  resonating with us at that particular time. We're currently looking ahead to the next album, hoping to record in the coming months.
In one sentence or two, what should people expect from a Noisy Locomotive live show?
The essence of what we believe a folk show should be—truthful, pure and humble. We let our voices and instruments do the talking, and hopefully that's something that communicates to our audience.
Head to Live on Elgin October 22nd for a double-album release party. Not only will Noisy Locomotive drop their new release, Lotus Wight (of Sheesham & Lotus) will be releasing his new album "Ode to the Banjo".
Weekend Music Roundup: April 30—May 3
Looking for live music in Ottawa this weekend? Ottawa Showbox has you covered with the Weekend Music Roundup.
---
Thursday, April 30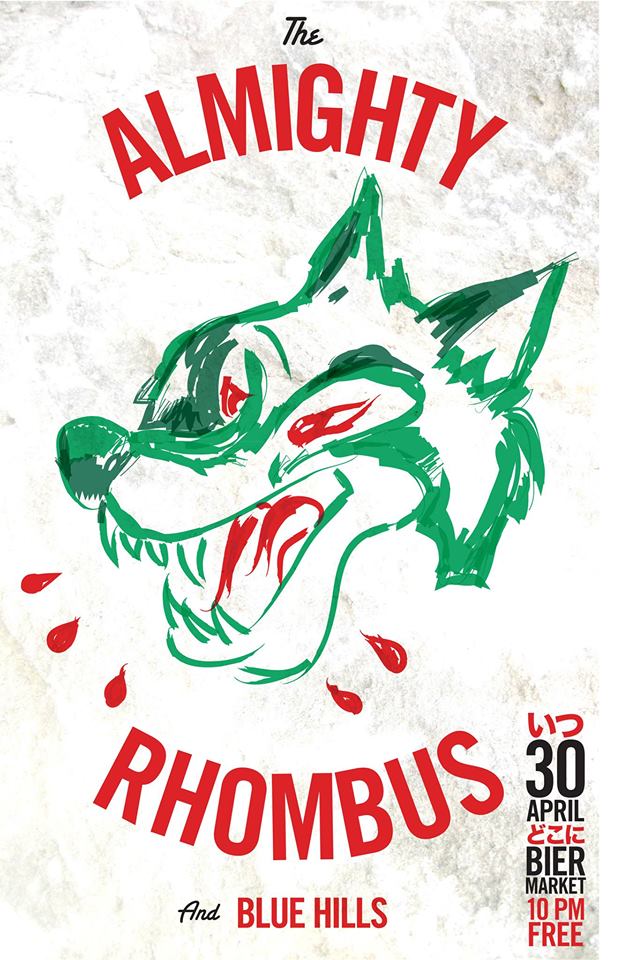 This Ship + Gabriel Bouchard + Saturn Alien @ Raw Sugar Cafe
---
Friday, May 1






---
Saturday, May 2






---
Sunday, May 3
Weekend Music Roundup: April 16 – 19
Looking for live music in Ottawa this weekend? Ottawa Showbox has you covered with the Weekend Music Roundup.
---
Thursday, April 16
Friday, April 17
Saturday, April 18
Sunday, April 19
Ottawa Music Guide: Top Ottawa Venues For Live Music
Here's a revised and updated version of the writeup I did for WHEREOttawa when I was an intern there in late 2012. Now that 2015 is upon us, here's what you need to know about the best music venues in Ottawa.
By Matías Muñoz
---
This Ottawa music venue in the city's Centretown neighbourhood is home to artists of all kinds, showcasing hip hop groups one night and indie rockers the next. There's plenty of room for dancing, but also lots of comfy seating for those who enjoy catching up with friends. See what's on this week by clicking here.
• Babylon Nightclub, 317 Bank St., 613-594-0003, babylonclub.ca
Nestled in the beautiful town of Wakefield, Quebec, just a 25-minute drive from Ottawa, this historic music venue is a must-visit. Some of Canada's best musicians have graced The Blacksheep's stage, making it a prime stop for many notable bands passing through Quebec and Eastern Ontario. It has become legend in Canada's music folklore history. See what's on this week by clicking here.
• The Black Sheep Inn, 753 Riverside Dr., 819-459-3228,theblacksheepinn.com
Located directly above Mavericks (see below), this music venue is known for profiling local bands, making it a great place to take some local culture. With a capacity of around 150, it is a small space filled with energy. It is not uncommon to see bands come off the stage and play songs amongst the crowd. See what's on this week by clicking here.
• Café Dekcuf, 221 Rideau St., 613-244-5000, cafedekcuf.com
House of Targ is one of the newest and most exciting additions to the Ottawa music scene. This place isn't only a music venue – it is also offers a selection of delicious handmade pierogies cooked in front of your eyes, an entire wall full of your favourite pinball games, and nostalgic arcade games such as Area 51, NBA Jam, Pac Man, and Mortal Kombat. This place exploded out of the city's underground music crevasses to become one of the most talked about spots in town. They also offer up a monthly zine/newsletter and weekly freeplay for all pinball and arcade games on Sunday nights, with DJ KJ MAXX spinning vinyl while you get your game on.
• House Of Targ, 1077 Bank St, (613) 730-5748, houseoftarg.com
This venue is a staple in Ottawa's music scene, providing a good mix of smaller, local acts and more well-known ones. Located just down the street from the Rideau Centre, it is accessible and provides a little more space for patrons than other places around the city. See what's on this week by clicking here.
• Mavericks Bar, 221 Rideau St., 613-562-3941, mavericksbar.com
The lounge-style ambiance here makes for a more mature, relaxed vibe. Dim lighting and smooth live music make this Ottawa venue an ideal hangout for adults of all ages. Mercury Lounge is the middle of the ByWard Market, close to other fine restaurants and nightlife spots. See what's on this week by clicking here.
• Mercury Lounge, 56 ByWard Market Square., 613-789-5324,mercurylounge.com
This beautiful, multi-purpose performing arts centre sits along the Rideau Canal in Ottawa's downtown core. With several stages of varying size, this arts venue is capable of holding larger crowds with rowed seating in Southam Hall, or more intimate concerts at the Theatre, Studio or Fourth Stage.
• National Arts Centre, 53 Elgin St., 613-947-7000, nac-cna.ca
This quiet gourmet sandwich bar on Gladstone is bursting with all kinds of events. There is an aura of creativity that resonates from this place—and is showcased by the variety of acts that perform, from poets to live bands. This Ottawa venue uses its spaces to its full potential. See what's on this week by clicking here.
• Pressed, 750 Gladstone Ave., 613-680-9294, pressed-ottawa.com
This quaint little café at the edge of Ottawa's Chinatown is the definition of independent. Some of the best indie bands from Ottawa and around the country love the comfy living room-style atmosphere, which almost feels like a house show at times. There is a sense of warmth to this venue like no other in Ottawa. See what's on this week by clicking here.
• Raw Sugar Café, 692 Somerset St. W., 613-216-2850, rawsugarcafe.com
Known to throw some wild events, Ritual is the natural home for electronic, hip hop and DJ sets. With big sound and a long bar, this venue is a favourite amongst experienced partygoers. It is also conveniently located adjacent to the Rideau Centre in downtown Ottawa. See what's on this week by clicking here.
• Ritual Nightclub, 137 Besserer St., 613-680-7661, Facebook page
Le Troquet
Located in downtown Hull, just across the Ottawa River, Le Troquet has proven itself to be a cultural hub since 1997. With a lively crowd of regulars and a particularly strong folk scene surrounding the venue. More and more, Le Troquet is emerging as a spot where both sides of the river can unite and enjoy a comfortable atmosphere with character.
• Le Troquet, 41 Rue Laval (Hull, QC), (819) 205-9060, letroquet.ca
Located in the heart of the Ottawa's ByWard Market, Zaphod Beeblebrox—simply known as Zaphod's to locals—is a prime stop for touring musicians and is probably the most well-known in Ottawa. The Rolling Stones shot their 2005 video for "Streets of Love" here! See what's on this week by clicking here.
• Zaphod Beeblebrox, 27 York St., (613) 652-1010, zaphods.ca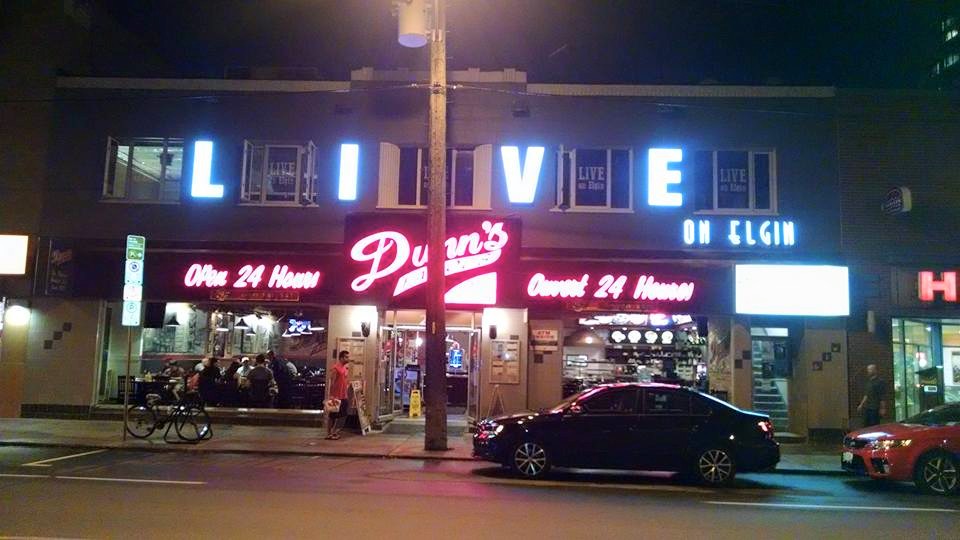 This brand new music venue couldn't be in a better place. Located on Elgin St., one of Ottawa's busiest core streets, LIVE! on Elgin has already begun to turn heads by booking great bands from all backgrounds and genres. From loud rock shows to quiet sit down serenades, find what you're looking for here.
• LIVE! on Elgin, 2-220 Elgin St, (613) 695-5483