radiohead
Streaming & the New Music Economy
As the music industry continues to shift under their feet, Canadian artists are being forced to adapt to a future that seems at once full of promise and forbidding. Stories of quick YouTube success are balanced by the struggles experienced by the everyday band on the road. The recipe for stardom that once seemed straightforward has been lost in a world where albums are streamed, not purchased. The rules in this new music economy seem to change with each passing month, and many artists are beginning to try new things to get noticed.
Ottawa has seen its share of such experiments. A Tribe Called Red achieved some notoriety by releasing their debut album for free, copying Radiohead's In Rainbows play. Many local bands have begun releasing tracks on Spotify and Apple Music in addition to selling records. Since the introduction of MySpace in 2003, there has been an expectation that some music be accessible online, a sort of teaser for fans, and an encouragement to come to shows.
But how much is too much? How much is too little? Live shows have become the main medium through which artists make money, but does that mean that newer artists should allow access to their recordings through streaming services that, by all accounts, pay fairly little or nothing?
Local artist Kalle Mattson thinks so. He feels that the exposure of such platforms, in addition to the income, makes it worth it.
"Not to say there aren't problems with streaming services. There are," he says. "But on the whole I think they are positive for the industry and over time the kinks will get worked out."
He points out that these services can help get you noticed. In Mattson's case, it was his being featured on the front page, in playlists and banner placements, that gleaned him something in the range of 5 million plays on Spotify, a number mostly attributable to his popular cover of Drake's "Hotline Bling."
His point is that, while it may be a raw deal at the outset, there isn't much of a downside to listing music on such services. To Mattson it comes down to a "why not?" And since there is very little cost associated with having a presence on such services, it makes sense to be there.
However, it can be hard for artists to see how plays on services like this translates into success in the traditional sense.  Much of the time, artists rely on the feedback of fans to determine whether the music they have online actually translates into ticket sales.
Gloria Guns of local synth-pop band Scary Bear Soundtrack has had a different experience. Their notoriety has been in some part attributable to their presence on free streaming sites like CBC Radio Music, which allows them to reach a larger audience than they otherwise would. Still, she has thus far refrained from putting her music on larger sites like Spotify or Apple Music, largely because doing so is not necessarily easy and the benefits are difficult to quantify.
"If it's too complicated to sign up for a service, then that service is going to lose a certain population of artists," says Guns. She also notes that much of the bad PR that larger services like Spotify have received may make newer artists reticent to put their life's work on a streaming service.
This may be part of the larger problem with these services: that signing up with them may feel like signing a deal with the devil. Many local artists see this kind of deal as unnecessary, especially when it involves a perceived devaluing of music.
Travelling through town for Arboretum, Dan Boeckner reflected on the way in which the music industry has shifted from a model that sold music, to one that sells brands and people. Wolf Parade, he says, rose to stardom at an opportune time. They were there for the beginnings of Radio 3 and iTunes, a time when even the smallest presence online would be noticeable.
"We could reap all the benefits of the internet, but people were still buying albums," he points out, almost nostalgically. These days, Boeckner's music, either with Operators, Wolf Parade or Handsome Furs, is available on all major streaming services, in some cases for free with minimal audio ads for support. But Boeckner, a major music fan himself, doesn't seem bothered by the easy access to his entire life's work.
"I have subscriptions to both Spotify and Apple music," he says. "I mean, some music is only available on one or the other."
That's the allure of streaming services: access. They are a club that offers a wide bevy of music to their members. And that is enough to demonstrate the value of the services, at least to music fans, but as Mattson points out, there is a sense in which this devalues music as a whole.
"There's no free version of Netflix," he points out. Why should not musicians be given the same respect for their art as film or television artists?
So, while there is no question that these services have a future, the question of what role these services will play remains a difficult one. Is the goal exposure or income? Which service is the best? Is any of this fair?
The answer to each of these questions varies by artist, and will likely continue to shift as streaming services become entrenched. The only recourse artists have is to continue to observe and adapt.
---
This article is cross-published between Ottawa Showbox and Ottawa Beat, the city's new music newspaper. Find it in issue 4 of the paper at various locations around town in September.
Best Local Album Covers of 2015
Remember the days when you'd go to HMV and stroll through the aisles looking at CDs? Or to the record store shuffling through some LPs? Sometimes you'd come across an album cover that was so beautiful, so arresting, that you had to stop and check it out. Album covers are to the listening experience as concert posters are to the live experience. Experiencing music is also partly visual, and album art can help us conceptualize the music in a more physical, concrete sense. Think of Pink Floyd's The Dark Side of The Moon, The Clash's London Calling, or Radiohead's OK Computer. What is the first thing that comes to mind? The album cover.
Before checking out our gallery of Ottawa's best album covers of 2015, have a look at Kalle Mattson's video for "Avalanche" where he recreates some of the most iconic album covers of all time. Enjoy!
---
Thirsty Thursday: Lumbersexual by Covered Bridge Brewing
Beer: Lumbersexual by Covered Bridge Brewing
Style: IPA
ABV: 3.5%
Pairing: Lumbersexual with a woodsy playlist
About the Beer:  In the beginning of my beer crusade, breweries were going for strong drinkable beers. The trend in the last few years is to bring down the ABV so that we can enjoy a bit more beer and still be able to walk without compromising flavour. Lumbersexual is a prime example. At 3.5%, they were able to get the iconic IPA bitterness with only 23.6 IBU's (International Bitterness Units).
If you are reading this, or know of Ottawa Showbox, you most likely know what a Lumbersexual stands for. We all have noticed that beards are the facial hair trend du jour. And dressing up like a lumberjack without having picked up an axe is bleeding into our urban landscape. I'm enjoying this movement as I fall in this category. I finally fit in! But I do swing an axe. I also stream Netflix nightly and have a 7.5 hour a day sit-down job.
Commercial description:
Like its namesake, the session IPA is not what it appears to be. At first glance, you'll be drawn by its scent – a pleasant hop flavour and aroma, mimicking that of a big, bold IPA. On closer inspection, you'll find that the hops provide approachable bitterness. It has a refreshing, low alcohol content while maintaining a certain calculated ruggedness. This urban woodsman is a very palatable, easy drinking summer beer.
The Music:
The Yips "Wytch Elm"
The wych elm or Scots elm, has the widest range of the European elm species. Spanning from Ireland, the Arctic Circle, to the mountains of Greece. #OttBand
Crusades "Termites"
Termites' usually feed on dead wood or other dead plant material. They are considered very important in the ecological life of a tree. #OttBand
The Love Machine "We Are Squirrels and This Is Nuts"
Squirrels are my favourite tree dwellers. Seeing them climb and evading capture from my dog is quite impressive. #OttBand
The Cure "A Forest"
When watching to video for this song, Youtube put an ad for sunscreen for men. Is there a difference? Real lumberjacks have sun damage on their faces only. Sunscreen need not apply.
Silkken Laumann "The River"
Nothing like the feeling of arriving to a river or lake when in the forest. The primal need of water might be a reason why it's so satisfying. #OttBand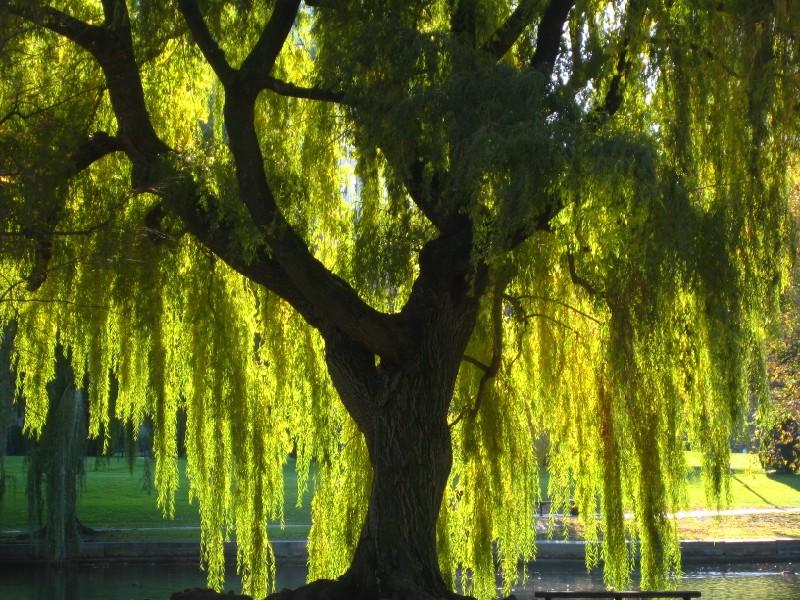 The Verve "Weeping Willow"
The weeping willow is my favorite "hangout" tree. Sit, drink, smoke, read… be lumbersexually active…
Radiohead "Fake Plastic Trees"
Fake lumberjacks… Fake trees…
Alt-J "Hunger of the Pine"
The pine is my favourite campfire wood. It sparks, it burn well, and best of all…it smells divine. Lumbersexual cologne idea… Eau de Pine…
The Noisy Locomotive "In The Pines"
Let the pine train continue… #OttBand
Cory Levesque "Gravel Roads"
Cory sings about the simplicity of living in the country, off a gravel road, four walls, a bed, a home… Warming your house with the wood you chopped. #OttBand
Contact me on twitter @danielbordage or at dropthatspills@gmail.com for suggestions, comments or just to say hi.
Thirsty Thursdays: Halloween Edition with Dominion City Galloping Hessian Pumpkin Brown Ale
By Daniel Bordage
Beer: Dominion City Galloping Hessian Pumpkin Brown Ale
Style: Brown Ale
ABV: 5%
Pairing: A "Halloween" beer with music that either has a spooky feel , words in the title, or band name that conjures up Halloween themes.
About the Beer: This beer is made in Ottawa, Ontario, by Dominion City and the commercial description goes as follows:
"Named for the headless horseman who would crawl from his grave and strike fear into the hearts of the townspeople of Sleepy Hollow, this beer pours a dark reddish brown and features rich nutty flavours balanced against notes of dried fruit, roasted local pumpkin and baking spice. DCBC Terroir Series L 02"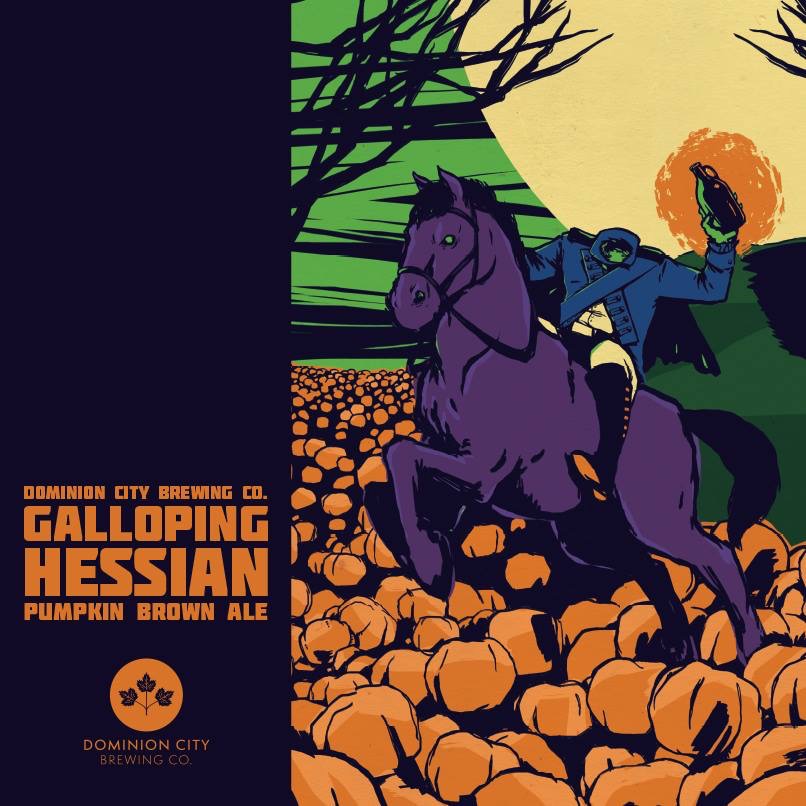 I tried it for the first time at the Hintontoberfest. I met Josh and I could tell he was very proud of his Pumpkin Brown Ale. I must say I don't blame him. It was my favourite of the day. It also turned out to be my favourite pumpkin beer of this season. It's inspired my Halloween playlist this year and the logo won me over with its Scooby-Dooesque design. I love it!
The Music: We had a contest this week via Twitter for someone to send me an Ottawa band that has a song or music that would pair well with a Halloween beer. We had a few great submissions and it gave me insight on a few Ottawa bands I didn't know existed. After hours of listening, the winner is Geoff Cass who suggested Bearshark's "Devil's Knockin'". He wins a free craft beer delivery from Brew Donkey! I thank all that participated in our first contest.
I find making Halloween playlists to be my favourite to do. I open up my music library and search for ghost, haunted, or any other common words associated with Halloween. It becomes apparent that many songwriters have ghosts in their past or are haunted by something. I could do a full jazz, indie, or hip hop playlists alone. And in Metal, well, the list would never end. So I decided to do a mix of it all. Taking you on a musical haunting as if my head was cut off like our headless horseman… The full playlist can be found here.
Nouvelle Vague – Bela Lugosi's Dead
Halloween is my second Christmas after Beau's Oktoberfest and just before real Christmas. Bela Lugosi is my Santa… Here's the original Bauhaus version of this song here.
Radiohead – We Suck Young Blood, A Wolf at the Door, I Will, or Bodysnatchers
Take your pick out of those four. Radiohead seems to be a perfect band for Halloween. I went with "A Wolf at the Door." "I Will" almost made it as it's so haunting and beautiful.
This is a great band from Ottawa with one of my favourite tracks on this list.
Sufjan Stevens – They Are Night Zombies
The backing vocals sound like the famous shower scene in Psycho.
Witches brew beer in those cauldrons, right? At that point of the brewing process, is it called a monster mash?
It's a great song for a beer and music pairing. Bottles… Bones… come on. It writes itself.
The Growlers – Graveyards Full
Growlers… Graveyards… come on… It writes itself (part 2).
Ottawa's own The Creeps. Everything they do would do well on any Halloween playlist.
Off their Metal Moon LP.
Royal Bangs – My Car is Haunted
If you've seen the movie Christine, then you know what I'm talking about.
This song should be on all Halloween playlists…
Danger Doom (Danger Mouse & MF Doom) – The Mask
MF Doom is famous for always wearing a metal face mask. He lives Halloween and collaborates with Ghostface Killah in this song. How could it not make the list?
Gravediggaz – Nowhere To Run, Nowhere To Hide
The entire 6 Feet Under record from the Gravediggaz would make this list.
If Dracula had a band, this would be the first single. It sounds like he's singing in a castle and the creepy butler is playing keys next to him.
The Horrors… enough said…
Happy Halloween and keep drinking great beer!
Honorable mentions
Contact me on Twitter @danielbordage or at dropthatspills@gmail.com for suggestions, comments or just to say hi.
Matias' Bluesfest 2013 'Top 5' lists
Having covered so much of Ottawa Bluesfest 2013, it's hard to summarize everything or even narrow down top 5's. So much happened, and many great memories were made. I'll do my best to conjure these memories with honesty and (perhaps arbitrarily) rank them, but as Eric said in his post… who doesn't like lists?
Top 5 performances (click on the band for a link to the review)
1. Death Grips
2. The Specials
3. Wu-Tang Clan
4. Passion Pit
5. Yukon Blonde
Top 5 moments (personal events, not directly related to a band's performance)
1. After a long, hot day in the sun and a little bit of grumpiness setting in, a wonderful older gentleman serving beer at one of the tents smiled and asked me how my day was going and engaged in a really pleasant conversation with me. He made my day a lot brighter, and it goes to show how important it is to a) have volunteers, and b) be kind to people. Thank you, random genuinely good-hearted fellow.
2. Dancing (…stumbling…) like an idiot to catchy Great Big Sea songs with my closest friends. Beer may or may not have been involved.
3. During the Black Keys's set, a woman of larger proportions passed out cold in the middle of the crowd behind me. Within seconds, people were finding ways to create a circle of protection for her until medical staff got there, supporting her head, and eventually helping to carry her to safety. The crowd parted like the Red Sea to let them through, and I thought that was really special.
4. Discovering how beautiful an icy Palm Bay is on a scorching hot day. Life-changing. "Palmed."
5. Being able to see Rush with a girl that I fancy a lot, albeit from a less-than-ideal standpoint, but it was super cool to be there to catch one of her favourites.
Top 5 things I would change about Bluesfest
1. There needs to be greater accessibility to drinking water. This isn't even about comfort, it's a serious health, safety, and security concern. Every beer tent/porta-potty area should have water stations.
2. Ensure that adequate sound testing is done prior to the start of the festival (rigging-wise), and ensure that soundboard is set and ready to go. The sound issues this year were unacceptable and embarrassing. These issues rarely happen at Coachella, Bonnaroo, and Glastonbury, so if Ottawa Bluesfest wants to compete amongst the world's best festivals, fixing sound issues is a must.
3. I'm not sure, but something tells me that Ottawa Bluesfest is out-growing LeBreton Flats. Especially with the land development taking place, the grounds are seeming to compress year after year as the festival grows. Medium to long-term planning for a new location should start taking place.
4. Not have EDM acts blasting at the same time as other acts that aren't as prone to dropping the bass. I heard that Los Lobos were pissed about Dog Blood's set because they couldn't compete with the massive sound coming off the Bell Stage. Having those acts are fine, just don't have anyone scheduled to play at the same time. It's a matter of respect.
5. There should be more shaded area for people to hang out and recharge. Yeah, there are a few trees, but not that many. Tents could be set up with small vendors selling non-alcoholic beverages. Plastic tables and lawn chairs are inexpensive. They could even incorporate Eric's idea of having misting tents off to the side of the shaded area so that people can cool off however they prefer.
Top 5 things I really liked about Bluesfest
1. Volunteers. These guys put a lot of their own time and effort into making sure this festival stays viable and that patrons have a wicked time. They do a great job every year and deserve a ton of credit.
2. Medical/security personnel. On multiple occasions (4 or 5 at least) I saw medical emergencies happen around me and each time the response teams were on it. It's some peace of mind knowing that our asses are covered if something bad happens.
3. Spraying water during sets with big crowds in the dead heat of a hot afternoon. It's almost like taking a dive in a swimming pool, it's unreal how refreshing getting sprayed is. That, and I think the security guys just enjoy soaking the pants off everyone in the crowd.
4. I like that the festival removed a stage and replaced that area with more vendors. I felt like the former Black Sheep Stage (which is now moved to the far side of the museum) was too much for such a small area.
5. Beer tents (in the end). Once the organizers got the snake lines up and running, problems of congestion and bottle-necking were largely alleviated. While I would like to see an assortment of local craft beers being served, I understand the politics behind sponsorship so I was still happy with what Mill St. had to offer.
Top 5 interesting people
1. The pirate-zombie, whom I've seen around Ottawa before in full costume, navigating the tumultuous seas to find his treasure island amongst waves of spectators and lawn chairs for B.B. King.
2. The little photographer with a musculoskeletal issue who had bigger cojones than most photographers I've ever seen. He needed help carrying his gear, but he had no problem getting right up beside the members of Wu-Tang Clan while they were on stage to get that one great shot. He also acquired a cherry-picker and harnessed himself in to get an overhead shot (maybe 20 metres up) of the Bluesfest crowd during B.B. King. Crazy guy!
3. The ultimate Rush fan who may have been slightly overweight, but running around, dancing, and gyrating his heart out before the band came on stage. This guy ties with a Matt Good fan who seemed to think he was at a metal show whilst Mr. Good played songs like "Load Me Up".
4. The Specials's leads singer Terry Hall, who seems to always have a look of perpetual dissatisfaction on his face, ended up more than dissatisfied at Bluesfest. In fact, he was pissed. Due to crappy sound, he could be seen yelling out sound guys, throwing microphones, stomping around stage in annoyance. I don't blame him one bit. Still a great show though.
5. The kid (maybe 4 years old) on his dad's shoulders during Solange's set who would have gone up on stage and danced his butt off if he could. Happiest kid in the festival for sure. It's nice to see the little guys get into live music. We must all teach our children well!
Top 5 bands I would like to see next year (A man can dream right?)
1. Arcade Fire
2. Radiohead
3. Toots & The Maytals
4. The Pixies
5. Dookie-era Greenday
Ottawa acts heading to Toronto for NXNE 2013
I'm currently on the bus to Toronto where NXNE is kicking off its 19th year. It's a little daunting – around 1,000 bands, countless venues, super late bar hours, and the prospect of joining thousands of other music lovers at Yonge-Dundas Square. But more than anything, it's exciting. Getting to see some of my favourite bands in the world play this week is pretty cool, and also seeing some new ones that could potentially become a new favourite.
It is kind of bittersweet though. Last year around this time when NXNE 2012 was in full swing, we had made the trip down to Toronto to see Radiohead. Of course, that never happened due to the stage collapsing. While the misfortune of that day was pretty tough to take in, we still made the most of it with beer, tequila (lots of it), and barbecue. Since we were all the way out by Downsview that day, no one really wanted to go downtown to see The Flaming Lips. Plus we were pretty emotional about what happened, both because of the death of their drum tech, and because seeing them live is something you look forward to for a long time.
Well now that NXNE is once again upon us, we'll give a little rundown of the Ottawa bands/writers/comedians at the festival this year. And there are some good ones.

Thursday, June 13 @ Hideout, 11 PM
[bandcamp album=2993632122 bgcol=000000 linkcol=0687f5 size=venti]
Saturday, June 15 @ Comedy Bar – Cabaret Room, 12 AM
Saturday, June 15 @ C'est What, 9 PM
Thursday, June 13 @ Hard Luck Bar, 11 PM
Saturday, June 15 @ The Central, 9 PM
Wednesday, June 12 @ Cameron House, 11 PM
 Friday, June 14 @ Monarch Tavern
Wednesday, June 12 @ Cameron House, 9 PM
Wednesday, June 12 @ Hard Luck Bar, 11 PM
Saturday, June 15 @ Cameron House, 8 PM
Thursday, June 13 @ The Drake Hotel, 11 PM