telecomo
Five Years – Ottawa 2012​-​2017 Compilation
Back in May, we celebrated our five-year anniversary with a couple of shows at The Record Centre. That was a whole lot of fun, but we're not quite done yet. Because why stop there?
Over the past five years we've had the opportunity to meet countless musicians in Ottawa, go to hundreds of shows, and really dig deep into the music landscape here. These artists continue to impress us, inspire us, and keep us doing what we do. It's been our mission and raison d'être to support these musicians through coverage of new album releases, interviews, live reviews, and much more.
We've put together a compilation called Five Years – Ottawa 2012​-​2017 which contains music that has impacted us since Showbox started in 2012. This span of five years, in our mind, was a crucial period in the Ottawa music scene. More DIY musicians than ever before came out of the woodwork and made albums, and many were released independently without labels. Some music was underground, some wasn't.
Different types of music pervaded throughout this period, demonstrating Ottawa's potential hub in the Canadian landscape. Our hope is that this compilation will act as a snapshot of a strong and robust local music scene in Ottawa between 2012-2017, and allow folks to have a view into the music that came out during this period. It goes between garage, punk, hip hop, folk, and
While we could have double or tripled the size of this compilation with all the incredible artists out there, we kept it modest and capped it at 51. So while this list is encompassing, it's certainly not meant to be comprehensive by any stretch. Please enjoy a free stream and download of the Five Years – Ottawa 2012​-​2017 compilation below.
A huge thank you to all the artists who contribute their music to this compilation, and to Pascale Arpin for designing such a good album cover. Enjoy!
The compilation is PWYC, and any proceeds will be donated to Girls+ Rock Ottawa in memory of Jean Sebastien Belleau. A special fund in his name has been established for the maintenance, repair and preservation of their growing instrument library, made in the spirit of honouring JS' much deserved legacy as a passionate supporter of the Ottawa music scene.
 Compilation Stream
Bluesfest Day 1: Death From Above, Pokey Lafarge, Telecomo and Pony Girl
Photos by Els Durnford/Ottawa Showbox
RBC Ottawa Bluesfest kicked off the 2017 edition in style Thursday night at Lebreton Flats with Death From Above, Pokey Lafarge, Telecomo and Pony Girl.
Death From Above (they are no longer using "1979," but still having it written on their drum kit) made a triumphant return to Ottawa after having to cancel their 2016 appearance. The noisy rocking duo from Toronto consists of Sebastien Grainger on vocals and drums and Jesse Keeler on bass and keys, and they closed out the night at the Black Sheep Stage and stirred the crowd into a frenzy. The band incited the first mosh pit of the festival and possibly the first crowd surfers. After two songs, Keeler got on the mic and said "Thank you we are Toby Keith," which garnered a good chuckle from the crowd and a Toby Keith chant. Keith was playing on the main stage at the same time.
In the early going the set seemed focused on songs from their latest album The Physical World, but fans of their earlier work didn't have to wait too long. Grainger whispered "You're A Woman, I'm A Machine" before launching into the song of the same title. The nearly two-hour long set was their second show in nine months. On the eve of the full moon, they took off from there and went on to play everything a fan could ask for including "Black History Month," "Little Girl," "Cold War," "Romantic Rights"—ok those are all off of 2004's You're A Woman, I'm A Machine, but they are classics. They also played a few more songs off of The Physical World such as "White is Red" and their new single "Freeze Me," which they struggled with a little being that is was the second time they ever played it live. But that meant Ottawa got the second and the third-ever performances due to a quick re-start. The new stuff is quite a bit dancier but they still find time to have Keeler rock out and bring that gritty bass into it.
It wouldn't be Death From Above set without a story by Grainger. During the set he told his this lovely piece about how for Canada's 125th, he was 13 and in Ottawa at base the peace tower when a motorcade rolled up and Prime Minister Brian Mulroney came out. Grainger shook his hands and then shook his son's hand "who grew up to have great hair plugs…I mean they probably aren't hair plugs" he said laughing. He continued "and then another nicer motorcade pulled up a Trudeau came out and I shook his hand and then shook JT's hand. Back then I thought to myself that he would one day be a great…snow board instructor or substitute teacher."  Many laughs were had and they got back to rocking. What a great set and an awesome way to cap off night one.
Unfortunately there was overlap on Pokey Lafarge and Death From Above so I only caught a few songs but they were excellent. Pokey and his band are simply exceptional. I mean, the act features a harmonica, brass, a stand up bass and the occasional washboard or banjo on top of the usual guitar and drums. With songs like "Close the Door," "Something in the Water" and "Riot in the Streets" (which he all played while I was there) you get transported to a quaint bar in the southern states. His music would be perfectly accompanied with a nice tall glass of bourbon. Even without the bourbon, they had people singing, clapping and dancing under the new Bluesville tent—a great new feature—which has replaced the River Stage.
I took in a double dose of locals to start off my festival catching Telecomo on the Black Sheep Stage and Pony Girl in the Barney Danson Theatre. Telecomo are a garage rock three-piece made up of very familiar faces in the Ottawa music scene. Adam Saikaley (vocals, guitar), Gary Franks (bass), and Pat Johnson (drums) have played in bands such as The Acorn, Silkken Laumman, Bondar and countless others. As I walked over to the stage, we were greeted by the Gary Franks' undeniable bass line from the opening track "Long Gone" off their debut full length release For Sale. Anyone in attendance who didn't know about the album before the show, certainly knows about it know as Saikeley took a few moments to mention it and hold up a record to show people what it looked like. It was pretty effective as he sold a copy right on stage to a very enthusiastic concert-goer in the front row.
For most bands the showman is the lead singer or lead guitarist, but in this band it's the bass player. Franks is never still and can often be seen striking quite the poses. My favorite is the very close stare down of Saikeley while he sings. Franks could have the voice of an angel but I kind of hope he never gets stuck behind a mic as his wondering is such a great addition to the performance. I'm pretty sure the band played all their entire catalogue and even included 2 new songs during their 50 minute set. I love garage rock.
Getting everything started was Pony Girl's performance in the standing room only Barney Danson Theater. It was great to see them pack the room. They certainly put on a show to merit the audience. A Pony Girl set features something most live acts don't, a clarinet. Every time I see them, I am reminded of how underutilized and undervalued this instrument it. The band made full use of the space on stage and also bringing the show to the crowd singing and playing the clarinet in the first couple of rows. What is sometimes forgotten or lost in the wonders of the duel vocals is just how talented of musicians they are. Beyond the clarinet and the excellent guitar and bass work, the drummer always blows me away with all the subtle fill,s and the little extra he does that just add so much. Just as I was thinking of this, they put it all on display during an incredible instrumental lead by clarinet and drums dancing around each other which was beautifully amplified by the guitar and bass. It has been awesome to follow this band for years now and still be so impressed.
Bluesfest Day 1: Gallery
B.A. Johnston, Steve Adamyk Band, Telecomo, & R!E!! at TARG
House of TARG is one of those unique places that makes you feel at home when you walk down the dingy basement stairs. The room was probably about a billion times hotter than it should be and only got worse through the night. That being said, it didn't discourage people from having a party.
"How does one make a punk show out to be a party?" one asks. Well, the answer to that is simple, booze, good tunes, and lively bands that either know what they're doing or have no idea what they're doing but do it well. That's exactly what went down on the 7th April, and of course, continued until the early morning of the 8th.
When my best friend and I walked in, we were greeted by Matias who then introduced us to a long-term Showbox writer, Eric. He also introduced us to Eric's girlfriend, and both were exceptionally kind to the two of us. After some conversation, we headed to find a table and patiently await the show to start.
Robots! Everywhere! was the first to perform and he put on an acoustic set which reminded me very much of a band by the name of AJJ. He sang about sports, going to the park with his daughter, and terrible dates. Phil does not take himself very seriously, which is something that you don't see very often in the music scene, and much less in a punk music scene. He embraces forgetting the words to a song with no shame and jokes around with the crowd, even looking at a notebook he placed on the floor to remind himself of what songs to perform. Through the night, with friends there to support him, a smile did not leave his face. He even performed a song that he doesn't perform live and he let us in on a little secret; it's because his girlfriend is typically at shows and well, the song is called "Call Me Some, If You Are Looking for a Time". The song consists of the lyrics "If you are ever bored and you want to get married… call me." And yet he is not. He brought forth an energetic show, one that would remind you of summer camp where you'd gather around the fire and sing together, just way better and with a little more yelling. Seeing Phil live is well worth your money if you don't take yourself too seriously, or even if you do, you can't help finding his music infectious.
I wish I had the time to talk to Phil after his set, however, Telecomo took the stage immediately after and who was I to complain? Telecomo brought a more serious vibe to the bar, opening with brand songs that I couldn't find anywhere on the internet yet. They completely shifted the mood. Not only did they make it feel like they belonged playing in bars due to their sound, but they made you feel like you were in your friend's garage, watching their band go at it with heart. I found every song infectious and the composition was incredibly well done. I have also never in my life seen a bassist move around as much as Gary did. His basslines shook the floor with its power. I have always deeply admired strong basslines, and Gary's blew me away. It's something that really added to the songs and the experience.
The third last song Telecomo played was "I Met You." It reminds me so much of a song from my childhood and yet I can't for the life of me figure out which one. This is probably one of the reasons that I have a strong love for that song. They played their last two songs, "For Sale" and "Lipstick" then began to pack up after their very heartfelt thank you. Their drummer and friend, Pat Johnson, was revealed to be working double time because he was also the drumming for Steve Adamyk Band that night. He seemed very modest and began to shake his head when a round of applause was asked to be given for him.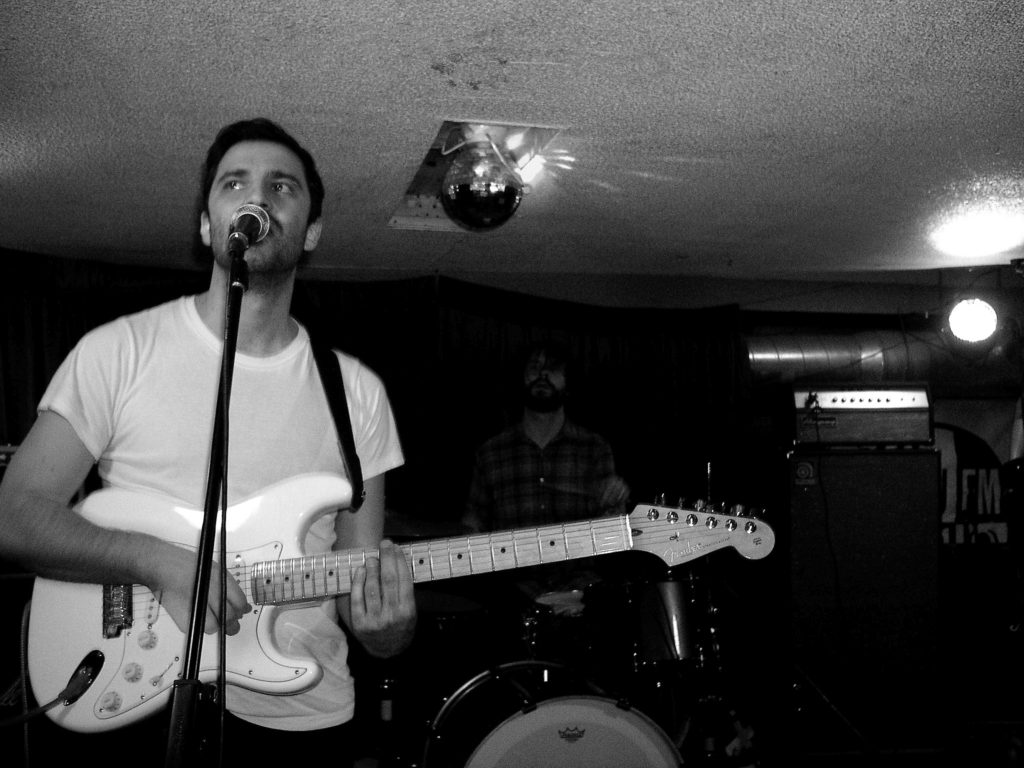 I managed to talk to Adam and Gary after they performed, who were both incredibly sweet people. They even talked to me about my photography and Gary mentioned how he tried to "muck it up" for me, and hoped I got some good shots. They were very genuine people and even asked for my social media. After that I went to find Phil, which Matias kindly directed me to, and I managed to exchange some info with him. Phil, if you manage to talk to him, is a sweetheart. Not only did he make sure everything was alright, but he kept checking in with my best friend to see if she was enjoying the show and if she was okay. This wasn't something we asked for, but it was certainly much appreciated. His friend chimed in and even told us that we had very nice smiles and that although we occupied the table that he had been eyeing all night, he couldn't be mad at us for it.
Telecomo will be releasing their debut LP For Sale in June, it is a must-have and will be available on vinyl as well.
As things began to settle down, Steve Adamyk Band began to set up. I was pretty excited to hear them live for the second time because their recorded stuff doesn't do this band justice. When do CD's, LP's, or cassette tapes ever do a band justice though? They opened with "Through My Fingers" and really threw themselves into the music. Pat was going at the drums with every ounce of energy that he had within him. Later that night I learned that he had broken something close to sixteen drumsticks, and two kick pedals because that's how rock and roll works. I even managed to snag a photo where his drumstick is breaking. Their sound is pop punk with a dash of fuzz added to it. Their energy got people on their feet and dancing, and got me bobbing my head to the fast pace of their songs. Unfortunately, on this night they were a trio as opposed to their usual foursome but their delivery was still spot-on despite this fact. They talked to the crowd and all in all were incredibly friendly people. If you want to listen to a song of theirs that will for sure get you on your feet I highly recommend "False Teeth." It's a little gloomy sounding at first, but it picks up fast and gets you moving with a strong baseline that draws the song together.
Talking to Steve was a pleasure. Not only was he thankful for the photos I was taking, he spoke to me about how he loves talking to people who were born and raised in Ottawa and even talked some about how Ottawa is a home to many bands they're friends with, officially and unofficially. We spoke briefly, but in that time we spoke of the local music scene. These guys have a passion for music that's so clearly written on their faces, in performance, and in conversation. After thanking Steve for the time he gave me, I headed over to Matias as I got very excited about a photo of Steve Adamyk Band that I took. It is by far my favourite photograph of the night and I knew I could not wait to send him the photo. I needed to show him there and then.
There was a wait period between Steve Adamyk and B.A. Johnston. The whole vibe suddenly shifted, whether it was because it was the opening act or because a significant amount of people immediately flooded towards the front, I don't know. All I really knew about B.A. was that he makes a joke out of everything and anything, and that in his shows he includes a performance art component to it which most people don't actually consider an art. Watching this man perform was incredibly absurd. Not that it was bad by any means, it was just incredibly strange. I'd never seen anything like it in my life. Not only did he wear three sweatshirts, but at the very beginning of the show, he ripped a pair of Velcro pants off. His humour consisted of not understanding how an iPhone 5c (his Walkman) worked, and writing songs with very oddly specific names. He had even written a song about GST cheques. Besides that, his humour gave off the vibe of Hamilton, Ontario (so he claims), which is where he's from. He went around the crowd belting out lyrics in his hoarse voice and crushing beer cans on his head whenever he was handed one.
His sound can only be described as something you'd hear from video games from the 80's, with a mix of pre-programmed beats, synthesizer, and a few acoustic songs. His guitar is a clear indication of the type of act he puts on. A modge-podge of various bits and pieces stuck on, and stickers littering the old thing. There were even carvings in the face of his guitar, and even a metal pick guard somehow stuck on to it. If you paid close enough attention, you could see his feet floating above the ground from time to time as he played. He later claimed to be "a forty five year old man whose only pleasure is forcing people to drink Sourpuss".
His act went on well past 1 a.m. and although I didn't stay for the last few songs, I guarantee that there was a lot more drinking, dancing, and singing going on as the show came to an end. I got a cab home and Matias made sure my friend and I stayed safe, walking out in front of TARG with us.
The night was overall filled with great people, fantastic music, and most of the vibes were incredibly positive. Everyone was incredibly friendly and grateful, no matter how drunk or tipsy they were. The live music allowed the room to surge with energy, and as soon as the bands played everyone crowded around TARG's stage.
If you're looking for lazy punk, garage punk, punk with some fuzz to it, or folk punk with a side of comedy, this was the lineup for you. And if you want and incredibly wild night with no regrets (except for that headache you'll be sporting), come on down to see these incredibly talented artists next time they play.
MEGAPHONO 2017 in Photos
All photos by Els Durford/Ottawa Showbox
3 days, 13 venues, and 4147 pictures later, MEGAPHONO 2017 is done for another year. I was honoured to be a part of such an event and help capture moments throughout. The festival brings together individuals from all areas of the industry to appreciate the time and work that goes in to creating their art. I could talk for days about the performances and people I had the chance to experience, but I would much rather let the photos speak for themselves. Enjoy!
---
Day 1 – Wednesday, February 1
---
Day 2 – Thursday, February 2
---
Day 3 – Friday, February 3
Top Local Albums of 2016
Another year come and gone, and many of us are chomping at the bits while we anxiously wait for 2016 to finally come to a close. Yes, it's been a rough year in the world of music. But it's not all bad news, guys. 2016 heralded some brilliant albums, some of which were made right here in Ottawa. Below are our choices for top local albums of 2016.
---
Two Jar Grind – S.T.
From the very first second of the first track "Here's To All I Never Had" you can't help but draw parallels to early acoustic Against Me! thanks to shouting vocals bursting with simple honesty. I say this gushingly of a band I have fallen in love with where all three sing and features a guitarist, accordion player and percussionist rocking a washboard. Yes, a freaking washboard!As I listened to the songs on the six song debut, I really felt like I was sitting down with the band as they worked their way through figuring out their place in the world, their priorities and their ambitions. You instantly feel a friendship forming with them.
Full article found here.
Creep Wave – Winter Sucks
At first, I perceived it as merely a piece of cake, but as I cut into it I saw something else – something much more substantial. The Ottawa-based group's EP Winter Sucks begins with a thin slice of melodically frosted pop punk guitar, which is joined at full force by the hurried, driving pound of the rhythm section. Immediately the head nods, the sun shines and we are in a place that we have been to before. But then, of course, comes the opening line, as vocalist Brittany Neron asks,  "why don't you smile?". The album's first cut, '"Cat Call", should become a permanent installation on the streets of Ottawa, so next time when some seedy bastard passes unsolicited comment on a woman's appearance, she can point towards one of the mounted speakers before telling him to fuck off. It is a frustrated and poignant reply to this kind of street harassment, told with wit and a sneer; a refreshing burst of personal commentary that carries with it great social significance. This is exactly the kind of voice we need to hear in punk today.
Full article found here. 
Goodnight Boy – s/t
The album, for which the duo play all the instruments and do all the vocals, was inspired by an abandoned island in the Rideau Lakes… With the combination of mystery and ghost stories at its foundation, Goodnight Boy's 15-song self-titled album is one to be listened to from start to finish. It is a work of grunge and lo-fi rock rooted in folk principals of story telling and spirited emotion. Having seen them play many of the songs live before to hearing the recording, I have had the amazing luxury to witness a band truly growing up.
Full article found here. 
Steve Adamyk Band – Graceland
Ottawa's most prolific pop-punker Steve Adamyk has done it again with an excellent 13-song album with all the energy, "wo-ohs", and power-pop perfection we have come to expect from Adamyk and his band. This certainly isn't a Paul Simon album… Just like their live performances, this album doesn't really ever slow or give you a moment to relax, with most songs coming in at under two minutes. And just because it is pop-punk, power-pop, or garage… or whatever you'd call it – don't think all these songs are love songs or about partying. Songs like the angry "Die Dead Forever" and the dark "False Teeth" show Adamyk's depth beyond the prototypical sound of the genre. Fret not though, there are still super catchy tracks like "Carry On" and great rocking tracks like "Swallow You Whole" that will win you over right away and make you want to sing a long.

Full article found here. 
Amanda Rheaume – Holding Patterns
Ottawa born and raised, Métis singer-songwriter Amanda Rheaume released a wonderful album this year full of loss and grieving which she perfectly balanced with hope. The first single off Rheaume's fourth album, Holding Patterns, is "Red Dress," where Rheaume honours the over 1,180 murdered and missing Indigenous women and girls in Canada. The song was co-written by Jim Bryson and features Canadian great Chantal Kreviazuk on vocals. The album as a whole is a wonderful step forward for the very talented singer-songwriter and dare I say it a move to being a little more radio-friendly in all the right ways.
A Tribe Called Red – We Are The Halluci Nation
Indigenous DJ trio A Tribe Called Red returned with an immense 15-track masterpiece on We Are the Halluci Nation, taking traditional rhythms and beats of pow wow and transforming them into the powerful backbone of electronic- and dubstep-inspired anthems. This album is global; the Halluci Nation extends beyond political borders. It delves head-on into the ongoing impact of colonialism with poignant interludes by author Joseph Boyden. With appearances by acclaimed throat singer Tanya Tagaq, as well as Yassin Bey (a.k.a. Mos Def), Lido Pimienta, and more, ATCR has created the most crucial album of the year, one that all Canadians need to hear.
Excerpt taken from Matias' piece in Mixtape Magazine's Best of 2016 issue, found here.
While this band is new, its members boast impressive resumes. 
Telecomo
is a three-piece garage rock group consisting of lead vocalist and guitarist Adam Saikaley (Ceremony/Hilotrons), bassist Gary Franks (Roberta Bondar/Ceremony), and drummer Pat Johnson (The Acorn/Silkken Laumann). Their debut Promo Only EP is one that Ottawa was primed and ready for, and people ate it up – hook, line, and sinker. This punchy four-track EP is everything you'd want from a garage album – it is unpretentious, simple, and extremely fun and satisfying to listen to. Its lo-fi aesthetic induces nostalgic episodes in those who remember the sounds of rock and roll gone by. I stand beside what I said in my initial review – "The Detroit garage rock gods of the 80's would surely open their scuffed, wrought iron gates for Telecomo".
Full article found here.
Saint Clare – s/t 
Saint Clare are a hidden gem here in Ottawa. No one sounds quite like them, and they're only getting better. Matthew Saint Clare's distinctive voice leads the charge as each song on the album builds on the last, and we're left with a mountain. The band has come into their own on this record, and they exude confidence in their songwriting and execution. Whether it's the explosive horns section, enchanting lyricism, or unmistakable chemistry and sound, one thing is for sure – Saint Clare isn't going anywhere. Keep your ears open for these guys in 2017.
Full article found here.
Sleepy and the Noise – Altitudes EP
On their debut release, Sleepy & the Noise's sound is full and raw, but not overdone or aggressive. Those partial to Pavement or Dinosaur Jr. will be able to sink into Sleepy and the Noise's sound right away, as they take us on a fun ride that is not only short and punchy, but also contains several moments of cunning lyricism and undaunted instrumentals. […] My favourite track, if I had to choose, would be the song "Mountains & Valleys," one that elucidates Pasiak's word-smithing abilities and strong use of metaphors and imagery in his songwriting. Moreover, some irresistible guitar tones and backup vocals by Fitzpatrick makes it one that you won't be able to resist having on repeat.
Full article found here.
Slack Bridges – EP1
Slack Bridges is all about combining different visions, influences, and styles and turning them into a unique cohesive sound. EP1 is the product of countless meetings and band practices hashing out exactly what that sound would be. Barr describes the approach as "destroy to create" – someone brings a small song idea to the table, and the band jams and builds on that idea as a group. It normally gets taken in five or six directions before they settle on a final idea.
EP1 is a groove-laden, intricately layered onslaught of soulful jams that are clearly the product of time, effort, and a lot of chemistry. Each track off the 4-song EP offers a display of each member's strengths, at times allowing Barr's bass lines and Selody's ardent sax to take the lead it tracks like "Lion City" or Ward's irresistible keys to reel us in on "All For You." Gilmour's deep and dynamic vocals tie it all together, offering daring melodies and smooth, seamless transitions between notes in the same vein as Leon Bridges.
Full article found here.
BB Cream Says Goodbye with Telecomo and Cheap Whine
Ottawa three-piece BB Cream called it quits last week in front of their friends at a jam packed Pressed.
"In the words of Sleater Kinney – 'why do good things never want to stay" is the first thing lead singer and guitarist Alanna Why said to the crowd. I am pretty sure they played their first show at Pressed and came back their for their send off.
BB Cream's pop-punk and emo style is a lot of fun and is infectious. Alanna has been a staple of the scene for quite some time now but had always been looking up at the stage not on it. BB Cream was that opportunity for Alanna to create and really immerse into the scene on the other side. "I always wanted to be in a band as a teenager and it took some time but I'm so happy it finally happened," said Alanna. "Thanks for being here."
As expected, they wowed us all with their set. When it seemed as though they were done, the riled up crowd would have nothing of it and demanded an encore. The band huddled up, discussed, and delivered. The band switched up instruments, moving the drummer Kurt Grunsky to guitar and vocals, and Alanna to drums. They then played the song "Shit Hole" about how much music sucks. The crowd continued to chant for more after every song. Alanna said they would trade water for another song and once the water arrived the instrument musical chairs continued. Alanna jumped on the bass and Jon Brownlee jumped on the drums to rock out one more track. The crowd was insatiable and kept asking for more even after two encores. Safe to say Ottawa will miss BB Cream and I hope the members who are sticking around town to continue to make music.
The other very interesting part of the show is how two Ottawa "super groups," Cheap Whine and Telecomo who opened up the night could also have headlined. This made for quite an awesome week night show.
First up was Cheap Whine, which is made up of Eric Neurotic from Feral Trash, Steve Adamyk of Steve Adamyk Band, and Jordy Bell of The Creeps and Crusades. The band obviously really rips considering the combined experience of its members. Early on, they dedicated the track "Little Change" to BB Cream. After the song Eric said "sucks you're breaking up glad we got to play one show together." A few songs later he broke his B string on his guitar. Following the song Eric laughingly said "don't worry it's not one if the punk strings." I've now seen Cheap Whine play a few times and I think I speak for everyone who has seen them play, we need some recorded music stat.
Between Cheap Wine and BB Cream, was Telecomo. They features members The Acorn, Silkken Lauman and Bondar. Lead singer and guitarist is Adam Saikaley, a man who seemingly plays in every style of band around. Case in point, he was playing piano in a jazz trio the next night. Adam also took the time to pay tribute to BB Cream, but focused on lead singer Alanna. "My favourite memory of BB Cream was on Alanna's birthday when we invited her on stage to play a guitar solo and she looked me right in the eyes and said go fuck yourself Adam," he said. Oh, Ottawa love.
I don't know how this was the first time I saw Telecomo, but glad I finally did. I loved the EP they released earlier this year and was blown away live, especially watching Adam during is frenetic shredding moments. Is there anything the man can't do? Also very entertaining was watching bass player Gary Franks strut around and play about half the set from in the crowd watching Adam. He never stopped moving around. They promised us that a full length is coming out in the winter time. They also played the first track off that upcoming album, and let me tell you – we're in for a treat.
New Music: Telecomo – Promo Only EP
One of the newest additions to the Ottawa music scene is Telecomo, a three-piece garage rock band that are set to release a tape this week. The group itself is new, but the members are long-time veterans in town.
Telecomo is a trifecta consisting of lead vocalist and guitarist Adam Saikaley (Ceremony/Hilotrons), bassist Gary Franks (Roberta Bondar/Ceremony), and drummer Pat Johnson (The Acorn/Silkken Laumann). As you can tell by this not-so-motley lineup of musicians, this band is a powerhouse stacked with three dudes that simply wont quit. Because why would they?
Their debut release, the Promo Only EP, contains four quick and grimy tracks that will reel you in from the first measure. I think the world could always use some more fun and punchy garage rock, and that is exactly what this band is offering us. The simple chord structures, unflashy vocals, and lo-fi aesthetic give this EP a genuine throwback feel. The Detroit garage rock gods of the 80's would surely open their scuffed, wrought iron gates for Telecomo.
"Telecomo started up with Adam having the idea of writing some honest, minimal pop songs in a garage rock setting," explains Franks. "Vocals up front and clear, guitars plugged straight into the amps, with the aim of being as succinct and sincere as possible in 4 minutes or less."
Although four songs isn't a whole lot to go off of, Telecomo has succeeded in getting their message across loud and clear: they're fun, fast, and unreserved. They're in your face and raw, but accessible at the same time. Right off the bat, "I Met You" sets the tone by allowing the listener to sink into Gary Franks' flowing bass line, which is fantastically woven in with Pat Johnson's rhythm and Adam Saikaley's overdriven, fuzzed-out guitar chords. Each song similarly follows suit, and the the melodies are ever-present and completely irresistible.
"Around" teases us with a dark bass line-heavy verse that explodes into an chorus with reckless abandon, all the while being tempered by Saikaley's fitting monotonous vocals and despairing lyrics. My favourite track, "Someday," finishes off the EP by building gradually and delivering a refrain that maybe, just maybe, we can all identify with deep down as we grow older. "And all I know is / It took a long, long time to get here / And I keep thinking / Have I wasted all these years / On my fears?"
Some people may think garage music is just fuzzy power chords and unimaginative structures, but Telecomo is proof that there is more to it than just that. A little band chemistry, depth in instrumental fortitude, and damn good songwriting can go a long way. So that begs the question: what's next for Telecomo?
"There is a lot more Telecomo to come," explains Franks. "Right after our show this Thursday, we're driving to NYC to recorded with Jonathan Schenke for two days. We're hoping to get a 7″ and a full length album out from that session before the end of the year… and then tour and tons of merch!"
Telecomo is releasing their Promo Only EP tape with Mushy Gushy and DJ Lamb Rabbit at Black Squirrel Books this Thursday, May 12, and also playing at the brand new venue Bar Robo on May 21 with Homebody, Brave Radar, and Whimm. Listen to the EP below.