The Love Machine
Thirsty Thursday: Lumbersexual by Covered Bridge Brewing
Beer: Lumbersexual by Covered Bridge Brewing
Style: IPA
ABV: 3.5%
Pairing: Lumbersexual with a woodsy playlist
About the Beer:  In the beginning of my beer crusade, breweries were going for strong drinkable beers. The trend in the last few years is to bring down the ABV so that we can enjoy a bit more beer and still be able to walk without compromising flavour. Lumbersexual is a prime example. At 3.5%, they were able to get the iconic IPA bitterness with only 23.6 IBU's (International Bitterness Units).
If you are reading this, or know of Ottawa Showbox, you most likely know what a Lumbersexual stands for. We all have noticed that beards are the facial hair trend du jour. And dressing up like a lumberjack without having picked up an axe is bleeding into our urban landscape. I'm enjoying this movement as I fall in this category. I finally fit in! But I do swing an axe. I also stream Netflix nightly and have a 7.5 hour a day sit-down job.
Commercial description:
Like its namesake, the session IPA is not what it appears to be. At first glance, you'll be drawn by its scent – a pleasant hop flavour and aroma, mimicking that of a big, bold IPA. On closer inspection, you'll find that the hops provide approachable bitterness. It has a refreshing, low alcohol content while maintaining a certain calculated ruggedness. This urban woodsman is a very palatable, easy drinking summer beer.
The Music:
The Yips "Wytch Elm"
The wych elm or Scots elm, has the widest range of the European elm species. Spanning from Ireland, the Arctic Circle, to the mountains of Greece. #OttBand
Crusades "Termites"
Termites' usually feed on dead wood or other dead plant material. They are considered very important in the ecological life of a tree. #OttBand
The Love Machine "We Are Squirrels and This Is Nuts"
Squirrels are my favourite tree dwellers. Seeing them climb and evading capture from my dog is quite impressive. #OttBand
The Cure "A Forest"
When watching to video for this song, Youtube put an ad for sunscreen for men. Is there a difference? Real lumberjacks have sun damage on their faces only. Sunscreen need not apply.
Silkken Laumann "The River"
Nothing like the feeling of arriving to a river or lake when in the forest. The primal need of water might be a reason why it's so satisfying. #OttBand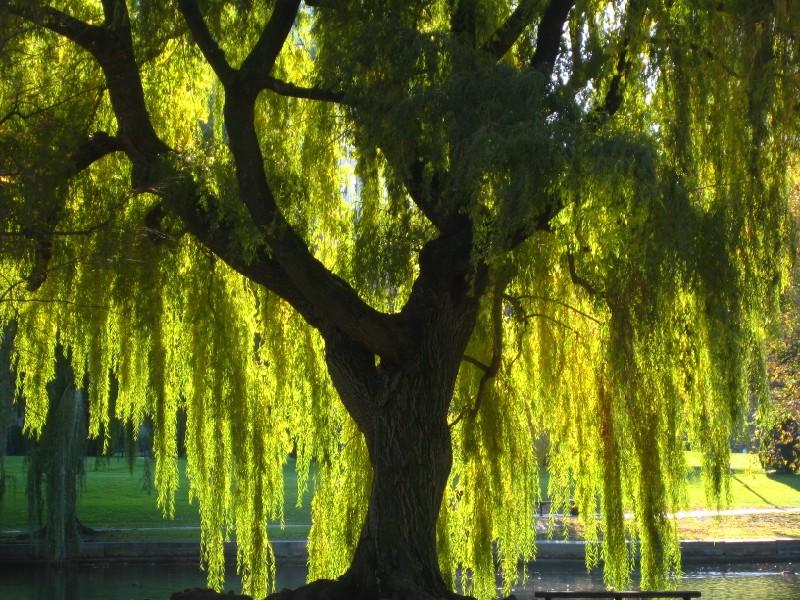 The Verve "Weeping Willow"
The weeping willow is my favorite "hangout" tree. Sit, drink, smoke, read… be lumbersexually active…
Radiohead "Fake Plastic Trees"
Fake lumberjacks… Fake trees…
Alt-J "Hunger of the Pine"
The pine is my favourite campfire wood. It sparks, it burn well, and best of all…it smells divine. Lumbersexual cologne idea… Eau de Pine…
The Noisy Locomotive "In The Pines"
Let the pine train continue… #OttBand
Cory Levesque "Gravel Roads"
Cory sings about the simplicity of living in the country, off a gravel road, four walls, a bed, a home… Warming your house with the wood you chopped. #OttBand
Contact me on twitter @danielbordage or at dropthatspills@gmail.com for suggestions, comments or just to say hi.
Weekend Music Roundup: March 21-23
For full event listings, click here.
---
Friday, March 21
Ottawa Showbox's Favourite Local Releases of 2013
2013 was quite the year for music in the nation's capital.  As per our Top Canadian List, this is not a ranking or a competition but simply a list of local releases that caught our ears and got a lot of play time for us.  Check them out, support local and enjoy some of the best our city has to offer as 2013 unwinds.
---
[bandcamp width=100% height=120 album=955072944 size=medium bgcol=333333 linkcol=0f91ff t=3]
---
[bandcamp width=100% height=120 album=3474636726 size=medium bgcol=ffffff linkcol=0687f5]
---
[bandcamp width=100% height=120 album=2421622216 size=medium bgcol=ffffff linkcol=0687f5 ]
DIANA, Silkken Laumann and Black Usher @ Mavericks
New Wave is coming back and these Canadian groups are doing one hell of a job it. Headlining the night was Toronto's
Diana
. But before they took the stage, the lead singer of Silkken Laumann, Rolf Klausener, never one to mince words had quite a doozy of an introduction for Diana. "Diana is up next, and they are about to rock our collective vagina!" How do you follow that up and break the ice as Diana? With a funny anecdote of course. "I just went to the washroom before the set and well I just sat in a stranger's urine," said Carmen Elle.  "One of you women has a new bond with me." Their record,
Perpetual Surrender
, is absolutely great, but it really comes to life live. I was completely blown away by the drummer.  I loved the transition seamless transitions from electric drums to his standard set, the man creates some sweet beats. And if that wasn't enough, they have some very sexy sax on some songs. The title track, "Perpetual Surrender," brings me back to nights where I would stay up late after my parents fell asleep and to watch
Blue Nuit
. If that isn't Kenny-G-eat-your-heart-out, baby-making, softcore-porn music I don't know what is. Lastly they covered "More Than This" and it was the best rendition since Bill Murray in Lost and Translation.  "Need you to know baby, I know you're terrified."
Silkken Laumann
where in the middle of this concert sandwich.  They were playing their first show with their new bass player Gary from 
Roberta Bondar
. The heavily bearded band from Ottawa had a pretty awesome light show going on as their New Order-esque inspired dance rock tickled our ears and swayed our hips. Gary's contributions could be felt right away. He really set the tone and the beat for their second song, which I really liked.  With the infectious beats flowing and everyone bobbing or dancing along in the dimly lit Maverick's, Rolf took the time to share an observation: "This really feels like a basement party with just us. We are all in Diana's basement." This is the second time I see the band live and have loved it both times, my favourite song live has to be "House of Common Problems."  Missed out or want more Silkken? They announced that they will be hosting a new year's eve album release party, should be quite the event.
Kicking off the dance party was the Ottawa super group
Black Usher
. The band was formed at the Ottawa Rock Lottery earlier this year. The group is comprised of Sarah Bradley  from
Fevers
, Jordan David from
The Love Machine
, both members of
Still Native
, Patrick Steele and Max Savage, and two MC's, Hyfidelik the Gypsy Sun of 
Missing LinX
and
Atherton
. As you can see, there are so many vocals option and the band does a great job of letting everyone have a turn to shine. You have to love the sad ballad about condos. With lines like, "There used to be mom and pops now it's Starbucks," and "Condos ruin everything around me," as a tribute to C.R.E.A.M. by Wu-Tang.  They closed out their set with the very odd "Weird  wild strange strange."
Forget clubs spinning top 40 dance music–Diana,  Silkken Laumann and Black Usher showed us all Saturday night that live dance music, by musicians, is alive and well.
The Love Machine release teaser video + Vine contest details
Last weekend a bunch of us gathered at Fall Down Gallery for what was to be a hot, smoky music video shoot for The Love Machine's new song "Sorry My Dear".  The video is being made with a string of Vine videos, each 6 seconds in length. I have certainly never seen anything like this before, so the end result will be pretty interesting. With lots of confetti and dancing, I think the shoot was a pretty huge success overall. But wait, The fun isn't over yet!
The Love Machine, along with Dan Rascal Productions, are allowing fans to get involved by submitting a Vine video of their own to be included in the final cut of the video.  Here's how it works:
1. Follow The Love Machine on Vine (handle: thelovemachine)
2. Fans can then download the song segments from the Dropbox link provided
3. Fans can make their own segment(s) and upload it and hashtag it with #TLMvine
4. The segment submitted is eligible to be in the final product!
Now check out the video teaser that The Love Machine just released!
Here's TLM's  video description:
"We want YOU to create your own vines for The Love Machine's newest video – Sorry My Dear.
The first thing you need to do is follow this link to a special Dropbox Folder. Inside are all the goodies you will need to create your own segments which we will review. If we like…then there is a good chance it will make the final cut of the video!
Here is the Dropbox Link:
dl.dropboxusercontent.com/u/16496841/SOR­RYM_MY_DEAR_VINE.zip
In the Dropbox folder you will find 33 Segmented clips of the entire song. We broke the song down into 6 second partitions and filmed each one. Now we want you to pick your favorite segment and re-create it any way you want. We also included the mastered song so you can think about the video as a whole and well….it makes for a nice gift too!
You'll also notice that each clip has 3 seconds of quiet and 6 seconds of loudness! We wanted to make sure you recorded on the loud part but we also wanted to give you some time to cue yourself up. Make sure you practice and try to get it as rock solid as possible!
Get creative! Do something zany! We accept parodies of your favorite vines, stop motion whatever whatever!
Once you have your segment finished, don't forget to tag them so we can see them.
TAGS
@thelovemachine
#TLMVINE
Thanks a ton!"
Everyone Wins at Ottawa Rock Lottery 5.0
The fifth edition of the Ottawa Rock Lottery, which was held at Maverick's, blew me away.  You are probably wondering what is a rock lottery? Well you take 25 members from local bands, pull their names out of a hat to form 5 bands.  Then give them 24 hours to come up with 20-30 minutes of original music.  And for an added twist, you assign each band a special instrument that they must integrate into their set.  If all of that does not sound fun enough, consider that all proceeds of the event go the the Ottawa Foodbank and there were free draws between sets with a lot of merch from sponsors and bands.
The event's special guest host was CBC Radio 1's Amanda Putz.  Amanda hosts the show Bandwith, which focuses on Ontario music. In her opening remarks she declared that not only does Ottawa have one of the best music scenes in the province (eat your heart out Montreal and Toronto), but "one of the greatest scenes in the country."
First up was But I Don't Want to be a Pirate. The band was comprised of Arturo Portocarrero (Miss Polygamy), Cody Allen (Cody Allen), James Rooke (Modern Era Pirate), Mike Libbos (The Goodluck Assembly) and Rory Lewis (Kalle Mattson). They were tasked with the coolest random instrument of the night, a keytar. Man can Rory rely shred on his guitar and he even did a solo on the keytar. They set the bar very high. And Ottawa is very lucky, as Jame Rooke won a three song EP recording from Audio Valley Recording Studio and announced he will use it to record with But I Don't Want to be a Pirate.
The second band of the evening was Sextadeth. The band said the name was in honor of Canadian astronaut Chris Hadfield, who they assume will be sexted to death now that he is back on Earth. Fitting that the band that ended up with two drummers, also got assigned the spoons, and had an epic percussion finale. Sextadeth was, David Wisjman (Fire & Neon), Max Savage (StillNative), Peter Zachar (Those Gulls), Reverend Doctor D (The Pelts) and Riishi Von Rex (Riishi Von Rex). They played a really fun set, but unfortunately David announced at the end that "due to creative differences we are breaking up." the crowd got a good kick out of that.
Black Usher was up third. They were two Keys, two MCs and a Macbook. The keys were Patrick Steele (StillNative) and Sarah Bradley (Fevers), the MCs were Atherton (Atherton) and HYF the GypsySun (Missing LinX) and the man on the Macbook was Jordan David (The Love Machine).  Their set was awesome! The dynamics of the five members singing or spitting rhymes throughout their performance was very good.  And the energy…oh lord the energy. They finished with the incredible "Weird, Odd, Strange" that could very well have been the song of the night. And it was fun to watch both MCs play on pots and pans with wooden spoons.
Fourth to the stage was Slow Dance Chubbies. As per their name, they slowed it down a little bit. Their set was full of guitar solos, incredible trumpet play and funny lyrics. The crowd got into their set singing along with the band.  Slow Dance Chubbies was Connor (sorry no last name provided), Erik Hertzberg (Cold Capital), Gregg Clark (Pony Girl), Jake Ting (Zoo Legacy) and Shawn Desjardins. What happens when one band gets two drummers, another band gets none.  But that did not stop Slow Dance Chubbies.  Jake Ting, who had never played drums live before, took on the task and did a great job.
Closing the show was Nicolas Cage in Con Air.  The band was made up of Craig Barlow (Loon Choir), Dave Nado (The Wicked Mercy), Jon Schofield (The Yips) Just Jamaal (Missing LinX) and Kalle Mattson (Kalle Mattson). All of their songs were named after Nic Cage movies, they opened with Ghost Rider Two, followed with  Ghost Rider One, which led to Raising Arizona and concluded with Face Off. Nic Cage was an amazing combination of rap and slam poetry over rock. Their special instrument was the whistle, which they integrated into more than one song, the only band to do so. While the band tuned, Just Jamaal used his instrument, his vox, to keep the crowd entertained with some freestyling.
I think Amanda Putz said it best when speaking of the evening. "The talent tonight blew me away." I overheard many people in the crowd saying "I figured this would be a train wreck, but this is awesome." And I must agree, it was a great night. If you did not go this year, or are an artist and did not participate, I strongly encourage you to do so next year.
Every song from the show should be available by May 25, thanks to Audio Valley Recording Studio. Keep checking back at Ottawa Rock Lottery website for it.
Photos of the night here by Ming Wu.
New Track: Fire & Neon "Good Intentions" + Album Release Party
Fire and Neon have released their new track "Good Intentions" in advance of their new album to be released May 3rd. The track is a great mix of synth-driven layers with well-placed guitar riffs and explosive percussion throughout. The song is a departure from previous material in the sense that it seems more matured – the band has come into its own a little bit more, and really developed their sound since their first Like Dance EP released in 2011. Another big announcement for the band was their Album Release party announcement, where they will be playing at Ritual on May 3rd with Ottawa heroes The Love Machine and Zoo Legacy.
Fire and Neon Album Release Party w/ The Love Machine + Zoo Legacy
Friday May 3 @ Ritual (137 Besserer St.)
licensed 19+ – 9pm doors – $12 advance + service charges
Facebook Event here
Tickets here
'4in1' November session @ Antique Skate Shop features The Love Machine, JF Robitaille, and more.
As we slowly move into the colder months, we have decided to keep going with the '4in1' Sessions indoors at various venues throughout the city.  This month's session (Nov. 25th) will be held at Antique Skate Shop on Florence St., and will feature a mega line-up of great musicians. The Love Machine are looking forward to playing some new material and getting close with fans in this intimate atmosphere, and Peas & Carrots will play some of their new material as well. And if this wasn't enough, Montreal's JF Robitaille is coming into town to play for us too. His presence is always welcome here, and I'm sure all who show up will be in for a big treat from him.
We are anticipating a pretty big turnout, so be sure to get to Antique early so you get nestled into a good spot up front. We will be starting promptly at 2PM, as the shop closes around 5 and we don't want to be inconveniencing the generous staff and overstaying our welcome. So spread the word, this will be one of the best '4in1' sessions we've had yet! And we'll also be announcing a HUGE December edition too, as we've started to get things together for that. Here's the current line-up as it now stands:
Yanis – http://www.facebook.com/Yanismusic
Sarah Jane Johnston – http://www.facebook.com/sarahjanejohnstonpage
Marxist Cowboy – http://www.facebook.com/MarxistCowboy
JF Robitaille – https://www.facebook.com/jfrobitaille
Peas&Carrots – http://www.facebook.com/PeasandCarrotsOttawa
The Love Machine – http://www.thelovemachineband.com/
… Until then, come check out our Tumblr site for some great pictures and videos from previous 4in1 sessions!
New Video: The Love Machine – "Make Believe"
If you ask around, The Love Machine is one of those bands that people just seem to categorically fall in love with. Their full-length Sweater Weather debuted a couple years back, and gained a little extra notoriety for their controversial video for the album's first single "Be A Path". They've decided to put forth another video for the song "Make Believe" that was directed and produced by Luca Fiore. Once again, the video is story-based and features all the members of the band – albeit not as controversial as "Be A Path", it's cinematic elements fit the song perfectly. Once again, these guys show that they aren't about to slow down. Check out the new video below!
[youtube=http://youtu.be/GXfZs4Oin_U]
Papermaps: Inferior Ghost, mini-tour + Interview
With the recent release of their brand new EP Inferior Ghost, Toronto's Papermaps have proven themselves as one of the city's  premier up and coming acts. Personally, the 6-track album left me wanting more and should prove to be a taste of things to come when a sophomore full-length release comes to fruition. We were treated to a couple of sample tracks on their Bandcamp leading up to the August 28th release date (which were fitting precursors to what the rest of the songs offered), but for me the EP really stood out because of the final track called 'Reaction Formation'. Marino's vocals bust into the chorus beautifully as the band takes us on a ride that includes intervals of soft and thunderous percussion and great instrumentation. It's a perfect ending to a successful EP, and a song that I've blared many times for my wonderful neighbours to enjoy (no complaints yet). I always try and gauge how I feel after listening to an album, and with Inferior Ghost the first thing that came to mind was that this band really has an identity, a true sound. Not that they didn't before, but this album really solidified it.
Leading up to the CD release party that happened at the Horseshoe Tavern in Toronto on August 28th, the band embarked on a 3,000 + kilometre Canadian mini-tour that was filled with excitement and some overnight stretches of highway that probably seemed never-ending. They were also one man down, as synth/guitarist Todd Harrison stayed back (partially because of personal commitments and partially because the van rental company screwed up and gave them one that was a little bit too small). However, when Papermaps hit Zaphod's on August 17th the rest of the band filled in nicely as they played a stellar set in front of a smaller than expected crowd. This only made things more intimate, however embarrassing it may be that Ottawa folk in the Byward Market are hard-come by to walk in off the street to see a good show.
The set included some staples from their debut album, the most recognizable being 'Reunion' which sounded even more catchy live as well as most of the new tracks from  Inferior Ghost. Despite the smaller turnout and road weariness, the band still put on an energetic show that could have easily gotten a full house riled up. They were supposed to play with Amos the Transparent the night before but had to change plans due to scheduling conflicts, which I also attended.
At the end of the night, I stuck around with the band for drinks at Zaphod's and got to know them. All I can say is that I made some new friends that night, a great group of people were a pleasure to see perform and get to know. I actually felt really bad that the turnout hadn't been what was expected, and almost (inexplicably) at fault. I assured them that Ottawa has a unique music culture that, if you're a smaller band from out of town, needs to be cultivated. Although Ottawans may not walk off the street into Zaphod's, Papermaps is a band that so many people would love seeing live. They said they'd come back, which put my worries to rest.
After a fun-filled night that ended up being a riot, we parted ways and promised to keep in touch. I had the chance to interview lead singer Dean Marino after the fact about where the band is at right now and what the new EP means to them. Here it is: