timber timbre
Scattered Clouds, Boyhood & Timber Timbre at the Bronson Centre
On Thursday night, crowds escaped the damp, rainy Ottawa streets and piled into a dimly lit Bronson Centre to witness an evening of ambient, atmospheric music. Headliner Timber Timbre visited Ottawa for the fourth time in 6 years along with support from Ottawa's own Boyhood Scattered Clouds.
Scattered Clouds took to the stage first, rising out of an ascending red fog. Performing as a 2-piece band with Jamie Kronick on drums and Philippe Charbonneau on guitar, keyboard, and vocals, this band was the most surprising act of the night. In terms of style, Scattered Clouds describe themselves as "dark, experimental, and post apocalyptic." These characteristics could not be more fitting. Beginning their set with a heavy presence of baritone guitar and an emphasis on drums driving the synths, the band achieved a sound that could easily be equated to a modern day embodiment of a Joy Division b-side album, with an "Ian Curtis- esque" vocal tone. The second half of the set however, transitioned into an emphasis on synth and a precision in instrumentation. Creating an atmospheric 80's dance vibe, the band achieved a type of lo-kfi sound that left the audience in a state of euphoria. Waking from this set with the harsh Bronson Centre lighting was like waking out of a heavy, romantic dream.
When the lights dimmed again, our good pals Boyhood took to the stage. Clad in flared pants and turtlenecks, Boyhood did not fail to deliver their staple moody, noisy sound. As always Caylie Runciman delivered raw and airy vocals that harmonized beautifully with her band, and provided an emotional and unpolished set completed with songs that morphed and melted into one another. Giving us a taste of what is to be expected from the upcoming album Bad Mantras, which will be the bands first album since 2012, the set featured the bands catchy "Drivin'" and "He Don't." Beginning with keyboard, Caylie swapped over to guitar midway through the set where she went to town in an emotional and raw guitar solo. It's easy to get lost in a Boyhood set, and this was no exception.
Last but not least, Timber Timbre finished the night in almost total darkness, with only subtle lighting sweeping the stage. A glass of liquor sat idled on an amp to the right, Taylor Kirk began playing what seemed like it would be the entirety of his most recent work, Sincerely Future Pollution. However four songs in, the set took a detour towards an intermingling of a huge sample of his work, ranging from his self titled back in 2009 to his most recent. Detouring the set with Hot Dreams, the band's instrumentation, and deep, sultry vocals, the song was delivered with a raw, sensual and emotional demeanour.
This specific Timber Timbre performance was unlike many others. His previous shows in Ottawa, which included a performance in Ottawa's first Baptist Church in 2011, a set at Folk Fest in 2012, where he performed alone with a kick drum, and even his set at Jazz Fest in 2015, stuck pretty tightly to the delivery of the songs on the album. However, this set tended to use the style in the albums as backdrops for experimentation and improvisation with melody and pace during the performance, providing unequivocal authenticity. Most notable in this performance was the "Curtains?!" jam session that lengthened the song by about two extra minutes with intense instrumentation. The night ended with a 3-part encore beginning with "Grand Canyon," that delivered an expressive and theatrical but emotive and raw finale.
This show captured a unique energy that seems to have been strengthened by the uniqueness of all the bands but also the ways in which they played off of one another. They each brought an atmospheric sound and seamless instrumentation, as well as a hard punch in the heartstrings with their raw vocals, lyrical movements, and honest and authentic delivery. The perfect ambiance to fit the creepy environment that is the Bronson Centre on a rainy evening, this show was not one to miss.
Jazzfest: Timber Timbre @ Marion Dewar Plaza
The longest day of the year did seem to drag on as we waited for Timber Timbre to hit the Marion Dewar Plaza for Jazzfest's OLG After Dark Series. When the exuberant trumpet of Chris Botti closed off the Conferedation Park with a standing ovation, the foursome of Timber Timbre took to their stage just after 10:30 p.m. Without a word, but with a deafening welcome from the audience, they broke into "Grand Canyon" that began a darkly lit & themed concert.
Taylor Kirk, frontman & founder of Timber Timbre, brandished his bass & guitar like scythes, swiping sounds out of his instruments as he danced by himself. Songs we knew and loved from their self-titled album, as well as Creep On Creepin' On & Hot Dreams took on different shapes than the laments of his recorded music. He shivered with the energy of a deep inflection and shrieked his lyrics quite a few times, coyote-like.
All photo coverage of Jazzfest discourages taking pictures of a concert's intimate moments, which made it doubly hard to photograph under an approximate 15 watts of purple light. I'd argue that Timber Timbre's set was just one long intimate moment that ended around 11:45 p.m. with incessant applause & screams from the crowd. We didn't shut up until a jacketless Kirk came back on stage solo for a five-song encore that went into June 22's earliest hour.
The only two introductions to songs were during the encore that began with Kirk playing "Demon Host" alone with his guitar. It was a blurry snapshot of what it was like before Timber Timbre became a band. He continued with "Run From Me" by saying, "This song sometimes comes off as a celebration of misogyny… It's really not supposed to." Near the end of its contemplative country sound, Simon Trottier, Mathieu Charbonneau & their drummer replacing Olivier Fairfield came back out to blast us through the final three songs. At the third song Mr. Kirk said simply, "This song is called 'Creep On Creepin' On'."
Interview: Taylor Kirk of Timber Timbre
Expect boom-bap and a banger of a solstice this Sunday, the 21st of June. The longest day of the year is a time for celebration, a peak of sorts, and this Weekend Roundup will recommend a few ways to properly overload all concert-goers with no less than four festivals & dozens of shows in Ottawa this weekend.
I know what I'll be doing on June 21st. I'll wake up at Eric Scharf's and we'll compare notes from my Jazz Fest & his Ottawa Explosion Saturday. My lady & I will walk our dog to Bridgehead. I'll have a Labatt 50 and miss my dad who loved the stuff. I'll call my grandfather to wish him a happy Father's Day. And then my friends & I will spend the day around Confederation Park and the Canal, listening to music and watching the nation's capital enjoy the sun. We'll just bide our time until the sun finally sets and our most anticipated event begins…
I'm calling it right now—no pressure Mr. Kirk—that Timber Timbre's 10:30 p.m. show, part of the After Dark Series of Jazz Fest, will be the show of 2015. We've been listening to the self-titled, Hot Dreams, Cedar Shakes, Medicinals & Creep On Creepin' On non-stop in our household. To be able to chat with frontman Taylor Kirk about his bluesy dirges and old-time folk music last week was a treat, but when see  him perform live with his band will be a true blessing.

Please tell me about your summer tour.
Summer represents a winding down off a tour cycle for Hot Dreams, which came in April last year. This definitely feels a bit like a last hurrah. We'll be mostly in Europe, with a few festivals in Canada. We'll go to Europe twice actually, from late June to July, then Wayhome, and back again to Europe for three days in August.
Are you looking forward to playing Ottawa Jazz Fest? It's both Father's Day and the summer solstice. Which one of those dates has the most significance to you?
I'm looking forward to it very much! We've played Bluesfest & Folk Fest before but not the Jazz Fest.
Off the top of my head, the answer would be the solstice. It's a much more symbolic and charged date. But it's funny because we've had a bunch of different shifts in personnel lately, and a lot has had to do with fatherhood.
What did you do before Timber Timbre?
I don't know… I was playing in a couple of friends' bands. I went to art school. I used to make films. I got into making music for films. I played drums for other people. Timber Timbre was a solo project before I shared it with anybody. At that time, the last job I had was as a closed captioner for film and television. It's a very weird job, very odd, but it allowed me a lot of freedom to do tours in southern Ontario, Buffalo, and Quebec.
How long did it take for music to become sustainable living for you?
I quit that job in 2009 and had an opportunity to go to Japan to do a couple of shows. And then I came home and kind of hooked up with Arts & Crafts. Since then they've kept me on a certain momentum.
What is the key component of that momentum?
I wish I could say it's inspiration or something, but actually I think the notion of making music and making it a sustainable endeavour is touring. That's really it. It's everyone's bread and butter.
I read that you used to have trouble picturing yourself with a band. Now, do you have trouble picturing yourself without one?
Yeah! Very much so. I guess initially I was such a quiet singer and I couldn't figure out how to work the songs for a group. After being a solo act it became a weird trio. By weird I mean it was unconventional. I was playing drums with my feet, there was Mika Posen on violin and Simon Trottier on the lap steel. I still couldn't get my voice to sing as loud as I wanted it to and I still didn't feel like I knew how to arrange my songs for a group.
Going back to solo… I can't really imagine it. I think mainly because the music I've become interested in performing is rock n roll.
How did you meet Mika Posen & Simon Trottier?
Simon & I met on MySpace actually. That really dates us. He had a group called White Noise Ensemble in Montreal and they contacted me. They invited me to come and open for them at Casa Del Popolo. I met Mika Posen playing in other Toronto groups.
Nowadays Simon is still your bandmate, along with Mathieu Charbonneau & Olivier Fairfield. Can you talk about Simon & Olivier's Last Ex project, which is based off an abandoned ambient soundtrack Timber Timbre began and never finished?
Yes, we had been commissioned to score this horror film directed by a Canadian filmmaker. We got to a certain stage with it but what we were making the director thought was "too cool." He said, "This is great but it's just kinda… cool music." He didn't feel it served film. I think he wanted something more traditional, a bit more genre…
I think the film bottomed up and the producers went back and had to restart. We were severed from the project. Olivier & Simon took the recordings and reworked them into something vey different which became Last Ex—experimental instrumental rock music. It's very sci-fi.
What was it like to work with someone as explorative and driven as Simone Schmidt, who helped you write a couple songs on Hot Dreams?
She helped me with "Curtains?!" & "Bring Me Simple Men". She's done lots of artwork for me as well. She has a really refined aesthetic, as a writer and a visual artist. She was just very, very generous. It almost seemed effortless for her to finish these songs. I felt that she did them for me, they were really tailored to my voice. I've never ever done that before.
I've done a song with Leslie Feist before, but it wasn't collaborative the same way. "Homage" came out on a compilation album called Arts & Crafts X.
I know you really enjoy playing with this group, but who are some of your other favourite musicians besides your bandmates?
That's a tough one. There are lots of things that come to mind… I just bought a bunch of records of a group called Broadcast. They're a British group and their recordings were just repressed by Warp Records on vinyl. Trish Keenan passed away when she was very young. This is a group that I really, really admire. I've immersed myself in that.
I once became obsessed with Lee Hazelwood, his recordings, and how they were made. I wanted to make my voice sound like that even though I don't have it at all. Lou Reed is one of my favourites. Nina Simone is one of the most important. And not just for singing but also song-writing, production, and instrumentation. Kind of all of it.
Did your parents help you develop your taste in music?
Yeah, my parents had a pretty great record collection and when I was young I found Led Zeppelin & Pink Floyd in there. I can't really get away from Pink Floyd. I mean I don't sit around listening to Pink Floyd but every now and then I listen and realized just how I've ripped them off!
I was really into Led Zeppelin and Jimmy Hendrix but for some reason I knew that Pink Floyd was different. It's subtle. More nuanced.
How did the video for "Beat the Drum Slowly" come to be? Were you a fan of Chad VanGaalen's music or art before, or did he contact you?
I've been a real fan of Chad's music for a long time. I don't know when I discovered his videos but he started making his own animations for his music. We just reached out and he was super friendly. I guess we had played a couple shows with him over the years. Very nice man. It's such a labour intensive thing as well. Everything's hand-drawn.
I would have him do every single video.
What did you think when you first saw that video?
I was totally astonished. I thought it was extraordinary. I didn't tell him what the song was about—I just said what I was thinking in a very vague way. I think it was all kind of crystallized in that video.
And so are you working on a new album?
Songs have been sort of starting to come together only just now. Really it's in the fall that I'll sort things out. I find it very difficult to be creative that way while touring. It's a very polarizing thing: you do one or the other. I know a lot of people who aren't limited by touring and can just write all the time. I really don't have that.
Will the next album be similar to Hot Dreams's geographical reflection on parts of California?
It could be, yeah. That was such a potent thing. I don't think any of the other records really have that specific relationship to the environment in which they were written.
If I went to Iceland or something, to another severe landscape I think it would be likely.
I strongly suggest you go to Iceland, then. But perhaps your recording name is another title that has that kind of relationship to a place. Timber Timbre comes from a cabin in Bobcaygeon, correct?
It's true. It seemed an apt title for a bunch of songs written in the woods. I was banging on the wood floor and banging on the walls. I didn't really have any instruments.
Have you been back there?
I haven't. It belonged to friends of the family but I think they sold it… I'd be very curious to go have a look…
New Music: The First Empire by Scattered Clouds
On this day in Hull, an LP came out on E-Tron Records. They call it The First Empire but it will not be the last.
It's been a long time coming for fans of Scattered Clouds, an experimental noise & psychedelic pop trio led by Philippe Charbonneau, with Jamie Kronick and Pierre-Luc Clément. The band's beginnings are closely intertwined with the E-Tron's genesis, as are all the musicians who collaborated on this album. The music is simultaneously quiet and chaotic, patient and peculiar. It's aptly described as post-apocalyptic but we could drop that prefix and it would still make sense.
The First Empire is a six-song concept album that seems to have more singles than not, starting off strong with the doom-laden "Fallen" and their most recent release "Enchanteresse", which came out with a twisted music video pieced together by Mike Dubue last month.
"Enchanteresse" grew on me faster than "People Walk", which I've already been listening to for the better part of a year. A free CD of the single was handed out at a show at the Blacksheep Inn last March and the song remains as beautifully choppy and digestible as when I first heard it. It's a journey of self and insanity, which are two themes that pair up often in The First Empire, and not just in the lyrics.
My favourite track however, which I relish even more because of its brief length, is the wordless "Floating Underwater" which immerses us with a marimba. It transitions catastrophically yet pleasantly into "Deepest Night", an anthem of darkness that uses Charbonneau's baritone voice to its greatest ability. It ends with the sunken lyrics "at the strangest hour…" and crashes into the most unhinged and experimental of the songs, the title track. The album almost passes in the blink of an eye but it is complex, what obviously took years to perfect.
Olivier Fairfield, who plays alternate percussion on three tracks, as well the marimba on "Floating Underwater," also plays an integral part of E-Tron Records as the other co-founder and manager. Both he and Charbonneau began producing music that followed their aesthetic vision they had first encountered on their work with the band J'envoie, where Charbonneau actually came in after their record was complete. Pierre-Luc Clément also had a large part in that collective effort along with Patrick Sénécal & Nathan Medema.
Here's where the details overlap. Cue The First Empire to get through this mesh of music.
You can't discuss Scattered Clouds without discussing E-Tron. Both began in 2010 around the time the album La vitesse des chats sauvages by J'envoie came out. E-Tron Mountain was still an undiscovered shrine on the north side of the Outaouais that had yet to house bands like FET.NAT, Her Harbour, BOLD, and Ferriswheel.
Olivier Fairfield sums up E-Tron well in a video by La fabrique culturelle that came out in January:
"Avec J'envoie c'était un band avec une esthétique. Là, avec E-Tron, on s'rend compte que c'est pas un band c'est un groupe de personnes qui ont plusieurs bands qui font plein de choses différentes qui projettent cette esthétique là."
Fairfield is a name that comes up a few times in the music corners of Hull. Olivier's brother Guillaume runs Fairfield Circuitry, an industry-acclaimed pedal manufacturer that lends its powerful effects to bands all over the world. Their father Charles has mastered many of his son Olivier's collabs as the owner and operator of the seasoned studio known as nCode. Olivier himself plays in FET.NAT (along with Scattered Clouds' Pierre-Luc Clément), La Mort à la mode, J'envoie & Ferriswheel on E-Tron, and in the duo H. de Heutz, which is a sonic study of paranoia & pseudonyms inspired by the novels of Hubert Aquin, on Black Bough Records. His work has led him to join Timber Timbre, possibly Canada's most celebrated experimental music at the moment, and to form Last Ex with Simon Trottier, also from Timber Timber.
All these parts of Fairfield's work are touched on by Charbonneau in some way. Often, it seems, Philippe's work is subtler than his partner's, even subdued. He takes to the low vibrations of a deep voice and double bass that have created in Scattered Clouds the deliberate atmosphere of dread and adventure. Fairfield operates on a higher energy, with staccato percussion and piercing vocals. Together, they've created something that wouldn't exist without the other, neither without the considerable collaborations of Clément, Trottier JFNO, Linsey Wellman & Gabrielle Giguère.
So, without leaning too heavily into conjecture I would describe The First Empire as a culmination of the vision that transformed E-Tron from an idea into a music machine. The industrious production they've pumped out in only five years has elevated the concept of a distinct music from Hull, and of experimental music in Canada as a whole, to the point where I see them far ahead of where other local labels still want to go. They're an example to follow, for sure. To
This is the supreme authority that I see described abstractly as The First Empire. But here we are complete lost in conjecture as I feared… It is, before being a symbol, a strong album that was a long time in the making.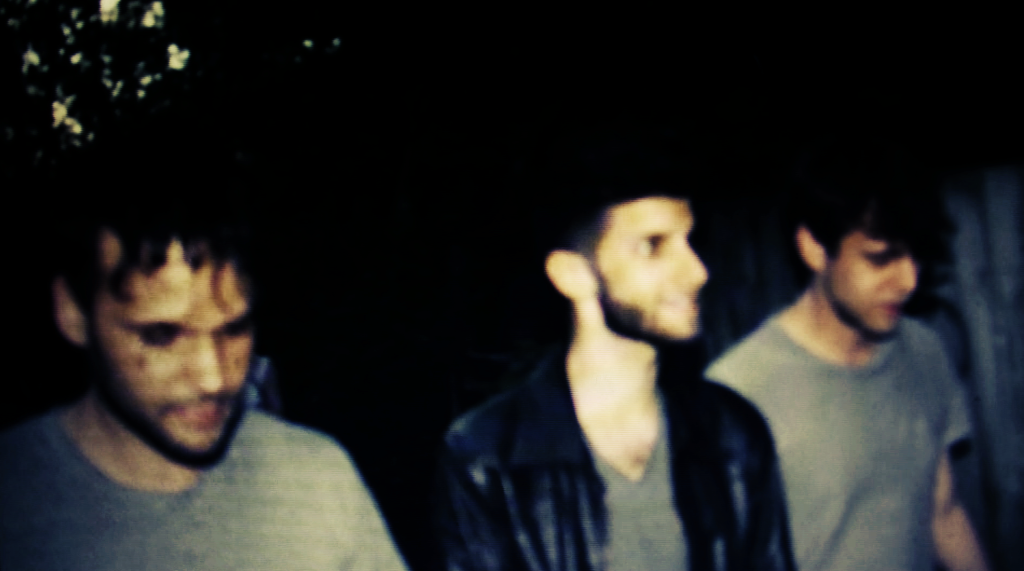 Scattered Clouds starts their tour this Thursday, and will host their official release parties in Ottawa & Hull on May 2 & 23. Follow the asterisks!
April 23rd – TORONTO, ON – The Piston w/ Hilotrons
April 24th – GUELPH, ON – Ebar w/ Hilotrons & The Golden Dogs
April 25th – WINDSOR, ON – Phog Lounge w/ Hilotrons
April 26th – HAMILTON, ON – Baltimore House w/ Hilotrons & The Boogies
*May 2nd – OTTAWA, ON – The Record Centre
*May 23rd – HULL, QC – Le Temporaire w/ WTCHS & Absolutely Free
May 28th – MONTRÉAL, QC – Casa Del Popolo w/ Hilotrons & Saxyndrum
Throwback Thursday: Timber Timbre @ First Baptist Church in 2011
Timber Timbre playing at the First Baptist Church. Photo by Ming Wu.
Last night, Julie Doiron and the Wooden Stars delivered a powerful sermon on the subject of reunion at St. Albans that took me back to my first concert in a church. Only three years ago, Timber Timbre came to town and played a very sombre set at Ottawa's First Baptist Church.
Timber Timbre was then touring its Polaris-shortlisted album, Creep On Creepin' On, which had been partially recorded in a converted church studio in Montreal. Their Ottawa venue reflected this facet of the record just as each dimly lit band member at the altar stayed true to Creep On's tone.  I found it quite haunting to be sitting on a pew of a holy place as the dark, deep voice sang to us over melodies. The sound was quite loud, but the acoustics were absolutely perfect. As strange as it was to be seated in a sanctuary (since I'm not a practitioner of any religion), nothing was more eerie than observing the plaques depicting Jesus' crucifixion and resurrection on the wall while listening to music I love.
The entire experience was quite odd and wonderful all at once. I couldn't get over how incredible the acoustics were and thought up endless possibilities of performers who could really make amazing use of such a setting. Since then, several artists have performed shows in churches all around Ottawa, including St. Brigid's, St. Albans, Dominion-Chalmers United Church & Glebe St. James. I commend Arboretum Festival for making use of them throughout the year.
I invite you to imagine yourself in a gloomy basilica while you listen to one of my favourite Timber Timbre tracks.
New (reasonably NSFW) videos by Kevin Drew, Majical Cloudz & Timber Timbre
Kevin Drew of Broken Social Scene posted a video for "Good Sex", the first single off of his upcoming solo album Darlings. According to Pitchfork, Drew put out a "call for couples to appear in his new video 'engaged in passionate and intimate sexual moments' and 'in various states of undress.' He explained, 'I'm looking for real couples to come make out on camera for the greater good of vulnerability.' " Not only is the song great, but it's really refreshing to see real couples (not actors) of all types expressing genuine passion for one another. Plus, who doesn't like super sexy NSFW music videos? It fits the song perfectly. Read more here.