Tropical Dripps
Ottawa Showbox's Favourite Local Releases of 2014
Again, 2014 was quite the year for music in Ottawa. We realize that it's next to impossible to say which album was better than the others, but we do have a list of the albums that seem to come up on our playlists more often. These are not the "winners" of the year but they are dear to our ears and we'd like to tip our hats to those that made them happen. Check out these sweet full-lengths and EPs, support these locals if you can, and enjoy the weather by putting these tunes in your pocket. Vive le six un trois!
---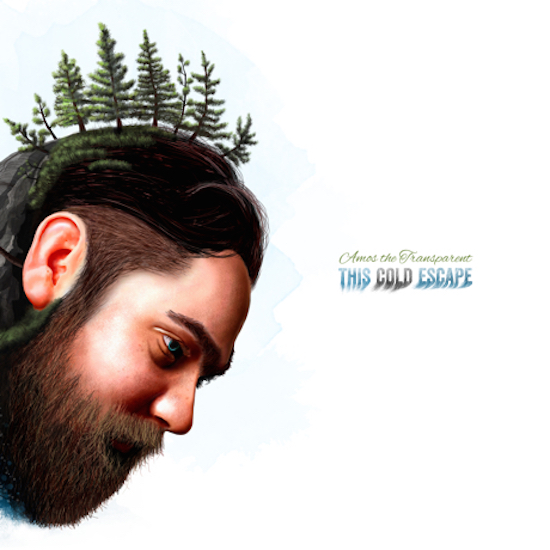 Steve Adamyk Band Dial Tone album release party w/ Blue Angel + Tropical Dripps @ House of Targ
Saturday night was another home run at House of Targ, the new music venue/arcade/pierogi house that seems to know how to make their patrons happy. The occasion was another album release by another kickass local group, the Steve Adamyk Band. Having just finished recording the new album in February 2014 and coming off a Japanese tour a few months back, SAB have been busy surrounding the release of Dial Tone – their fourth full-length album in five years. With Ian Manhire (White Wires/Voicemail/ex-Sedatives) spinning vinyl before, between, and after the bands, the tone of the night was set.
The night kicked off with Blue Angel, a local mash-up of members from some pretty rad bands in town. Lidija Rozitis (Roberta Bondar), Sam Pippa (Organ Eyes), and Caylie Runciman (Boyhood) combined their powers to give all of us at Targ a hell of a show. They were an unexpected addition to the lineup, only because their style is pretty far off from both Tropical Dripps and SAB. There are a lot of other bands in town that could have easily been put on this bill by virtue of their genre or similarities in sound. But who gives a shit about genres? Blue Angel weirded up the place with their shiny masks and brooding stage presence, and quickly enchanted us all.
Starting their set with their most intense and visceral song "YOU ME", Blue Angel charged their way through a brief but powerful set. A few new songs were played too, such as "Rat Tail," which sounded great and also happens to be about rat tails (posterior rodent appendage/a very popular hair style in the early 1990s). This was the best set I have seen from Blue Angel so far, and the sound was right on. Lidija's haunting and droney guitar, Sam's fuzzy and groove-laden bass lines, and Caylie's thunderous drums were all aspects of the performance that will garner them a lot more fans in the future. Don't miss this band when they play Targ again with OUGHT, Fresh Snow, and Freelove Fenner during Arboretum Music Festival on August 21.
Tropical Dripps (Bruised Tongue) were up next, and these boys delivered us all a dose of their animalistic tendencies. Dripps have a distinctive surf/garage punk sound that is the kind of thing Ottawa is becoming more and more known for. More than anything, their primary objective seems to be having the most fun possible. I've seen them a few times at basement shows and Ottawa Explosion, but being right up close to them at Targ definitely made me appreciate how good this band really is. Lead singer and guitarist Mikey took advantage of his time on stage to show off his skills, guiding us through the set riff after scuzzy riff. With Dripps, metronomic accuracy is not a concern, nor should it be. They fuck up on stage from time to time – it's endearing to see a band get so into their music that they get ahead of themselves and then have to bring themselves back down to earth. Kieran's usual hawaiian shirt/sunglasses combo never gets old, and his drumming is relentless. Bassist Kurt Rafuse, who is also in another Bruised Tongue band, The Yips, was a maniac on stage – long hair flying everywhere, body lying on the ground, screaming his lungs out, all while playing his bass like it's part of his body. Good music doesn't have to be technically perfect. It has to evoke emotion from those who listen, and judging by the behaviour of people in the mosh pit during Dripps's set, I'd say the jury is out: they are pretty damn good. Don't miss Tropical Dripps when they play Mavericks with Frog Eyes and P.S. I Love You at Arboretum Music Festival on August 20.
Steve Adamyk Band (Dirtnap Recs) finished off the night with a flurry of quick but robust punk rock tunes. The great thing about having relatively short songs is that SAB was able to reach into their repertoire and play a few great songs from past records, many of which were off Third such as "Nightmare" and "Katacombs," as well as several classics off their 2010 s/t release such as "Better Off," "Not For Long," and "I Fought for the U.S.A." Each song from the past had us singing along because they are all really frigging good, that's why we all fell in love with this band in the first place.
I was lucky enough to pre-order SAB's gold vinyl of Dial Tone, their new record released in July. Not knowing what to expect, I carefully placed the needle on the wax and let it all sink in. For all of those who haven't heard Dial Tone yet, don't expect to hear the catchy hooks off Third re-hashed all over again. For how good Third is (and I REALLY love Third), SAB has delivered a fuller, more complete album with the same grit as the others. The verses are more defined, the songs are thematically varied, as if the band has taken a small step outside the box to create something totally new. Dial Tone is straight up garage rock, with a noticeable easing up on the drums from Dave Forcier and the guitar from Steve and Davey less overdriven. The guitar tones on the album are noticeably more clear, although Adamyk kept the crunchy sound that we all know and love. They played some of the best songs on the album such as "Force Fed," "Careless," "Suicide," and "Empty Cause." We got to hear some new and old, and all of it together made the set one to remember. Beer and spit were being sprayed everywhere while they was playing, and a few of Adamyk's buddies were up front helping to sing each word into the mic. I love this band because their music always speaks for itself – no matter where you see them play or what SAB record you put on, you'll always listen and never be disappointed. Catch SA B before Constantines and Chad VanGaalen on the main state at Arboretum Music Festival on August 23rd.
Our Farewell to Debaser's Rocky Lalune
Featured image by bonyfingers
Letter from the Editors
There is something a little unreal about Rocky Lalune, perhaps even ghostly. Where else could her best Debaser shows take place if not Mugshots? The ol' jail hostel. Remember when you just used to say you were going to jail? If you've ever been to one of these shows, you would have likely seen a quiet young lady casting simple, yet mind-bending projections from an old-school projector your Grade 5 math teach used. Yup, that's her.
We at Ottawa Showbox had the pleasure of working with Rachel Weldon on a few occasions. In the last few month we co-presented shows with Debaser for bands like Freelove Fenner, Gay, Street Meat, I Smell Blood, and Nemesisters. When we found out that she had made the decision to move to Montréal for school, it occurred to us that we had only just begun to get a sense of what Rachel is all about.
From our point of view, the world needs more Rocky Lalune's. Her obsession with music, passion for the scene, and love for Ottawa are all qualities that she oozes. She's the kind of person who makes sure touring bands get paid, and that all bands get their fair share. Artists want to work with her, not just because she has a radio show or because she's a solid promoter. They work with her because she's uncompromisingly genuine and in it for them. In an industry wrought with middlemen and money-grabbers, it's refreshing to know someone on the ground level that supports sui generis artists so vigilantly.
Every Tuesday on CKCU, a show named Debaser neither degraded nor blemished the weird scene. It did the opposite: it directed our attentions, enhanced our playlists, and hinted at what was to come. Where was the nearest tear in the fabric, the entrance to the underground? How far were you willing to go past the fringe to see what there was to see? The guests on her show were often awkward, sometimes immature, always odd, and all of them makers of the highest order. Who cares that they weren't scholars or artists-in-residence — they were all creators and each one was undeniably human. Rocky's interviews were never degenerate, did not promote debasement of any kind, except perhaps that one time when some friends called her from a road trip…
Debaser was never vile, always wicked. She brought in bands she'd discovered at Burning Man, which many of us had barely (or never) heard of. However, she opened Ottawa's eyes to a lot of new music that needed to be heard. Debaser presented bands such incredible bands as Weaves, Doomsquad, HSY, Princevali, Petra Glynt, as well as local freaks like The Yips, Tropical Dripps, Fet.Nat, Hard Science, and Grime Kings, only to name a few. Her collaboration with local festivals like Arboretum Arts Festival and Ottawa Explosion always included bands that pushed boundaries and ultimately enriched our experiences there.
The posters! Check 'em out below. Some stunning, some colourful, all beautifully put together.
Rachel is also one of Weird Canada's "wyrdians" – she's is involved with artist relations at Wyrd Distro. Here are the values to which wyrdians ascribe:
This is the basis of everything Debaser.
So Rachel, this one's for you. Thank you for being a leader in Ottawa's cultural evolution and renaissance, and for being a conduit for artists from other cities to connect to Ottawa's underground scene. You've made your mark here, and for that our city is indebted. We at Showbox try to speak for the 613 when we say best of luck in all your endeavours and if you decide to come back, we'll be here with open arms!
Don't miss out on Debaser's final Fryquency show at Mugshots tomorrow night, Aug.9! Fryquency will continue to be a monthly event at the jail hostel thanks to Emily McQuarrie.
---
Debaser visuals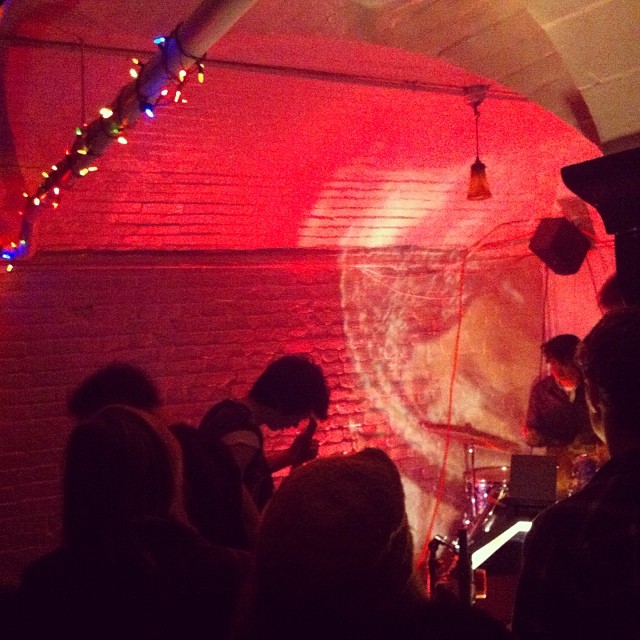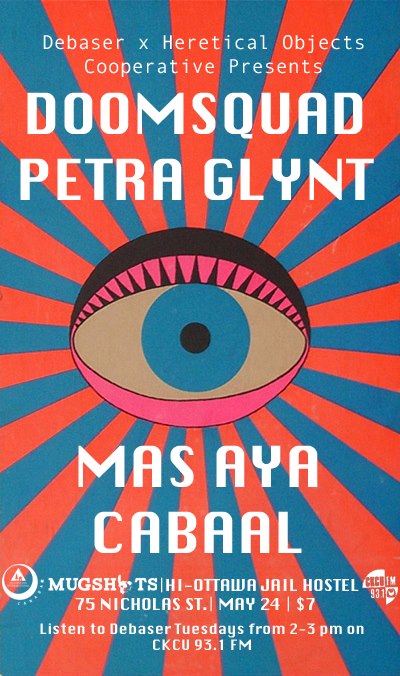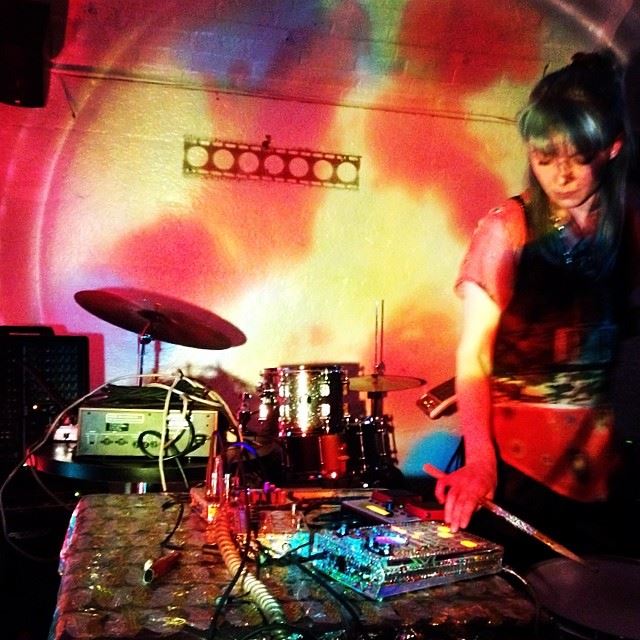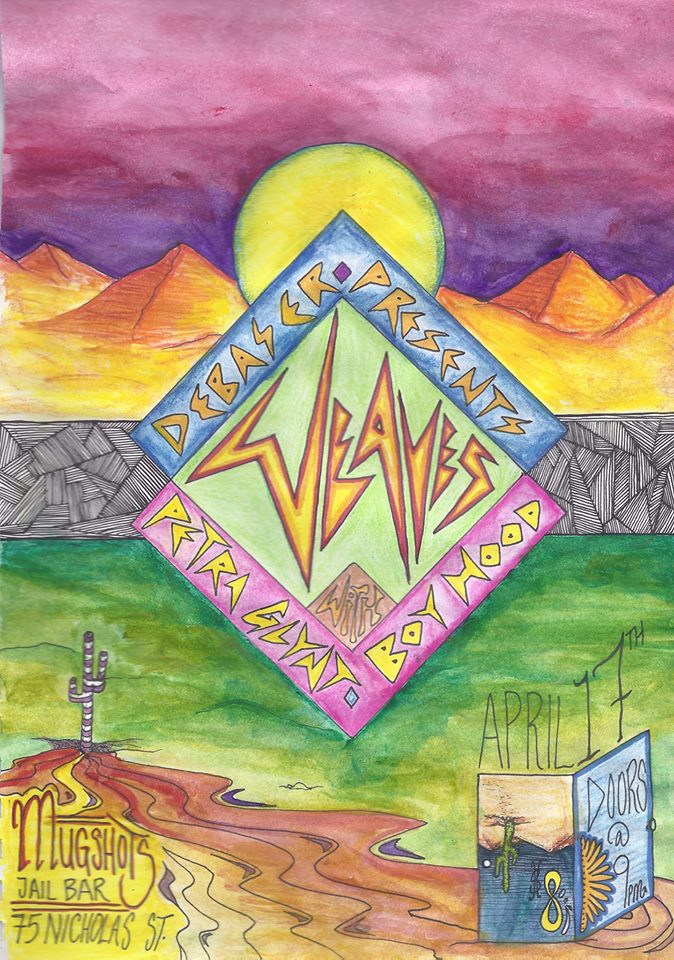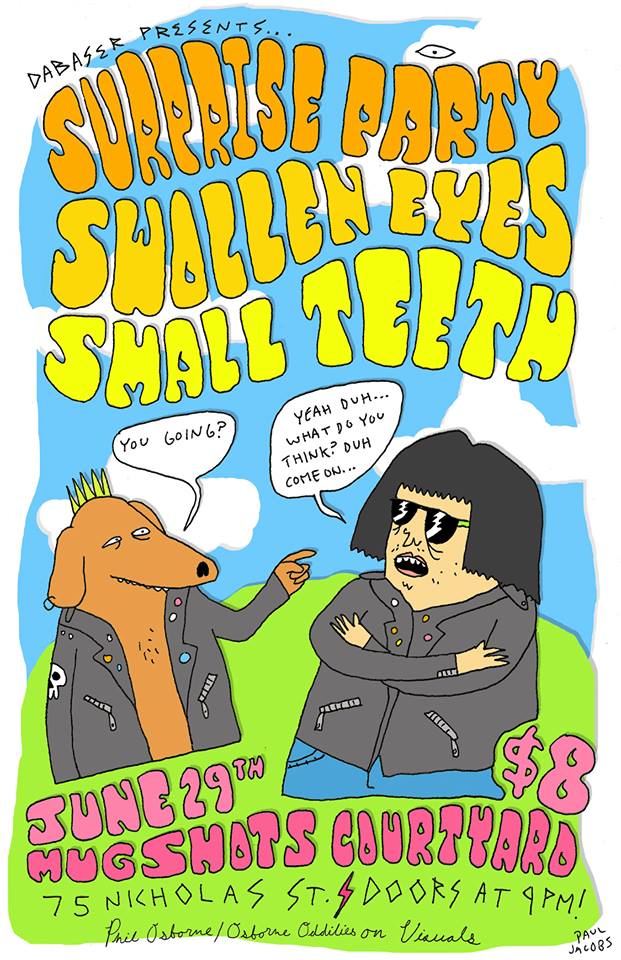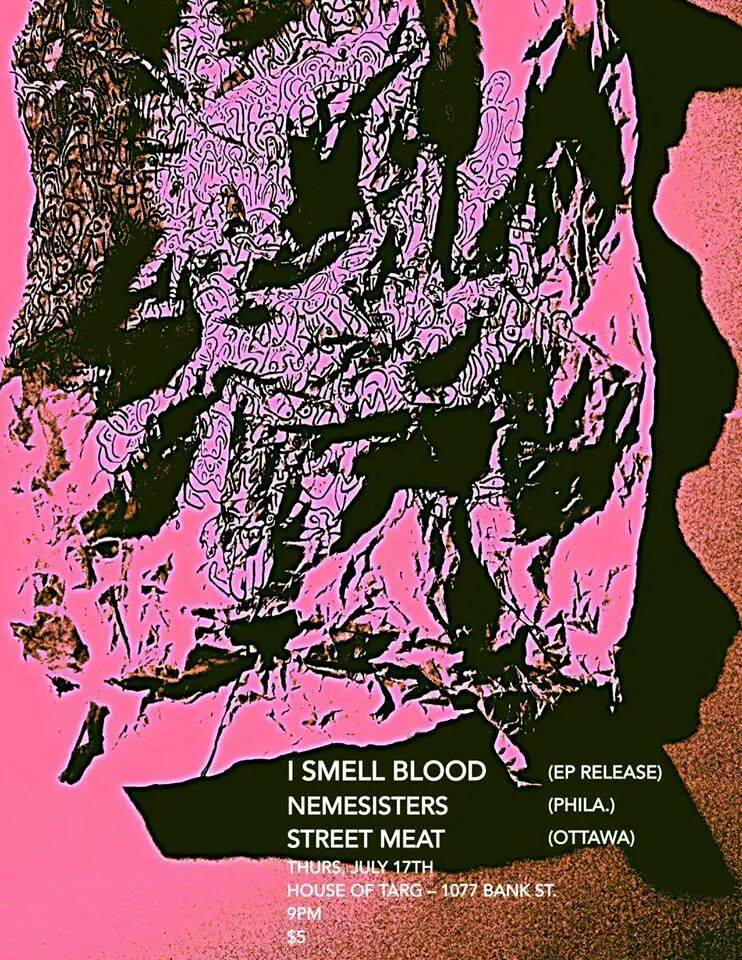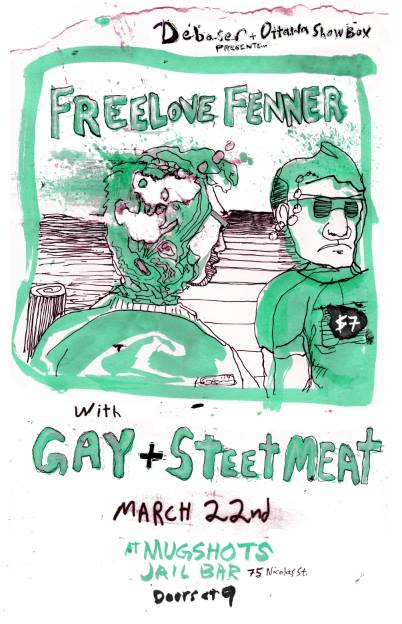 Ottawa Explosion Weekend Day 2: Stand GT, Tropical Dripps, ZEX, Tweens and more
Ottawa Explosion Weekend, day two–saw many great bands rock Club SAW once again.
Tropical Dripps got us started with their surf rock and beach party atmosphere. There were beach balls, Jean-Sebastien crowdsurfing on an inflatable beach mattress, a bunch of people dancing while wearing tropical shirts, and great tunes. Oh yeah, there was also the first "nudity" of the festival (not the last of the day) thanks to shirtless bass player Kurt.
Ketamines were up next with their old school punk rock vibe.  They reminded me of the kind of stuff you would have heard New York in the 80's, it was great. Kind of a New York Dolls feel, but with the bonus of someone on keys. The lead singer was a great showman, which is always a plus.
Looking rather exhausted but without any signs of fatigue Pretty Pretty from Ohio came on. They were a super fun pop punk act with dual vocals. The crowd was loving it and dancing up a storm. What was really cool is that the drummer Jerry is not normally in the band but was filling in and did a kick ass job. Songs "Talking to the Walls" and "Family Matters" really stuck out for me.
Jerry returned to the stage to play with Tweens, who blew me away. They had me hooked from the very first song. I just loved their energy and really enjoyed their new song "Serotonin." Tweens also had us all laughing as they introduced one of their sad songs by saying "get out your rain coats, here come the tears."
The most surreal moment of the night was getting to see The Stand GT.  Never thought I would ever get to see them play as there last show was 13 years ago in 2001. They were excellent and you could have sworn they never took a break. They looked like they were having so much fun getting back on stage which is great to see from a band whose first release was in the late 80's.
It was now time to move inside to get ZEX-ed. One of Ottawa's newest acts ZEX were most excellent. This was my first time seeing the band and I was quite excited. I missed the beginning but walked in to see the lead singer in a white leather bondage gear which did not cover very much (not something you see every day, well maybe some of you do.) I really dig the band's sound, energy and stage presence. And I could not help but yell the lyrics to their great tune "Savage City" at the top of my lungs.
The last band of the evening for me was Vacation, as I had to head out and go see some friends.  This was the third band Jerry drummed for in the night and he once again killed it. As I have mentioned in several other posts, it always blows my mind to watch a drummer also be lead vocals. I don't know what is in the water in Ohio but the state certainly produces awesome punk rock between Pretty Pretty, Tweens and Vacation.
Well day two is in the books which means the actual weekend portion is about to begin! I am so ridiculously stocked for Friday, Saturday and Sunday. Let's keep the Explosion rolling.
Ottawa Explosion announces first wave of artists
Ottawa Explosion has announced its first round of bands for OXW happening on June 12-15 this year. The biggest news was that Spectrasonic and Explosion teamed up to book ex-Ottawa noise-rock, post-punk band METZ. No, METZ doesn't give a shit about your eardrums, and neither does Explosion. It's an ear-abusive relationship with this festival and that's why we love them. Their show at Babylon in April of last year was one of my personal favourites, as each member takes their role to an extreme. Drummer Hayden Menzies attacks his drum set relentlessly throughout the entire set, while vocalist Alex Edkins busts arteries belting out words and Chris Slorach somehow makes noises come out of his bass that could easily get mixed up with a Boeing 747 jet engine. My mom went to Metz, France once. It has no semblance to the band. I will demonstrate this below:
Bruised Tongue 5 Year Anniversary: Crosss, Tropical Dripps and Blue Angel
After a night of partying on Saturday, Bruised Tongue was at it again putting on a great matinee show.
With three S's, Crosss (pronounced 'crosses') channelled all the energy from the bands before them and put on quite a show. The band with members from Halifax and Toronto tore it up at Gabba Hey! I really dug their sound and hope they can return soon to play to a healthier, less hungover crowd.
Ottawa's Tropical Dripps had a lot to be happy about on Sunday. Not only were they part of a pretty sweet bill, they released their new tape, Cool Dude. They gave the crowd a good taste of the tape as they really displayed the progress they have made in their sound.  The band, who I had previously described as surf rock, have definitely evolved and added a lot of depth.
Opening the shows was Bruised Tongues all female all-star band, Blue Angel. This was the second time I saw Blue Angel, who consists of Roberta Bondar's Lidija Rozitis, Organ Eyes's Sam Pippa, and Caylie Runciman of Boyhood. They are quickly becoming one of the must sees of the Ottawa music scene right now, just the right dose of weird, rock and excitement.
Finish What You Started: Tropical Dripps, Moon Destroyer and Cryptids!
The
Tropical Dripps
welcomed everyone to "Jeff Fest 2013." Ottawa's premier surf rock band was at its finest, as they closed down night one of the awesome DIY local punk festival, 
Finish What You Started Fest.
They were on point, noisy, rambunctious and had people dancing up a storm. And there was a lot of people! I was helping Ska Jeff manage the doors at Luneta and he was blown away by the turnout.  "I hope it's like this tomorrow," he said rocking a smile from ear to ear.
Moon Destroyer were dropping cosmic, instrumental jams before hand.  The ambient rock band, sort of like if Explosion In The Sky had a punk rock child. I loved this one part where the drum exploded and the band flowed from organized chaos into a grooving bluesy rock beat. (They did not actually explode, that would be a total fire code violation.) I don't want to take anything away from their set, but I would not do justice to their set of I did not mention the guy trying to unzip the bass players pants a couple of times.
Opening the fest was
Cryptids!
 No, they are not a psychobilly Riptides cover band, they are however great fun punk. I really enjoyed what I heard from them and dig their four song demo (find it below). I really can't wait for them to get some more music written and see where it goes. Also readers know I'm a sucker for females voices in punk, and they have two female back-ups but I also LOVE "oohs," which they had a steady dose of. If you weren't dancing you were sleeping.
[bandcamp width=100% height=120 album=2182336205 size=medium bgcol=333333 linkcol=0f91ff]
Big Eyes, Male Nurse Band and Tropical Dripps at Pressed on June 12
Big Eyes, a female lead punk rock trio from Seattle, Washington played a really fun set Wednesday night at Pressed.
Lead singer and guitarist, Kate Eldridge, can really shred and has an awesome voice to boot.  From the first song, "Losing Touch" to the end of the show, the band rarely stopped for anything but a drink of water.  I had never heard them before, went mostly to send off Male Nurse, but was pleasantly surprised with how much I got into their up beat rocking tunes.  My favourite song was "I Don't Care About Friday Night," an awesome tracks about my favourite day of the week (check it out below).
Before Big Eyes, was the Male Nurse Band. Many of you know Male Nurse as Davey Quesnelle, currently a member of Pregnancy Scares and Steve Adamyk Band (old schoolers might remember him from his days in Robot Kill City and Million Dollar Marxists).  Safe to say Davey has been in the Ottawa scene a long time and this was his last show as Male Nurse.  After a 9 year run as a solo artist it was time to call it and focus on his two other very good bands. They opened with "Building a Boat" and played a few other songs before Davey spoke up. "Here are more songs you'll never hear again and you probably never heard before," he said with a big grin. He constantly thanked the crowd for coming out. The high energy set was concluded with "No One's Happy" with the band and then "Everything's Amazing" as Davey picked along alone on his guitar and sang the last words ever by Male Nurse, '"Everything's amazing, no one's happy."
Tropical Dripps and their distorted noisy surf punk styling got the evening off to a start. The Ottawa trio played some great tracks and some wicked jamming instrumentals. I really enjoyed their song "Sun Dripps," just enough dance with the right amount of loud.
This was a pre-Ottawa Explosion show, and just got me itching for the festival to start on June 19th!
[bandcamp width=400 height=42 album=1122667657 size=small bgcol=ffffff linkcol=0687f5 t=2]