HOTTAWA dance party offers something new
Photo by Max Halparin
For years we've been unwavering supporters of all that is Ottawa music. We've dug deep into the rich soil which serves as a basis for Ottawa's strong cultural roots to grow. For those of us who have lived here and experienced much of what this city has to offer, it's well known that the underground music scene is bursting at the seams with activity and talent (albeit, documentation of this scene is still lagging—but we're still trying to change that).
What we've witnessed over the last several years is a local DIY culture emerging as a pervasive mindset, with people not only imagining what is possible, but actually making shit happen. Even more, over the last decade there has been a rise in more community-oriented DJ nights which offer patrons a truly authentic experience that leaves the old big box dance club in the dust. Some of these include TimeKode, Open Air Social Club, FEELS, Ceremony, and most recently—Hottawa.
Max Halparin (DJ Halpo) is one of the original founders of the night, and he happened to cut his teeth by spinning after our Showbox monthly concerts at Mugshots (RIP) a few years back. Since then, Hottawa became a regular occurrence, usually in smaller spaces and with the goal of getting people together to dance and bucking any sort of perception that Ottawa is a boring, soulless place.
As Hottawa bounced around to different venues over the last couple of years, the crew who make the mixes and pump the jams has grown substantially. These collaborators include VJ Paradisse, Mikayla (DJ Seiiizmikk), Sara (DJ Mani Pedi), Jordan David (DJ JFUN), among others. However, the this summer the DJs found a home at Babylon Nightclub, where they're able to use a bigger space to bring in larger crowds and crank up the party.
I chatted with Max about Hottawa about its growth, and some crucial steps that its organizers have taken to ensure a truly inclusive and safe atmosphere for patrons. Have a read and listen to DJ Seiiizmikk's latest streaming mix below.
This month's edition of Hottawa happens on Friday, September 15 at Babylon Nightclub, featuring DJ Woerks (The Deep End), DJ Choozey (MTL), and deejay ohjay (FEELS), as well as VJ Conor Byron providing visuals. $5 before midnight / $7 after, doors at 10 pm.
Interview with DJ Halpo
What's your background with music and how did you get into DJing?
Of all things, I got into DJing through playing guitar in a sludge metal band. The drummer in that band was also a disco and funk DJ, so I started going to support my friend's nights. Before that, I never went out dancing, but that summer I started to see how positive and cathartic of an experience it can be.
The day before I moved to Ottawa, I bought a few records at a flea market in Toronto, then that Thanksgiving my same drummer/DJ friend had me open for him. After that I was hooked.
Growing up, I played guitar in bands and went to shows all the time. After finishing my undergrad in Montreal, I would sort of joke iPod-DJ after shows under the name DJ SMILES because I was pretty dour and misanthropic at the time. Quarter-life crisis vibes for sure. But I always loved 90s and 2000s hip hop, RnB and dancehall, and started to learn the tracks they sampled, and grew my understanding of dance music from there.
Fast forward three years… that same drummer-DJ is playing Friday night at Babylon! DJ Choozey now spins paying techno, drum n bass, and electro.

How did the idea for Hottawa come about?
It wasn't my idea! In fall 2014 I'd been DJ'ing after the monthly Showbox shows at our beloved Mugshots, and Kyle Woods, who was managing it at the time, said he wanted to put me on my own night. I protested, clearly not very well.
My friend Guy thought of the name, and also came up with the original Miami Vice-looking imagery overlaying palm trees onto Parliament. We had the first one in January 2015, so it was supposed to be a play on this cold, wintery town that gets so much flak for not being any fun. But anyone involved in the music community or party scene knows that's not true.
To me the name serves as a way to celebrate the exciting aspects of the city and the talent that exists in Ottawa and Hull. And since we were all new to DJ'ing when the event started, Hottawa has always focused on booking people who were still new to it too, learning to DJ, with some veterans mixed in too.
What's cool to see is how quickly beginners mainstays. For example, deejay ohjay, who is now one half of FEELS and a regular in the local scene, played her first set with us two years ago, and will be closing the night at Babylon this Friday. DJs Sportif and Mani Pedi also played their first gigs with us in 2016, and became integral to Hottawa this summer.
How has the night grown since it started?
After Mugshots closed, the event moved around a lot—six different venues in two years! That wasn't planned, but in retrospect, moving around a lot meant we didn't get complacent.
Musically, we've changed from a night doing discofunk and hip hop throwbacks to being more focused on house and techno, with RnB and dancehall thrown in too. The triple threat MC-producer DJ Seiiizmikk's mix (posted below) is a great example of what we're trying to do!
For the first two years, we were getting a solid hundred or so people out every night, but when it started to grow beyond that this past winter we were a bit stuck until a night opened up at Babylon. Finding space is always hard in this city—especially one that is physically accessible.
Since moving into the bigger space, we've grown in a few more ways: posting mixes on Soundcloud, getting on instagram, enlisting a legitimate graphic artist to make the posters, adding new visual artists to the nights, making Hottawa T shirts, and teaming up with PACE magazine for a photo shoot, exclusive mix, and video for the last July edition.
We are also really lucky to have Little Jo Berrys, the amazing vegan café in Wellington West, providing vegan treats for the nights. And the most important change is that we have volunteers from Hollaback! Ottawa come out to make it clear that we don't tolerate harassment on the dancefloor (which we'll talk about later).

Can you talk about the visual art component?
The goal is that the art compliments the music and adds to the immersive potential of a night out. We met our most frequent collaborator, VJ Paradisse, one night at Mugshots doing these massive projections in the courtyard for a precursor to the Fire Queen project featuring Jordan David (JFUN) and Aymara Alvarado Lang. This spring we also had Andrew Parks (Cityscape Sessions) bring a interactive dance screen that responded to dancers's movements, and on Friday Conor Byron takes the reigns after doing amazing job recently at the Telecomo album release show and the Space dance party at Shanghai Restaurant.
In terms of the nightlife experience, what kind of experience are the organizers trying to deliver? How do you want people to feel at the club, and at home afterwards?
We want people to dance their hearts out to amazing underground music and feel safe doing it.
At best we can facilitate the moments that led me to dance music from doom metal: being blown away by a transition, trusting the DJ to take you somewhere new, and enjoying the mental and physical benefits that come from dance. This sounds incredibly corny, but whatever, it's true!

Hottawa is collaborating with Hollaback! Ottawa, an organization dedicated to eradicating street harassment and gender-based violence. Can you discuss this partnership and why it's important?
It's hugely important because some men still feel entitled to touch women and non-binary people without their consent, and that needs to stop. Having volunteers from Hollaback present offering their time is one way to signal to people that this kind of predatory behaviour is unacceptable at our events—and in life more generally.
Hollaback also provides a very practical purpose at the events. They're an extra set of eyes on the dancefloor, a liaison between patrons and security, and they offer support to anyone who needs it.
Although we're talking about consent in the context of one DJ night in Ottawa, this relates to much bigger issues, as you mentioned. It's a sad but unsurprising reality that dudes who grow up under systems of sexism and patriarchy think it's okay to grab a girl's ass at the club. But with Babylon's support, Hollaback's presence, and everyone we work with, we're trying to address it.
What are some crucial steps that club owners or promoters can take to ensure the safety of patrons in the club atmosphere? Are bouncers enough?
In a word, no. Security staff are hugely important but I don't think it's fair to put the burden squarely on them. I think it's everyone's responsibility—promoters, DJs, bartenders, artists, and attendees—to look out for each other and to keep each other safe. In Ottawa we have some really amazing work happening on this topic, namely with Project Soundcheck, who also helped out at our last party.
To answer this question, I'm referring to some notes I took at a workshop on bystander intervention put on by Kira-Lynn Ferderber's this past May.
Kira-Lynn offered these tips for venues: provide free water, post signage that harassment won't be tolerated, believe women who approach staff with complaints, don't book sexist acts, hire female staff, monitor bathrooms, watch people when they're leaving (especially at the end of the night). And the final and maybe most important point was to suggest that venues develop a sexual violence prevention strategy, part of which would include training for staff.
The bystander intervention workshop was about how to respond at music festivals and bars when you see something that's not safe. What Kira-Lynn suggested was to use non-violent strategies to de-escalate the situation, to keep everyone's safety in mind as you intervene, and to use tactics that increase the choices for the person in the vulnerable position.
For instance, if you see someone who doesn't appear comfortable with their date, you can yell over to them, "Hey Sally, are you getting poutine with us right now!?" because even if you don't know the person or if Sally's their real name, it still gives them an out if they need it. Even going up to talk to people to introduce yourself communicates the message that people are around and looking out for each other.
If everyone does that, then maybe we can all get back to enjoying the music.

In 5 words, what can readers expect when clicking 'play' on DJ Seiiizmikk's mix below?
Eclectic, bass, thump, live, lit.
Our Farewell to Debaser's Rocky Lalune
Featured image by bonyfingers
Letter from the Editors
There is something a little unreal about Rocky Lalune, perhaps even ghostly. Where else could her best Debaser shows take place if not Mugshots? The ol' jail hostel. Remember when you just used to say you were going to jail? If you've ever been to one of these shows, you would have likely seen a quiet young lady casting simple, yet mind-bending projections from an old-school projector your Grade 5 math teach used. Yup, that's her.
We at Ottawa Showbox had the pleasure of working with Rachel Weldon on a few occasions. In the last few month we co-presented shows with Debaser for bands like Freelove Fenner, Gay, Street Meat, I Smell Blood, and Nemesisters. When we found out that she had made the decision to move to Montréal for school, it occurred to us that we had only just begun to get a sense of what Rachel is all about.
From our point of view, the world needs more Rocky Lalune's. Her obsession with music, passion for the scene, and love for Ottawa are all qualities that she oozes. She's the kind of person who makes sure touring bands get paid, and that all bands get their fair share. Artists want to work with her, not just because she has a radio show or because she's a solid promoter. They work with her because she's uncompromisingly genuine and in it for them. In an industry wrought with middlemen and money-grabbers, it's refreshing to know someone on the ground level that supports sui generis artists so vigilantly.
Every Tuesday on CKCU, a show named Debaser neither degraded nor blemished the weird scene. It did the opposite: it directed our attentions, enhanced our playlists, and hinted at what was to come. Where was the nearest tear in the fabric, the entrance to the underground? How far were you willing to go past the fringe to see what there was to see? The guests on her show were often awkward, sometimes immature, always odd, and all of them makers of the highest order. Who cares that they weren't scholars or artists-in-residence — they were all creators and each one was undeniably human. Rocky's interviews were never degenerate, did not promote debasement of any kind, except perhaps that one time when some friends called her from a road trip…
Debaser was never vile, always wicked. She brought in bands she'd discovered at Burning Man, which many of us had barely (or never) heard of. However, she opened Ottawa's eyes to a lot of new music that needed to be heard. Debaser presented bands such incredible bands as Weaves, Doomsquad, HSY, Princevali, Petra Glynt, as well as local freaks like The Yips, Tropical Dripps, Fet.Nat, Hard Science, and Grime Kings, only to name a few. Her collaboration with local festivals like Arboretum Arts Festival and Ottawa Explosion always included bands that pushed boundaries and ultimately enriched our experiences there.
The posters! Check 'em out below. Some stunning, some colourful, all beautifully put together.
Rachel is also one of Weird Canada's "wyrdians" – she's is involved with artist relations at Wyrd Distro. Here are the values to which wyrdians ascribe:
This is the basis of everything Debaser.
So Rachel, this one's for you. Thank you for being a leader in Ottawa's cultural evolution and renaissance, and for being a conduit for artists from other cities to connect to Ottawa's underground scene. You've made your mark here, and for that our city is indebted. We at Showbox try to speak for the 613 when we say best of luck in all your endeavours and if you decide to come back, we'll be here with open arms!
Don't miss out on Debaser's final Fryquency show at Mugshots tomorrow night, Aug.9! Fryquency will continue to be a monthly event at the jail hostel thanks to Emily McQuarrie.
---
Debaser visuals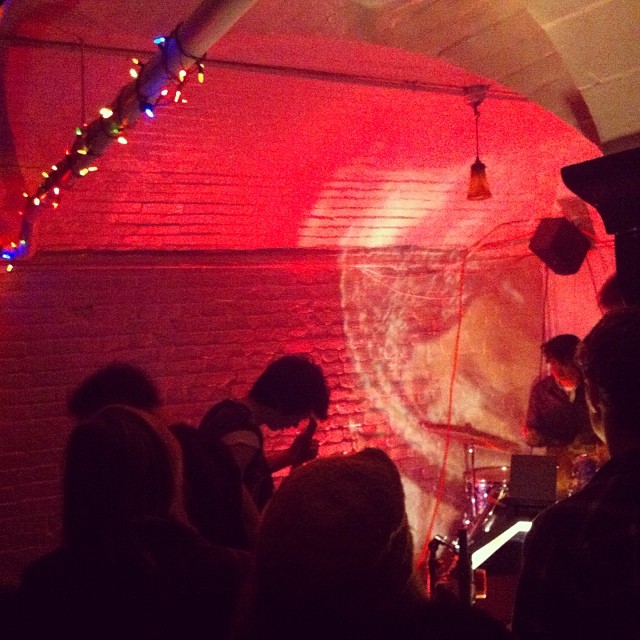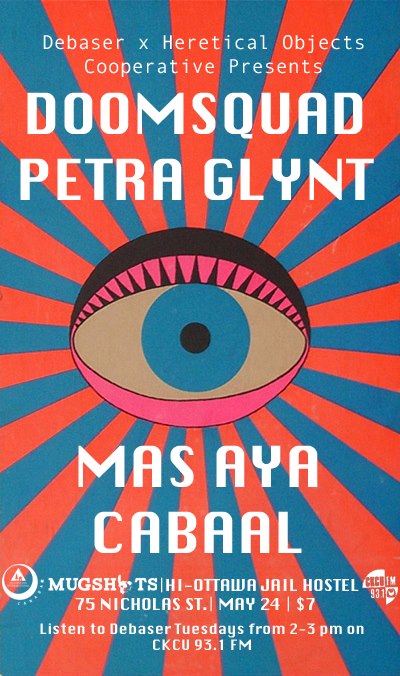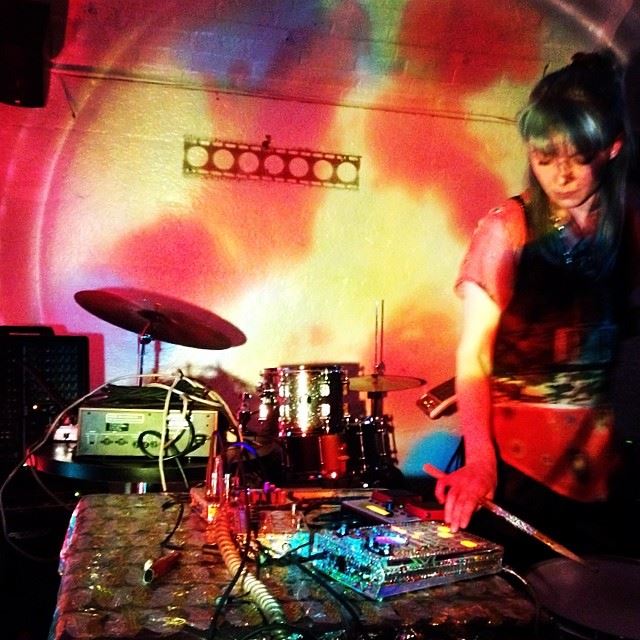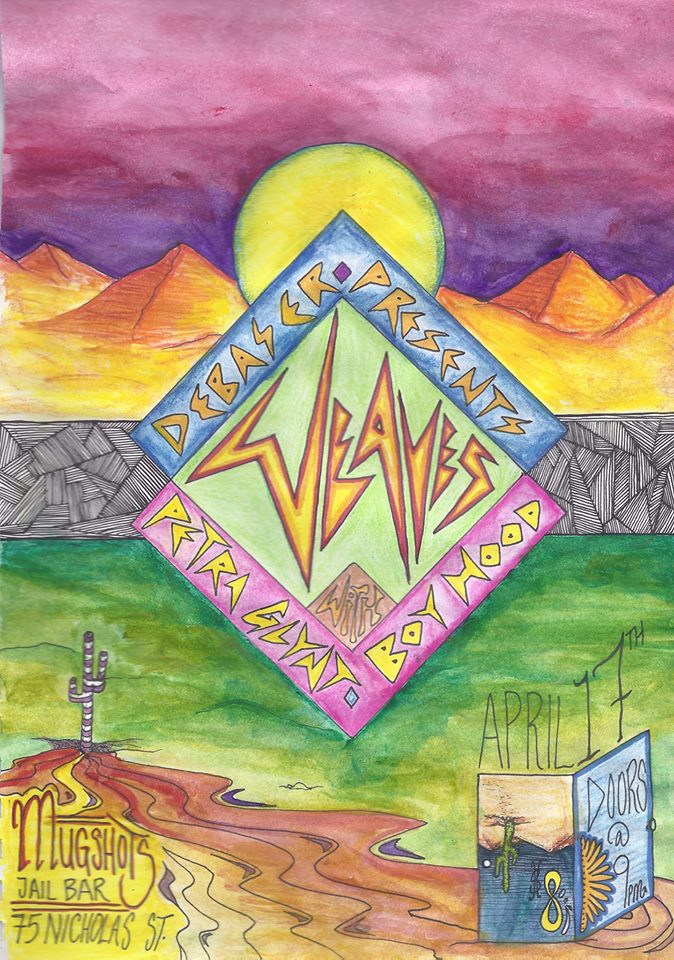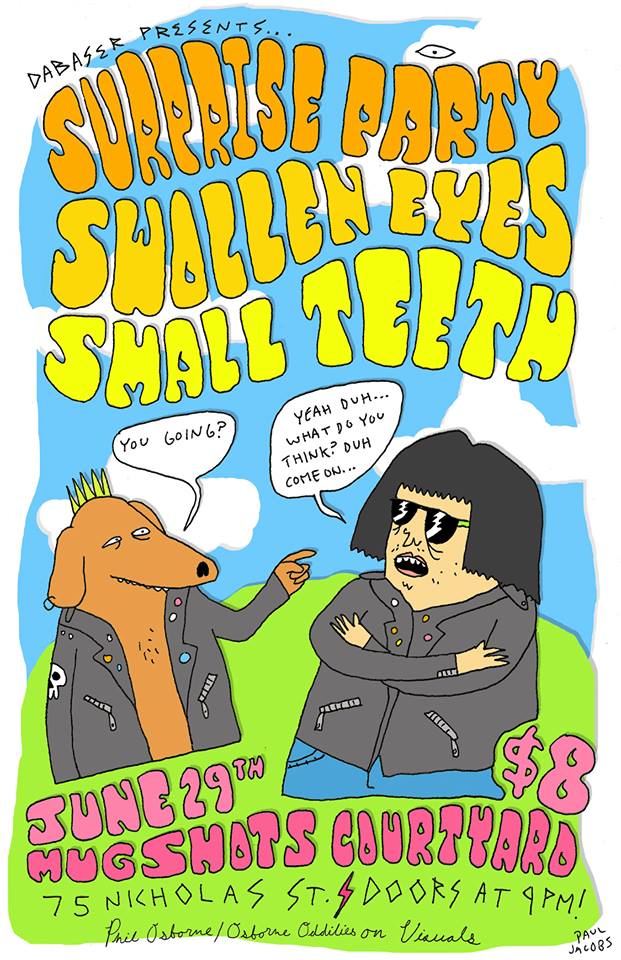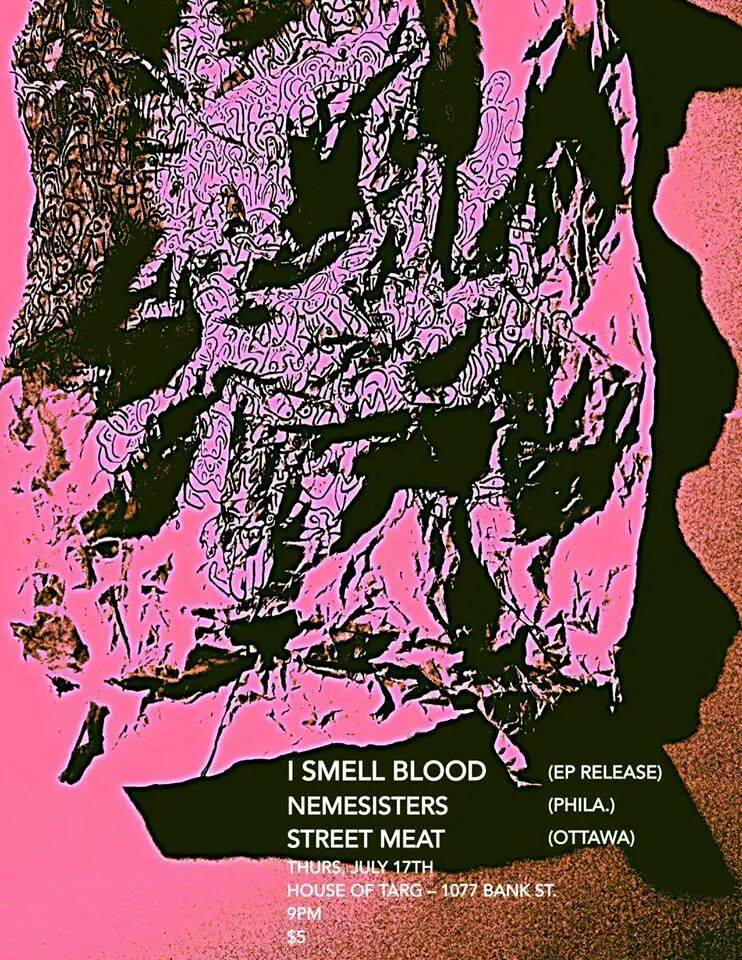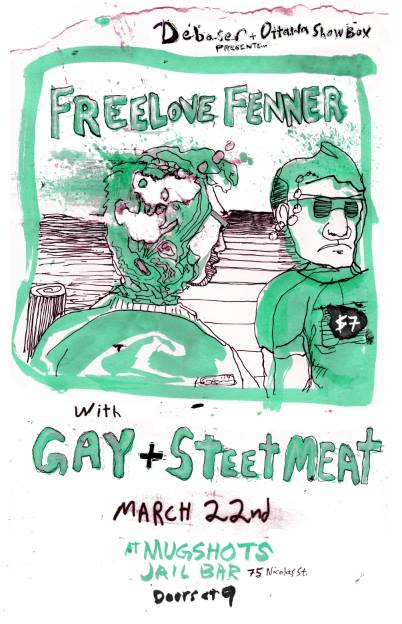 Robots! Everywhere!! + BBQ Cuisine @ Gabba Hey, June 8th (Ottawa's underground hipster music hot spot that almost no one knows about)
By Matthew Stella
Phil (aka Robots! Everywhere!!) sent me a text this afternoon asking if I wanted to go to a show and BBQ at Gabba Hey! ("Ottawa's underground hipster music hot spot that almost no one knows about"). It sounded like something I'd like to do, but I had to work, so I declined. When the show got moved to the exact time my shift ended, and with Gabba Hey! (located at the once reviled City Centre that has found new life as a hipster hot spot) only a 30-second bike ride from work I thought I'd be an asshole if I didn't show up to see Phil.
Expecting to see throngs of people, reporters and celebrities, now that the Ottawa Citizen had broke the story of Gabba Hey!'s existence, I arrived to see Phil and a couple other people having a chat. I was confused for a second, was City Centre over? Had fickle hipsters already abandoned their hot spot now that it had gone mainstream?It was probably none of those things. Just a hastily planned afternoon show on a really hot day. Gabba Hey! (I'm sure) still remains the coolest venue in the city (Disclaimer: I haven't been to House of Targ yet) and the Ottawa Citizen will continue to use the word "hipster" in place of the word "new."
Before the show everyone cooked up whatever meat, or meat-shaped vegetarian items they had brought. Phil had the inspired idea to buy, instead of hot dog buns, those buns that are completely covered in baked-on cheese. As Ottawa's foremost host of food-based house shows, Phil has proven time and time again that he is second to none in Ottawa's music scene when it comes to BBQing. I hope the Ottawa Citizen does a profile on The Deck Behind Phil's house: "Ottawa's next hipster hot spot for gourmet BBQ cuisine and barely rehearsed drum machine punk rock."
When it came time to play Robots! Everywhere!! did not disappoint, treating the dozen or so people in attendance/bands waiting for their rehearsal space to open to a performance of his 2012 EP in its entirety (does it still count as an EP if it has 9 songs?). R!E!!, ever the performer, was in top shape, high kicking and jumping around the loading dock in which he was sequestered. The crowd chose to sit back and the end of the parking lot and heckle him from about 75 feet away. Nevertheless Phil still gave it his all, hitting easily 80% of the notes in his songs and still encouraging call and response exchanges from the distant crowd.
Toward the end of the show about half of the crowd distracted by a really cute puppy whose name, I believe, was Gus. It was certainly not the way I expected to spend my Sunday afternoon, but I was glad that this was the way it turned out.