New Music: The First Empire by Scattered Clouds
On this day in Hull, an LP came out on E-Tron Records. They call it The First Empire but it will not be the last.
It's been a long time coming for fans of Scattered Clouds, an experimental noise & psychedelic pop trio led by Philippe Charbonneau, with Jamie Kronick and Pierre-Luc Clément. The band's beginnings are closely intertwined with the E-Tron's genesis, as are all the musicians who collaborated on this album. The music is simultaneously quiet and chaotic, patient and peculiar. It's aptly described as post-apocalyptic but we could drop that prefix and it would still make sense.
The First Empire is a six-song concept album that seems to have more singles than not, starting off strong with the doom-laden "Fallen" and their most recent release "Enchanteresse", which came out with a twisted music video pieced together by Mike Dubue last month.
"Enchanteresse" grew on me faster than "People Walk", which I've already been listening to for the better part of a year. A free CD of the single was handed out at a show at the Blacksheep Inn last March and the song remains as beautifully choppy and digestible as when I first heard it. It's a journey of self and insanity, which are two themes that pair up often in The First Empire, and not just in the lyrics.
My favourite track however, which I relish even more because of its brief length, is the wordless "Floating Underwater" which immerses us with a marimba. It transitions catastrophically yet pleasantly into "Deepest Night", an anthem of darkness that uses Charbonneau's baritone voice to its greatest ability. It ends with the sunken lyrics "at the strangest hour…" and crashes into the most unhinged and experimental of the songs, the title track. The album almost passes in the blink of an eye but it is complex, what obviously took years to perfect.
Olivier Fairfield, who plays alternate percussion on three tracks, as well the marimba on "Floating Underwater," also plays an integral part of E-Tron Records as the other co-founder and manager. Both he and Charbonneau began producing music that followed their aesthetic vision they had first encountered on their work with the band J'envoie, where Charbonneau actually came in after their record was complete. Pierre-Luc Clément also had a large part in that collective effort along with Patrick Sénécal & Nathan Medema.
Here's where the details overlap. Cue The First Empire to get through this mesh of music.
You can't discuss Scattered Clouds without discussing E-Tron. Both began in 2010 around the time the album La vitesse des chats sauvages by J'envoie came out. E-Tron Mountain was still an undiscovered shrine on the north side of the Outaouais that had yet to house bands like FET.NAT, Her Harbour, BOLD, and Ferriswheel.
Olivier Fairfield sums up E-Tron well in a video by La fabrique culturelle that came out in January:
"Avec J'envoie c'était un band avec une esthétique. Là, avec E-Tron, on s'rend compte que c'est pas un band c'est un groupe de personnes qui ont plusieurs bands qui font plein de choses différentes qui projettent cette esthétique là."
Fairfield is a name that comes up a few times in the music corners of Hull. Olivier's brother Guillaume runs Fairfield Circuitry, an industry-acclaimed pedal manufacturer that lends its powerful effects to bands all over the world. Their father Charles has mastered many of his son Olivier's collabs as the owner and operator of the seasoned studio known as nCode. Olivier himself plays in FET.NAT (along with Scattered Clouds' Pierre-Luc Clément), La Mort à la mode, J'envoie & Ferriswheel on E-Tron, and in the duo H. de Heutz, which is a sonic study of paranoia & pseudonyms inspired by the novels of Hubert Aquin, on Black Bough Records. His work has led him to join Timber Timbre, possibly Canada's most celebrated experimental music at the moment, and to form Last Ex with Simon Trottier, also from Timber Timber.
All these parts of Fairfield's work are touched on by Charbonneau in some way. Often, it seems, Philippe's work is subtler than his partner's, even subdued. He takes to the low vibrations of a deep voice and double bass that have created in Scattered Clouds the deliberate atmosphere of dread and adventure. Fairfield operates on a higher energy, with staccato percussion and piercing vocals. Together, they've created something that wouldn't exist without the other, neither without the considerable collaborations of Clément, Trottier JFNO, Linsey Wellman & Gabrielle Giguère.
So, without leaning too heavily into conjecture I would describe The First Empire as a culmination of the vision that transformed E-Tron from an idea into a music machine. The industrious production they've pumped out in only five years has elevated the concept of a distinct music from Hull, and of experimental music in Canada as a whole, to the point where I see them far ahead of where other local labels still want to go. They're an example to follow, for sure. To
This is the supreme authority that I see described abstractly as The First Empire. But here we are complete lost in conjecture as I feared… It is, before being a symbol, a strong album that was a long time in the making.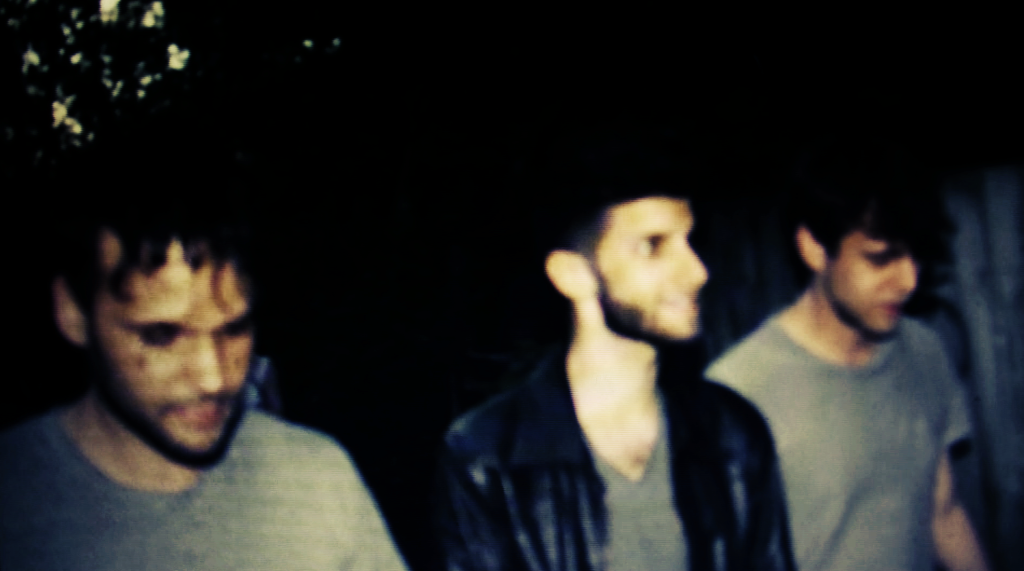 Scattered Clouds starts their tour this Thursday, and will host their official release parties in Ottawa & Hull on May 2 & 23. Follow the asterisks!
April 23rd – TORONTO, ON – The Piston w/ Hilotrons
April 24th – GUELPH, ON – Ebar w/ Hilotrons & The Golden Dogs
April 25th – WINDSOR, ON – Phog Lounge w/ Hilotrons
April 26th – HAMILTON, ON – Baltimore House w/ Hilotrons & The Boogies
*May 2nd – OTTAWA, ON – The Record Centre
*May 23rd – HULL, QC – Le Temporaire w/ WTCHS & Absolutely Free
May 28th – MONTRÉAL, QC – Casa Del Popolo w/ Hilotrons & Saxyndrum
CHUO Presents: Voicemail @ Le Troquet
Ottawa's Voicemail rocked the year's final CHUO Live from Le Troquet last night.
The performance was live on the radio hosted by Emmanuel Sayer, Program Director of CHUO and Ming Wu, of photogmusic. The hosts got the ball rolling by playing music by Average Times and Teenage Head, which were perfect choices before Voicemail hit the stage.
Once ready Voicemail rocked the crowd, some unsuspecting people in the audience were not ready for the rock after the more subdued show that had just finished. They are a great garage rock band from Ottawa – kind of a super group of sorts. The band features members of some of my favourite local bands — Average Times, Mother's Children and The White Wires. They started off the set with during their first set with an upbeat covers of "Get Over You" by The Undertones, and "Softly, Softly" by The Equals, and then broke out into some originals.
To help break the ice, lead singer and guitarist Ian Manhire said, "we came from Ottawa and feels like we are on tour right now! What an awesome night. Thanks for being here!" The boys finished off their first set playing "You'll Have To Explain," which has such a solid drum intro and driving drumming throughout, great track.
While the band took a break, the hosts put on some Roberta Bondar for us and then an interview they had taped earlier with Ian. It was kind of funny to have a conversation with Ian while also hearing his voice in the overhead speakers. During the interview Ian revealed that they would play some covers in the second set as they had learned a bunch to play a wedding this summer and wanted to play them again.
Rested and rehydrated (beer hydrates, right?), Voicemail retook the stage for their second set of the night. They opened with one of the aforementioned covers, playing a sped up version of The Rolling Stones' "Heart of Stone." Voicemail then performed my three favourite tracks of theirs in a row much to my amazement. Playing "My Kind" followed by "Riot," and capped off by "Dangerous." It was as if they were playing a show just for me at that point, my night was made. The boys completed their set with a cover of Electric Light Orchestra's "Don't Bring Me Down." A perfect way to send off the final CHUO Live at Le Troquet for the year.
200e épisode de La Chasse avec Mehdi Hamdad & D-track
Des performances de Mehdi Hamdad et D-track on marqué le 200e épisode de La Chasse hier au Troquet.
Le raison d'être de La Chasse, une émission de radio du poste CHUO 89.1 FM, est de mettre en exposition la musique franco-canadien émergente. Ils ont choisi deux artistes exceptionnels pour célébrer leur 200ième émission.
D-track, ancien directeur musical francophone de CHUO, rappeur, slammeur et poète talentueux a débuté notre soirée.  C'est pas tout les jours que tu vois un slammeur et rappeur qui présente avec une guitare en main, mais D-track n'est pas comme toutes les autres. Sa première chanson était « La Rivière » une tune parfaite pour un spectacle à Hull. Le Troquet de l'autre côté de la rivière de la station de radio et la chanson a un refrain bilingue qui flow. D-track est un talent incroyable de la région qui a récemment placé au quatrième rang de la Coupe mondiale de slam. Il nous a démontré sa puissance avec sa pièce « I slam. » Un poème incroyable, de son album Interlude, que j'écoute sans cesse ce matin. Après son slam, il a repris sa guitare et a joué « J'ai un fils » — une chanson au sujet de la relation entre un père baby-boomer et un fils qui s'en crisse de lui. D-track a filmé un vidéo clip pour cette chanson en Haïti et vous pouvez le visionner ici. Finalement pour célébrer le 200e de La Chasse, D-track, un ancien fonctionneur, nous a récité un discours plein de jeux de mots sexuelles qu'il a écrit pour Harper. La foule a rit sans cesses.
Entre les deux artistes les gars de La Chasse ont parlés de leur quatre ans ensemble et de comment qu'ils ont décidé de commencer l'émission de radio. Ils ont raconté des iPod battles qu'organisait D-track au Petit Chicago. C'est à un de ces battles, il y a quatre ans, qu'ils ont discuté de commencer l'émission. Les gars mettaient beaucoup d'énergie dans leur préparation et leur costume pour les battles et ils en ont remporté. C'est à ce moment de l'histoire qu'un d'entre eux a sorti le trophée des iPod battle qu'il a emprunté de Petit Chicago. C'était un beau moment. Finalement, ils ont expliqué comment la méthode qu'ils ont utilisé pour gagner le trophée.
« Le but c'est de présenter des beats pour faire le monde danser. Les filles aimaient vraiment ça, mais les gars était toutes au fond de la salle et s'emmerdaient. C'est à ce moment qu'on a joué « Rue Ontario » de Bernard Adamus pour attirer les gars et nous croyons que c'est avec cette chanson que nous avons gagné. » Ils ont ensuite mit cette chanson pour la foule au Troquet et c'est évident pourquoi ils ont gagné.
C'était ensuite au tour de Mehdi Hamdad du Mehdi Cayenne Club de jouer. Mehdi est le premier artiste à faire une prestation en directe sur les ondes de La Chasse. Mehdi est un musicien et poète avec beaucoup de charisme et d'énergie. Il a commencé en demandant à la foule de s'il-vous-plait « chanter Canada avec toute l'enthousiasme d'une carte postal qui nous vends des sables bitumineux après que je chante Oh." La foule a hésité mais après quelques refrains on chantaient tous ensemble. Ensuite, Mehdi a démontré l'énergie et la passion avec laquelle il performe pendant sa chanson « Téléphone Jaune. » Il manquait de souffle tellement qu'il dansait en jouant la guitare et en chantant. Pour regagner son souffle, Mehdi nous a joué une nouvelle chanson, un chanson plus relaxe et pleine d'amour. Il a suivi cela avec un poème puissant et a terminé sa performance avec la cantine de Jacques Prévert, «Quel jour sommes-nous? » Si vous avez manqué le spectacle, n'inquiétez-vous pas, Mehdi passera sur l'émission « Belle et Bum » de Télé-Québec le 17 janvier.
Après Mehdi, les gars de La Chasse ont dit leurs remercîments et ont terminé l'émission avec une chanson de Fet.Nat, le groupe du technicien de son. C'était un excellent choix comme dernière chanson, tandis que j'aime beaucoup Fet.Nat et leur nouveau album fait partie de notre liste des meilleur album de la région de 2014.