Marvest Day 3: Tindervox, The Gallop, High Waters & more
Featured image from Instagram user @wildtreejewellery
—
I think most folks can agree that it's pretty darn cool to see live music in places that don't usually host such events. From bakeries to bookstores, the Glebe was all lit up with festival-goers roaming show-to-show with packed little crowds in every venue.
I started my evening at the north end of the neighbourhood, plotting my trajectory southward toward Lansdowne and the hub of Cityfolk. First stop: FarmTeam Cookhouse at Bank and Clemow, to see Tindervox. I wanted to make a point of seeing this band after missing them at the Elementals album release show last week at House of Targ, and I'm glad I caught this one. The dimly lit atmosphere of the packed pub, with most people in the bar seated chatting at tables, was a great fit for the band's blend of slow-burning grunge and floating shoegazey guitars. Really cool stuff. First time seeing the band, and certainly won't be the last.
Next I made my way down Bank Street in search of the next thing. I know i said I was planning a straight line down Bank, but we all know that old saying about the best laid plans of monsters and men… or something like that. I decided on Irene's next, to catch The Maxim Cossette Combo. Max used to front the long-standing rockabilly outfit The SickSickSicks who, now with some lineup changes, have rebranded as the Cossette Combo. I arrived to a line outside Irene's, so was only getting glimpses and snippets of the show from outside, as I chatted with strangers in line, and waved to some friends inside (who actually ended up leaving before I got in).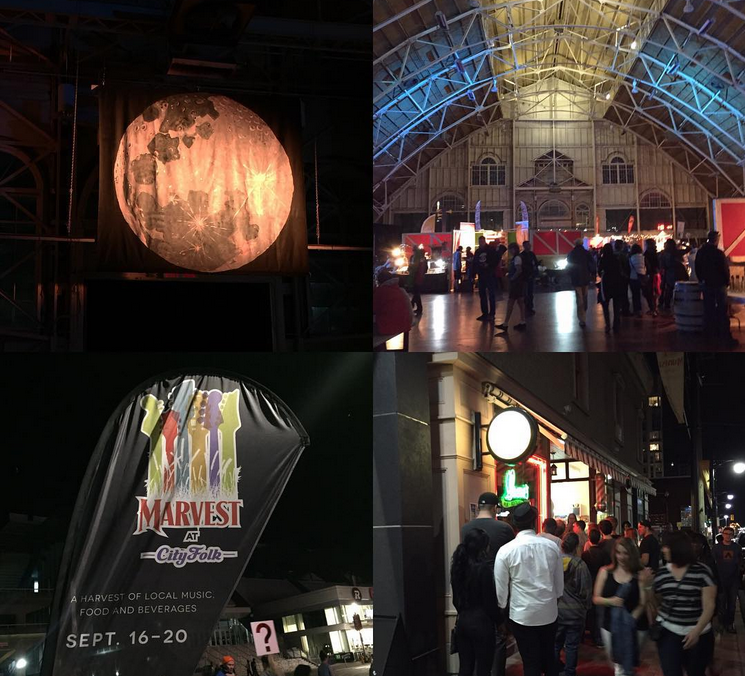 I figured I was missing more than just this show so looked at my schedule, and noticed The Gallop were already kickin it at the Wild Oats Bakery so I hoofed it back a few blocks to squeeze on in. I couldn't get a very good view from inside, so i opted for the sidewalk view. Much better. And more breathable. I don't know the guys in the band personally, but when they saw me waving to a friend inside (this sounds familiar…), they waved back and it dawned on me that the whole crowd was probably wondering who this random guy is waving and smiling to everyone from outside. Anyway, the band was an excellent fit for Marvest. Definitely check out their album on Bandcamp because it is a really good listen.
Next I was heading to meet my sister at Aberdeen Pavilion because she works with this guy who plays this band or something and they're apparently pretty good. The band is High Waters, and turns out they're awesome. The crowd was big, and full of love for the band as they churned out a range of tunes that mixed elements of post-rock, indie and even a little R&B at times. The singer's Patrick Watson-esque vocals were just gravy. I was gonna say "icing on the cake," but I can't picture gravy being a fitting icing to any cake… Except this one apparently. I can't overstate my love for a live band who are visibly enjoying themselves, and these guys were all smiles. Great performance, great reception. They also just released their new album on September 19th, so don't sleep on that one!
My last stop for the evening was back at the Original Burger Joint, for folk/bluegrass strummers Jack Pine & the Fire. Here I was again, watching from the sidewalk but let me just note that that I was enjoying every performance I saw, regardless of where exactly I was standing. Just the atmosphere of this whole festival, seeing so many new and familiar faces out and about enjoying the occasion, was more than enough for me to call Marvest a success.
I want to send my special thank out to the festival volunteers, directing crowds, offering schedules, and just being lovely smiling faces everywhere there's music. You folks are glue that holds festivals together.