Three Little Birds Cast a Spell on Us at Fringe Fest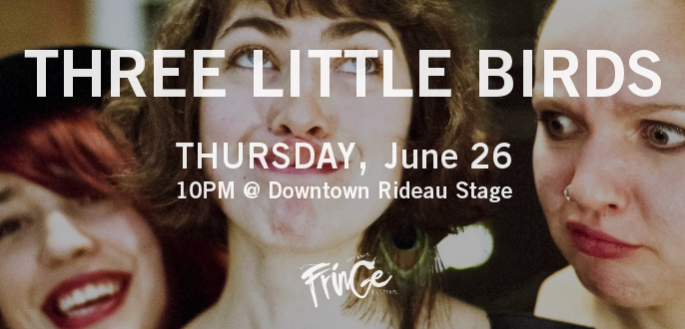 Three Little Birds played a free show at the Fringe Festival Thursday night and mesmerized the crowd with their beautiful harmonies and rhythm.
Unfortunately due to prior arrangements (helping a friend move) I did not make it in time to catch the wonderfully talented Crissi Cochrane. I was pretty bummed out it, luckily Three Little Bird's were up to the task of turning my frown upside down.
Ottawa's songbirds play wonderful music and their voices are as much instruments as the ones they play. Their melodies are simply beautiful, their lyrics vary from politically engaging to love songs and their positive spirit is contagious. Another thing I love about the group is how they aren't afraid to change the language mid-chanson, the bilingual smiles from ear to ear. The highlight of their set for me was when they warned us: "We are going to put you under a spell with some black magic." The spell they cast worked as all of a sudden a group of people got up and started dancing. They then flowed perfectly into the super dance-inducing track "Solidarity."
It was a wonderful set by a group that impresses me every time I am lucky enough to see them. Amelia Leclair, the percussionist and one of the beautiful voices in the group, was kind enough to answer a few questions before the show.
How did Three Little Birds come to be?
When we started casually jamming together in 2010, our co-founder Erin Saoire Adair wanted to form a Beatles cover band. Once we got together we realized that we were all songwriters and decided instead to arrange and work on one another's original songs. Erin has since left Three Little Birds at the beginning of the year, we are sad to say, and while she is no longer playing with the band, her contributions have greatly influenced what Three Little Birds is today.
How is it playing music that is a little outside the box in Ottawa?
It's a lot of fun! Our influences come from folk traditions around the world including Eastern Europe, Latin American and North America. We've recently started playing with Natalia Cabrera and Tony Cook who have brought their own unique influences to the band. We're really excited to share this new collaboration at the Fringe Festival!
We really enjoy the challenge of fitting our different styles together in a cohesive way. It has necessarily made it sound a bit quirky and outside the box.
Who do you/the band look up to for your strong socio-political music?
Chilean political activist and singer Víctor Jara, Canadian folk singer Ember Swift, Irish radical Sinead O'Connor and country legend Johnny Cash are some of the names that come to mind.
What has the band been up to since your debut album in 2012?
Following the release we did a tour in Ontario and Eastern Canada. Soon after that, we found out that the album had been nominated for the Canadian Folk Music Awards in the category of Best New/Emerging Artist 2012. Last year we were invited to play all three major festivals in Ottawa, which was a definite honour. Lately, we've been in the studio working on putting together another album which we hope to release in the next year.
Can you tell me a little bit about your experience in Brazil? The South American influence is rather apparent in many songs.
I spent a year in Brazil and played with a group while I was there and since then Brazilian music has been one of my primary musical inspirations. Since it is an influence of mine, it has naturally made its way into what Three Little Birds does.
How does it feel to be playing Fringe Festival? And have you ever attended some of the plays?
Amelia: We are really looking forward to playing at the Fringe Festival!
Angela Schleihauf (vocals and oboe): I generally attend at least a couple performances every year. A memorable one was Annie Lefebvre's The Squatter Heart which I found very powerful through its abstract movement and dance techniques.
In one sentence, what is a Three Little Birds' show like?
A wash of three part harmonies in the key of social justice!
What is next for Three Little Birds?
We're looking forward to playing at the Mariposa Folk Festival in early July. We've been in the studio working on putting together another album which we hope to release in the next year. (Most excellent news!)
Lastly, can you name a few Ottawa bands people should know more about in Ottawa?
We think that Ottawa has an incredible music scene and we are so proud to be a part of it. To name a few, Claude Munson and the Storm Outside, Keturah Johnson Band, Rommel Ribeiro, Her Harbour and of course Erin Saoirse Adair!