RBC Bluesfest Day 2: Sly & Robbie + Bonobo + Jeff Tweedy
Bon bien: Bluesfest!
A Friday table d'hôte menu that starts with three local acts at the same time is torture for those inclined to stay in to eat. It can be hard to avoid gorging on the radio's snacks or travelling to the smorgasbords of neighbouring metropolises, but once in a while there are feasts to be had here too. RBC Royal Bank Bluesfest opened the kitchen at 1800 hours and set locals Silkken Laumann, Cold Capital & Angelique Francis to begin feeding us.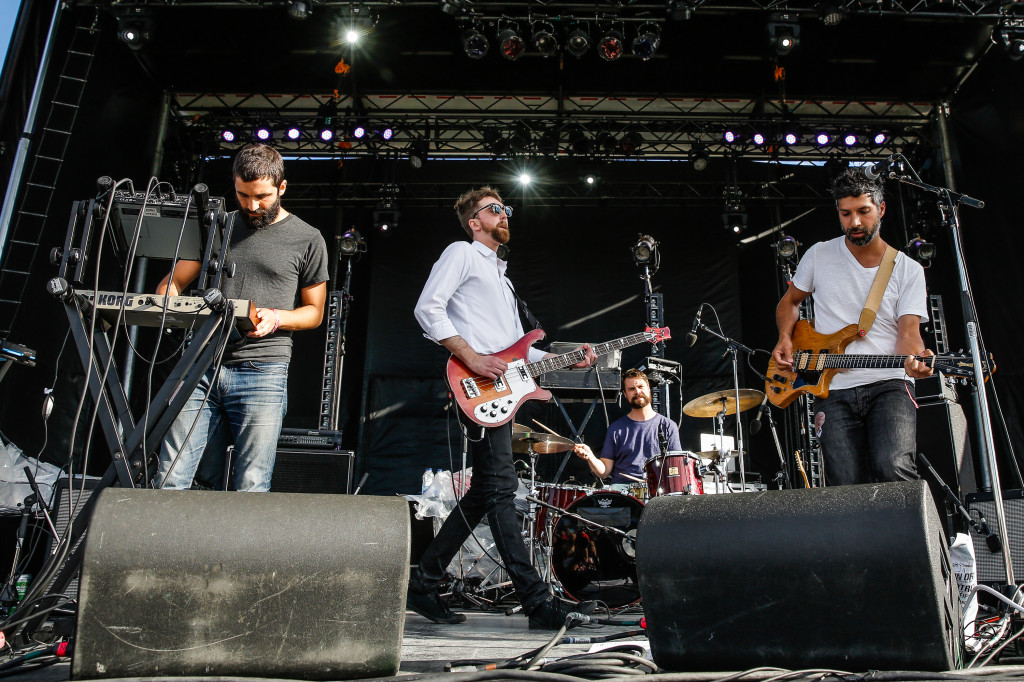 Silkken Laumann could easily be from Detroit, MI as Rolf Klausener introduced his newest band, but I swear I've seen that bassist Gary Franks before in another eponymous band of a female Canadian… And Pat Johnson & Adam Saikaley? We have two guys in Ottawa named exactly the same! Silkken proved pop EDM is good at any time of day, even though they ended their set slightly early. There's something uplifting about Saikaley beaming as he buttons and Franks making love to his bass guitar as Klausener offers info: "This song is about not fucking it up," and, "this song is about going on a post-breakup fuck-spree." Peppered swear words and social commentary on American quality of life are also for any time of day! And cheers to the Talking Heads' "Once in a Lifetime" cover.
I caught the middle of Cold Capital's set, playing some bluesy rock with a country twang for the patrons of the Black Sheep Stage. The local five-piece band have been featured at the Canadian Music Week in 2013 and are plowing through the country rock waves with lyricist Erik Hertzberg at the helm, his brother Nick on keys, John Cote on drums, Matt Muir on guitar & Andrew Erlandson on bass. We checked out their debut EP late last year, which is available for free download on their bandcamp page.
Inside, Angelique Francis, a young up-and-coming talent from the west end, filled the Barney Danson Theatre. This 16-year-old has a stage presence for which many performers strive perhaps because she's already had nine years to practice on stage! Her voice ranges from warm to delicate, and from quirky to refined and she writes with a look into the life of a teenager that a lot of adults should and do appreciate. The effects of peer pressure ("Come on, baby") and the increasing issue of homeslessness are just two examples of her subject matter. She was backed up by Michel Medrano Brindis on drums, Miguel de Armas on keys & the ubiquitous Marc Decho on bass guitar. She played an hour for the full theatre and for those of us lucky enough to have a closed circuit TV outside on a busy weekend for this local gem. Good luck tonight in T.O. Angelique!
Before I could make it back to the River Stage, I thought to exit the front of the Canadian War Museum but was blasted with solo act Darius Rucker of Hootie & the Blowfish fame singing about driving on the highway, not wanting to be a DJ and finding that perfect spot on the "Radio." This, his third single from his third country album, was enough for me. I've read it rumoured on the wikis that he wrote an R&B album before going rural but I wasn't going to wait around to find out if he played any.
Possibly the most anticipated act for me that evening was a fine Brit by the name of Simon Green, better known to the world as DJ & producer Bonobo. Is there anything better than watching something you know to be good turn out to be great? The man on the bass & buttons was flanked by five other artists who added dimension to his downbeat electronica but who also let him play solo so we could meet the hard-working multi-instrumentalist he truly is. See "Cirrus" from The North Borders & "All In Forms" from Black Sands for some solid chill out tracks.
Szjerdene, the finespun voice on his newest album The North Borders, held sway over the audience from her first appearance. The sun setting on the River Stage, the weather so beautiful as to be completely unnoticeable, and her dress the likeness of a nebula only made us love the set even more. Her spectral voice sang her own songs from Bonobo's fifth studio album and my favourites by Andreya Triana from Black Sands ("Stay the Same").
The stage was set for Sly & Robbie and The Taxi Gang, the hardest working dream team of legendary rhythm producers from Jamdown. Holy crap, you guys. Find a list of their collaborations and you'll come across their well-rounded estimate of 200,000 songs played or produced. If we use the well-rounded estimate of 40 years of their work together (since they joined forces mid-70s), we can suppose that they would have had to work on 13 and a half songs a day for the last 14,610 days… This is only possible because percussionist Lowell "Sly" Dunbar & bass boss Robert "Robbie" Shakespeare are a maelstrom of creativity, and because they are sought after by thousands of artists who know their sound to be the sickest. Their hypeman Nambo Robinson fulfilled his duty without putting his trombone down all night. When he wasn't pumping us up with his horn he had it in the crook of his arm, introducing the Taxi Gang and special guest Bitty McLean. Their road manager Peter G made his way to the stage as a prime vocalist with a penchant for serenading the prettiest lady he could find in the crowd. "I don't like how far I am from the people right now," he cooed, probably to the relief of that prettiest lady's boyfriend.
After a history lesson in the evolution of roots, reggae & rock you'd think the night would be over… but over at the Black Sheep Stage Jeff Tweedy started playing his own "blues." The charmer from Illinois quipped: "Blues isn't about making yourself feel better, it's about making the other guy feel worse. And that's how I can call my music blues." His position as an alt rock household name is secure and so is his dynasty now that he's begun jamming & producing tunes with his son Spencer. The scion Tweedy drove the drums behind his father last night, as they are practicing their songs from their collaborative album Sukierae, which will be out in September. Once the crushing electronica bass from the Bell Stage started to make its way over the Museum, the sire Tweedy pulled out the big guns: Wilco & Uncle Typelo tracks. The rolling hills of the crowd were alive with many sighs and cheers that night…
What I missed on the Bell Stage were two superstar deities cut from very different cloth: Journey, the demigods of arena rock from an era past, and Zedd, the daemon prince of EDM sent from the future. Crowd-pleasers to be sure, but since I'm not pleased by crowds I settled for hearing & seeing their shows from afar. Frankly, I didn't really have the option to avoid them completely because the one thing they do have in common? Ils font du bruit en tabarnac!