RBC Bluesfest Day 6: The Killers + Cypress Hill + Phantogram + The Districts + Average Times + Tyler, The Creator
The Killers performs live at the RBC Bluesfest in Ottawa on Tuesday, July 8, 2014. Photo: Mark Horton, RBC Bluesfest Press Images
Last night RBC Bluesfest featured some killer indie-rock, nostalgic hip-hop, local punk rock, and filthy, x-rated rap… At least's that I saw.
The headliners for the evening were The Killers. One of the biggest names in the radio rock world, the boys from Las Vegas put on a stellar show. They rocked out all the hits tens of thousands of their fans wanted to hear, threw in a cover of Tiffany's "I Think We're Alone Now," had a ton of energy and a ridiculous light show. I wouldn't call myself a Killers fan, I can listen to them and bob along.  But when they play it is infectious. You can't help but sing-a-long, as it turns out you know way more songs than you think. Brandon Flower is charismatic pretty-boy with a great voice and an excellent showman. Killers shows feel like a party, and who doesn't want to party with thousands of other people all singing with you?
During The Killers set I took a walk to check out Phantogram. I am very glad I did. The duo from New York, a four-piece when performing live, make great mix of sounds I can only describe as dream-pop or electronica-inspired atmospheric rock. Another great feature of the band are the complementing male and female vocals. It is very catchy, dancy and fun. I only stayed for a few songs but they had a pretty solid crowd and I would certainly check them out again.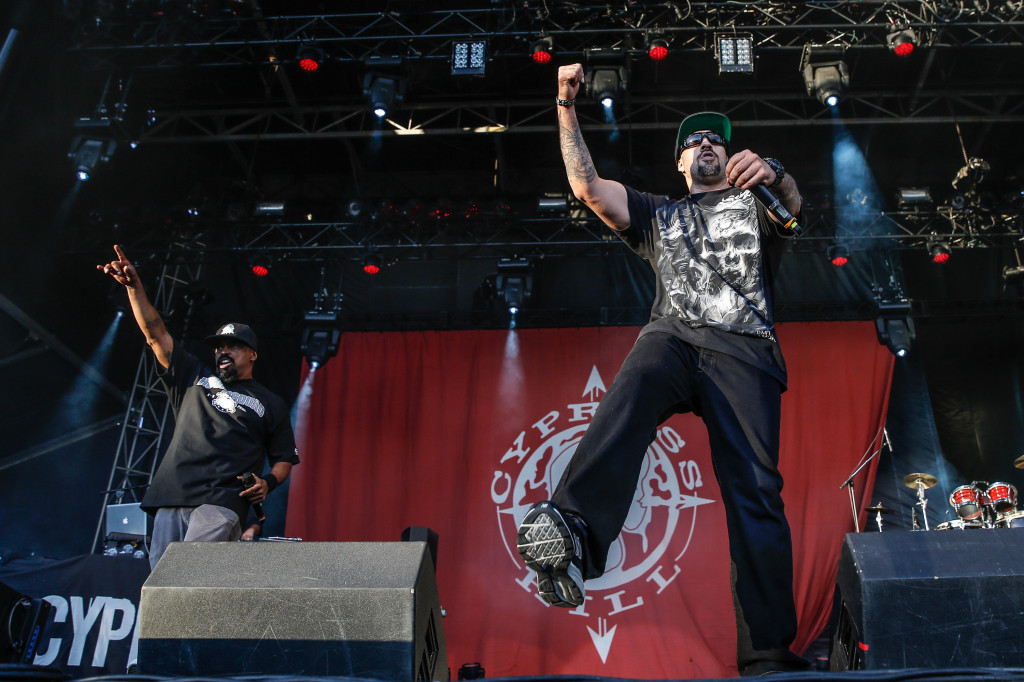 Behind a constant cloud of haze, Cypress Hill, took many of us back in time. The band that sky rocketed to international fame after their second album, Black Sunday, was amped and more than ready to share their diehard dedication to a certain herb with everyone. Sen Dog and B-Real ran all over the place, joked around, were great with the crowd and looked like they were having a blast. Their setlist was almost as good as how most people felt during the show. "Hand on the Pump," "Tequila Sunrise," "Get'em Up," "How I Could Just Kill a Man," "Dr. Green Thumb," "Insane in the Brain" and "Rock Superstar," were all performed to the crowd who loved it. The moments that best exemplifies the entire event is when B-Real, joint in mouth, asked "Hey, all you stoners, where the weed at?" and within seconds a huge puff of smoke appeared above the crowd. The band then launched into the stoner anthem "Inhale, Exhale." Most people there will be able to see they saw Cypress Hill, but who knows how many will remember it?
As per every Bluesfest day, there is that time in limbo. You might be meeting up or waiting for friends, getting food, needing shade, needing to sit — what have you. It is usually at this time that I will see bands but don't fully capture their performance. I heard Holy Ghost! playing their 80s-style synth dance pop before Cypress Hill. Also got to check out The Districts for a bit, they were really rocking and it was great background music. Lucky for me I will have a shot to see them again tonight and hopefully pay a little more attention.
I remember a few years ago when a bunch of friends were gushing over Tyler, The Creator and recommending him to me. With that in mind I made it a point to check him out.  This may have been the mistake of the festival. For someone who clearly has so much talent and is paired with such sick beats thanks to his stellar DJ, it is disappointing how shameful his lyrical content is. With thousands of teens and young adults packed at the stage (as per the image), Tyler was spewing non-stop x-rated misogynistic lyrics. I'm (sort of) young and hip enough that I'm not trashing hip-hop or rap like an old guy or an ignoramus. I was simply disgusted by watching the future of this city singing along to songs glorifying sexual violence and heavy drug use. I don't know what he is creating exactly, but I would really like to return it to sender.
While watching Tyler, The Creator, sadly somehow, I forgot that one of my favourite local acts Average Times were playing. Fortunately I remembered early enough to scoot over to the River Stage and catch about five songs. I got right up front to headbang and sing. The crowd was sparse, but people were cheering and bobbing along. The garage rockers saved me from the disappointment of watching Tyler, The Creator with bitchin' tunes like "Summer Nights" and "She Knows." Thank you Average Times for never letting us down.