RBC Bluesfest Day 9: Action Bronson + Bob Saget + Deltron 3030 + Little Freddie King + Childish Gambino + Snoop Dee Oh Double Gee
Any Ottawan at Lebreton Flats yesterday witnessed a line-up that spanned a large spectrum. Once again the RBC Bluesfest showcased local talent from the start of the day at 1:30PM at the River Stage with five openers from Ottawa. Sound of Lions gave us no chance to be off our game. The crystal clear vocals of Whitney Delion matched to Christian Awad's rap while on the keys woke us up, and let us know we were in for an eclectic day. Ambient organ, emotive guitar and heavy bass with the contrast of vocals work especially well on their song "Storm Chasers." Their bassist was quaffing white wine out of the screw top bottle, and that was okay.
From the sound of lions to the Lion himself, we made our way to Claridge Homes Stage to see Atherton. The announcer asked us to give our very own MC "a big Ottawa welcome," which struck me as odd until I realized she hadn't mentioned he was from the 613. She probably didn't know. But we know! Coming into his own as the alpha of a pride of young cats, this rapper songwriter has been emceeing our wildest nights at Mugshots & Erling's Variety, and as the anchorperson for HHK he's made his bones many times over. DJ So Nice warmed up the kids at the front of the stage for what would be, in my humble opinion, the Stage's best line-up of the festival.
Since we'd get pummelled with hip hop for most of the day, we opted to discover what Wicked Grin was all about at the Black Sheep Stage. Ripe blues rock, copious harmonica and witty lyrics. They covered some good songs by Susan Tedeschi: "Homemade cooking really does the trick, your cotton ain't rotten it just needs to be picked," and Studebaker John's "Two-time Boogie."  They have a new album out, with harmonica-player Rod Williams' song about it being Friday (not quite as frivolous as Rebecca Black's "Friday" but very close) and "Time & Space" which wanted to be ethereal and instead was about hockey.
Three o'clock and two longest names on the bill started simultaneously on River & Bell Stages: John Allaire & the Campistas and Jonathan Becker & the North Fields.
Our local flavour, in a nutshell, could be summed up in Cory Levesque playing bass in his umpteenth band wearing a t-shirt of the recently disbanded Carraway, double fisting red wine and a tall boy of Belgian ale. Then of course there's JS in a Robots! Everywhere!! Tee with the zeal of a Gambino girl and his homemade placard: "JON BECKER YOU'RE SO DREAMY!" Jon Becker's bubbly rasp was the focal point of his folky rock outfit, with songs about the chill of Ottawa winters and eerie subjects like "Bones." The rock n roll had merit but would have benefited if the keyboard could have been heard even a little.
John Allaire & the Campistas play daddy rock, straight up. Bassist and born-to-be frontman Jeff Tanguay had a split-second song called "It's Closing Time at the Beer Store but Can We Please Just Grab Some Beer?" that was the monosyllabic negative answer they received from the Beer Store employee. Allaire had his daughter Hillary come up to sing "Let It Be" and a song about angels. He haggled her to put on more clothes and take off her makeup as she left the stage in what I understand to be the proper parenting tactic. A small faction of generation Y lined the front fence in the long wait for the headliner in six hours. Doritos, sunflower seeds & cell phones would keep them occupied since they'd already put on their red, yellow & green face paint hours before.
An Americana folk band called The Iguanas were the second on the Black Sheep Stage to invite a trio called the Texas Horns to join them. By chance, the bands had crossed paths the night before and reunited as old friends with an improvised set. This band from New Orleans was a breath of fresh air on a hot day that could have been any day of the year in the South.
It is possible to find a steady path through all the sets to see as much music as possible, but you can't stop for long and you have to plan ahead. It's not unlike a course in the rock-climbing gym, there are long, easy ways and short, harder ways to get around.
It was by watching the mighty Action Bronson act out his spits, as he administered himself CCs in his rump or ripped an octopus out of the ocean, that we started to think about poetry. Hip hop is the modern poetry: literary works in which special intensity is given to the expression of feeling & ideas. The special intensity of Bam Bam comes from his all-encompassing love of life and all its pleasures. Anyone who raps about three different kinds of cheeses, and the marinade he'll soak that octopus in, and clams, raisins or corned beef hash is a blatant foodie. I should probably mention Fuck, That's Delicious… One of the issues conservative listeners have with rap is perfectly exemplified by the tender voice of Tracy Chapman being split in half by Bronson yelling: "Bitch!" Myself, I found the timing unfortunate, but any misgivings we might have with that word should be taken with a grain of salt (and a dash of olive oil). Rough around the edges doesn't mean he doesn't show respect in his own way, whether it's layered deep in his lyrics or just: "This is Peter Gabriel. Make some noise!"
All that can be said about Bob Saget is that he's an icon of 90s pop culture who is doomed to be himself until the curtain falls. Instead of fading he's fully embraced the odd trip he's taken through the halls of celebrity and Hollywood. In case anyone was wondering what Ottawa's style is, it's lo-fi. I couldn't agree more, thanks for clearing that up Bob! He helped us understand all kinds of things like colonoscopy, dating the elderly, Leprechauns & sucking dick for coke. One audience member called him her "spirit animal." At one point he took up a member of the audience called Charlie and sat him on a stool and explained to him that it was okay, he was going to get laid one day, all to the soundtrack of a heartfelt conversation from a family movie. "There goes my son, Charlie," he said. "He's so sweet." Later: "Now if my dick could talk I would tell it to shut the fuck up," and "I can't talk about Mom that way because we lost her. She touched a lot of people, yeah, and now they're pressing charges."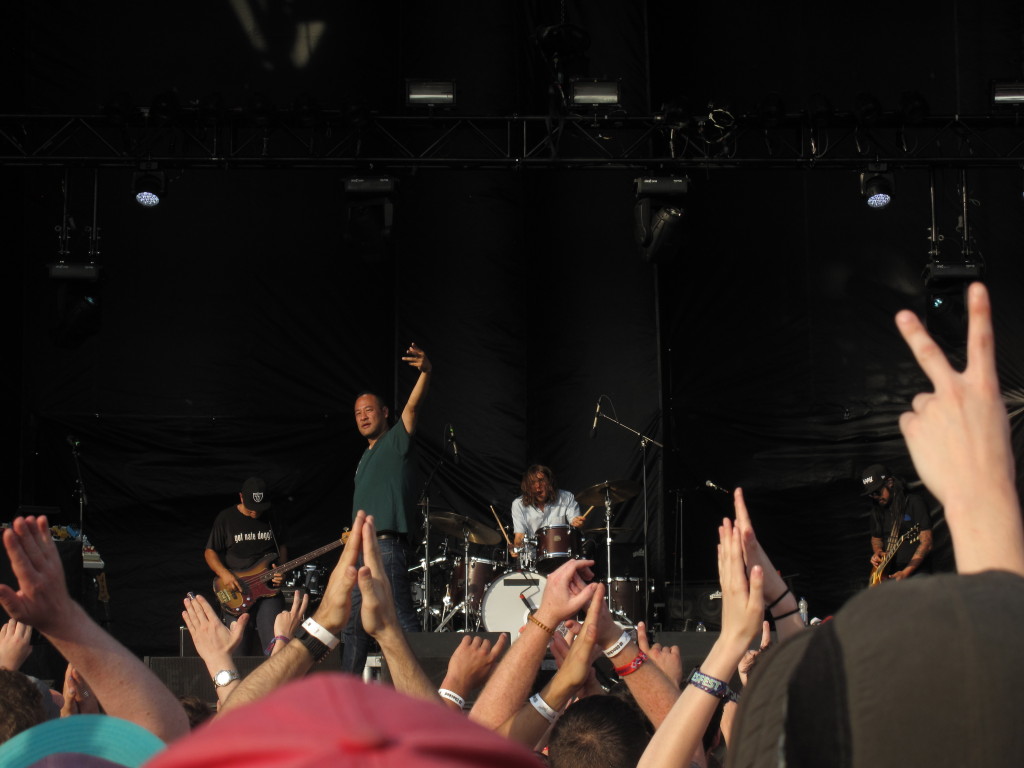 What I'm calling as one of the best shows of the year in Ottawa was Deltron 3030's show on Claridge Homes Stage. They don't call them a hip hop super group because it's pretty, these are heavyweights who have each made their way through the world of music as their own person, who have sculpted something out of nothing in big ways. We were graced with a showcase of each of their individual skills, including the sci-fi rap of Del the Funky Homosapien. Long known to be one of the illest, Del delivered his rhymes about the year 3030, where the world has far deteriorated beyond what we know to be corporate America today. The psychic landscape has changed drastically and it's up to heroes to remind us of what we can be, how we can be saved. Thank Christ for Deltron Zero and the cantankerous Captain Aptos, AKA Dan the Automator. We found out exactly why he's called the Automator by watching him orchestrate with little finger wiggles and full arm movements while pounding on a synth with his free hand. There was a live band supporting these two supers making their way through the future, as 3030 slowly became 3040, as well as the third of the trinity: Skiznod the Boy Wonder AKA Kid Koala. Ever wonder why they call him the Boy Wonder?
That's why. Vancouver-born, Montreal-based Eric San has been DJing since he could lick his fingers and his beats are nothing but extra butter on top of an already wicked sound. Anyone who's a fan of story-telling and a wide range of talents focused on one point should check out their self-titled album from 2000 and their Event 2 which just magically appeared last year. Now I wonder how old I'll be when Event 3 rears its head…
To avoid Awolnation, we traversed the museum and discovered along the way Paul Oscher on a massive mouth organ of a size I didn't know exsited, wailing in the Barney Danson Theatre, and Little Freddie King, the King of New Orleans Blues. His infectious jiving and shuffling across the stage had us dancing too, it's the kind of music that makes you lose yourself.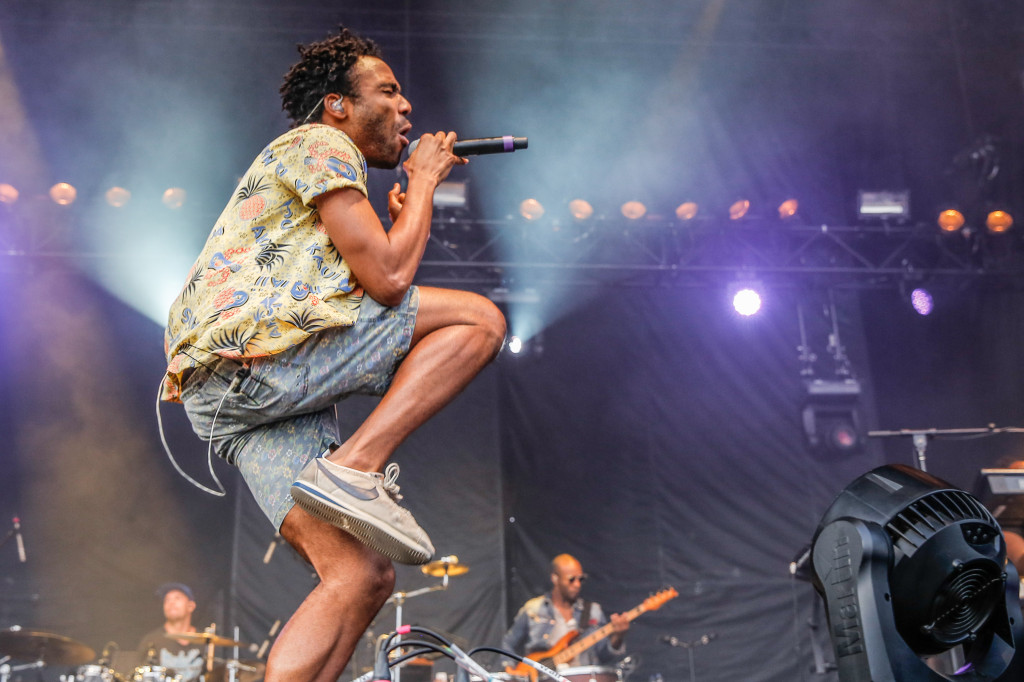 Then of course was time for the kids to let loose with Childish Gambino. Holy crap. Energy personified, with a firebrand's grip on people. "Don't be mad that I'm doing me better than you doing you." Message received. His wide-eyed display of what the human body can do was mind-blowing. He was nice enough to take a crowd member's phone and turn it from vertical to horizontal as she filmed, "you gotta hold your shit like this!" I hope everyone takes notes on that. He had a song with three drops and he made sure we knew when they were coming. Why? Because the Internet.
Snoop Dogg shut it down, west coast style in Erik Karlsson's Sens jersey. He's the type of entertainer who reminds you how many of his songs you know, without being aware of it. He played the crowd and definitely sold out the show, and despite being almost half an hour late to hit the stage he made it absolutely certain that no one in the crowd didn't know how to spell his name by the end of it.