Throwback Thursday: The Ghost of Festivals Past, Snow Jam
For this Throwback Thursday we are visited by the ghost of festivals past, the late Snow Jam.
The year was 2002 and the place was JetForm Park… You know that stadium you see from the 417 at the Vanier Parkway exit and always ask yourself "Whatever happened there?" Well in the good ol' days it hosted the Ottawa Lynx (farm team to the Montréal Expos) and also hosted the last Molson Canadian Snow Jam in Ottawa. Let's not forget the short-lived day of the Fat Cats too!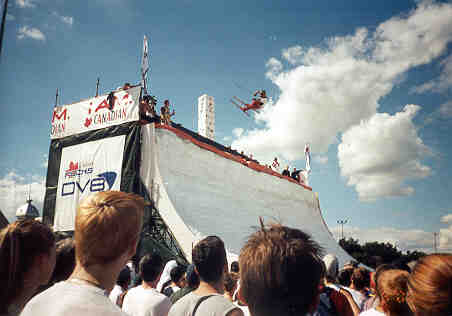 What made this festival so cool (pun intended) was it was more than just music. They built a massive five-storey ramp covered in snow that led into a huge quarter-pipe in the parking lot. Snowboarders and skiers would bomb down the ramp for trick competitions and big air challenges. They also set up a half-pipe and a street section for skateboarders, BMXers and inline skaters. So there was always some extreme sport to check out.
Musically, the festival had a pretty strong line-up for the time and hit Ottawa in late September when most teenagers were just starting to dislike school again and miss the summer freedom. I might be forgetting a few but the bands that year were Goldfinger, Unwritten Law, Rascalz, Treble Charger and Simple Plan on the first day and on the second day were Swollen Members, Dropkick Murphys, Mudmen, Chuck Calibre, Moka Only, Bowling for Soup and Sam Roberts & the Secret Weapon (this was before he skyrocketed to fame as the Sam Roberts Band).
One vivid memory besides all the extreme daredevils launching into the hemisphere was the mosh pit during Dropkick Murphys. The baseball field had been covered up with thin planks of wood and then a massive tarp, to protect the grass. While moshing someone caught me rather low and being tall, I flipped over him to land on my knee. I got up kept singing and rocking because life was good, but when I joined my friends after the band finished my leg was covered in blood and my white socks matched my red high-top Converse runners.
Snow Jam will always be one of the most interesting festivals I ever attended. The combination of extreme sports and music was awesome and well-timed. They really took it to the next level and gave us a show on snow during the summer… Pretty chill! Snow Jam was one of the best Canadian festivals no longer with us, will it ever be resurrected? Or will it forever lie dead & musty in the shadows of bigger, newer festivals that favour lawn chairs over acrobatics?