House of PainT Day 1: OG500 Poetry Slam
Photos taken by Jason Champagne of Champagne Photography
Thursday September 4th was the House Of PainT OG500 poetry slam, part of the annual House of PainT hip-hop festival. A 12-poet poetry slam, the event marked the beginning of the four-day festival and was held at the Mayfair Theatre on Bank Street. The hosts for the evening were local poets John Akpata and Brad Morden.
Opening the night was local spoken word collective The Recipe, made up of  poets Ian Keteku, Brandon Wint, and Komi Olafimihan. The collective was accompanied by a four-piece a capella group. While taking the stage the poets placed a canvas on an easel, with a range of painting tools and paints prepared beneath it. A clearly well-polished group, The Recipe spoke on many topics, including pieces about love, the AK47, and corruption in the police, all while keeping things humorous. The microphone and poet positions changed frequently throughout the performance, and each poet took turns painting at the canvas while still performing. Their last piece was a tribute to the poet Zaccheus Jackson Nyce, who passed on August 27th. As the poem came to a close, they revealed the canvas to show a portrait of Zaccheus. The night had many a tribute to Zaccheus who's passing has very much rocked the poetry, spoken word, and slam communities.
After the feature performance from The Recipe, the slam portion of the night began. The rules for the first two rounds of the slam included 3:10 minute head-to-head rounds, and a voting system wherein the crowd could choose between either poet via cards that were handed out as you came into the venue. Before performing, the crowd encouraged each poet to perform with a shout that differs for each slam community, and so different shouts were used in rotation to commemorate all the slam communities involved in the night. The first round was fierce, and had some very intense match-ups. Stand out pieces for me personally were a piece by Dustin Pillon a.k.a. D-Zaster about Ottawa being on unseated Algonquin territory and reclaiming Canada from the government, and a piece from Apollo The Child about the pejorative "pussy" and why he doesn't sag his pants.
By round two, six poets were left standing. Artemysia faced Rational Rebel, C-Command faced Apollo The Child, and Gavin Russell faced Sir Realest. Personal favourite moments from this round were Sir Realist's tribute to heavy metal nerds everywhere and C-Command's incredibly well-delivered "How you doing? How you feeling? What you saying?" piece in which he combines those words in every which way possible.
The final, three-way match changed the voting system to a panel of five celebrity judges, Ottawa poet and performer Prufrock Shadowrunner, Toronto rapper Rich Kidd, Ottawa poet Open Secret, television and radio host Sarah Onyango, and Chelby Daigle, Editor-in-Chief of Muslim Link. The finalists included Apollo The Child, Gavin Russell, and Rational Rebel. The third round resulted in a tie between Gavin Russell and Rational Rebel, leaving them to perform in a bonus fourth round. After a very close final, off by only one vote, the winner of the slam was Gavin Russell, member of the 2014 CapSlam team.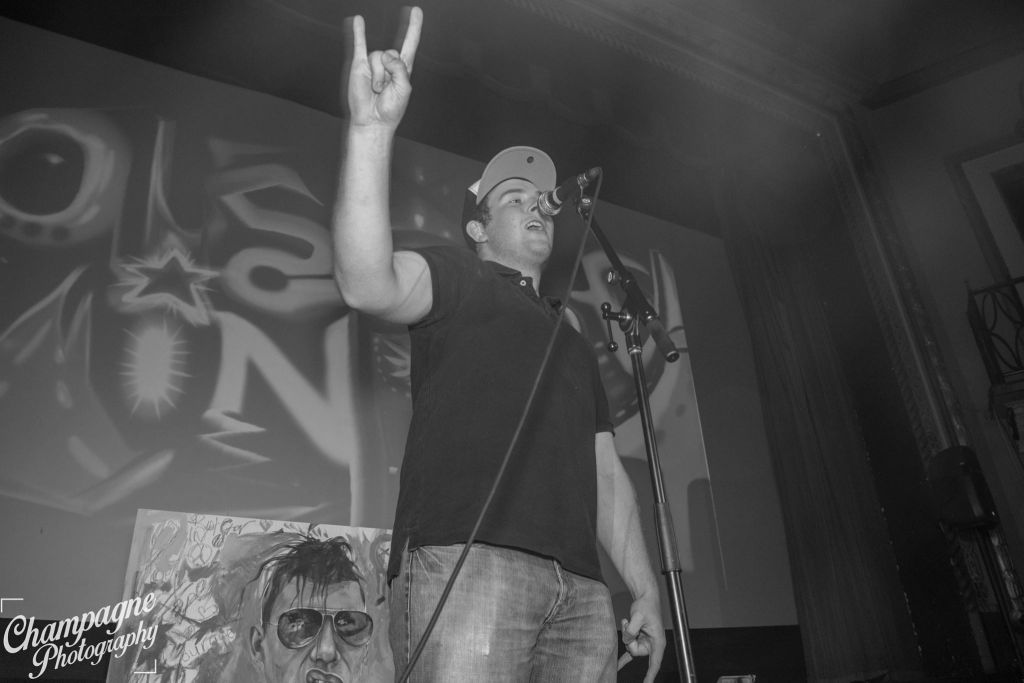 In every round, Gavin's poems were both full of passion without being preachy, and full of truth without being brutal. They all came across as genuine and were delivered flawlessly. There were highs and lows, and topics covered everything from sunburns, to The Biggest Loser and why it's part of the problem, to video games and what they can do for a child in need of escape.
The night as whole was great and a reminder of what the city is capable of putting on. Poets from Montreal and Toronto came to Ottawa to compete, and although slamming can be competitive at times it is still primarily a community for those with something to share. In the words of rapper Wax, "when people do what they love they unknowingly make every task involved become poetry". Speak it, raise it, live it.
"These kids would rather Final Fantasy than Final Destination." – Gavin Russell
"To you, you may just be you. But to others, you are a saviour." – Artemysia
"A smile almost as broken as I was." – Apollo The Child
"I wish I could turn these words into beer so they'd be easier to swallow." – King Kimbit
Support Urban Legends on their way to Victoria to represent Ottawa at the Canadian Festival of Spoken Word here https://www.indiegogo.com/projects/get-urban-legends-to-victoria.