Popping My Alexisonfire Cherry @ Babylon in 2003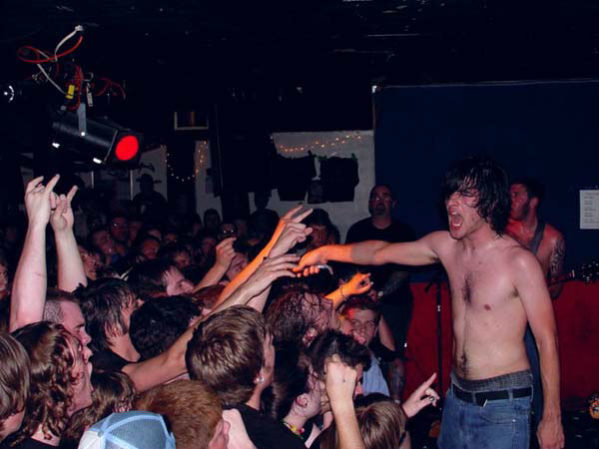 Photo by Junked Camera
Many of you may not be old enough to remember this, but MuchMusic used to actually have musical programming. I know, I know, it's crazy to think that now, considering all they do is "reality TV." But many of their programs used to be an amazing sources for discovering music, namely the Punk Show and Going Costal.
One night in late 2002, or early 2003, while sitting in my parents' basement and watching Going Costal, I discovered this band that forever changed my outlook on music. A little screamo band from St. Catharines, Ontario, and that band was Alexisonfire. I had never seen or heard such raw energy, power and passion as the now defunct band played in "Pulmonary Archery."
Alexisonfire quickly became my favourite band and their debut album never left my Discman. In June 2003, they came to town. I couldn't wait to go see them, and on top of that they were playing one of my favourite venues, Babylon (which used to do a lot of all-ages shows). Alexsionfire's performance was breath-taking, infectious, loud, sweaty, bloody, and made me a lifelong fan. Three moments from the set really stood out. First was how often lead singer George Pettit would hold the mic out to the crowd and how many times I got to scream into it, most notably during my favourite songs ".44 Caliber Love Letter" and "Adelaide." Try to find me in the image at the top of the article. (Hint: I used to have a lot more hair back then.)
The second truly memorable thing from the Alexisonfire set was how hardcore they were. During the set, bass player Chris Steele swung his bass and clipped guitarist and vocalist Dallas Green in the face. Green did not miss a beat or even a lyric and kept going through a growing crimson mask. You can see the blood running down his face in the photo just above, as I am sure many of you would find this toughness hard to believe from the soft and sad man behind City and Colour.
The third image engraved in my mind from that night, was how lead singer Pettit started a song, and it kills me not to remember which one it was! Pettit would stand there pretending to hold a shotgun and proceed to "shoot" the band members when it was their time to kick in, as also seen in the photo above (thanks Junked Camera for capturing so much of this great Ottawa history.) Something about that moment, that showmanship, that stage presence, has stuck with me to this very day. I went on to see Alexisonfire another dozen or so times but this night, the very first time I saw them, remains my favourite.