Bombay Bicycle Club @ Algonquin Commons Theatre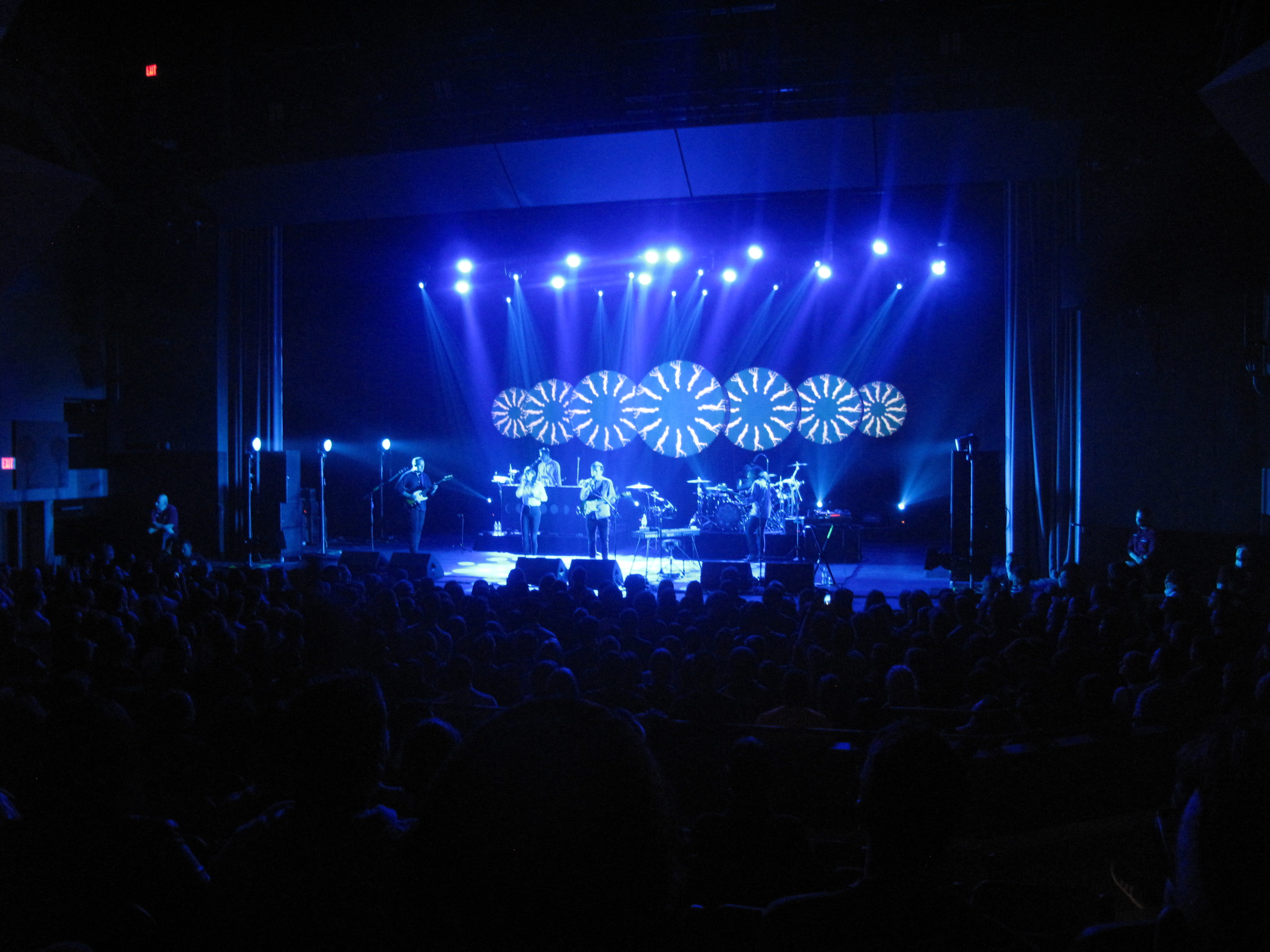 British indie rocker band Bombay Bicycle Club are half-way through an 11-week tour of the world, from Oceania to America, passing through Iceland on the way to Europe, South Africa, and finally home to the UK. The zigzag through Canada & the States saw the indie freak poppers stop at one of the lesser-known venues in Ottawa, the Algonquin Commons Theatre. Their set on Friday, Oct. 17 had a sold out floor of fans from near & far in the 613.
They opened with several hits and kept the energy high throughout their set. The lights & visuals show was truly worthy of an international tour, very epic. They had the quintessential deep space shot of stars upon stars backlighting a falling human figure. What arena rockers don't have that? At times, I felt like that white shape of a person, floating free in sound. I'm a fan of BBC enough to know that "How Can You Swallow So Much Sleep" is a great track to wake up your friends after a night of partying, but the show reminded me that their music is of an eclectic variety that drastically changes from album to album.
Their newest LP is number four in five years, named So Long, See You Tomorrow. It is as synthetically (see esthetically) pleasing as their critically-acclaimed A Different Kind of Fix (2011) but with a more distinct sound. In fact, the album is a paradox because it sounds like none of their other albums but each song is difficult to differentiate from the other at first. It is, however, an album with many twists & turns, full of surprises.
They played hits like "Shuffle" & "Leave It" with acoustic tunes from their earlier album Flaws. "Lights Out, Words Gone" used the album art from So Long to animate the seven circular screens behind the band into spinning circles of walking people. The likenesses of each bandmember in "Carry Me" and the dancing skeletons were enough to distract even the most seasoned fan. "Feel" struck me as a melting pot of Cuban, devotional Indian & anthemic pop rock. It was an earful, made mind-numbing with the imagery of a dancing viper on the seven cricles.
Liz Lawrence, who did more than just backup vocals, sang all of Lucy Rose's parts from the studio albums with style. It was the most charismatic of the band's performances, because she moved from behind the synth booth to the forefront regularly. Guitarists Jack Steadman & Jamie MacColl were close to each other but could have been unaware of the others' presence the whole time. Still, even from the seats it was an entertaining concert.
The Algonquin Commons Theatre is aiming to be an entertainment hub lined up with impressive musical guests over the next few weeks. The end of the month will see Big Wreck, Royal Tusk & The Caverners grace the stage in the Robert C. Gillett building. It's equipped for big names & big sounds.
I've been doomed to leave schools just before new additions: after leaving elementary school Laurier-Carrière they replaced a dozen portables with a new wing, after graduating high school Franco-Ouest a massive atrium with classrooms & new teachers' lounge was added, my quick stint at Ottawa U's School of Business was the last time they had the Vanier building that felt more like a dungeon than a faculty building, and then of course Robert C. Gillett, the former president of Algonquin College, erected the Student Commons, not to mention the Centre for Construction Excellence, the years following my time in their Journalism-Print program. Woe is I, but that doesn't mean I can't enjoy the new digs at my old school.
The new building is too full of goodies to review here, so I'll stick to the theatre, which is a state-of-the-art sound haven, with moulded ceilings & a centralized sound booth to perfect the acoustics. There are two balcony levels & a ground floor that was packed to the nines with very pleased Gonq students on Friday night. I noticed several bright-eyed ruffians rush out as soon as the show was over, having had a great start to their weekend already. Although it's been there since 2012, the Algonquin Commons is off to a great start as a bright & loud new venue for the east end.