Thirsty Thursdays: Getting Fuzzy With It! PINK FUZZ by Beyond the Pale Brewery
By Daniel Bordage
Beer: PINK FUZZ by Beyond the Pale Brewery
Style: Wheat Ale
ABV: 6%
Pairing: Pink Fuzz with songs that have a Fuzz (distorted) sound.
About the Beer: Made in Hintonburg, this beer is the first one I tried from Beyond the Pale when they first opened. I was instantly impressed and knew they'd be successful.  Subtle in hops yet has that grapefruit flavour that you would expect from a very hoppy beer. For a 6% beer, it feels like a light 4%. It stands up to a chilly winter as well as a hot summer. Have it delivered by Brew Donkey or go see them directly. I bought a 32 oz growler from their brewery and was instantly inspired for the playlist by a song from Low.
The commercial description goes as follows:
Not your Bavarian grandfather's wheat beer. We use grapefruit zest and pulp at different points in the process to insert the character of the fruit into the beer, and hops are carefully selected to emphasize the citrus notes. But don't expect this to taste like the first course of Sunday breakfast; the fruit flavour is subtle, and the bitter quality of the grapefruit is balanced nicely by a bit of sweetness in the finish.
The Music – Full playlist here
This is the song that inspired the playlist. Twenty-two seconds into the song, you will see why it popped in my mind.
Mirah's crystal clear voice is backed by a simple drum beat that is fuzzed out. Delicious!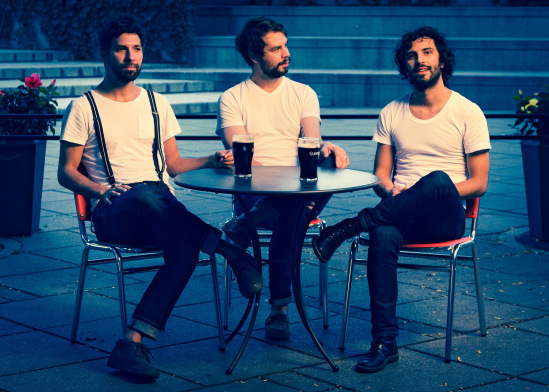 SILKKEN LAUMANN – "On The Mend"
Subtle here in the bass but enough for me to want it here. #OttBand
Roberta Bondar – "Night Danger"
They remind me of Elevator Through (Elevator to Hell) with their rounded distortion sound that I love so much. #OttBand
You know what, Elevator Through just made the list…
Elevator to Hell (Elevator Through) – "The Cloud"
Growing up with Eric's Trip and seeing the breakup was difficult. But then comes Elevator To Hell. Heart healed…
Kyle Andrews – "Wavering Between the Real and the Abstract"
It's catchy with the proper amount of distortion. It goes down well with my Pink Fuzz.
The Cardigans – "My Favourite Game"
Since we're in a catchy mood, why not go with a guilty pleasure of mine. I must say the fuzz sound on "My Favourite Game" is one of the best of the playlist.
A classic! I miss them so 🙁
The keyboard line on this song is so fuzzy, you might mistake if for a bearded hipster.
Presidents of The United States of America – "Peaches"
Peaches… Peach Fuzz… Pink Fuzz… see what I did there?
Hard to pick one from Primus as so many exist!
Pink…Fuzz… Enough said…
Honourable mentions
Jamiroquai – "Deeper Underground"
The Smashing Pumpkins – "Cherub Rock"
Contact me on twitter @danielbordage or at dropthatspills@gmail.com for suggestions, comments or just to say hi.