Breakdown Wednesday's Christmas Spectacular: We Were The Fires Of Rome, The Adding Machine, Rydell & Willows
Breakdown Wednesday's Christmas Edition at Zaphod's was the most eclectic show I have attended all year. The night saw electro, pop-punk, hip-hop and progressive metal bands grace the stage.
Kicking off this night was Willows, a very interesting band to say the least. Playing only their second show, this electro duo was really impressive. What really stuck out was the vocal range of the singer. No song really sounded the same on his end as he displayed great variety over some pretty captivating beats. Definitely looking forward to seeing and hearing more from these guys, in the mean time I strongly recommend you check out their song "True."
"Come have fun with us, most of these songs aren't even Rydell songs," is how Rydell lead-singer opened up their set. He wasn't kidding as the band opened with "Sex" by The 1975, "Mr. Brightside" by The Killers, and "You're So Last Summer" by Taking Back Sunday. "It's like karaoke without the screen and I know the words," said the singer. Rydell was playing a bunch of covers because they have been writing so much new material and figured it would be fun to play others' music. It started off okay but then took a little turn down a rocky road as they jumped into Yellowcard's "Ocean Avenue." They struggled with the lyrics pretty bad after getting through the first verse and chorus. They did recover, however, by performing possibly the first ever hardcore breakdown during a Yellowcard song… After that they decided to play songs they knew better, like their own, playing a new song off their upcoming album and then "Lost Boys." They left us with a great image, "We are the drunk uncle that shows up at Christmas and kisses you on the cheek. Merry Christmas!" The bass player also happens to be one of the most animated musicians in town.
Up next was local rap trio The Adding Machine. They were super in-your-face heavy aggressive rap, which is not 100 per cent my preference in the hip-hop world, but it was still an enjoyable set. I must compliment them on how fast they spit it sometimes though, it blew my mind. They also had pretty good energy and really moved around on stage using all the space. What was really interesting was that the vocalist from Willows is part of the group and had I not seen it with my own eyes I wouldn't have believed it. With Willows he appeared a little shy, awkward and sang some love songs, but with The Adding Machine he sported a completely different personality.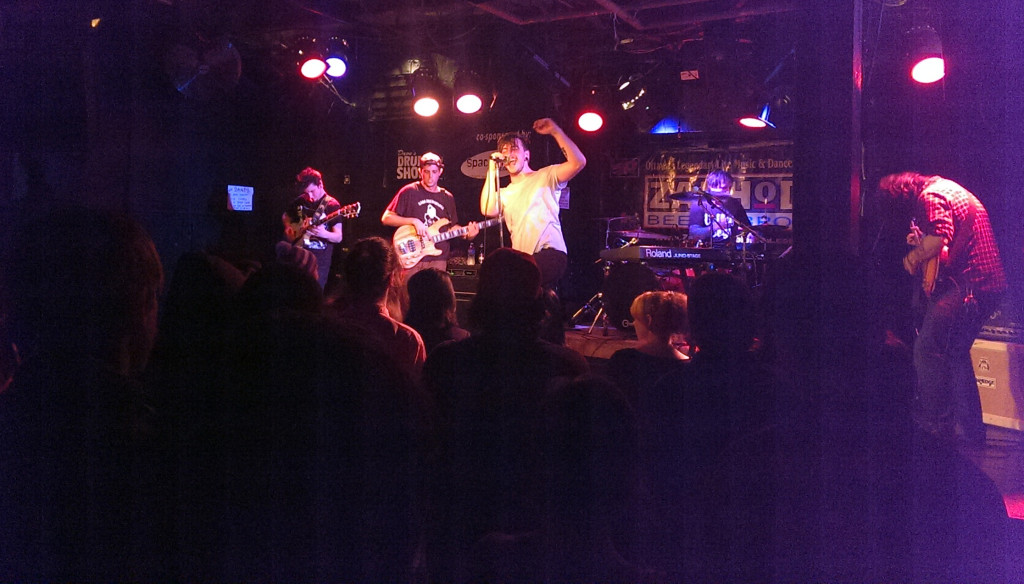 Headlining the show was a band called We Were The Fires of Rome. The local prog-metal group impressed me right away, starting their opening track with violin and some keys – not what you see everyday. We Were The Fires of Rome are a pretty perfect match for fans of Protest the Hero, but what is great is they navigate the genre perfectly avoiding most clichés. They don't fear or shy away from off beats and integrate pretty technical guitar playing seamlessly. It was super entertaining to watch the singer/screamer bounce back and forth from his mic at the front of the stage to playing the keys and singing at the same time. And when he was tired of the stage, he got down with the fans, leaving the stage to sing during "Dreams." I am always impressed when a singer can also be the screamer and do it as well as they do and nailing the transition so smoothly. The track "Kissing Knives" is a really solid track, probably my favourite of their set. The band was tight and also put on a very entertaining show – two things that do not always go hand in hand, but are much appreciated as a fan in the crowd.