Thirsty Thursdays: Beau's & Bass Line Beauties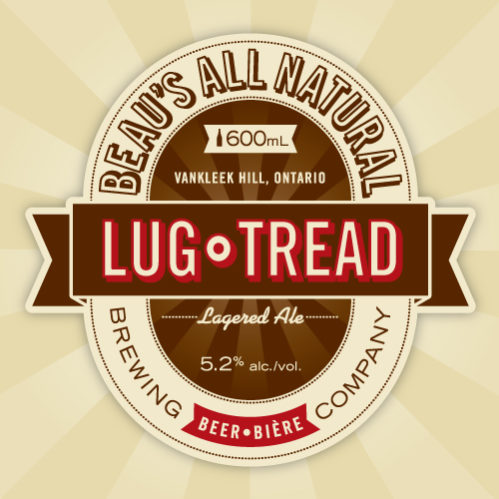 By Daniel Bordage
Beer: Lug•Tread by Beau's
Style: Lagered Ale
ABV: 5.2%
Pairing: Bass line beauties
About the Beer:  Lug•Tread is the first Ottawa region craft beer I tried. It was at the beginning of my beer obsession and I was instantly enamoured with everything Beau's made. I still am, of course. How could you not be? I see this beer as going back to basics. When it comes to basics musically, I hear and feel bass. It all started when a friend of mine called me up and said that he'd snuck around and found his Christmas gift… A bass! This was Grade 8 or so. To this day, he is on of my musical heroes. I fell in love with the bass after hearing him figure out Red Hot Chili Peppers songs, to jazz, and to funk. Cheers to Beau's and my friend Denis "Turtle" Arsenault, I thank you for the influences!
Also, the last Lug•Tread I had was at Bass Line Station–perfect timing? It's a great spot to hear local bands, which I discovered when I first moved to Ottawa. Lots of great memories there too!
The commercial description goes as follows:
Available year-round, LUG•TREAD LAGERED ALE is our award-winning, flagship beer. In developing it, we charged Matt (Matthew O'Hara, our brewmaster) with hand-crafting a beer with a unique style and history, that could be made naturally with certified organic malts & hops and that would be incredibly tasty and very drinkable. We brew this tasty golden ale and then lager it to create a beer like nothing else in Ontario.
The Flaming Lips – "In the Morning of the Magicians"
I think it's the bass tone I love the most.
Constantines – "Insectivora"
Undeniably, when the bass hits at the 0:45 mark of "Insectivora," it's front and center. But my favourite part is when the bass and horns sync up to finish the song in a sound orgy.
Primus – "American Life"
Not sure I would omit Les Claypool from any bass line playlist. This line must be so hard to do over and over again while signing. A true master…
Red Hot Chili Peppers – "Mellowship Slinky In B Major" or "Higher Ground"
"Mellowship Slinky in B Major" is funky gold. "Higher Ground" is a Stevie Wonder song that is better covered by RHCP. Don't get me wrong, Steve is good… but Flea takes it to another level. Have a listen to "Around the World" too.
James Jamerson & The Funk Brothers – "FEVER IN THE FUNKHOUSE"
James Jamerson has played on most of Motown Records hits of the 60s and 70s. You can hear his ability on "Fever In The Funkhouse." Here is the isolated track on Marvin Gaye's "What's Going on".
Jackson 5 – "I Want You Back"
James Jamerson was a session player for Jackson 5 but in this song it's Wilton Felder playing so effortlessly, floating in the background.
Michael Jackson – "Billie Jean"
Might as well have MJ twice – One of the most recognizable bass lines ever…
Bloodhound Gang – "The Bad Touch"
Very disco-like bass. This is a line I wish I had written. Check out the amount of views on YouTube too.
Fujiya & Miyagi – "Collarbone"
Keep dancing with the funked out bass line from Fujiya & Miyagi.
A Tribe Called Quest – "Verses From The Abstract"
Jazz legend Ron Carter was hired to play a nice walking bass line over this basic beat.
Snoop Doggy Dogg – "Gz and Hustlas"
The entire music is ripped from Bernard Wright's "Haboglabotribin." The world renowned bass player/multi-instrumentalist Marcus Miller does the honours of funking it up. Also give "Tha Shiznit" a listen.
Roni Size / Reprazent – "Brown Paper Bag"
Sometimes bass players are hired to play on heavy electronic music. It's not always machines. Si John lays one down for this drum and bass track.
Gorillaz – "Feel Good Inc."
Simple bass line that makes people feel good. What more can you ask for?
For The Mathematics – "Delay the Fiasco"
#OttBand For The Mathematics. So tight…
Tool – "Schism"
Can't keep them off this playlist… I can't!! Get used to it. You will see why…
Honorable mentions
Lou Reed – "Walk On The Wild Side"
Queen & David Bowie – "Under Pressure"
The Cure – "Lovesong"
Contact me on twitter @danielbordage or at dropthatspills@gmail.com for suggestions, comments or just to say hi.