MEGAPHONO: Last Ex, Evening Hymns & Scattered Clouds @ St. Alban's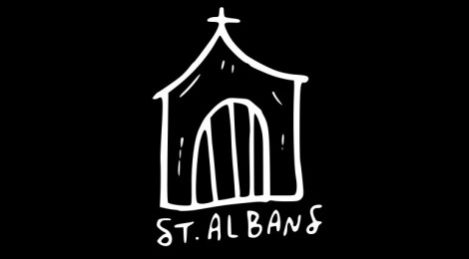 St. Alban's Church hosted the first performances of the inaugural MEGAPHONO Festival last night and what a way to start! Getting things going was Hull's experimental psych-rock group Scattered Clouds. On this night they were a duo (usually a three-piece) with one on synth, knobs and various other technologies out of my scope, the other on a guitar going through many different effect pedals and both contributing vocals it was quite a musical experience. On a night where Last Ex was playing, which features two members of Timber Timbre, it was very fitting to hear Philippe Charbonneau's deep voice on songs like "People Walk," as it kind of reminded me of Timber Timbre's lead vocals. It really worked well in the dimly-lit church.
"Welcome churchgoers," said Jonas Bonnetta, lead singer, guitarist and mastermind of Evening Hymns from Mountain Grove, Ontario. "Get a little closer now, we are going to play some new songs." And so they did. The folk-rock four-piece played several songs off their upcoming album Quiet Energy, due out "this summer-ish." New tracks that really stuck out were "Evil Forces" and "House of Mirrors." Bonnetta claims not to be a joker, but he certainly doesn't struggle with banter between songs. His skills were called upon on this night as early during the set there were technical difficulties with the bass and patch chords. He entertained with a story about a dirty joke he heard from a drunk uncle of the bride at a wedding, but didn't tell the joke as that would be too rude. He also mentioned that "not that you'll have much sympathy for me but I threw my back out snowboarding behind a Ski-Doo and, well, I am quite sore." When they got back to music, Evening Hymns later played the very moving and emotional song "You and Jake" which Bonnetta introduced by saying "This song is about my brother… it is always nice to play it in a place like this, and I want to dedicate it to Jon Bartlett." The set was capped off with Bonnetta alone on stage performing a solo rendition of the title track off Evening Hymns incredible album Spectral Dusk.
After a short turnover, Last Ex took to the stage and simply put, melted my brain. They play a really cool and out there instrumental music that blew me away. This was the coolest and most captivating instrumental performance I have seen since Explosions in the Sky. They were a three-piece, guitar, drums and keys, for most of the set but a violinist joined them on some songs and took it up another notch. The entire set had me in a trance of delight and constantly wondering where they would go next. Wonderful job, gang. With no microphones to speak into, drummer Olivier Fairfield addressed the crowd by speaking into the microphone of his left-hand tom. As they were about to launch into their final track, Fairfield said "Thank you, this is our last song and let's all go to TARG after." For a better understanding of Last Ex check out their video for "Girl Seizure."
With all the music done it was time to hit the Rideau Canal, don our skates and head to House of TARG for more music. We started as a small group of three, but caught up with some other MEGAPHONIANS on their way and grouped up. It was a lovely intermission before The Yips and Fet.Nat tore it up at TARG.