MEGAPHONO: Hintonburg Hang w/ Jim Bryson, Her Harbour, Winchester Warm and Jack Pine & the Fire
Day two of MEGAPHONO took me to Hintonburg to venue hop between the Elmdale Oyster House and The Record Center to see Jim Bryson, Her Harbour, Winchetser Warm and Jack Pine and the Fire.
The afternoon began at the Elmdale Oyster House for some delicious seafood and Jack Pine and the Fire. I settled in at the bar, ordered some delicious curry mussels, and watched some great twangy country music with deep roots influences. The slide guitar and stand up bass accompanied Gareth Auden-Hole's vocals and acoustic guitar just right.  The songs covered a wide range of country topics and it felt so right considering we were sitting in what used to be a tavern. Songs like "Credit River" about drowning in debt, "Home" about going back home, and my favourite "Lost in New Orleans," about consuming all of the things you probably shouldn't, as well as being about love.
As I worked my way through my final mussels (I am salivating just thinking about how tasty they were) another local group, Winchester Warm, took to the stage. The four-piece kept the great vibe going with their indie-folk. Winchester Warm played a bunch of solid tracks of their latest album, Belle Attente, including the title track, "The Great Fall" and "Like an Anchor." With the big overhead light above him, lead singer and guitarist Jonathan Pearce said, "This light is very inquisitive… I didn't do it." What he did do was play a wonderful soft set and delighted a standing room only Elmdale Oyster House.
Just before making my way to The Record Center for Jim Bryson, I had to have some oysters, because when in Rome… My oysters arrived promptly, some from British Colombia and some from Massachusetts. With them came a plethora of options to top them; fresh horseradish, lemon, three hot sauces, three Tabascos, cocktail sauce, a house sauce with shalots, salt, pepper and garlic I believe, as well as a vinegar shaker with scotch in it. Do they ever do it right at the Elmdale.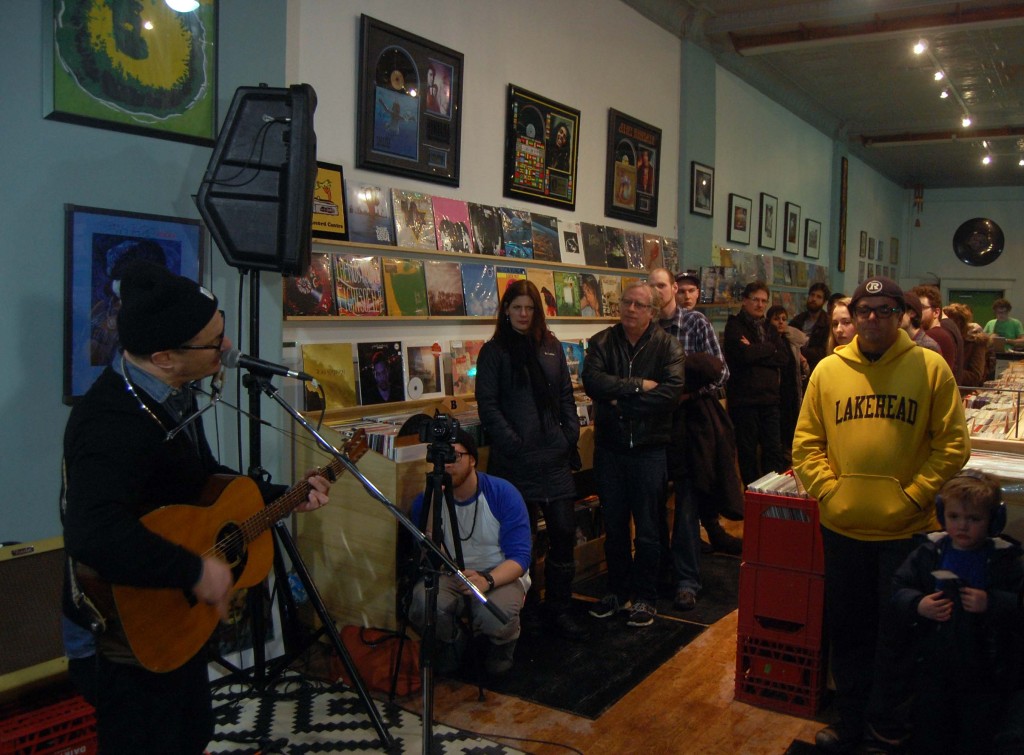 With some oysters in me it was time to run across the street to The Record Center and catch Jim Bryson. It was my first time there since renovations and did they ever do a great job. There is now a wonderful space at the front of the store where they can set up a band on one side and a DJ on the other, a very cool addition to the city. Jim Bryson also likes the place, but had one little criticism: "It's really nice to play here, I bought my receiver here, I love this place. My only complaint is the microphone smells like a dirty bum. I mean a nice smelling mic is just regular maintenance I don't expect a record store to do that to their mics," said Bryson. He concluded with "So it's not me , it's the microphone." Bryson has been playing solo for 15 years now and doesn't grace a stage in Ottawa often enough in my opinion, so it was such a pleasure to see him live. Topping off the simple joy of seeing him perform, was the fact that he played my favourite track, "Constellation," off the album The Falcon Lake Incident, an album where he teamed up with The Weakerthans. Bryson concluded his set with "The Depression Dance" a song where he masterfully used pedals to loop his guitar over itself giving the impression that we were watching more than just one man and a guitar in a record shop.
Racing back to the Elmdale I was able to catch the last three songs of local gem Her Harbour. If you still haven't seen or listened to Her Harbour you are truly doing yourself an injustice. Gabrielle Giguere's powerful haunting voice reminds me of the voice of a siren luring you into her music. The music is dark, eerie and very emotional as Giguere strums her auto-harp and her band members add in just the right complementary subtleties. I walked in just in time to hear a new song, "Details of the Seaside" followed by the always wonderful "Cold Half Moon." My afternoon of music concluded with a lovely song, "Bridge of Sighs" that had hints of a dark and haunted western to it.