New Music: Volume Vs. Voice by Chris Page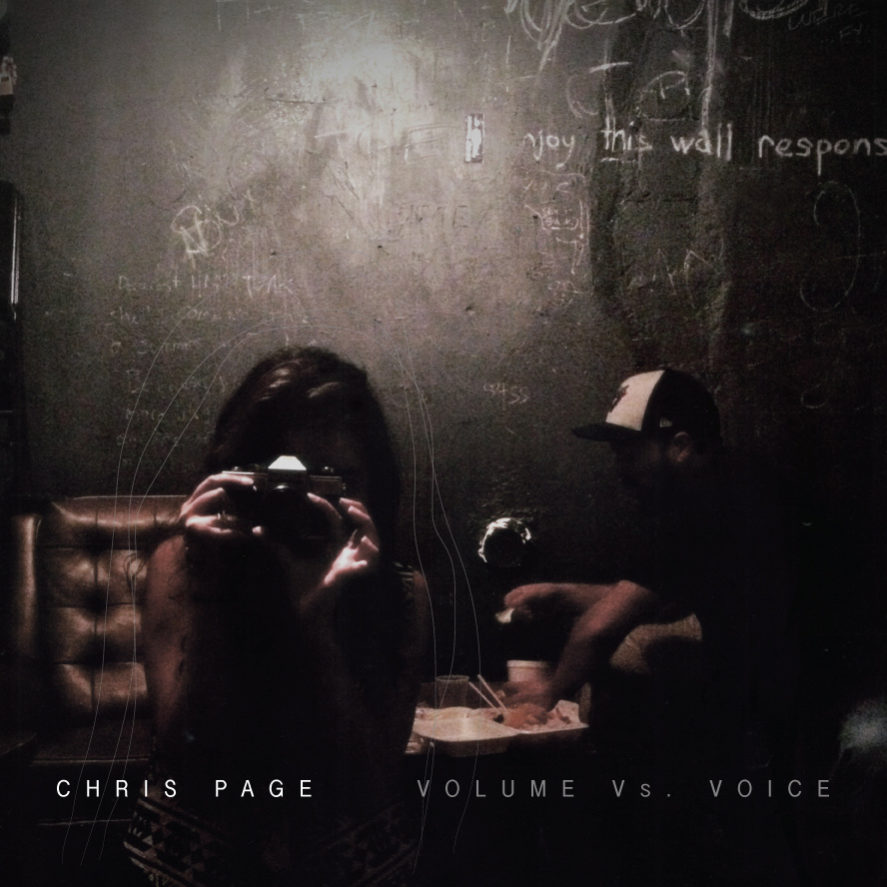 Ottawa's Chris Page, member of The Stand GT and Camp Radio, just released his acoustic solo album, Volume Vs. Voice.
The 10-track album is a huge step in a very different direction then what we have grown accustomed to with Page's work with his bands. Volume Vs. Voice is a slowed-down, finger-picking-laden, emotionally-charged acoustic album — not exactly what many would expect from the punk rocker. The album is beautiful, a reflection of the scenery in which it was recorded.
"For a long time now," said Page, "I've toyed with that cliched artist dream of isolating myself in a secluded cabin surrounded by bottles, pens, guitars, paper, Christmas lights doing summer duty. I could feel the river beach sand in my old Vans. I could hear the welcoming cricket chorus. There would be no Internet, TV or phone, though there would be a radio to keep some loose tabs on the outside world. There would be a recording device hooked up to a microphone or two."
He did this "in a cottage on a mountain, overlooking a majestic river in rural Quebec." Page said that "the songs and the way they are recorded here are meant to be as cozy as that old coveted cheap guitar and as fragrant as the warming tubes of your parents' old gramophone. " They are just that. Page's soft voice and finger picking on "Hunker Down" teamed up with the lyrics yearning for to some closeness really captured my attention and stands out. "Hunker Down" may be the highlight, but there are plenty of great songs on Volume Vs. Voice that feel so genuine and warm. This album makes me want to sit around a camp fire on a beautiful starry night and be serenaded.
Chris Page is hitting the road to bring the cozy feeling of Volume Vs. Voice across Canada. Check him out as he goes from as west as Vancouver to as east as Halifax. And for all you local fans, mark May 9th in your calendar for the Ottawa record release show at Raw Sugar. Below are the tour dates and a stream of Volume Vs. Voice.
Wed. April 22nd – Vancouver – Skinny Fat Jacks with Meredith Bates & Chris Gestrin and Skye Brooks & Paul Rigby
Thurs. April 23rd – Calgary – Ironwood with Rodney Decroo and Great Aunt Ida
Fri. April 24th – Saskatoon – Vangeli's with The Whiskey Jerks and David Simard
Sat. April 25th – Edmonton – Brixx with Rodney Decroo and Great Aunt Ida
Thurs. April 30th – Charlottetown – Baba's with Josh Carter
Fri. May 1st – Moncton – Spin-It Records (7pm)
Sat. May 2nd – Halifax – The Carleton – Opening for The Carletones
Sat. May 9th – Ottawa Record Release – Raw Sugar with Sarah Wotherspoon, Colin Majid, John Higney and Jon Pearce!