Sam Coffey & the Iron Lungs, Slippies and Casa Lagarto @ House of TARG
Sam Coffey & the Iron Lungs let it all hang out Friday night at the House of TARG.
The garage and power pop rockers from Toronto Sam Coffey & the Iron Lungs kicked off the set by tempering expectations. "You wanted the best, but we are Sam Coffey & the Iron Lungs," said Sam. They then launched into the first two songs off their latest album Gates of Hell, playing the title track and "Hold Me Close". Sam Coffey & the Iron Lungs play an infectious style of music that just makes you want to sing, dance and clap along to every song, probably why my voice was so hoarse Saturday morning. On top of the super catchy music, they all sport standard issue cut-off jean vests covered in sewn on patched, you can't miss them. The crowd may not have been huge, but they were into it and singing along. The band looked to be having a blast as always, especially Sam whose eyes were a little glazed over from maybe too much pre-show fun. "Feels good to play the best venue in Canada again," said Sam before playing a new song called "Gary Voicemail", written about Ottawa punk mainstay Ian Manhire (The White Wires, Voicemail and so many more bands).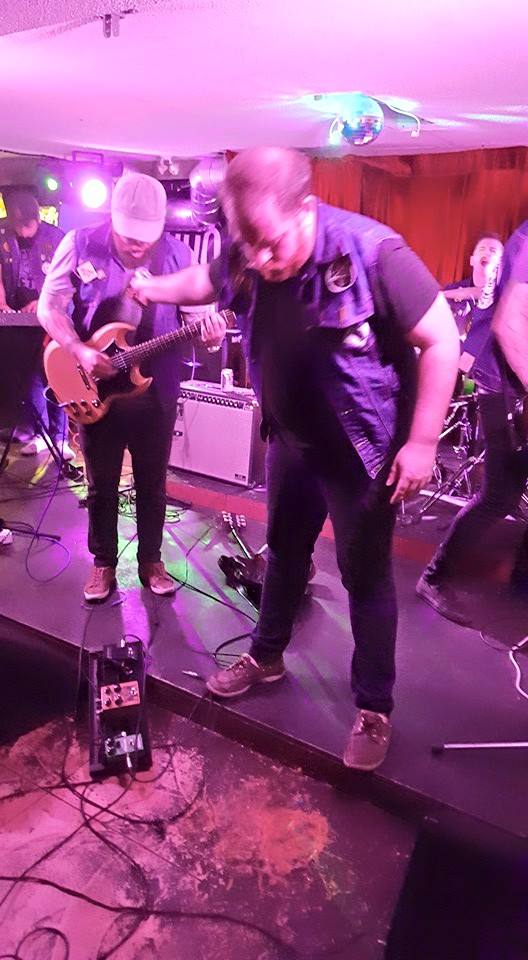 It was now time for the finale. Sam took off his guitar and grabbed the mic for "Don't Call Me Fat." He left the stage and walked in the crowd then threw himself on the ground and rolled around. As he returned to the stage he did not look too good, I was sure he was going to vomit… and a few seconds later his supper rested at the front of the stage. Once finished, he looked up, wiped the last little bit off of his beard and said "Are you not entertained!?" We were Sam, great set as always and thanks for demonstrating why you are called the iron lungs and not the iron stomachs.
Setting up the headliner were two newer local bands Slippies and Casa Lagarto. Slippies are a drum and keys country duo from Ottawa. Both members sing and have very different but complimentary voices, love that they take turns taking lead. Taking nothing away from the keys, but I am always amazed to watch a drummer sing lead like he does in The Slippes. Drumming is impressive enough to have three limbs moving in different beats, then add in singing on top of that. Just wow. The two songs that really stuck out were "In My Dreams" which reminded me a little of "Stand by Me" in the best way, and their cover of Johnny Thunders' classic and all-time greats "Can't Put Your Arm Around a Memory."
Opening the show was Casa Lagarto. Formed in January, Casa Lagarto's music makes me think of older movie soundtracks with western and Latin flares. The self-described "mirage rock" band powered through some technical difficulties to play a great set. One of the things that really caught my attention was how there were almost always three members of the five-piece singing. When one led the others were providing backup, some oohs and ahhs or singing different words at the same time. It is a little hectic at times, but really helps differentiate them. The song "Shed It" was a blast and will surely be a hit and a crowd favourite for quite some time.