New Music: Eddie Quotez – Kawaii EP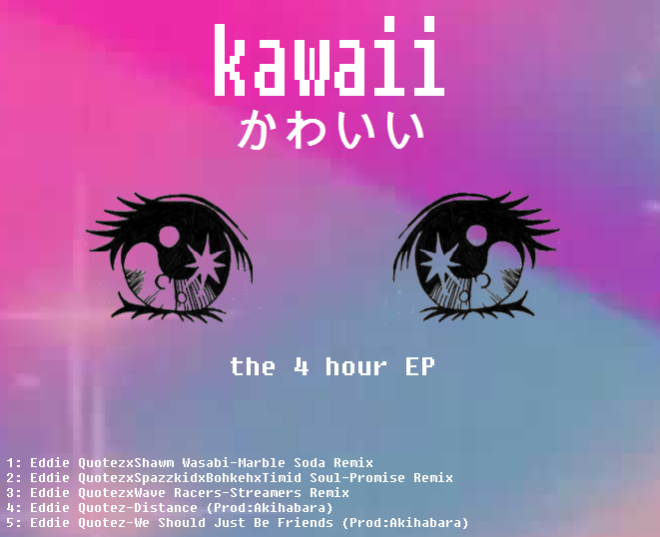 Most people would spend 4 hours watching a Seinfeld marathon or playing Candy Crush on their smartphones, but not for Edgar 'Eddie Quotez' Piol. He wrote, mixed, and recorded his latest EP Kawaii in the same amount of time you've probably spent on Tumblr today.
Ed's signature lyrical style and instrumentals make for an amazing 13 minute auditory experience. The beats on this EP are extremely high quality and have some nightcore influence mixed with classic b-boy sampling techniques. The album starter Marble Soda kicks-off the album with a high energy pump-up anthem with some Sailor Moon and Full Metal Alchemist references. The second track Promise brings some mellow chillwave which contrasts nicely with the first track, but without losing the album's momentum. Streamers is almost like a mix between the first and second track. It has a very bubbly instrumental with a solid hook where Ed drops a catchy verse, which leads into a rising-elevator style build-up with a hyped up pitch shifted vocal.
Sprinkler-style high hats, chopped classical guitar, and Super Mario World 2: Yoshi's Island samples is the best way to sum up Long Distance, adding an almost faux west coast track to the album. My personal favorite off of the EP We Should Just Be Friends is a track by 'Ed' unlike the others which are credited to 'Eddie Quotez', making this track seem to be a bit more personal. What really makes the track is the soft piano introduction followed by melodic guitar and finger snaps. Ed's voice is absolutely beautiful on this track, and makes a great finisher for the EP. If you're a fan of rap, or just anime and gaming culture, you should definitely check out Eddie Quotez's Kawaii, and think about what you could do in 4 hours next time you're being beckoned to the television screen. Have a listen to the EP below.