Charlotte Cornfield, Isaac Vallentin & Trails @ Pressed
Honestly, a winter's concert at Pressed Café is as cozy as it gets.
On the first Saturday of March, it was quite warm in there and not everyone had room to sit down, many stood hugging walls and counters. Toronto's Charlotte Cornfield and her band headlined a set of her newest songs from her upcoming album to be released this Friday via Consonant Records. She played "Big Volcano, Small Town" and "Aslan", the earliest singles from Future Snowbird as well as the recently released "Mercury", a song that features Ought's Tim Darcy.
Her debut LP Two Horses dropped in 2011 after she put out two six-pack EPs in 2008 (It's Like That Here) and 2009 (Collage Light). Since then, she's been touring, writing songs, collaborating, and even being mentored by members of Broken Social Scene at the Banff Centre for the Arts last fall.
Wax copies of Future Snowbird were available and they quickly disappeared into fans' arms. The bespectacled Canadian troubadour's folk rock is framed in matter-of-fact lyrics about home, the road, and her sadness of being landlocked—all of which are a great backdrop to many a morning's coffee or seeding party.
And somehow she manages to sing about serious, often upsetting moments while still laughing on stage, which is funny in itself.
Someone who also howls with pain on stage and looks like he's having a blast is Ottawa's Isaac Vallentin. Themes of self-deprecation and dark times don't seem to match Vallentin's grin in between his songs—he is a jolly performer. He was also grateful to play his final show in Ottawa hosted by the Arboretum Festival, and he sincerely thanked Rolf Klausener who worked the door that night.
Perhaps his gratitude was best summed up with, "I smoked pot with Chad VanGaalen because of Rolf!"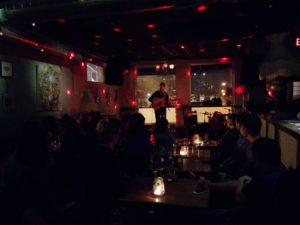 Yes, Isaac Vallentin is leaving Ottawa—though not forever? Hard to say, since he's been offered a one-year scholarship at the peculiar Fabrica Research Centre in the Italian wilderness. A multimedia designer by trade, Isaac will not only be learning to create better, faster and stronger designs, he'll also learn to speak much more with his hands, as is common in Italia.
If he loves us, he will follow up last summer's debut release of Hedera with his second LP before he flees for the Old Country. His set showcased many new songs, the only recognizable one of which was "Walk Out Together" off his Love & Devotion 7″ from November, so the chances are good that another album is currently being populated.
No pressure, IV.

The evening hosted by Arboretum started off with a gritty, psychedelic solo set by Trails. A young woman named Allie and her loop pedal welcomed the winter travellers into the café with simple riffs and a striking voice as she doled out a mix of experimental dream noise. Tracks from a bedroom floor, very personal sounds, are recent additions to her Bandcamp page (and one solitary track on this one). These have been adding a smattering of shoegaze and dream pop to the city's underbelly at a pace that suggests there is more to come.
And I think it's safe to saw that that would be lovely.