Interview: Downtown Boys talk Springsteen, US immigration, & more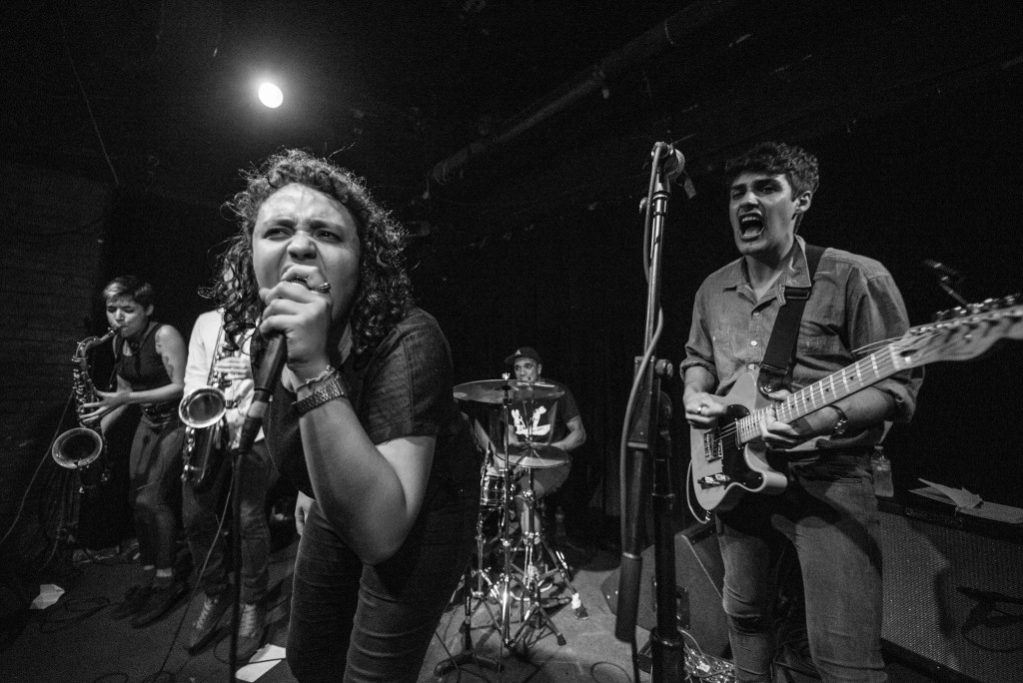 Photo by Christopher Grady
Consider yourself warned – you've never heard a band like Downtown Boys before. Who knew so much noise and raw emotion could come out of Providence, Rhode Island? The band is set to play in town on Friday night at Zaphod's, and the Byward Market should be battening down the hatches for this one.
When Rolling Stone deems you "America's Most Exciting Punk Band," people start to turn their heads. Earlier this month, Downtown Boys was featured in Rolling Stone again, this time in a list of "10 Great Modern Punk Bands." They represent a generation of young, unapathetic people who have seen the injustices seemingly inherent within political institutions, experienced overt and systemic racism in day-to-day life, and unfair treatment of entire demographics of people in the US. Of particular concern are undocumented Latino Americans who are not only bearing the brunt of discriminatory immigration policies, but face further crackdowns and deportations with the surge of far-right immigration platforms from certain presidential candidates.
This band's music is informed by their politics, and as we'll hear later in this interview, the aforementioned issues hit close to home for some of the band members. Our friends Sofia (co-host of CHUO's PRISM) and Anthony (host of CHUO's Radio Active) had the opportunity to explore these topics and more with Victoria Ruiz and Mary Regalado of Downtown Boys ahead of their Friday show.
Be sure to tune into CHUO's PRISM this week to hear the full interview. Downtown Boys' new album Full Communism (Don Giovanni Recs) can be streamed and purchased on Bandcamp.
---
Interview with Downtown Boys
Whose idea was it to cover Bruce Springsteen?
VR: I think it was a mix of me, Joey, and our former sax player Emmett, and I may have proposed 'Born to Run' but everyone else thought 'Dancing in the Dark' was a better fit for our band. I'm in another band with our guitar player Joey, and we cover a Springsteen song, and Joey has a solo band that covers a Springsteen song too. We're just really big fans, and we have been very affected and influenced by him.
I actually just watched a video where Prince is interviewed on The View – a soccer mom daytime television show – and he mentioned Bruce Springsteen as this great musician. In winter we'll cover his version of 'Santa Claus is Coming to Town' because we love that song.
What are your thoughts on Bruce's boycott of North Carolina?
VR: I think him boycotting North Carolina is a powerful message to fans of his, but he also has the resources to boycott states. That's not really an option that my band has. What's interesting is that a day after he boycotted that show, we played a show there at Duke. I talked to the band about it and asked if it's OK that we're playing this show, and Joey said pointed out that ultimately, a formal boycott hasn't been called in NC like it has been in Arizona. It was used as a tactic there to protest the racist anti-immigrant laws that were passed there. Right now there's no formal boycott called, and Springsteen was flexing his economic power. That show could make hundreds of thousands of dollars, but most of Bruce's fan base is mostly white and people that can afford tickets like that.
A band like Downtown Boys, we're not making Springsteen bucks. Plus, at Duke there are probably people there that want us to be playing there in a time like this. So, that was interesting to think what a rock show means with respect to race, class, and power. So I really admire him and applaud him, but I also want to contextualize his decision based on the money his show would make and his audience.
What issues are you most concerned about right now?
VR: I think deportation is a really devastating and tragic thing right now. It's really hard because the narrative of migration in the US is so connected to economics. It's very difficult to build a movement and a movement and strong narrative about the power of undocumented people and families.
I've done a lot of organizing against police brutality and also with undocumented people in latino communities, and it's like night and day. There is not the same populous line in the movement against the police right now that there is in the deportation movement and that's really hard. What's getting attention these days is this clean, "respectable" undocumented people who are in college and communicate in English perfectly, and live in nice communities. It feels like those are the stories we need in order to try and talk about undocumented people, but that's not the real world.
"Respectability" in politics is really weighing down freedom and justice. When you have presidential candidates building walls or comprehensive immigration reform, and that's not going to get us there. I'm nervous right now, friends and families are facing deportation. It's pretty terrifying.
MR: Yeah, it really hits home. Maybe there isn't momentum like with police brutality because undocumented people need to be subterranean and pushed underground. They have to try to be invisible to survive and avoid deportation.
VR: And that's in all realms of life – not only in the workplace, but also reproductive health. If you want an abortion and you're undocumented, you don't even have the option of traveling to an abortion clinic. I'm third generation latina-American, and many people that have a similar history to me are very neoliberal. They want money and don't realize that we're in the same struggle as black people in the US against police brutality. There's a lot of schism amongst the latino community is the community due to capitalism and patriarchy. That's hard because we need to be building more like black and brown people, but a lot of Latinos feel the pressure to assimilate to whiteness. That schism is harming a lot of people right now.
MR: My mom is undocumented right now and it's been a huge pain in the ass to get her papers in order. Her baptism certificate has a different name than she's been using in the US so she had to go to court and get her name changed, pay lawyer fees, and she just doesn't have the fucking resources for all that. When you're undocumented, you're getting paid way under minimum wage. White racists don't understand the impact that these people have on the economy.
*Lightning Round*
What is your favourite worst vice?
VR: Cigarettes
MR: Shopping
What is your favourite TV Show
VR: Grand Hotel
MR: Star Trek TNG and Masters of None
What is your favourite fruit?
Both: Pineapple across the board!
Your favourite band on Don Giovanni Records?
Both: Priests!
What is the first thing you do when you wake up?
VR: Smoke weed
MR: Go back to sleep
Your favourite article of clothing?
VR: Dress
MR: Big Sweater
What is the best swear word?
Both: "Fuck"
What impact do you hope to have as a band on an audience?
VR: I want people to think about systematic oppression and institutions, and leave with a feeling of energy and motivation, and an energy to resist.
---
Spectrasonic presents Downtown Boys at Zaphod's this Friday, April 29, along with C.H.U.D.s and Doxx. Tickets are $12, available at Vertigo Records, or online here. Doors at 8pm, all ages & licensed 19+.