Doc Hopper, Steve Adamyk Band, Audio Visceral, Laureate, & Matt Charette at TARG
It was a packed bill Friday night at the House of Targ with Doc Hopper, Steve Adamyk Band, Audio Visceral, Laureate, and Matt Charette all gracing the stage.
Doc Hopper—the headliner for the evening—is a 90's punk band from the North East US named after Doc Hopper, who was the owner of Doc Hopper's French Fried Frog Legs chain of fast food restaurants in The Muppet Movie. As a bonus, Mikey Erg, of the Jersey pop punk legends The Ergs!, is currently playing with the band as they tour, which was quite anawesome surprise.
They played a solid fast hitting set of pop punk which took me back to my younger years of the late 90s when I was just discovering this style of music. Now, I never really listened to Doc Hopper other than a few songs on some mix CDs (remember those?!) but they had a sound that I was always very fond of. The song that really caught my ear and stuck with me was "She's a Coke Head," which is not the most uplifting of songs I know, but it was damn catchy. I also loved that the lead singer and guitarist gave a shout out to Punchbuggy, an infamous local punk band from the 90s, and asked if Scallen was at the show and then said "he is probably actually sleeping at this time, actually all our friends are old and tired." There was a pretty excited group of folks who were moshing and dancing for much of the night. I don't think they really knew any of the bands, but were just there for a good time. It was a lot of fun to see and definitely upped the energy in the room.
The Steve Adamyk Band were on fire as always, bringing their local punk rock to the stage. The three-piece band opened with a new song which sounded great and they played another new song later in their set, which hopefully means we are getting new Adamyk on wax soon. Steve Adamyk is one of the most prolific punk rockers in the capital so you never really know what you'll get as a set list, but on this night we got the aforementioned new songs, a bunch of tracks off his 2016 release Graceland, including favourites "Carry on" and "Swallow you whole," as well as some deeper dives into the back catalogue. It was awesome to watch him play "I Fought for the U.S.A." and have Dave Williams of Crusades and Black Tower, and former Adamyk band member Davey Quesnelle jump on stage to sing along. Adding to the moment was the fact that Davey was working at the time and was still sporting his perogie making apron. Good times were had by all for sure.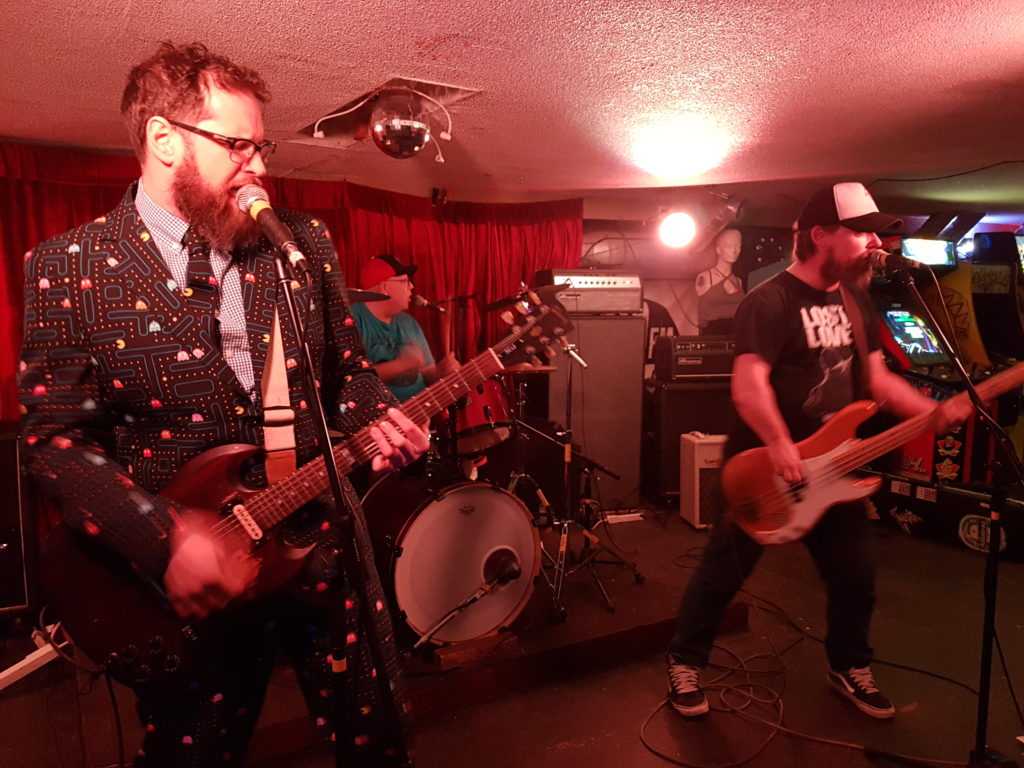 Steve Beauchesne, owner of Beau's and guitarist of Audio Visceral, took to the stage sporting a sweet Pacman suit. Audio Visceral is made up of Steve and two other Beau's employees. Yeah they make some of the country's best beer and still find time to be in a pretty cool punk band. Some people have too much talent…but I digress. Once they finally got started (damn it Garry!) they powered through their first six songs without really taking a break, except maybe to have a sip of Lug Tread. They played a hilarious song called "I Suck" which doesn't appear to exist online anywhere but the lyrics had me in stitches. Hopefully the fact that they are playing this new song and a few others means a second album is in the works. I know us fans will certainly drink it up…
Pop-punk foursome, Laureate, from Montreal, were the first full band to play on this night. The band beautifully builds off of vocal harmonies between guitarist Giancarlo and bassist Erin, who essentially share the role of lead singer. This is complemented by some intricate guitar work by the other guitarist, who at times brought me back to the finger picking ways of screamo and heavier bands, particularly when they tap out the strings on the neck. It was fun to watch and he was really rocking out. The band's set featured a minor setback when the bass started phasing in and out. Members of Steve Adamyk Band were quick to try to help, fiddling with the amp and providing a new patch chord. In the meantime Erin powered through, and what could have been a disaster really allowed us to focus on their impressive and really tight harmonies in the absence of the bass. This band needs to play Ottawa more often given that Montreal is not that far, and their sound really fits in with a lot of what is happening in this city. Check them out, especially their new record Landmarks and get ready to sing a long at their next show.
Opening things up was something completely different than the rest of the show. Matt Charette, a singer songwriter from Boston, played more folk and country than punk rock with his acoustic guitar and harmonica. Now don't get me wrong, I'm not complaining as he has an awesome voice, is a great story teller, and certainly has some punk rock running through his veins given his lyrics and the Black Flag cover he chose to play. This was his second ever show in Canada, the first one being the night before in Toronto, and someone decided to play a trick on him and rewrite his setlist. The "custom" list included all covers by bands such as Nirvana, Metallica, The Cure, and Dead Kennedys. While he did play some covers, his original tracks were great. I especially liked "City Streets." All in all, this night was chalk full of great bands and great times.