In Conversation with Chilly Gonzales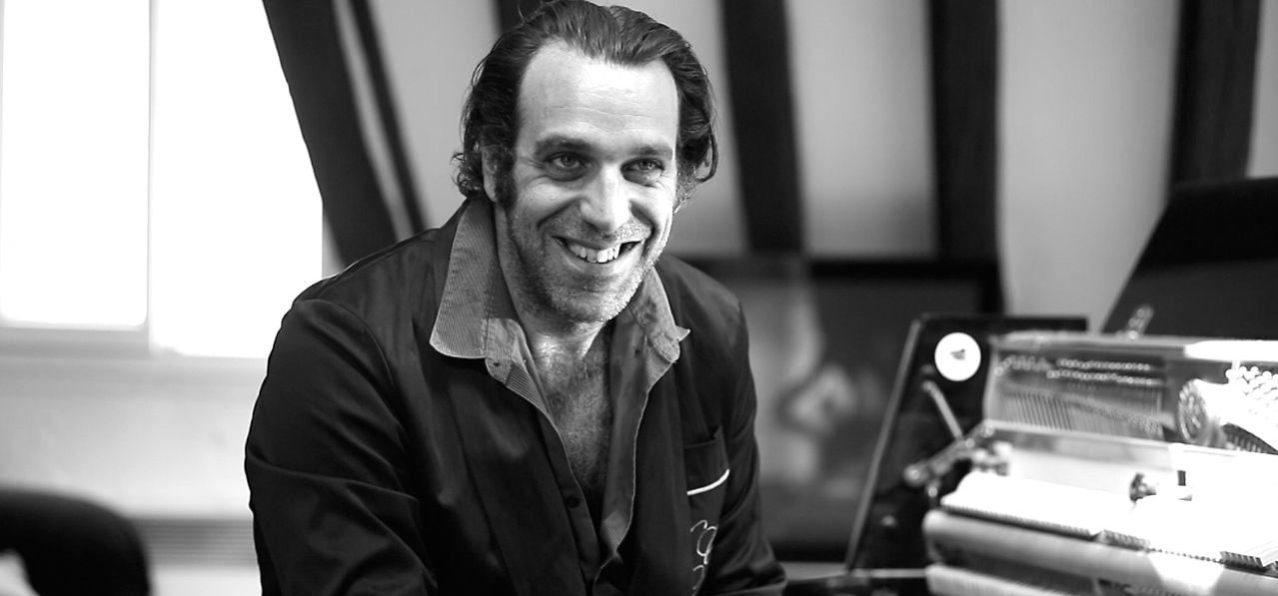 It's not every day you get to have a phone call with a Canadian composer who has dabbled in the worlds of alt-rock, comic rap, and classical piano over two decades. I recently had the honour of engaging in a lengthy discussion with the self-proclaimed "Musical Genius" himself, Chilly Gonzales.
One may assume that an eccentric, masterful pianist such as Gonzales (or "Gonzo," as he is known to those close to him) would have little to say about the state of modern pop music. However, it doesn't take much digging to see that he is fascinated by pop. He seemingly has a mission to help us understand the genre better through the lens of music theory and storytelling. In fact, some of his greatest successes have been collaborations with with Feist, Drake, Daft Punk (with whom he won a Grammy award), Jarvis Cocker, and Peaches. 
Gonzales recently released his third and final album of the Solo Piano trilogy, one that adds to the mountain of achievements as a prolific composer-performer. To the common ear, Solo Piano III may come off as a contemporary take on classical music, a direction that few musicians have chosen to pursue as a career in the modern industry. However, Gonzales challenges himself to "play pop songs on a classical instrument," transposing traditional pop structures onto more complex arrangements and instrumentation. It is an album that commands attention and embraces the listener, and each song is dedicated to a specific historical figure as per 19th-century tradition. If you catch him perform these songs live on stage, you'll almost certainly hear him elaborate on the story of these dedications.
Gonzales himself has been an inspiration for other composer-performers in the genre such as Nils Frahm, Jean-Michel Blais, Flying Hórses, among others, who have come out of the woodwork to pursue their music in the public realm and tread the Gonzonian path. Further to this end, Gonzales has set up his own conservatory of music—aptly called the "Gonzervatory"—whereby young talents are hand selected to attend an all-expenses paid series of workshops with Gonzales in Paris. It is "a place for young musicians to find and strengthen their musical voice, to journey deeper into the emotions and science of their art."
With such a bizarre career path, it isn't surprising that he is also the subject of a new biopic called Shut Up and Play the Piano. The film, which was directed by Philipp Jedicke, looks back at his life and career from his Montreal upbringing, to rapping in dark underground Berlin clubs, and the ultimate formation of his bombastic and flamboyant stage persona, Chilly Gonzales. The film had its North American premiere at Pop Montreal in September, and recently had a run of showings at The Bytown Cinema in Ottawa. 
Gonzales is set to perform at the National Arts Centre here in Ottawa on October 22, where we'll see him play a number of pieces from Solo Piano III by himself on stage, as well as some hits and hidden surprises from the rest of his repertoire with the accompaniment of Stella Le Page on cello and Joe Flory on drums. Tickets can be purchased online here or at the NAC's box office.
Read my interview with Chilly Gonzales below.
Interview
MM: Your new album, Solo Piano III, is the final installment of your solo piano trilogy which has spanned nearly 15 years. You've said that "it isn't an antidote for our times, but it is a reflection of all the beauty and ugliness around us." On this album, how do you use the piano to describe the world we live in right now?
CG: Well, I don't know if I'd go that far. When I'm an artist, I'm alone and not thinking about the audience or any extra-musical elements. I need to shield myself from that kind of thinking when I'm composing an album. I need it to remain a mystery to myself in order to do that. I work in an abstract musical world, I don't think of people, places, song titles, concepts, or even what musical tools I may be using. But at the moment when the artist becomes the entertainer, where water turns to gas, I change form. In that moment I become very much audience-conscious. I would very much like to offer an experience to people who don't often listen to piano music, for example. So, in that moment I start thinking about puns I might make, and things like that. And if you don't like the puns in my album and song titles, then you should see the ones I don't use. There's an iPhone file with hundreds of rejected ones, ones that I feel are meaningful beyond their bad joke.
Anyhow, I just make music as anyone does, in a blind way. But there's a moment where I become my own A&R person, and I step back to think about stuff like who I'm going to dedicate a certain song to, or a song title that will get people interested or listening to it in a heightened state. That includes looking at what I do and say, "Oh look what weird thing I did with those scales on this album!" Maybe there's an eighth note scale with one surprising note. Then I get a whole stage routine out of it where I talk about scales, about how scales can't be music because they're so predictable. But what if you add a surprise ninth note in an eighth note scale? That is literally something I thought of two years after I wrote a piece. But it serves to include people in the process, in a way that I hope brings people in who would normally not be into this kind of music.
Maybe younger audiences who normally listen to music with lyrics. I try to make pop music, and pop music is about being attentive to the audience. Some people think I make classical music, which isn't true. I make pop music with a classical instrument.
MM: You have been known to break down the music of modern pop through the lens of a classically trained pianist. You always seem optimistic about the music you're discussing in the masterclasses, and passionate about the way different aspects make the listener feel. What captivates you about today's pop music that most people maybe overlook?
CG: The storytelling, combined with the reduction. Music has always been reduced starting from the moment that it became a commodity. I trace that back to 19th century Romanticism, artists like Chopin and Liszt, you think of the genius figure. And that's what we're still dealing with —there's no Kanye West without Liszt. He was the first to make the music more powerful if your personality is there to amplify it, make people feel closer to you. The irony is you do that by being larger than life, in the way that Liszt essentially allowed the rumour to be spread that he was possessed by the devil. He knew it would increase the powers of his music, and this got coupled with the birth of the bourgeoisie and democracies, concepts that informed our modern society, culture, capitalism, the role of the artist. That all got invented in Europe somewhere between 1830-1880.  We're still sort of living in that time, and since that moment music has been reduced, there's less and less but it's still telling a story.
I still like to listen to music that supposedly has nothing in it, but if you take the microscope deep enough, you'll find storytelling, you'll find theme and variation, tension and release, question and answer, the hero's journey. Whatever you want to call those concepts, those are storytelling concepts. Even though music seems more and more repetitive, it's not what you think. There's always some element of change, and of contrast, otherwise it wouldn't work. Especially in big pop songs, because they can't become big if there's not some element of storytelling in it. You can't reach millions of people without the storytelling element.
MM: Few instruments are as emotive and expressive as the piano. What would you say to young musicians thinking about taking up the piano today?
CG: I would say that it doesn't matter what instrument you play. Piano is valid. Computer is valid. Drums are valid. Drum machine is valid. Rapping is valid. Producing beats is valid. It's all the same, but don't forget to do it with other people. If you only do it alone in your room and get that little rush of "wow I put a song online and so many people have listened to it," that's a great start. But it's not going to get you to musical ecstasy or a career. So on a pragmatic and spiritual level, don't forget music was performance for thousands of years.  There was an abhorration called recording that we're still living in, but in another way the music business has again been reoriented towards performance—which is the one thing that can't truly be replaced. We just have to keep that in mind.
I started the conservatory to remind people to always think of music as something always being performed. Remove the barrier between composition and performance, and ironically that's how the Romantics did it. Chopin, Liszt, they were all composer-performers. In the classical world, when I hear people say "it's amazing that you bring an audience to your acoustic classical music. Classical music is dying, what can we do?" It's having more composer-performers. That's how this whole thing was created. Now there's this separation where we have a lot of living performers playing dead people's music. With the conservatory, they have to erase that line so that every composition is also a performance.
MM: Jeremy Dutcher is a young piano virtuoso, much like yourself, who just recently won the Polaris Music Prize. While classically-influenced musicians have typically flown under the mainstream industry's radar, do you think more attention is being given to artists like Jeremy, Flying Hórses, and Jean-Michel Blais?
CG: Flying Hórses! A wonderful Ottawa reference! Yes, I think it's the return of the composer-performer. Jeremy Dutcher sings in some of his songs, and I know he sings in an endangered indigenous language which is very important. And of course my buddy Jean-Michel Blais was also shortlisted for the prize, and those are wonderful moments.
I only had a couple of role models when I started on my first record. Yann Tiersen, the Amélie composer was maybe the closest thing to being someone in the pop world making music with acoustic instruments. I was very inspired by his existence. And now there are more of us, and that's so inspiring. And there are some I like more than others, of course. But I'm not to everyone's taste, either. Just the fact that we have the chance to play in venues now that may have been closed to us in the past is a good thing. I'm really happy that there are people popping up who are daring to do that difficult thing, which is to try and reach a pop audience without lyrics or electronics. Well, some use electronics, like Jean-Michel Blais or Nils Frahm, who bring people in by incorporating electronics on stage into what they do. It's yet another strategy.
There are so many ways in, and I'm glad more people are doing that. Every time I see an instrumental performance with a VJ, I think "this isn't what I would do, but isn't this better than the tyranny of everyone saying 'but there's no lyrics' all the time." It's a refrain that many musicians have heard for a really long time.
MM: A new biopic about you called Shut Up and Play the Piano opened October 5th in Canada, and it seems to accurately portray how wacky your career has been so far. Can you talk a bit about the film and where this idea came from?
CG: Well, the director came to me with a pitch and wanted to tell my story. He said that when he saw me in Berlin I seemed so crazy, and yet I went through all of these evolutions while still remaining myself. And now I live in Cologne, leading a pretty mellow life in a mid-sized city. It's probably not dissimilar in vibe from Ottawa in size and feel, actually. I choose my moments when I have to be in larger metropolis cities. And so I told him that I have this giant archive and would like to have my story told, and was into it as long as the archive had a role in the movie. So things rolled along slowly, as projects of mine usually do. I like to build trust, having been the subject of two documentary films before with results I was not happy with.
I was able to design the process with him in a way that I made sure I wouldn't be disappointed, and we just took our time with it. Then we pulled the trigger, and I wasn't really involved after the planning stage. I let the game play itself according to the rules we set up, and I'm so happy with the results. It has far exceeded my expectations of what a documentary about my work and life could be. I'm thrilled about it. I've only seen it twice, and I gave notes on a rough cut early on to help make it a better film. There are some moments that aren't particularly flattering for me, they're not all to my glory. It's not a hagiography (or whatever the hell that word is), and by most accounts of people who've seen it, it's similar to what it's like to see me in concert. It goes by quickly, it is varied.
There are many emotions, some of which are touching and some of which are ridiculous. There are some moments that are even perhaps provocative, and slightly offensive or subversive. If I can combine all those things in a concert, then why shouldn't that be able to come across in film? In that way, I think it succeeded.