Class of 91 graduates with Eyes On Fire

When the number one goal is to have a good time, Ottawa indie rock band Class of 91 has sought out unique ways to showcase their band and new album Eyes on Fire during the pandemic.
What if you were presented with the opportunity to play music in a cave?
"Why would you not record something in a cave?" says Ian Ferguson, the lead singer and guitarist of Class of 91.
Through a family connection of guitarist Brock Sarault, the band made a YouTube video of their song "This is Magic" in the Bonnechere Caves in Eganville, Ont.
While they were there, they also filmed "TWO SONGS"—an acoustic version of two other songs recently posted to their YouTube channel on Feb. 6, 2020.
Ferguson says you still will hear elements of punk rock and acoustic in their sound, but the band has looked to their audience to share who or what they think their music sound like. The variety of bands include early R.E.M., Hüsker Dü, Bob Mould in Sugar, and Teenage Fanclub.
However, Class of 91 is not a '90s nostalgia band like the name would lead you to believe.
The band was formed organically in 2019 by a group of friends coming together and making some noise. Ferguson knew guitarist Sarault and bassist Fred Pantalone Jr. from the community. Ferguson and drummer Steve Clifford met in grade 10 and graduated high school the year of 1991—hence the band's name.
For Ferguson, it had been almost 20 years since he had played with other people.
"When you don't do something like that for a long time," Ferguson says. "And then you know the stresses and responsibilities of life get in there, and then you go back to doing something creative like that, it just recalibrates the brain in a completely different way that I don't think all four of us realized that we were missing."
The biggest hurdle as a group was working around everyone's work schedules, kids and day-to-day life.
After performing a few in-person shows as a band, they were asked if they had anything recorded. The answer was always no. "We wanted to make a bit of a commitment to fans to put something together," Ferguson says.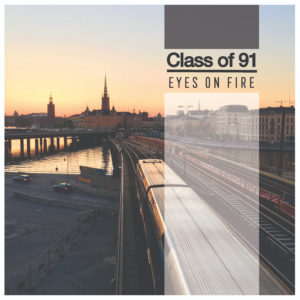 Class of 91 performed their last show in December of 2019 at Pressed sandwich bar and coffeehouse in Ottawa and started 2020 with the goal of putting an album together.
Before the province went into lockdown in March, the band finished the music tracks, leaving the lyrics left to be recorded. The project sat for the next few months at about three quarters completed.
After the initial chaos of the pandemic, Ferguson and Clifford found a way, through trial and error, for Ferguson to record the lyrics from his basement and send to Clifford in his home studio for feedback and approval. They aimed for one or two songs a week until they were all happy with the results.
The Eyes on Fire album was released on Oct. 2, 2020.
The album features eight songs about challenges of life in the human story, according to the press release. Themes covered include identity, connection, navigating a polarized world and experiencing loss.
Ferguson says inspiration for lyrics was pulled from a series of situations and observations that he stitched together as he wrote – with the exception of one.
The track "Couldn't This Be Right" was written about Ferguson's dad and reconciling his loss.
"I kind of wrote it not really thinking about what I was writing until I had it done and I went back over it. Like okay, I guess I needed to get that off my chest," Ferguson says.
In addition to getting to play in a cave, Class of 91 found an after-hours space at Anabia Cupcake, giving them the room to distance when the province-wide lockdown is not in effect. They also were also able to host an event on Dec. 19, 2020, called "FIVE SONGS (and Conversations)".
At this virtual event, they performed four songs from the Eyes on Fire album and a new song "Look How Far We've Come". During the Instagram Live, special guests, Sandy from Teenage Fiction and Dave Pierce from Ornaments, joined in the conversation about the impacts COVID-19 has had on the music scene.
One of the biggest losses for the music scene are some of the safe spaces for artists to perform.
As a band, they have felt the impact of losing venues such as Pressed, Cinqhole and Ask a Punk. "You know, these were all places that were real sort of cornerstones for the local music community," Ferguson says.
Class of 91 is continuing to create new music and has four songs in the works at various stages.
"The way that we look at this is, this is a gift," Ferguson says. "I mean, the ability to be able to do this and to be able to create something and the opportunities that we have had before COVID to play live…we're cautiously optimistic that that time will come again."