Art
Kimmortal Bringing DIY Art and Rap to Ottawa
Kim Villagante, better known as Kimmortal is a queer Filipinx visual artist and rapper from Vancouver known for her story like rhymes. She touches upon social and racial injustices, discrimination, and representation. Valuing education, inclusiveness, and liberation, Kimmortal coneys the messages in creative and storybook ways with captivating visuals. Fusing visual art with music, she uses it as an aid to decolonize, teach, and heal.
Kimmortal has played the Queer Women of Colour Festival, Filipino Arts Festival, Junofest, and SXSW. She's currently working on an album that will be released in August.
We caught up with Kim about her music right before her upcoming show on the 13th of June at The Origin Arts & Community Centre, more info here.
---
Ev: DIY Spring is hosting one of your events, seeing as it's an intersectional inclusive festival, how did you feel in regards to them hosting it?
Kimmortal: DIY Spring has been consistently supportive and truly DIY which means grassroots and well connected to artists in authentic ways. Bridging the possibilities artists dream up to reach a lot of the QTIBIPOC community in Ottawa, I believe it's so essential for me to do my thing when I have trustworthy bookers and show producers around me. I'm very grateful for DIY Spring.
Ev: Yes of course! So I heard you studied visual arts and art history, how do you think that knowledge has affected your art or helped it develop?
Kimmortal: I'm inspired by the way I am a visual artist in the world of music. In art school I studied about performance artists like Dana Claxton, Peaches, Coco Fusco, while also listening to poets and emcees like Blue Scholars, Ian Kamau, Gina Loring, Climbing Poetree, and Invincible. My art is influenced by various artists in different mediums. I am working to tap into the same freedom I get when I'm doodling in my music. How I'm planning to do this is to time myself for like 2 hours max to produce tracks, and then write lyrics and record them in another hour.. 1..2..3… And then release the track online. Spontaneous art making is really good for me.
Ev: That being said, and watching your music videos and knowing that you're a visual artist as well it makes me wonder if you built your own set for "I'M BLUE" and if you animated the video for "Brushing by Heaven's Shoulder"?
Kimmortal: I animated the entire video for "Brushing by Heaven's Shoulder." I'm so proud of that thing. That film came about when I was sick for a good 2 weeks and was bored at home so I decided to film a music video for this song in my living room. It started off as an experiment. The white background is literally a white canvas that I nailed into the wall and filmed myself in front of. The animations are made up of drawings from my sketchbook that I taught myself to animate in After Effects. It was a lot of hours and I lost a lot of files. I wanted to throw my computer against the wall countless times but it turned out swell and has my black and white aesthetic. "I'm Blue" was directed by Entertainment Forever. All the art on the walls are my paintings and the book featured in it is my Visual Arts grad thesis project! The symbols on the trees are my work replicated by the Entertainment Forever team. I am ecstatic when I get my DIY on and pair my art with my music.
Ev: As a queer artist of colour, how did you find the journey to getting to where you are today?
Kimmortal: It's hard to find other queer artists of colour "out there". A lot of my friends who are local are queer and/or bipoc and so it's been a very local journey if that makes sense. I usually meet other queer artists of colour through underground lofi shows I've been booked at abroad. I love being a part of punk, hip-hop, experimental, and DIY underground shit because I think that's where I can cultivate the same intimate feel I get when I'm creating.
Ev: Well that's certainly a real positive outlook. You have a clear and unique voice for what you do and you tell stories through your art. How did you come about finding that voice?
Kimmortal: I really value education for liberation because it's where I have found myself and my community and the root to a lot of pain experienced individually and collectively. I am nurtured in conversation and my wisdom is from my ancestors and the people around me. I'm still finding my voice but I try to ground it in honesty. A friend and emcee recently told me that the best way I can stay authentic is by speaking from my experience and from what I know. As I get to know myself deeper, my voice inevitably becomes stronger. I am raised by the bold voices of mainly fierce Filipinx femmes in my life and QTIBIPOC poets, crafters and emcees. I am informed by my friends who are my extended community, who are agitators, healers, teachers, and outspoken voices.
Ev: You clearly address dire issues in our society that seem to be brushed aside, what made you decide to rap and sing about them instead of following the same path others do? Do you think your identity plays into that?
Kimmortal: The late Filipino Canadian youth alliance based in Vancouver was one of the first spaces I witnessed and got connected to radical brown and black emcees and poets. Dagamuffin, a friend, and activist who passed away was an outspoken rapper who was one of many Filipino activists who pushed me to keep repping. I have experienced what it feels like to see someone represent on stage and feel reflected. I want that to continue in this art so that we all feel activated to create. I see how art is not just a tool for activating and educating people, but it is also a wellspring for us to get the energy to keep going.
Ev: That being said, what do you see as the biggest and most important issue you've addressed through your music and art and why do you think it's the most important issue you've addressed?
Kimmortal: I think all the issues are really connected. I can't talk about my relationship to being Filipino without talking about my relationship to being queer and fluid and an artist, etc… I think the power is in the sum of our layers. Sometimes shows are geared towards one aspect of our identities, like a queer show, or like a women of colour show… for the first time, I get to perform on a stage on June 16 that will be featuring Filipinx nonbinary artists based on unceceeded coast Salish territory, aka Vancouver, and put on by Pinoy Pride in Vancouver.
Check out Kimmortal as they headline a DIY Spring show this Wednesday June 13 at The Origin Arts & Community Centre featuring King Kimbit and Throne Seekers, more info here.
New Video: "Stuck in My Head" by Dead Weights
Ottawa's very own punk rockers, Dead Weights, recently released a video for their song "Stuck in My Head" off their sophomore album Mountain Arresting, which they released earlier this summer.
Lyric videos have been immensely popular since the launch of YouTube. Often they are made by fans and simply feature the lyrics scrolling across the screen almost like karaoke, some going a little further to contain images along with the words. Dead Weights just took it to a new level with their video for "Stuck in My Head." The video does feature the lyrics that are written on a black board in what looks like a classroom.
What makes it truly special is that the band invited several talented local artists and friends with very different style to draw two or three at a time on the blackboard really elevating the lyrics. The artists are: Jordan Seal, Kendall Valerio, Vance McBride, Cory Levesque, Yafa Jarrar, Pascale Arpin, Kieran McKinnon, and Liam Sheehan. Band members also jump in from time to time. To ensure they can fit all of this within the time constraints of their song, they speed up the video which makes the drawing unfold like magic before our eyes… drawing with chalk in hyper-speed!
The video peaks while the band sings the refrain "Try and keep an open heart" over and over at the end and you have eight people drawing at the same time creating one big beautiful mural with a great message.
Check out the video fro "Stuck in My Head" below, and if you like what you see and hear, buy and/or stream the entire album below and check them out live this Friday, September 29th at LIVE on Elgin for their album release party and October 17th when they open for The Nils and Steve Adamyk Band at House of Targ.
Photo Evidence of Where The Songwriter Writes by Jamie Kronick @ OAG Annex
On Saturday Aug. 30, the OAG Annex at City Hall opened a photo exhibit by Jamie Kronick, a local musician and photographer. As a drummer, he's wound a path throughout Ottawa alongside several other artists including Laurent Bourque, Her Harbour & Goodbox Assembly. As a photographer, he's shot his ass off, as any good photographer should, and taken the time to compose and document along the way. It's a through a combination of his two designations that Jamie Kronick brought the exhibit The Songwriter to life.
In 2010, the series began as his graduating series at the School of Photographic Arts (SPAO) where Kronick graduated in 2011. The collection on display now showcases 20 of these portraits but the total number is actually 27. Kronick is a photographer who understands his opportunities as they come as well as his subject. The singer-songwriter is a type of artist well know for public expression but less celebrated for creative introspection. There are thousands of moments that lead to the live show or the recorded album to which we are not privy. Being able to convince 27 of this species to be relaxed in these most intimate moments, which they might prize more than most, is a feat.
Songwriters create their work in the comfort of their bedrooms, living rooms, offices or studios, each unique from one to the next. These spaces function as a bridge between an idea and its materialization into music. This series acts as a documentation not only of persons, but also as a visualization of the relationships that take place among person, place and process. – Jamie Kronick
We're invited to see The Songwriter in his or her creative cocoon as documented by Kronick from now until Oct. 12. The mix is both of emerging and well-known musicians, each in a room that fits her or his expression of distance or intensity. This Thursday, Sept. 4, from 5:30 to 8 p.m. join Jamie Kronick, and potentially several of his subjects, for the vernissage. Check out the video that Herd Magazine put together below.
Gallery: Ottawa Showbox presents Steve Adamyk Band, Finderskeepers, & Robots!Everywhere!! vs. Cory Levesque @ Babylon (Apr. 17. 2014)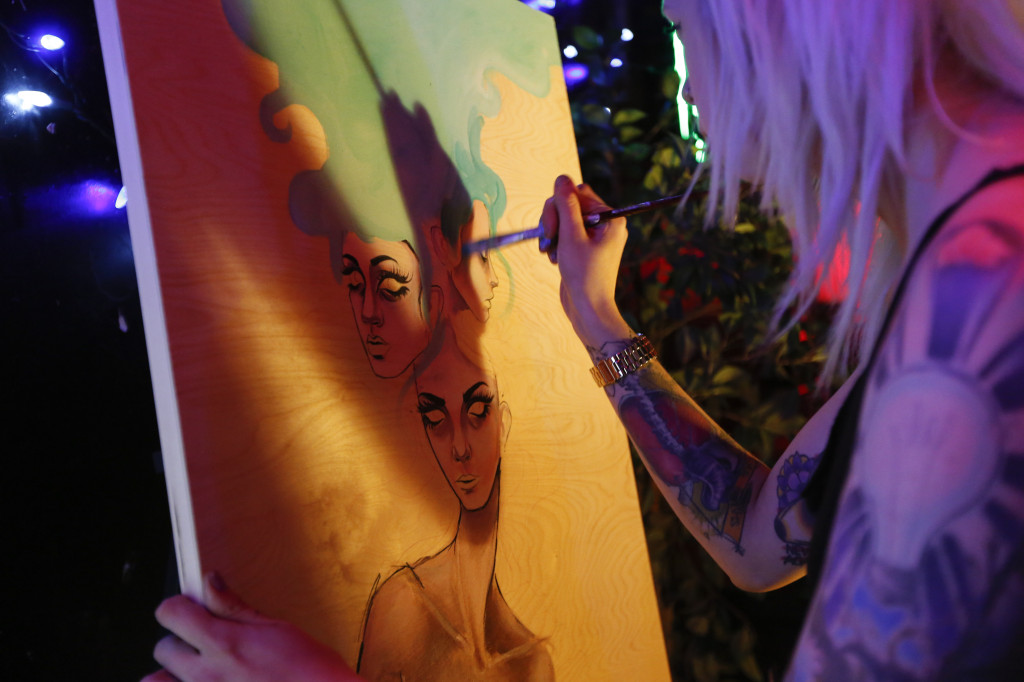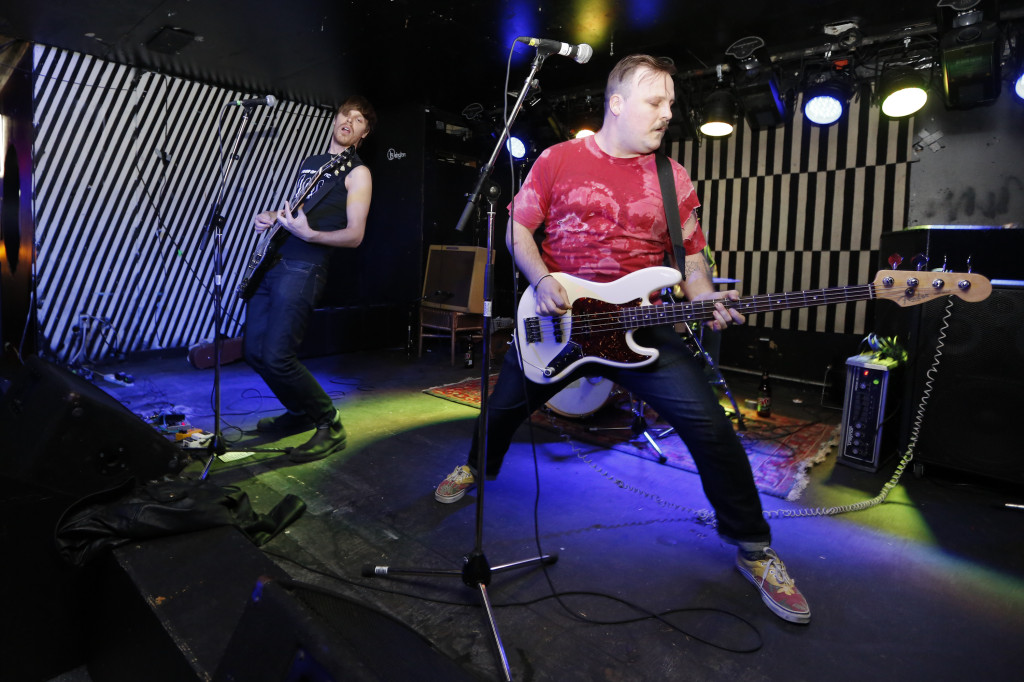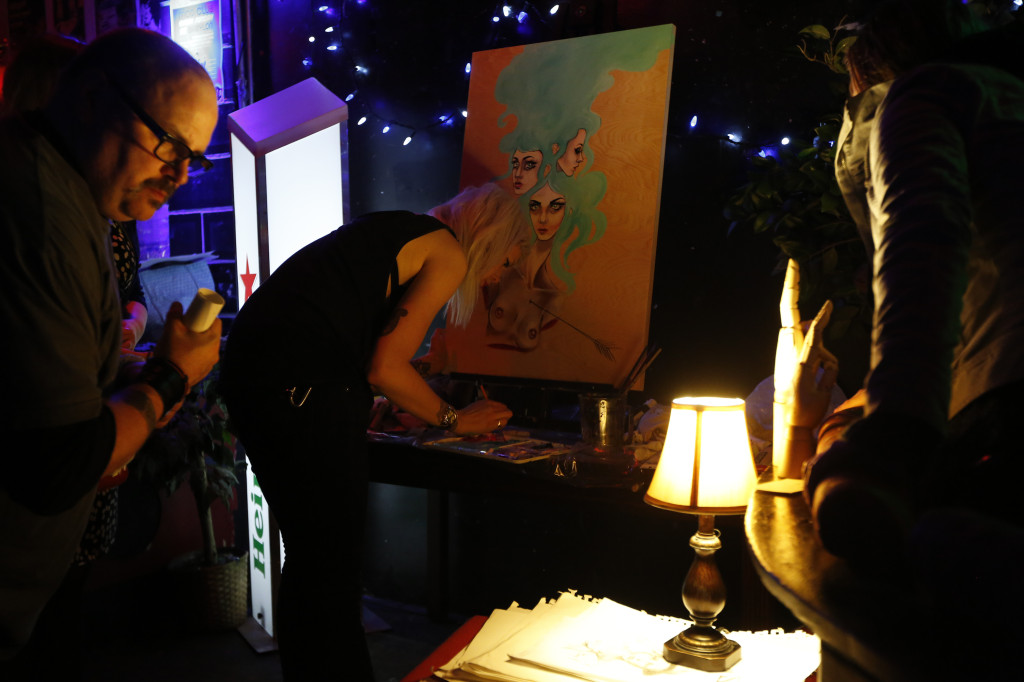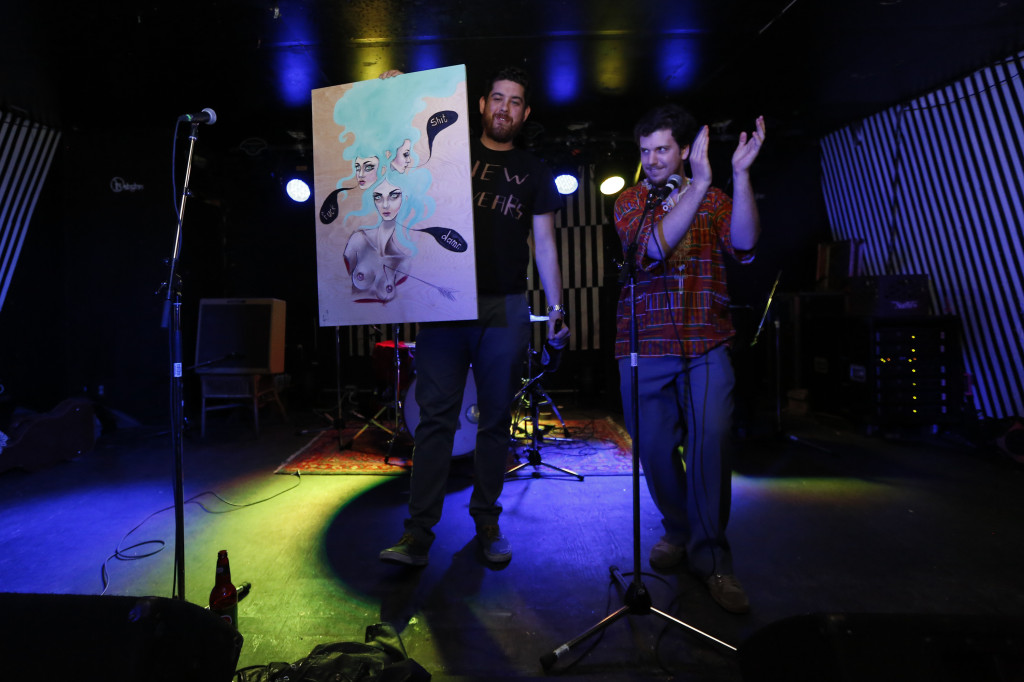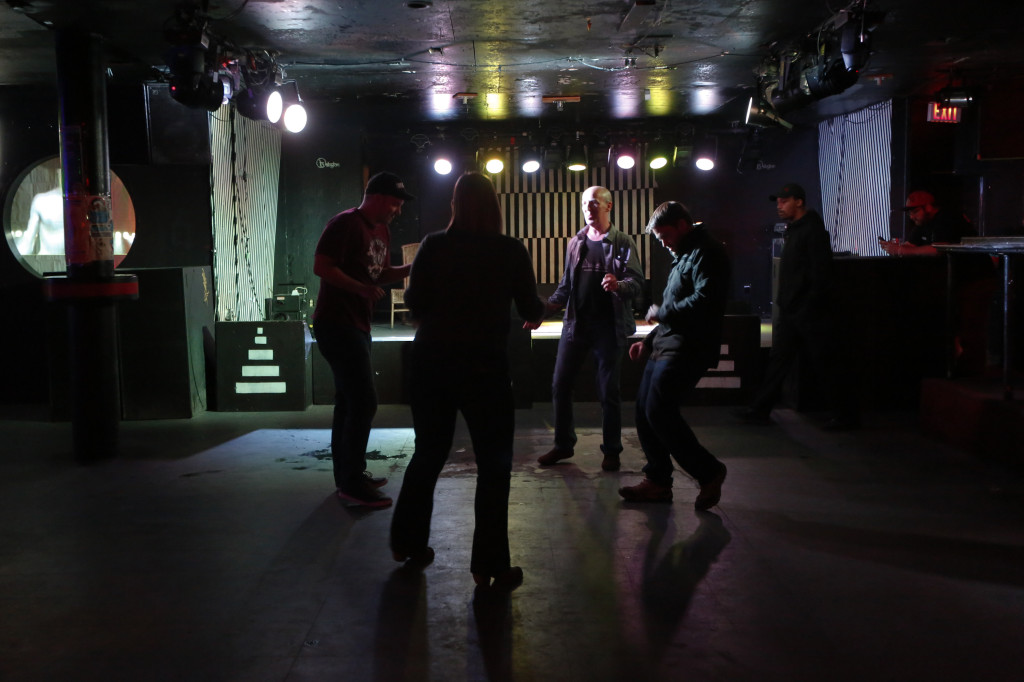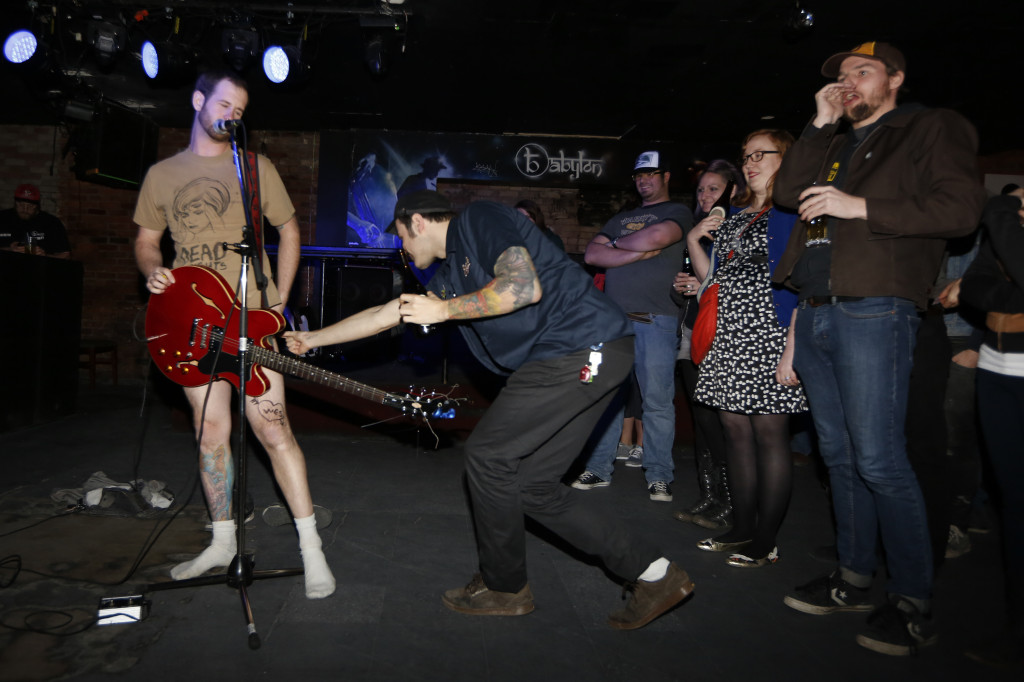 Crooks: CHEO art show fundraiser w/ Kaylie Seaver & The Haig at Fall Down Gallery
I was given the personal assurance of the hostess that this event would have nothing to do with thievery. The theme of the evening was new art, crooked scoliosis & what can be done for those in need. Fall Down was a perfect venue for the fundraising art show, with just the right amount of shelves and hooks to showcase art for sale. The multicoloured portraits of white-haired women were rife with Wiccan symbols and sometimes violent wounds. I thought the centerpiece of the show was a green-skinned girl with a vertical scar from her nape to her pelvis, much like Kaylie Seaver's actual backbone.
You see, this event has been in the works for a while now, ever since Kaylie's corrective spinal surgery in 2005 at the Children's Hospital of Eastern Ontario really. Scoliosis is a debilitating curvature of the spine that can be agonizing if not treated early. Although modern corrective surgery can heal many cases in young folk, common practice was once only back braces & occupational therapists. Some, like Kaylie's older sister, are helped when a back brace keeps the curvature from worsening. Kaylie was not so lucky and needed CHEO to fuse her spine to metal implants to correct the curve. Her ineffective back brace, once a source of embarrassment & discomfort, was hanging from the rafters of the gallery when we walked in the door.
To say Kaylie Seaver is talented is an understatement. This lady started local band The Epilogue with Jude Beacom and Krys Blaney in 2006, and during that time she also performed as Deus Ex Machina as a solo act. She only has a few videos of her emotive music online… She's been a hands-on artist since she could hold a brush and just started her apprenticeship at The Ink Spot on Bank Street. I was quick to buy a rustic tambourine painted with animal skull and witchcraft tokens for a place of honour on my walls. Eric immediately purchased a print of a woman with "613" imprinted on her forehead, and "Support Local" on her blouse. I knew these things would have been snagged up quickly. Indeed, all prints flew off the shelves and the donations jar filled up quickly.
Thank you to Ming Wu who lent me an LCBO receipt for Key Lime Cherry Palm Bay on which I could scribble some notes between the live painting and the music sets.
The main musical talent came from Ottawa's two-year old, The Haig. Dude, it's Chris Davidson on drums, Treawna Harvey on organ, Mean Dorris on guitar & Richard Michels on bass. Two instruments that immediately caught my eye among their arsenal were the Ibenez bass, once purple, that was sanded down and carved beautifully by Richard's mother, and the Magnus Electric Chord Organ, once Richard's grandfather's and now at Treawna's fingertips. You'd hardly notice it if you didn't go snooping around the sound stage, but the little beige beauty is a prize.
Eric described them as "delightfully chill." Karine said they sounded like the band you hear playing in your cool neighbour's garage. Lines from their track "Shredded Wheat" like "there's a canned food drive at my school, is there a canned food drive at your school?" and song titles like "Lothar Smash" and "Starfruit (Galore)" tickled my penmanship. Richard & Dean piece songs together and the whole band then brings each tune into true being by just playing 'em. What struck me most about their performance was lead guitarist Dean's style of playing, which I will not attempt to describe… I'll just say his fingers did not exactly fly across the guitar but keeping track of them was difficult. His voice accompanied by Treawna's make a fine harmony on their recorded stuff but unfortunately the mics were being difficult most of the evening.
The sound was still good enough for Kaylie's set in the middle of The Haig's performance, which had most of the audience freeze at the sound of her voice. With tears in her eyes, her heartfelt thank you for the support and funds raised came quietly but the applause answered uproariously. I suspect the warm feeling I had was shared by many. When she does play now, it's as Kaylie C. Seaver, and if it was up to me there'd be more of her shows. All in all, a very fine evening saw 50 per cent of all funds raised go to CHEO and we were even treated to watch Kaylie paint. Canvas is fine but wooden tabletops are a wonderful thing to colour. And so are long legs for that matter!
I (one of many) am grateful to CHEO for helping scoliotic youth and particularly Miss Seaver. Without her spinal fusion, her restricted movement and unsafe pressure to her heart might have stunted more than her body. The indignity of feeling crooked must be enough for a child to wish his or her spine could be amputated… That's when the Children's Hospital steps in and tells the kid they are going to heal them, actually upgrade them with metal & mechanisms! And we all know what children choose when given the choice between becoming a cyborg and becoming spineless. They choose to become the opposite of spineless—undaunted, bold souls.
DayDreams Are Mine To Keep: A Tribute To Karl Goertzen
Sometimes music is about more than simply entertaining, it is about unifying people for a good cause. It is about working together as a community to help out and give back through the arts.
That is what it was all about Thursday night at DayDreams Are Mine To Keep held at Burgers on Main. The event which gathered local musicians and artists was a tribute to Karl Goertzen, a local artist who recently passed away from cancer.  Karl had battled with mental illness for most of his life, so all of the proceeds of the show and a portion of the art sales went to the Partners in Art Initiative, a very good program at the Royal Ottawa Hospital.
It was so inspiring to see so many people show up for the fundraiser. The walls were covered with awesome local art, including a few pieces by Karl himself, and the stage decorated with four different female singer songwriters from Ottawa.
"SPACE BOY" by Karl Goertzen
First up was Andrea Warren. Her set had everything from a great cover of Etta James' "I'd Rather Go Blind," to having someone from the crowd play saxophone with their mouth and hands (no instrument). Julia Churchill then joined her on stage and they played an original followed by "Jolene" by Dolly Parton.
Julia took the stage next for a quick three song set. Julia studied jazz singing and asked us all to snap our fingers along as she opened with Sarah Vaughan's "All of Me." I really liked her second song about her first crush, called "Grade Six."
Up next was Kelly Sloan who amused the crowd with her cute conversation between songs, as well as her great music. She mentioned that every day she challenges herself to not look like a Dr. Seus character… and succeeds 50% of the time. Well I am sure Dr. Seus would love to have that voice at his disposal. I really enjoyed her song "Hurricane." But the highlight of her set for me was when the classically trained singer sang one of Puccini's opera while playing guitar.  The crowd and myself melted. Her mother would have been proud.
The last scheduled act was Keturah Johnson. People who read this blog know how much I like her music and can't get enough of her powerful voice. Keturah knew Karl personally and it was quite the emotional night for her.  You could see her wiping away tears after some of her darker songs.  But she powered through playing a set mixed with originals and covers. The covers included, Joni Mitchells' "You Turn Me On, I'm a Radio" a slowed down version of Andrew Birds' "Glass Figurine" and the always awesome "Hells Bells" by Cary Ann Hearst. Keturah played,"Black Eyed Creep,"  a powerful and hypnotizing song, which she explained was about this winter when she was "battling demons, often known as unpredictable emotions with absolutely no regard for reason." Here is a link to her performing ''Black Eyed Creep," back in march. She even found the time to play on of my favourites, "Wrecking Ball Daughter."
As mentioned, the event featured a lot of very cool local artwork. The artists included: Diana Kline, Sarah Lickley, Andrea Warren (yes she performed and displayed), Ben van D, Robert James and Pat Spencer.
Nights like these make me love music and Ottawa just that much more! I would like to commend everyone who participated in this wonderful event and as always I encourage people  to support local, and that does not just mean music but to causes that touch close to home.