Ottawa Explosion Weekend Day 4: A Marathon of Awesome Music!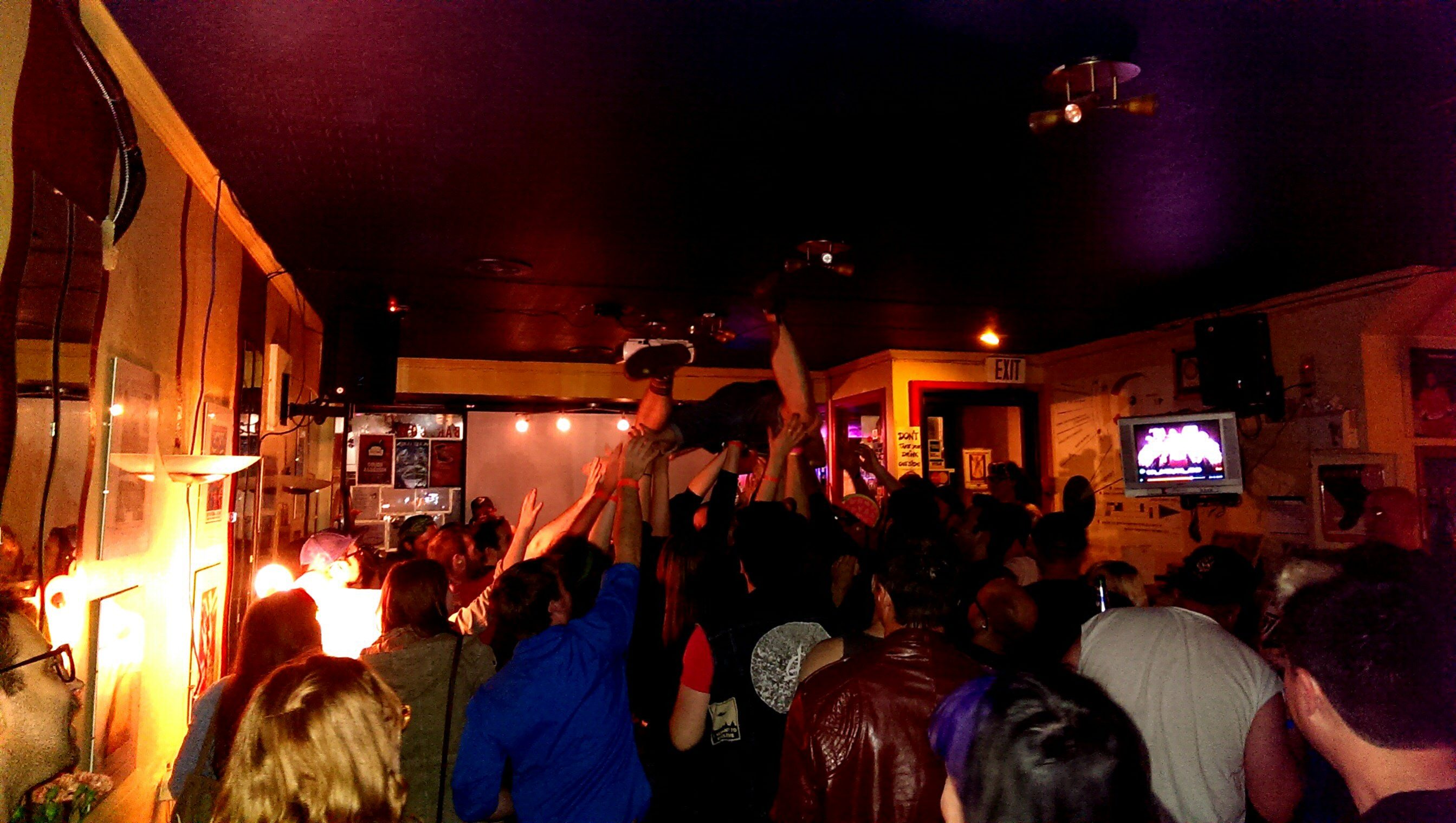 The Saturday of Ottawa Explosion Weekend is an annual marathon of amazing music. The music starts at 12:30 and goes past 2 a.m. I am no runner, but if all marathons were this awesome I would certain take it up.
By the time I made it down, the all-female trio Old and Weird from Halifax were setting up. They had a very interesting sound and what was really cool was how often they switched instruments.  Each member played a few songs on the drums throughout the set, which I had never seen before. So they did in fact "Show Me Something" I had never seen before. They also performed a pretty cool song about Kurt Cobain (video above).
Next up was Ottawa's Grime Kings. Fresh off their Stanley cup victory, ok sorry that is a very lame joke. If you were ever concerned about the future of music in the capital, look no further for hope than this band.  They are making strange, progressive and experimental music and I am not sure if they are all even of legal drinking age yet. They are somewhat disorganized at times and have a hard time with tuning (self-proclaimed) but I really like what they are doing musically. Oh and boys, you don't just tease a crowd and say you are going to play a John Mayer cover and not deliver, you owe us. Hahaha.
One of the many new discoveries of the festival for myself was the most excellent Idle Bloom from Nashville. They have a psych-pop sound with a female lead and two female backing vocals which all work tremendously well together. They opened with the very cute and heartfelt song "Day You Were Born," and played a great set from there. I am very glad they made the long trip to Ottawa.
It was now time for the Dirt cult records showcase. Kicking it off was Feral Trash from Moncton, New Brunswick. The lead singer/guitarist seemed to be fighting through an illness as he had to look away after almost every verse or chorus to cough, but it didn't hold them back. They played fast catchy music with no big filler between songs. There is no better example of this than their great track "Dead Weight" (in video above). It is so good and such a sweet sing-a-long song.
As Monty Python would say, now for something completely different. Noisy Ottawa rock duo Big Dick followed up. Like or hate their name, the band plays a perfect mix of heavy music with catchy moments excellent for crowd participation. I am a sucker for their track "Medic." Drummer, Dave Secretary, introduced a song by saying "This one is new so it's going to be awful." The song actually kicked ass and I am now anticipating another amazing release by the duo. Favourite moment of the set was when they hit the first chord of the very rocking "Colours" and Davey's face lit up and he quickly joined them on vocals.
One of the things about Ottawa Explosion is you discover so many amazing bands which is awesome, but you also run the risk of falling in love with a band that may never return to Ottawa. Sometimes though you discover a band and they blow you away so much you make the effort to never miss them when they swing by. For me that is Needles//Pins, who absolutely killed it last year. They played a great mix of new and old, songs like "Best Friend," "Pulse," "I Don't Mind" and "I Heart Your Drugs" which all blew me away. But it was also great to hear their new songs, which fit in great with their set. Trust me, see them, buy their stuff, just don't miss out on Needles//Pins you will not be disappointed; they are one of Canada's finest. Thank you Vancouver for giving us such a great talent.
Up next was the explosion of the festival. With the band running late and the crowd looking restless Emmanuel took the mic to announce the unfortunate news, "I am sorry to tell everyone New Swears won't be playing as they were rushed to the hospital. They tried to repel down the building to the show and fell." As the crowd laughed, he assured us "They are all dead it's not funny." But then thanks to a Ottawa Explosion Weekend miracle the boys covered in bandages, dirt and wearing hospital garbs crawled onto the stage. The always crazy, destructive, costumed, high energy local garage punk band really got the party going. As they began their set, organizers started throwing inflatable beach toys (including a shark, mats, beach balls, flamingos, etc) into the crowd. The place was whipped into a frenzy of dancing, singing, crowd surfing and moshing. New Swears gave us a taste of their new album set to be released later this summer, playing a couple of tracks off it. They also found time to play all the favourites including, "Two Darts," "See You In Hull," and "Paradise." With time running out on their set and probably needing to be hooked back up to the IV, they closed with a rambunctious cover of Bob Segar's classic "Old Time Rock N' Roll."
After New Swears it was time for the Dirtnap Records Showcase.  My buddy Matias covered the hoyl cow knock my socks off showcase, which included Voicemail, Sonic Avenues, Steve Adamyk Band and The Marked Men, read it here. I then made my way to Avant-Garde for some more great bands. First up was locals Dead Weights. Their set was such a party. A smaller venue and so many of my friends packed in singing every word. We also got to see the first, and probably last, crowd surfer in the bar's history during the line "I'll pick you up" from their song "Fall Down," thanks JS. The boys played a great set with many of my favourites from their new album Dead Ends and Closed Doors, such as "Barely Breath" and "Friends First." It was also sweet to see the guys from Montreal's Panic Attack join them for the last song.
Joining Dead Weights on stage was the perfect segue, as Panic Attack was up next. This was the case of another great band that I missed at Pouzza and got to see at explosion, it's nice how that works out. They are freaking great and played a really solid set. Their 90's era punk rock sound had me feeling nostalgic and it was a lot of fun.
Next was one of the bands that traveled the furthest for the festival, Latex Squad all the way from Hamburg,Germany. The lead singer/bassist was so very happy to be here. "I can't believe I'm actually in Canada." Funny enough they then played a song with the chorus "I hate everything about you." They later joked that they were the "Ramstein of northern Germany."  They played really fun 70's style garage punk. I really liked their track "Cyborg of Love." It was also very cool to see the drummer sporting the new White Wires shirt.
I ducked into Ritual next door to catch some of METZ and sadly missed Dagger Eyes, next time. Closing down Avant Guarde was Asile. Their set was heavy, fast, hard, thrashy and in French, not the regular end of night act for the bar. I loved it.
As the set ended I quickly hustled over back to SAW to catch the end of the Crusades set. The band is packed with heavy hitters in the Ottawa punk scene, including festival organizer Emmanuel on guitar and lead singer/guitarist of The Creeps, Skottie on bass.  I only got to see a few songs, but funny enough the lead singer of Panic Attack joined them on stage for a song, making his third appearance of the night. Busy guy.
Well there you have it, a lot of words about an absolutely amazing day! Ottawa Explosion Weekend is just the best time of the year.