RBC Bluesfest Day 3: Kalle Mattson + Blakdenim + The Digs + Black Joe Lewis + Matt Andersen & the Mellotones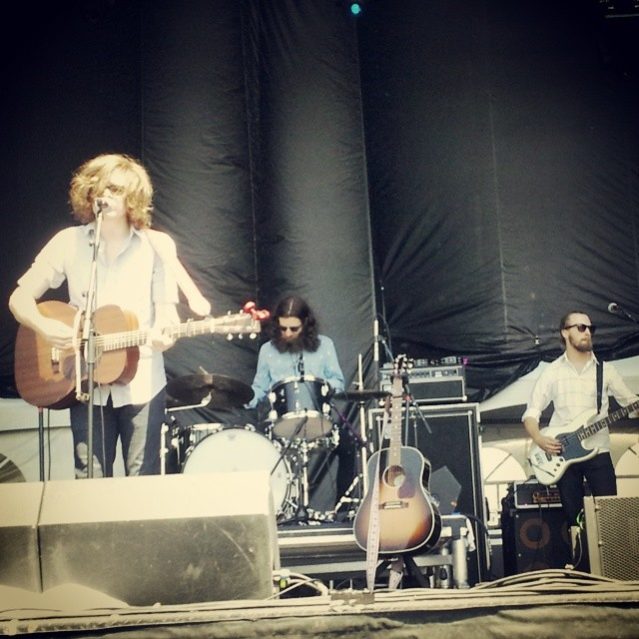 The longest day of Bluesfest 2014 so far began with hardly a cloud in the sky, and the sun beating down on many soon-to-be-burnt-to-a-crisp bodies. I wrote about this last year, but I was a little bummed to see that more people didn't come out to see some of the local artists earlier in the day – especially since it was sold out for Lady Gaga later on. However, a nice little crowd gathered for Kalle Mattson in the early afternoon at the Claridge Homes Stage.
Kalle Mattson has had a great year so far – he released an acclaimed album that garnered a 7.6/10 on Pitchfork (not an easy feat!), a few European tours, a nomination for the Polaris Music Prize long list, article written by yours truly for Mixtape Magazine, and now playing the big stage at Bluesfest. He played many songs from his new record Someday, the Moon Will Be Gold such as "An American Dream," as well as my personal favourite, "Darkness." The depth of his most recent work clearly translates live, as his vocals go from whisper to crescendo with his band staying strong behind him. Kyle Woods' drumming keeps the emotional expulsion in time, but also adds to softer and often heart-clenching moments. The performance resonated amongst those listening intently, and although it wasn't as filled with people as we would have liked, the audience showed their support and were thoroughly entertained throughout.
I missed the last bit of Kalle's set to check out Blakdenim, a relatively new and exciting hip hop/soul/jazz group here in Ottawa. This nine-piece outfit combines impressive instrumental arrangements, vocal hooks, technically strong rapping, a DJ on the decks, a brass section, percussionists, and backing vocals to give a full and soulful sound to their music. I was not too familiar with their music before this set since I had never caught them live, but I'd heard a lot of great things about this band over the last year. They are a must-see band here in Ottawa, as they break down barriers not only with their genre-spanning style, but with politically charged and socially conscious lyricism. The performance was briefly halted when some lady working for the festival came on stage right before their last song, took one of the stage mics and asked someone with a certain licence place number to come see her immediately. The MC, Precise Kenny Creole, then grabbed the mic and said, "You also have to buy our album too, whoever you are." It definitely relieved the awkwardness of her interrupting the set. They played a lot of really great songs including a dope funky cover of "So Fresh, So Clean" by Outkast, but my favourite track was "Horticulture" off their new album VANGARD(EN) which you can listen to here.
I also got to check out a bit of The Digs, who are a "neo-soul" group who have a weekly funk night at The Drake in Toronto. Although I didn't see much of their set, it was obvious that everyone on stage loved playing music together. They did their own interpretation of The White Stripes' "Seven Nation Army" which caught many people's attention, and it's the reason I was pulled into their tractor beam while walking by. Kids and moms were dancing their hearts out up until the minute the band left the stage.
One of the acts I was looking forward to most today was Black Joe Lewis, who played at the Bell Stage. Formerly known as Black Joe Lewis & The Honeybears, our man Joe decided to lose the adorable name for his backing band and deliver that in-your-face, bluesy garage rock sound on his new record Electric Slave. His music at times reminds me of some gritty and raw combination of early Black Keys and White Stripes. While still a newcomer to his music, I've really gotten into this latest album of his in the last little while. Yup, it's the kind of album that can only be listened to at a grossly inappropriate volume. My favourite song is "Skulldiggin," which is all-out distorted, raw blues rock. Yes, there were a lot of elaborately dressed Lady Gaga fanatics bored out of their minds listening to iPods during his set, but a few of them were bobbing their heads. Not bad for a group of hardcore Gaga fans who showed up four hours before her set to stake their claim to a close spot…
Last for me, but not least, was Matt Andersen & the Mellotones. Once again, I had seen a few videos of this guy playing solo but had never familiarized myself with his music very much. I was pretty impressed by what I had seen in the past, but always just assumed that he was just a viral video craze not unlike the story of Gotye – a talented artist who was bound to be estranged by the very people to whom he owed his fame. However, I was seriously mistaken.
This hefty fellow from New Brunswick absolutely stole the show (at least until Lady Gaga wore an octopus dress). While his version of blues rock is a little too clean for my taste, there is no debating that this man belongs on stage. With nine guys behind him backing him up, his booming voice filled Lebreton Flats and definitely caught people's attention as they began to flood in for latter acts of the day. I really enjoyed his song "My Last Day," which is inspired by musicians who have passed away and is about what he would do if it were his last day on earth. But the absolute high point for me was his version of Joe Cocker's version of The Beatles' "With A Little Help From My Friends." Let's just say it was the closest I'll probably ever come to experiencing Woodstock '69, as Matt harnessed the spirit of Cocker's groundbreaking performance.
Although I was disappointed that I had to miss Andrew Bird, it was another day of discovering great new music and enjoying the summer sun at one of the biggest weekends of the year in Ottawa.