Throwback Thursday: MxPx at the Civic Center in 2001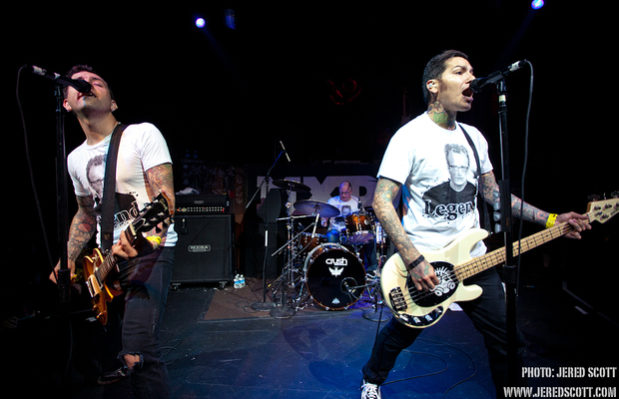 Today we throwback to when I was 13 and loved me some pop punk.
It was the summer of 2001, the summer before I entered high school. My parents got me tickets to see one of my favourite bands at the time, MxPx and some other bands at the civic center. I could not have been more excited.
The night began with supper at Mexicali Rosa's on Bank Street (R.I.P.). My father and I walked in and it was empty, except for the all three members of MxPx and their girlfriends!!!! I was so giddy I could barely handle it. We ordered and ate, all the while I kept looking over to see what they were doing and eavesdropping on their conversation. Finally I gathered the courage to go talk to them, with a lot of help from my dad. We chatted briefly, got my ticket autographed and then I asked if they would play my favorite song, "Doing Time." The song is a teen anthem comparing high school to jail, perfect for my angst-ridden 13-year-old self.
The waiting game began as I had to sit through (well stand through) two bands I had never heard of and listen to Willie Nelson between bands (it was the On the Road Again tour). The opening acts were Ultimate Fakebook, a three-piece power pop band from Manhattan, KS and this little band from Maryland you may have heard of led by two brothers Joel and Benji, Good Charlotte. Ultimate Fakebook had really catchy hooks, cool vocals and impressed me. In writing this piece I just found out they reunited, re-launched their website, recorded new material and still play every once and a while. The other band, Good Charlotte, who later went on to major radio success, were super boring, felt fake and disappointed me, even as a 13 year-old which was their target demographic I believe.
A few more Willie Nelson songs and it was time for MxPx (which stands for Magnified Plaid). Their set was killer, playing all the songs I loved and had me bopping up and down and singing. Near the mid-way point of the set lead singer and bass player, Mike Herrera, said, "this one is for Eric." When they started playing "Doing Time" I was on cloud nine just melting and screaming the lyrics at the top of my lungs. It was one of the greatest moments in my young concert-going life. The rest of the set was great and just when I thought it couldn't possibly get close to the high of hearing them dedicate a song to me, they covered "Should I Stay or Should I Go" by The Clash during the encore to even get my dad singing.
It was a magical night of pop-punk and the perfect story to brag about as I began high school. Thank you MxPx.