The Creeps 15th Anniversary Show with Steve Adamyk Band & Feral Trash @ House of TARG
A week before Halloween, The Creeps descended upon House of Targ with their ghoulish and ghastly pop-punk for their crystal anniversary.
Ottawa's The Creeps played an outstanding and ruckus set Friday night to a sold out crowd at House of Targ. The band played songs from their entire catalogue much to the rejoicing of the packed house. The show was a celebration of 15 years as a band, as well as an album release party for their new kick ass album Eulogies. They got things going early with a really cool moment as the lead singer of Feral Trash, Eric Neurotic, rushed on stage and took the mic to lead them through "Strangle This Town" from 2009 (video here). The Creeps quickly shifted back to their new stuff playing the first two songs off of Eulogies, "Everything Makes Sense" and "Follow My Eyes." As the set progressed, the boys were brought a round of shots. Lead singer Skottie Lobotomy piped up with a grin on his face "Thanks! Just what we need when trying to play a double set."
The Creeps delivered an absolutely perfect set list bouncing back and forth from new and old. One of my favourite moments of the set was going from "In The Graveyard (They're Coming to Get Me)" from 2003 then right into "Cancer" off of Eulogies, which was clearly a crowd favourite as they surged to the front of the stage to sing. Before "In The Graveyard," Skottie said, "Hope you remember the words to this one, we've been practicing them hard… like two times." After the song the bass player, Ian Evans, rocking a smile from ear to ear said, "Oh, you guys remember."
After a ton more songs new and old it was time for The Creeps to call it a night, but the sweaty and animated crowd was having none of that. We shouted and chanted until they returned. Their encore kicked off with another round of shots and an announcement that this was their first encore in fifteen years. They treated the crowd by digging deep back to 2003 again and played "A Bomb" and then skipped ahead nearly a decade to finish with "Car Crash." What an incredible set all around. Fifteen years is quite the accomplishment for any band to survive, but what is so great about The Creeps is that they aren't merely surviving, they are getting better. Their old material is great, and was a lot of fun to see live, but Eulogies is such an excellent step forward for the band and has many of us really excited again about The Creeps.
Steve Adamyk Band were charged with setting the stage for The Creeps and following a great set by Feral Trash. Steve was on fire with the one-liners during the set. First was, "15 years eh, I can't wait for The Creeps to be able to drink." The band was performing as a three-piece which meant Davey Quesnelle was playing bass instead of guitar. As always, they delivered a great set full of awesome songs. During the most excellent song "Election Day," which reminds me of Million Dollar Marxists, Eric Neurotic made his way to the front of the stage to sing along at the top of his lungs. Pretty darn cool after playing a full set of his own. They also played some of my favourites including "Catacomb," "Careless," "Forced Fed" and "Fight for the USA." Getting back to his one-liners, Steve said, "We are about to close with "Better Off," which is what you'll all be when The Creeps start playing."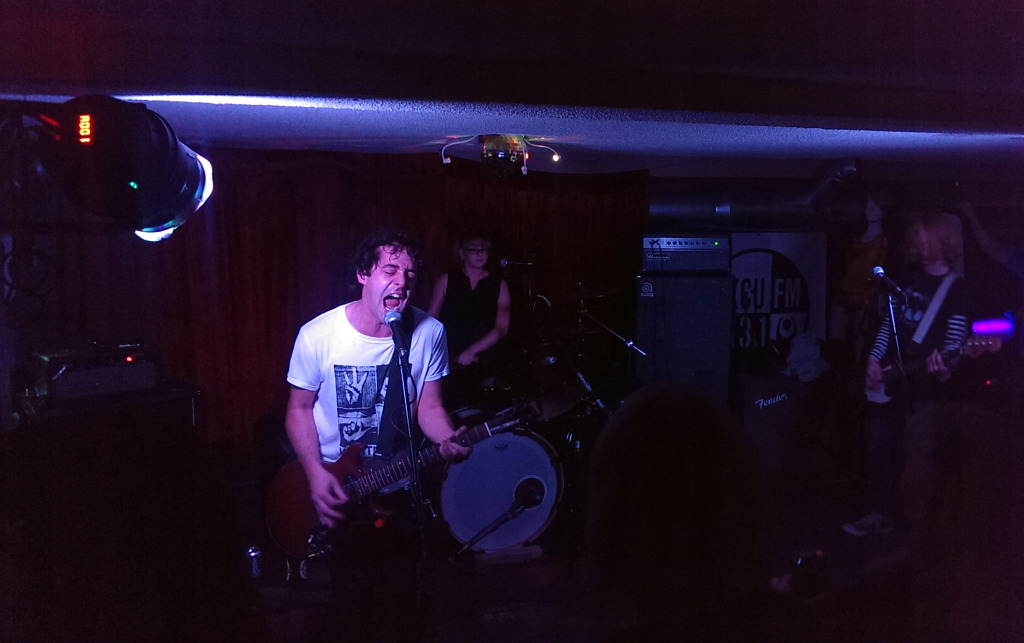 Moncton, New Brunswick's Feral Trash, kicked off the night with a bang. The band recently released a rocking good garage punk album called Trashfiction. Feral Trash delighted us with many of the great tracks from the album such as "Deserter," "Loser," and "Dead Weight."  On top of  their dark punk rock sound and awesome energy, I really like that all three members sing and the drummer's soft female voice's contrast with the other vocals. This is perfectly displayed on songs like "Ghost in You" and "P.A.R.A.N.O.I.D." The later was dedicated to "the guy with the most albums under his belt in this city," Steve Adamyk. They finished their set with "No Avail," marking another great set by one of my favourite bands from Eastern Canada.