Ottawa Showbox's Favourite Shows of 2014
It's been another crazy 52 weeks in the nation's capital and it's coming to a close. How did we get here? What happened this summer again? Who is asleep in the bathtub? Who cares? It's time for another kind of Throwback, to what rocked this year in Ottawa!
What's important right now is listing our favourite shows of the year in no order. Thank you to all local musicians, creators & performers who made our days & nights entertaining, and thank you to all those travelling artists who graced our city's stages in 2014.
---
"Possibly the most anticipated act for me that evening was by a fine Brit by the name of Simon Green, better known to the world as DJ & producer Bonobo. Is there anything better than watching something you know to be good turn out to be great? The man on the bass & buttons was flanked by five other artists who added dimension to his downbeat electronica but who also let him play solo so we could meet the hard-working multi-instrumentalist he truly is…"
"There was a lot of pushing, shoving, moshing, pogoing, falling, crowd surfing, and general disregard for our own bodies. That's just the kind of music it was – they truly inspired us to sacrifice our bodies and leave our collective problems at the front door while letting the music take us away. There were a few instances where I got a bit worried for some smaller individuals in the pit, but everyone made it out alive and well (save for the aforementioned bruises and aches)…"
"These sounds overlapped and crashed into each other as Jesse spun his extraterrestrial tale on his Terran synth. On five screens you could see the images of earth (also included on the golden discs) shifting and melting as the Reactable throbbed with the voices of the children of Earth with greetings in numerous languages. The middle screen captured Jesse's pate, directly above the Reactable and its Tangibles…"
"Thank Christ for Deltron Zero and the cantankerous Captain Aptos, AKA Dan the Automator. We found out exactly why he's called the Automator by watching him orchestrate with little finger wiggles and full arm movements while pounding on a synth with his free hand. There was a live band supporting these two supers making their way through the future, as 3030 slowly became 3040, as well as the third of the trinity: Skiznod the Boy Wonder AKA Kid Koala…"
"Quand elle jouait de la guitare, les marques d'usage sur le corps m'ont dis qu'elle l'a joué en tabarnac sa guit', et quand elle jouait le banjo, elle l'a joué comme j'ai jamais vu un banjo joué. C'était une performance inoubliable, et possiblement pour Lisa aussi. Le premier concert de sa saison d'été et d'après sa réaction à nos applaudissement après « Kraft Dinner » elle a été touché par notre enthousiasme. C'est pas mal facile de se donner complètement à la chevelure en statique, la voix rauque & l'humour de cette Acadienne. En chantant « Aujourd'hui, ma vie c'est d'la marde » pour finir la nuit, c'était un show du tonnerre…"
"One of the other big highlights was during "Paper Girl" when Leah could be seen chatting with a girl in the crowd as the song began. After a little discussion she pulled her up on stage and had her sing Leah's first verse for her on stage. They then danced, sang together and Leah even picked her up and cradled her while spinning around. I am sure that lucky fan will never forget that night…"
"While all of the singers were extremely impressive and convincing in their unique adaptations of Nirvana's songs, the one that really stood out for me was "Territorial Pissings" sung by Craig Proulx of Pregnancy Scares. If you've ever seen Pregnancy Scares before, you know that Craig is an absolute maniac on stage, his eyes filling with a possessed look while lunging back and forth to the audience. He is one of those singers that seems to really thrive off the chaos in front of him, and there was chaos as bodies were flying everywhere…"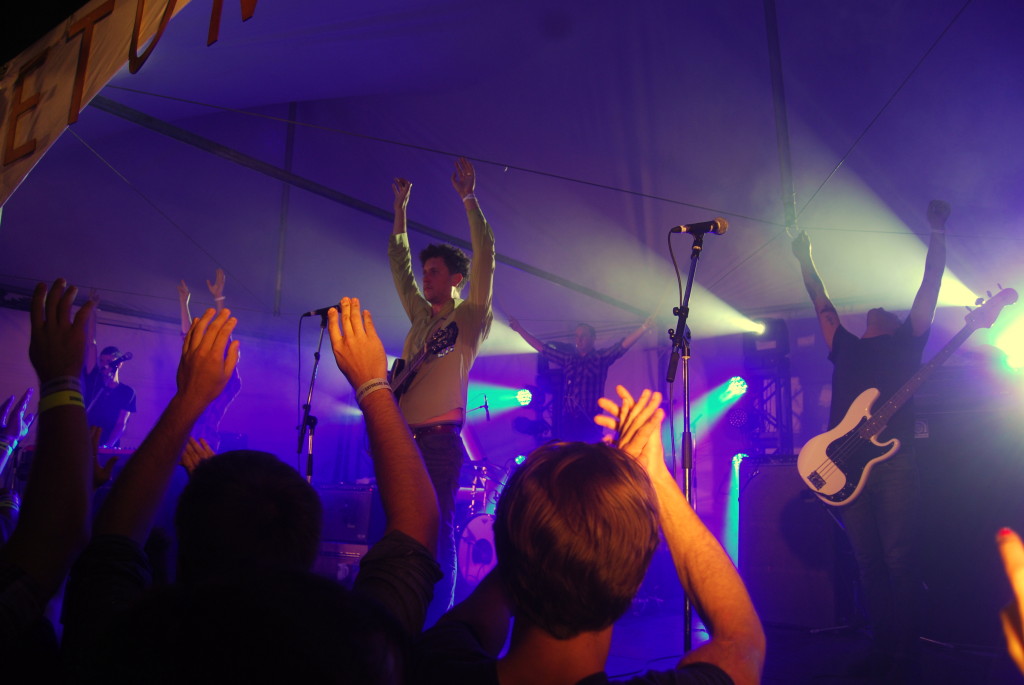 "The magic moment of the set came when they paused just before the last drop in "Shine a Light" and all put their arms in the air. The crowd matched them while hooting and hollering, until Constantines kicked it back into gear. The band really looked like they were having a good time, and Webb confirmed it, "It's fun to play these songs again, I love the Constantines."  Ottawa does as well Bry, come back anytime!…"
Rich Aucoin @ House of TARG (Oct. 2)
Rich Aucoin's 'drop everything and just have fun' attitude couldn't have fit more perfectly at House of TARG. With great projections, the sounds of video games all around, and one giant parachute, Aucoin was at home. He played a number of songs off his acclaimed new record Ephemeral, and made sure that every single person was involved in making this a night to remember. About a third of the way through the set, Aucoin got the entire crowd together and got local photographer Ming Wu to take a photo together. Who does that? Rich Aucoin, the eternal party, that's who.
Day three of Ottawa Explosion Weekend was absolutely insane! It went from 6 p.m. to 2 a.m. I think… I can't completely remember. It featured so many amazing bands — Jon Creeden, ROBOTS!EVERYWHERE!!, Outtacontroler, Tough Age, Protomartyr, The White Wires, Dig It Up, The Creeps, and Radioactivity all in a row!  It was total madness.
"What is so great about Propagandhi is that it's clear that it's not just the lead singer pushing the message. Drummer, Jord Samolesky, spoke up about how he has been around for over 40 years now and has see the government go from "Liberal to Con to Lib to Con, and we are just moving more and more right, it is getting worst… it is time to start something radical, it is time for change. You are in Ottawa — start some fucking shit!" Combine that with the ever intense songs where the bass player takes lead vocals and this band packs as much of a musical punch as they do politically…"
"Even with sweat dripping off all the band members and everyone in the crowd, there was no slowing The Steamers or staggering the energy in the room. The Steamers have a great collection of original tracks that had us all dancing and singing along…"
New Swears Album Release @ Gabba Hey! (Aug. 23)
It was one of the sweatiest, messiest, most outrageous hoards of human flesh moving to music I had ever witnessed going to a show. Ever. New Swears were at the top of their punk rock game at Gabba Hey!, not giving a shit about their own well-being and somehow managing to continue playing and singing while crowdsurfing over the mass of disturbed moshing people (I was one of them). It wasn't even moshing, because that implies that there was some set of rules or… something. This was the definition of chaos.
"The four-piece sounded great and were thrilled to be there, constantly mentioning how awesome the bill was. Sometimes sounding like bands of the Gang of Four variety (and I say that as a compliment) Ought had my head bobbing along all show… Glad I stuck around late to check these guys out, they did not hit the stage until around 1 a.m…."
"They were heavy, technical, and completely unorthodox. The way they used effects to supplement their really well-written songs is captivating, and I couldn't help but just move erratically to what I was experiencing. I won't say too much more other than that they kind of scared me in a really weird and good way…"
Mac DeMarco @ Blacksheep Inn (Apr. 4)
This was by far the best show I have ever seen at The Blacksheep Inn. DeMarco's neo-crooner style fit perfectly at The Blacksheep Inn, and the packed house was writhing in anticipation for him to come out and play. Once he got on stage, there was some obligatory crude banter from Mac and a wide, gap-toothed smile. The set included songs from both his first album, 2, and his latest release, Salad Days. It is a sight to see – an entire venue as nice as Blacksheep (which is host to many seated candlelit performances) explode with maniacal fans, losing their minds more and more one song after the next. By the end of it, Mac crowdsurfed his way into our memories, delivering himself into the storied history of Wakefield.