By Daniel Bordage
Beer: Aporkalypse Now by Hogsback Brewing Company
Style: Oatmeal Bacon Stout
ABV: 5.4%
Pairing: Song of the Apocalypse or Post-Apocalypse
About the Beer: In my opinion, this is by far the best beer Hogsback has made. A name like Hogsback, a pig as their logo, how could they NOT add bacon in their beer? You might think that this beer is thick or a meal replacement. You would be wrong! It's full of flavour but you can easily have a few without having that stout coma that I've had from other similar styles.
Song of the Apocalypse or Post-Apocalypse was the obvious choice for a beer named Aporkalypse Now. We live in a time when zombie obsessions, plague scares, and dystopia, movies are all the rage. I actually have a plan in case it happens. Especially a zombie apocalypse! What? Don't you??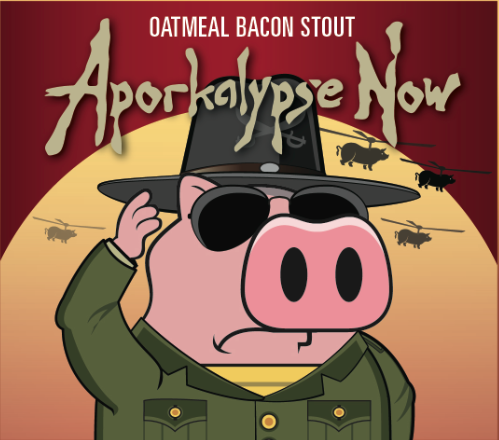 The commercial description goes as follows:
Look into the heart of darkness of this pitch black beauty. Take in the sweet caramel and roasted malty notes on the nose with a suggestion of the bacon goodness within. This full-bodied, rich and creamy oatmeal stout trots out a bold, unbridled taste that comes from a unique infusion of high-quality bacon. Blending in roasted malt and oatmeal for a solid footing, this smooth, dark beer has the perfect finish hinting of the fine swine contained within.
The Music: FULL PLAYLIST HERE
Dirty Three – "Great Waves"
Seeing a giant wave coming towards me would be worse than the four horsemen or zombies.
Andrew Bird – "When That Helicopter Comes"
After the "Great Waves" arrive and some of us are stranded on our rooftops, will the helicopters come?
Mother Mother – "Waiting For The World To End"
I like how they make an auditory representation of the end of the world at 1:35.
Tame Impala – "Apocalypse Dreams"
My dream is for a zombie attack to be our apocalypse. I will raid a Home Depot and fend off all attacks with my axe, shovel, and nuts and bolts bombs.
Misfits – "Don't Open Till Doomsday"
Just the Misfits logo is enough to make the playlist.
The Stooges – "Search And Destroy"
The closest song related to the beer title. Lieutenant Colonel William "Bill" Kilgore in Apocalypse Now's "I love the smell of napalm in the morning" is still quoted to this day.
Metallica – "The Four Horsemen"
A classic apocalyptic song. It would be the first song I would reference if fire came out of the sky.
Ministry – "TV II"
One of the heaviest songs you will ever see me add to an Ottawa Showbox playlist but just know this is what I grew up with. It fits here as I imagine TV signals to be hard to get before the end. Static… screams… intense…
Bright Eyes – "No One Would Riot For Less"
Following the machine-gun speed of "TV II", the state of affairs I envision would be calmness. I see survivors picking up the pieces in the most sombre hopeful way.
Sills & Smith – "End Times"
#OttBand Twitter submission. Sills & Smith describe an end caused by our own hands.
Mr. Lif – "Earthcrusher"
Mr.Lif paints a lyrical picture of a police state and a corporate led apocalypse. Some would say some of it is happening now.
Blackalicious – "Sky Is Falling"
How would we know if a sky is falling? Is it fire? An attack of dust particles?
Nine Inch Nails – "The Day the World Went Away"
This could be a song about drug use. But in this case, it ends the playlist well.
Honorable mentions
Blue Oyster Cult – "(Don't Fear) The Reaper"
Talbot Brothers of Bermuda – "Atomic Nightmare"
The Divine Comedy – "Here Comes the Flood"
Contact me on twitter @danielbordage or at dropthatspills@gmail.com for suggestions, comments or just to say hi.