House of TARG was the place to be on Saturday, April 4th – for all things pinball, perogi, beer and metal. Metal Blade Records' metal band, Allegaeon, stopped in Ottawa on their cross country tour with Product of Hate – to an absolutely insane audience.
Local bands Maou Mindu and Signs of Chaos took the stage around 9:30 p.m. to a barely energized crowd, although it didn't take long for Maou Mindu's topless frontman, Bryan Lomas, to get the people moving. While we do enjoy praising Satan from time to time, you really had to throw up the devil horns for these guys. I saw them a while back opening for Sovereign Council at Cafe Dekcuf, and the singer was topless during that show, too.
I think while listening to Maou Mindu, it is required that you hail the Dark Lord while headbanging. It'll make it so much better.
(Maou Mindu  – Photo credits to Matt C.)
Signs of Chaos, whom I had never seen before, surprised the hell out of me. I knew about them for so long, but never got around to seeing them live. All recordings on their part do not do them justice. "Break You", one of the band's newer tracks, was an absolute headbanger. Signs of Chaos was the first band I have seen to actually get a crowd moving so early in the night.
I moshed for the first time to Maou Mindu and Signs of Chaos, so thank you guys for turning me into a rage-fueled mosh monster. Signs of Chaos also announced they're working on their new EP to be released relatively soon – and after "Break You", I am pumped.
(Signs of Chaos – Photo credits to Matt C.)
Napalm Records' Product of Hate, a band I am incredibly glad I saw live – really set the bar high for Allegaeon. My main appraise of this band is Adam Gilley, the band's frontman and guitarists Gene and Cody Rathbone (best name ever). A theme I noticed throughout the whole night was the amount of insane guitar playing. SO many solos.
Adam Gilley also totally looks the way a rock star should. All he needed was the bright red leather pants. I noticed his white Right Hook Microphone, as well – so that made them even more stellar.
(Product of Hate – Photo credits to Matt C.)
The show's headliner Allegaeon, who has even more ridiculous guitar playing, blew my mind to a new level. Michael Stancel and Greg Burgess (whom I interview here!) took the cake for guitar solos. Stancel is a stupidly impressive guitarist with his sweeps, almost to the point of being unfair.
My brother and I chatted with Ezra Haynes during one of the intermissions (who casually flirted with some chick at the same time). Incredibly nice, sarcastic and hilarious – which is pretty much what I hope most musicians are when I talk to them.
I am so happy they opened with "Threshold of Perception", because that was the first song I ever heard from them. They won over my cold, metal heart. Ezra accidentally split open his lip, so double awesome for involving blood in the headliner's set.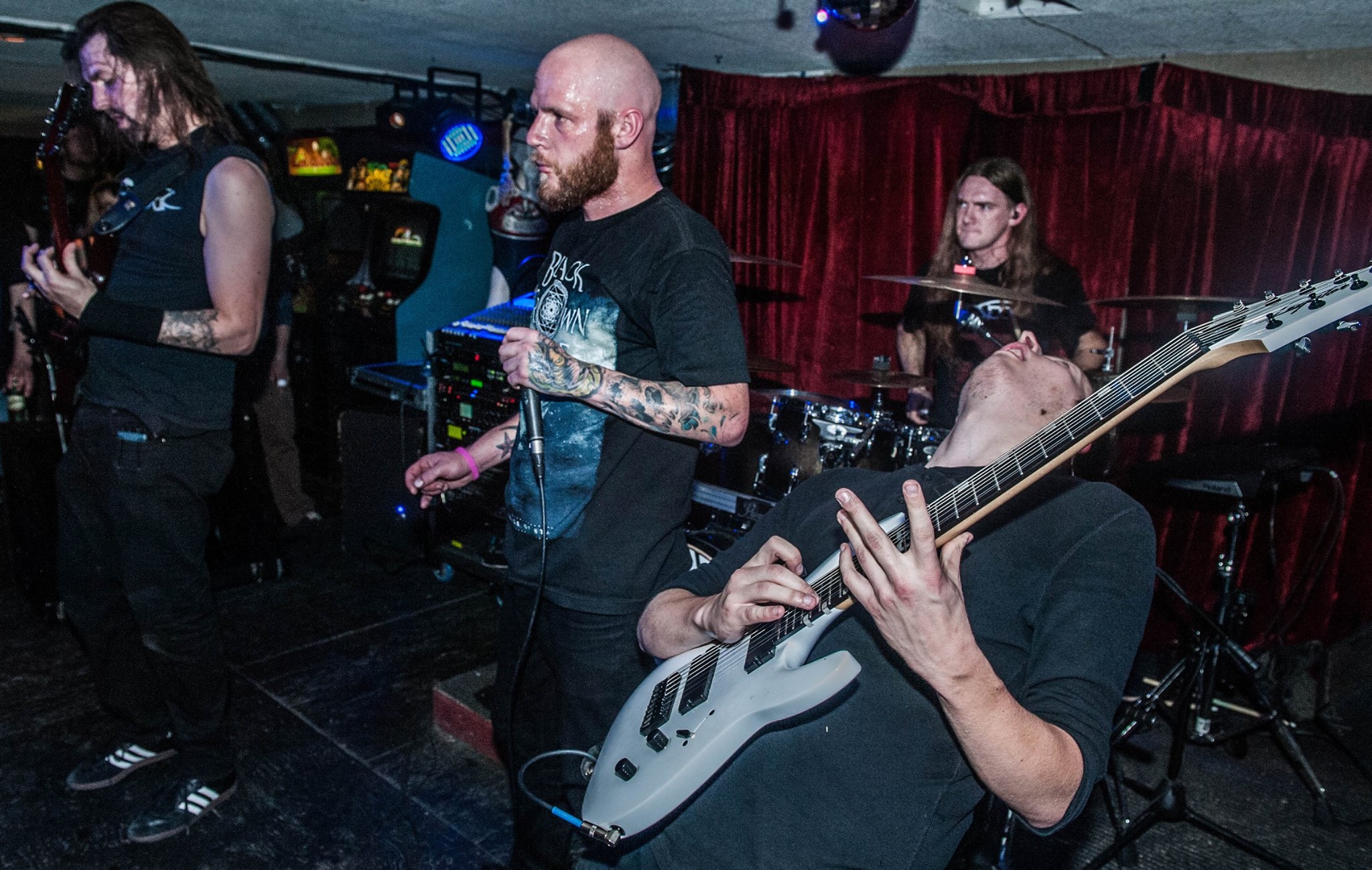 (Allegaeon – Photo credits to Matt C.)
A huge shout out to House of TARG (which has quickly become Ottawa's best venue), Black Widow Promotions and The Diamond Mine Agency for putting on this killer show. You can check out any and all upcoming shows on their respective websites!
A special thank you to Sarah Lutz and Metal Blade Records for hooking up this whole tour as well as getting Dark Matter Relations to cover the show.
The Diamond Mine Agency – Facebook / Official Website
Black Widow Promotions – Facebook / Official Website
House of TARG – Facebook / Official Website
Metal Blade Records – Facebook / Official Website