Ottawa Explosion: Day 2 — June 18
06/19/2015
926
Day two of Ottawa Explosion got off to a rocky start thanks to the fact that it was raining sideways, but Mother Nature pulled through eventually and ultimately delivered another beautiful night for punk rock.
Getting things started outside despite to downpour was Ottawa's very own Boyhood. Led by Caylie Runciman, Boyhood are experimental and dark, and perfect fit for the gloomy evening. Boyhood played a great set with some pretty sweet beats and cosmic sounds, and this was most apparent during the performance of their new song "Sooner Than You". If that song is sign of the band's direction and evolution, then I am thrilled. The '80s synth undertones, as well as the grimy and funky bass lines by Luke Martin made people forget about the rain and get lost in music. It was also great to hear them play songs off the 2014 release When I'm Hungry, like my favourite "Fresh Meat".
The rain continued to fall as I made my way to Mugshots to see the kids in Weed Mom. The band unfortunately had to deal with some sound problems outside of their control, but they persevered. The band is young, fun and finding its place. The subject of their songs made me laugh as they went from one song about making out with your friends to another song about the pains of having sex with someone with a big dick. As the sound started to improve, Weed Mom played their debut single "Plum Tree", which I really like. To top everything off, guitarist and singer Sasha pulled off drummer Tyrin's shirt and ate sushi off his chest. Oh Weed Mom, I am excited to see you bloom.
It was an emotional show for Ottawa's Nightshades. On one hand it was positive, as it was the band's tape release party for Wendy, their second EP in less than a year. But it was also sad because it marked the last show that bass player Sarah Grant will play with them as she is about to leave to travel the world. The band is in good hands, as Sarah said, "CBC learned about me leaving and have offered Shad to replace me… it will now be Nightshads." In all seriousness, they have another bassist lined up and Nightshades will go on. They played a set filled with music off of both albums. They also had to struggle through some sound issues, we could barely hear the guitar and sometimes could not hear the backup vocals.  Highlights were "Broken Bag", "Teenage Fool", and their new single "Wendy". Sarah – we at Showbox wish you the very best going forward!
With the tears wiped from our eyes it was time to summon daemons, dance with goblins, and draw pentagrams with Black Tower. Ottawa's three-piece got the rain to stop thanks to their pact with the devil. They opened with their latest single the solo-laden and driving "Death March" to set the tone. No moment of the set better summarizes Black Tower than when bassist Scotty said, "This song is called 'The Dark Lord',  it is about the Dark Lord." Lead singer and guitarist, Erin Ewing, has an intense and haunting voice, perfect for their metal-inspired punk rock. She has moments of guttural vocal fills, with the occasional incendiary high-pitch screaming part that ignited the entire courtyard.
Lightening things up was new wave punk band Century Palm from Toronto. It was hot, sweaty, and packed inside Mugshots for their set. Their music is really fun and was a great change of pace from Black Tower and the rest of the heavy bands I was about to see. During their set lead-singer Andrew Payne asked the crowd, "we cool?" The crowd cheered and he smiled. All I could think was, "we are not cool, my sweat is sweating it is so humid in here." The band treated us to a new song off their upcoming album which was pretty cool. But what really made their set was when they pulled a saxophone out of nowhere and I fell in love.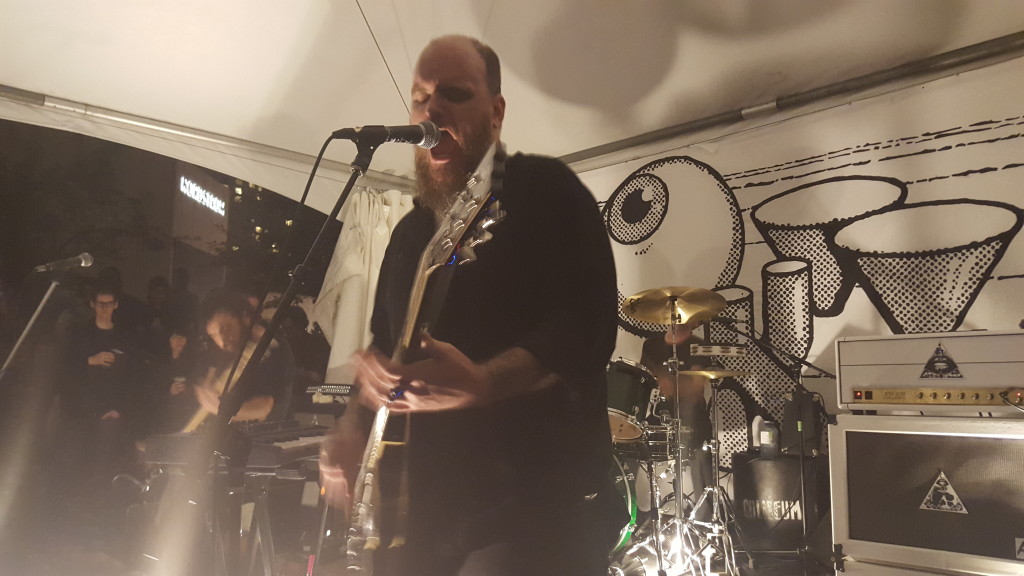 Back outside it was time to take it up a notch with Coliseum. I was sure it was going to be a good show as local artist and all-around great guy Jordan went straight to the front of the stage. When Jordan is up front and dancing, you know you are seeing a great band that it takes it to the next level. It was equally sweet to see the lead-singer and guitarist give him props after the first song and say, "I remember you." The band played a killer set full of awesome songs like "Used Blood" and "Black Magic Punk", as well as songs off their latest album Anxiety Kiss. But their music was not the most important part on this night. The was the comment made by singer/guitarist Ryan Patterson: "It is so great to see so many women involved in front and behind the scenes at this festival, unlike some jock shit like at Rock Fest." He continued, "Gender inequality is not just a punk issue, but a human issue and it is a beautiful things you have here." Well said, sir.
Now inside SAW it was time for Meat Wave from Chicago. They played fast short songs and once again Jordan danced so you knew it would be good. This noisy three-piece was strongly endorsed by Big Dick, as both members Johnny O and Dave Sec sang, cheered, and clapped loudly. Meat Wave's lead-singer and guitarist, Chris Sutter, shared a little information with us: "This is our first time in Canada, home of Rush,  Nomeansno, and hockey… sorry about that last one." Burn. Really glad I saw these guys and discovered another cool band.
Closing out the night was one of my must-see acts, Obliterations, a hardcore band from LA. The band play fast, intense, and in your face. Which is doubly entertaining as the lead-singer's  face reminds me of Weird Al. They opened with "Scapegoat" and blasted straight ahead playing other greats like "Sick Feeling" and "Narcissist". Unfortunately they experienced some pretty serious technical difficulties with the guitar amp and head crapping out. Eventually someone came to the rescue with a new amp and head and we were back in business.  They picked up were they left of, just slamming through the set, capping it off with lead singer Sam James Velde walking through the crowd and standing on the bar. Don't miss these guys.