Frank Turner and Northcote Solo The Mansion in Kingston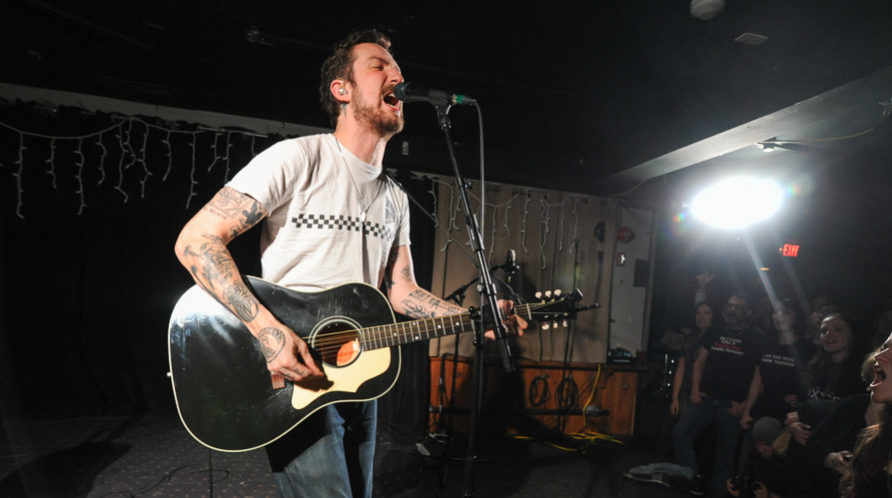 Frank Turner and Northcote brought their solo acoustic Canadian tour to The Mansion in Kingston Monday night.
Playing the first of two sold out shows in one night, Frank Turner raucously took to the stage in the Living Room section of the Mansion – cup of tea in hand. The over 150 people in attendance at the intimate show went nuts and Turner said "that was the most rock n' roll entrance ever with a cup of tea." The jokes didn't stop there.
"This is my first time in Kingston. It is cold here," he said with a grin. After a short pause he added "I never thought it was so cold in Jamaica." Just one of many "dad jokes" delivered by Turner during show number 1138, yes he announces the show number before every show.
Turner powered through recovering from a throat cold, hence the tea, and had gotten better enough to play for more than one hour solo set. The show really felt like a house show you would have with some friends, except for the fact that the performer has sold out Wembley Stadium on multiple occasions and toured the world. He started with the four songs, "The Next Storm," "Four Simple Words," "I Am Disappear," and "Substitute." Turner added "I just played four songs in the same key, which shows that I just use the same chords… but they are good chords though."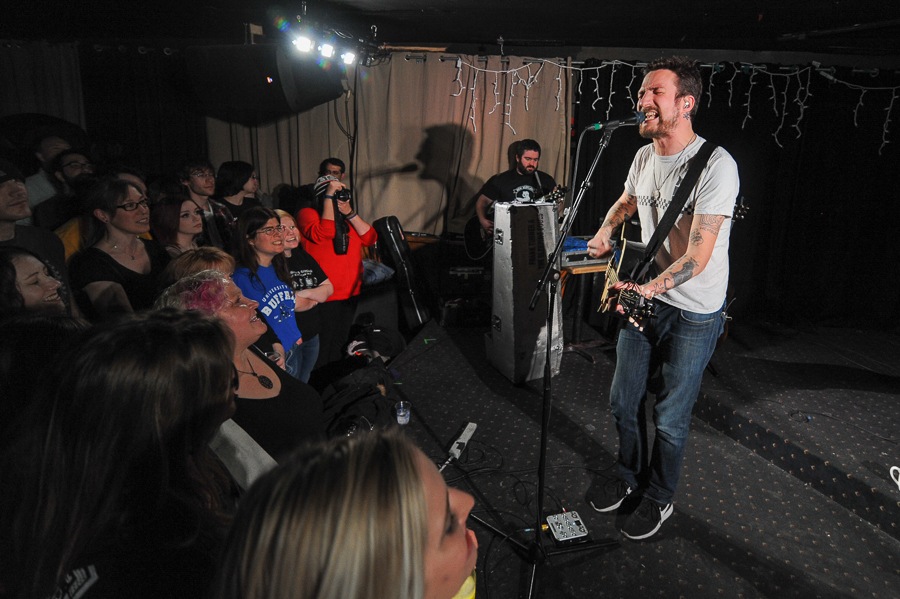 As the set continued Turner continued telling stories every so often, definitely one of the highlights of a Frank Turner set. During one of the stories Turner spoke about getting a New-Brunswick tattoo, but then made the mistake of saying he wouldn't get a tattoo for every state in Canada.
His mistake turned out to be our reward as he played a marvellous cover of The Weakerthans "Civil Twilight," with the lyrics: "For the most part I think about golfing and constantly calculate, All the seconds left in the minutes, and so on, etcetera, Or recite the names of provinces and Hollywood actors; Oh, Ontario, oh, Jennifer Jason Leigh" to show us he indeed knows we have provinces and not states.
For some of the long-time Turner fans in the crowd, the set list may have been a little too focused on new songs, with maybe only three songs off albums predating Love and Ire, and not what we all wanted out of an intimate solo show. The reality is though, it was a Frank Turner show, so there was no shortage of entertainment. Turner is coming to Ottawa March 12 at the Bronson Centre with his full band, more information here.
Kicking off the show was Northcote. "Hello Kingston friends, hope you're ready for a good night. My name is Matt." This was a great way for Matthew Daniel Goud, aka Northcote, to set the stage for a living room party. Northcote's raspy voice over an acoustic guitar was great in this small venue, which felt like a treat as he has often played for much larger crowds. He kicked things off with "Bitter End" off his new album, Hope Is Made of Steel, and heard people singing along near the front of the stage. He immediately stopped and went to find the girl in the crowd and invited her on stage to sing with him. It was a really cool moment and reinforced the very Canadian prairie-style kitchen party or house show feel to it. Another moment that really got my attention during Northcote's set was in the middle of the song "Hope Is Made of Steel," when it really sounds like he samples "Unsatisfied," one of my favourite songs by The Replacements. All in all, an incredible show as expected.